This Indian restaurant spice mix is a blend of key Indian spices that can be used as the base of many Indian restaurant style curries. It's one of the ways restaurants are able to crank out curries as fast as they do.
Indian homestyle cooking takes a lot of effort. Just look at the wonderful curry recipes all over the internet. Complicated There are many steps. They take a long time. They're worth it but they're work.
Indian restaurant spice mix is about speed
Indian restaurants can't do it the same way. You would be waiting for hours to eat. Restaurant curries take 10 minutes to cook. There's a few tricks to make that happen. Indian restaurant spice mix is one of those tricks.
They all do it. First they figure out what base flavour profile is right for the restaurant. Then they figure out what's common. That's the Indian restaurant spice mix.
They then use that spice mix as a starting point and layer flavours on top to create their masterpieces. Pretty clever.
That's not the whole secret of course. Curry base is the real secret. That's how they get around cooking onions forever for each curry. It's all pre-cooked and ready to go.
So is the meat. Simmering it in the curry briefly warms it up. Prep is key in all restaurants. Indian restaurants are no different.
If you are interested in learning about Indian restaurant style cooking this primer on Indian restaurant techniques is a great place to start. It goes through pretty much everything you need to know.
Seven ingredients in one mix
This particular Indian restaurant spice mix takes seven of the usual suspects and knocks it down to one. That's seven ingredients you no longer have to measure out. Probably saves two or three minutes per curry. That adds up.
It's actually more than seven. Using a pre-made curry powder and garam masala adds in some trace spices. Cumin, coriander and turmeric figure highly in most curry powders.
But there are sometimes a few others mixed in. This is cooking. A little variation is not the end of the world. Once you have a made a few curries try making up your own spice mix. Define your own style.
Or if you want to make things exactly as I do whip up some of this homemade curry powder. I reverse engineered it from one I like.
This is the spice mix used in all the Indian restaurant curries on this blog.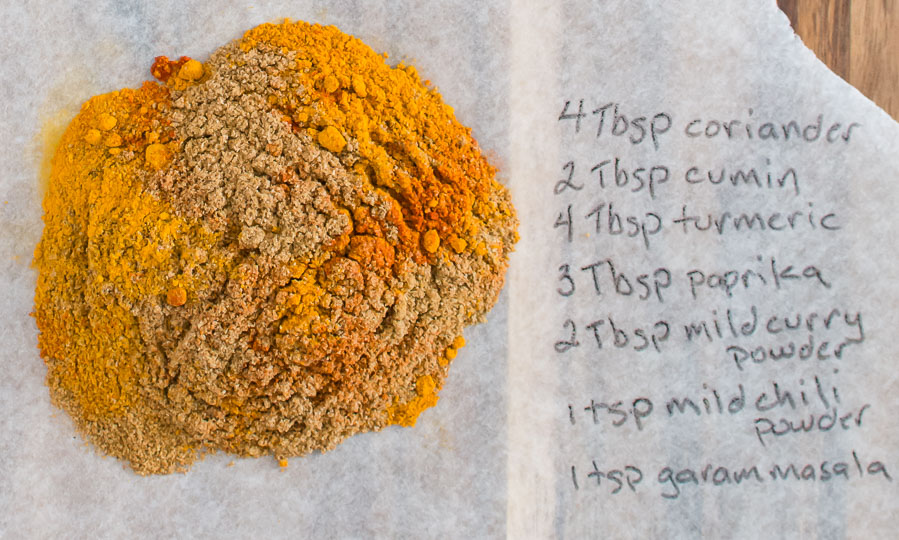 indian restaurant spice mix
This Indian restaurant spice mix is one of the key tricks restaurants use to make their curries.
Ingredients
4

Tbsp

coriander powder

2

Tbsp

cumin powder

4

Tbsp

turmeric powder

3

Tbsp

paprika

2

Tbsp

mild curry powder

1-2

tsp

kashmiri chili powder

- I like a little extra zing

1

tsp

garam masala

1

tsp

butcher's grind black pepper

- optional but nice if you cook mostly South Indian
Instructions
Combine all ingredients and mix.

Store in a cool place along with all your other spices.
Notes
Mild curry powder can be any commercially available curry powder. I personally like Boltz for this recipe but there are many out there. Chili powder is Indian chili powder. It comes in different heat levels, from mellow to blistering hot. You want mild for this recipe. Look for kashmiri mild chili powder at any Indian grocery store. The flavour is quite distinctive. In a pinch, you can use something like New Mexican Red chili powder.
Nutrition
Serving:
1
cup
|
Calories:
320
kcal
|
Carbohydrates:
55
g
|
Protein:
12
g
|
Fat:
14
g
|
Saturated Fat:
2
g
|
Sodium:
102
mg
|
Potassium:
1866
mg
|
Fiber:
29
g
|
Sugar:
3
g
|
Vitamin A:
222.5
%
|
Vitamin C:
16.5
%
|
Calcium:
41
%
|
Iron:
173.3
%