If you want to learn how to make Indian curries that taste just like you get in the restaurant, here's how. The techniques, the ingredients, the recipes.
If you've ever wondered why you can't make Indian restaurant curry at home, here's why. The entire internet is pretty much devoted to teaching you how to make homestyle curry.
The techniques used by restaurants are very different. It takes 1 or 2 hours to make a curry at home. It takes 10 minutes and a whole lot of prep to make it in a restaurant.
They don't have big pots of curry sitting around. They can't have you wait two hours while they cook your curry. Here's how they do it. This is a long read. A pretty complicated read.
But it's how it's done and it's not that hard once you get your head around it. Indian restaurant curry at home. You will amaze yourself.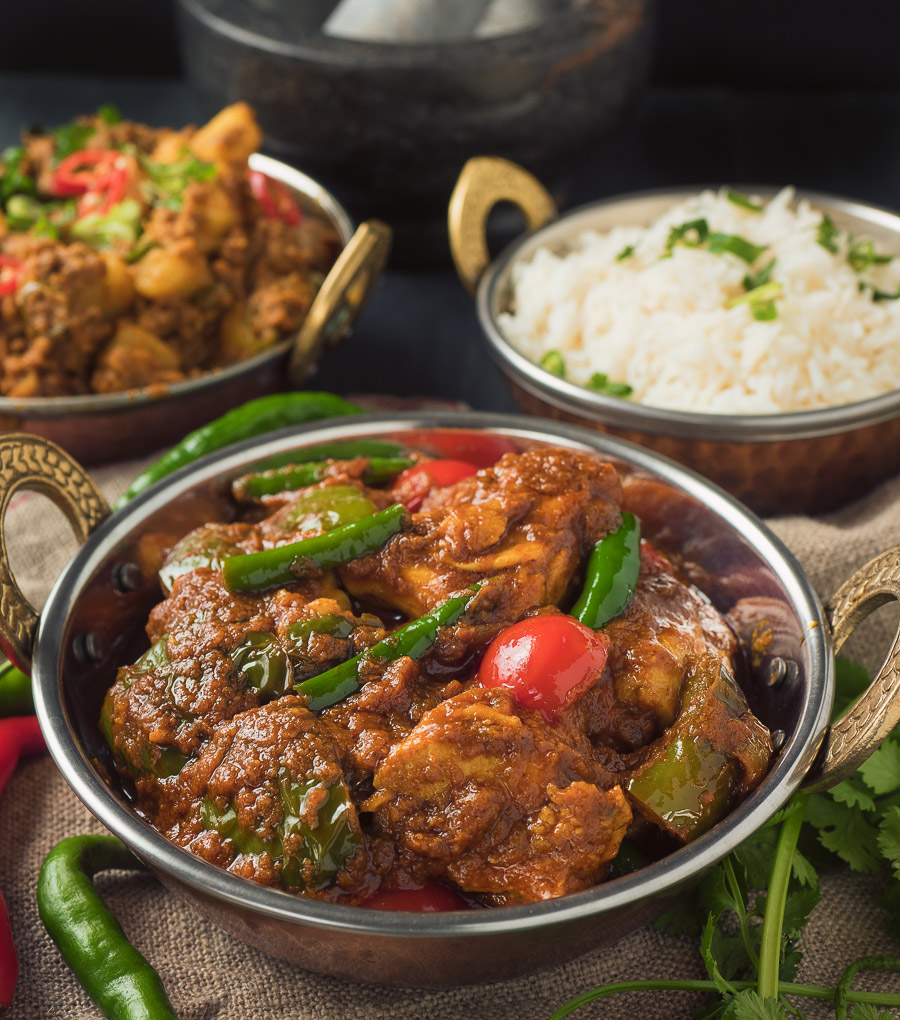 Related recipes
There are many Indian restaurant curries on the this site and more are being added all the time.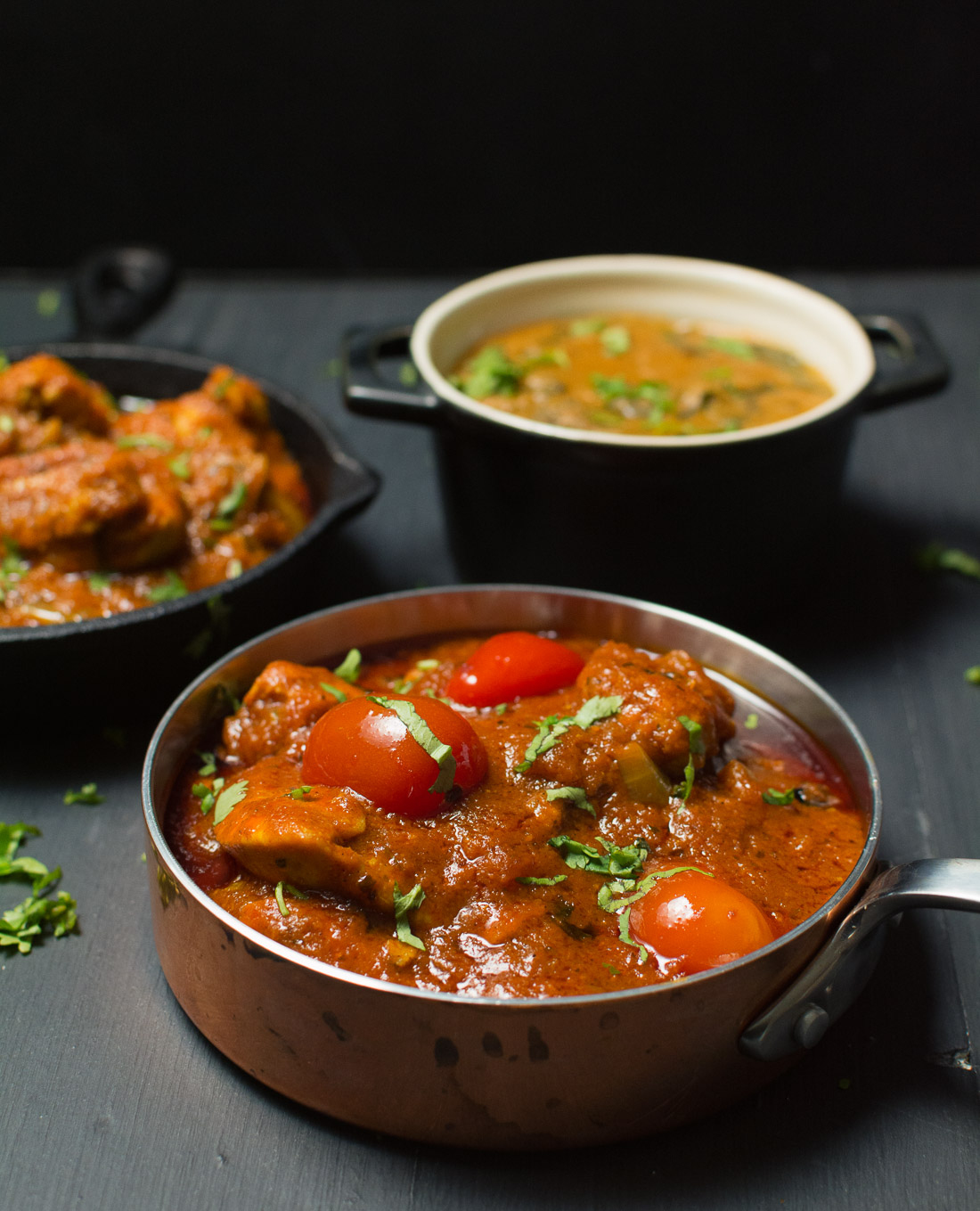 The ingredients
If you want to make Indian restaurant curry at home, you will need to make a trip to a really good grocery store or more likely an Indian food store. Here's a few Indian ingredients you may not know about.
Kashmiri chili powder. This is a pretty mild chili powder that imparts a bright red colour. Cayenne is much hotter. You can try substituting 1/4 cayenne with 3/4 paprika.
Garlic ginger paste. You can make it or you can buy it. It's easy to make and homemade tastes way better.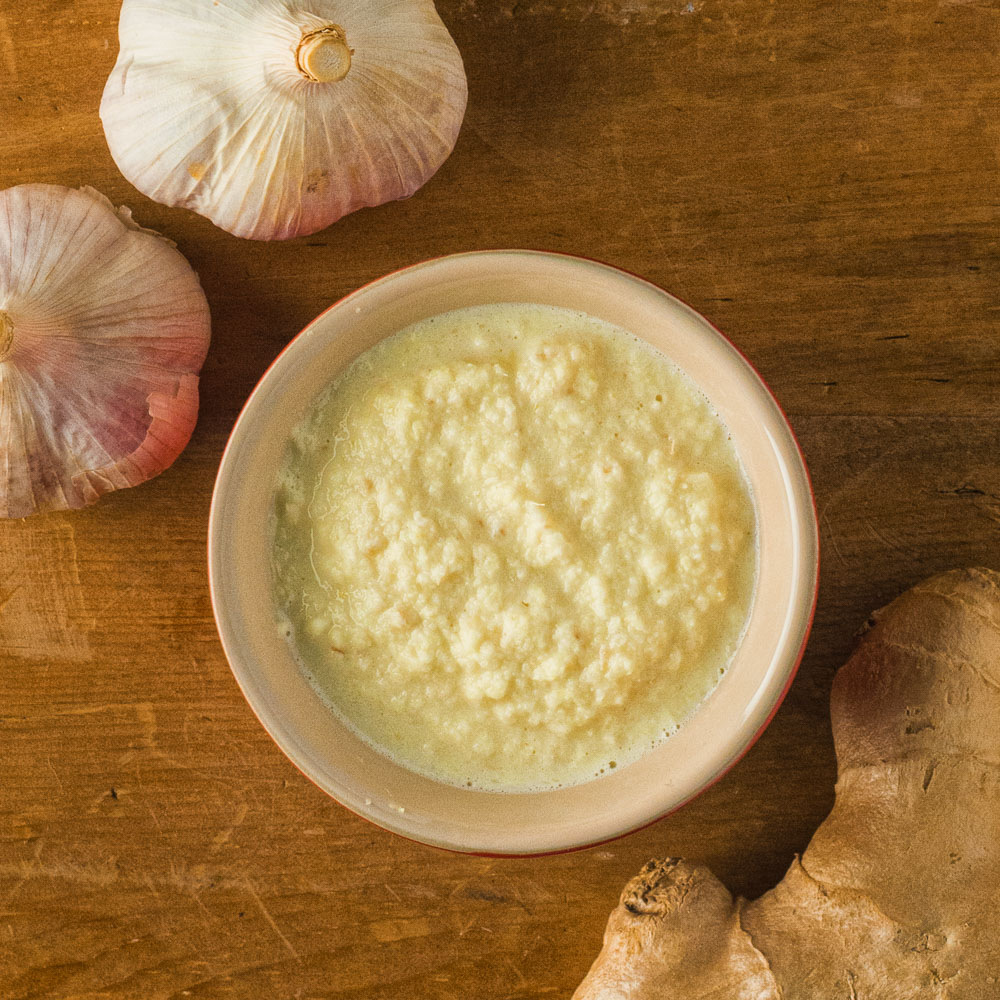 Mix powder. This is the house spice base in the restaurant. It's a mix of pretty common spices. It's house-made curry powder. You can use mine or you can come up with your own. All the recipes in this blog are tested with mine.
Kasoor methi. This is dried fenugreek leaves and they use it in pretty much everything. This one I expect will require a trip to an Indian market. It comes in small boxes.
Coconut milk powder. This is a key ingredient in many South Indian dishes. Maggi is a pretty common brand. It comes in boxes. You can substitute coconut milk.
Madras curry powder. This is used in a few of the hotter curries.
Cinnamon bark (cassia). You can substitute cinnamon stick. It's about the same.
Green cardamom. This is the whole spice. You should be able to get it pretty much anywhere.
Black cardamom. This is a whole spice. It's bigger than green cardamom and has a bit of a smoky flavour. Get it at Indian grocery stores.
Curry base. This is the secret to making Indian restaurant curry. You can make a batch of it and freeze it in ziplock backs or small containers. You can't make this style of curry without curry base.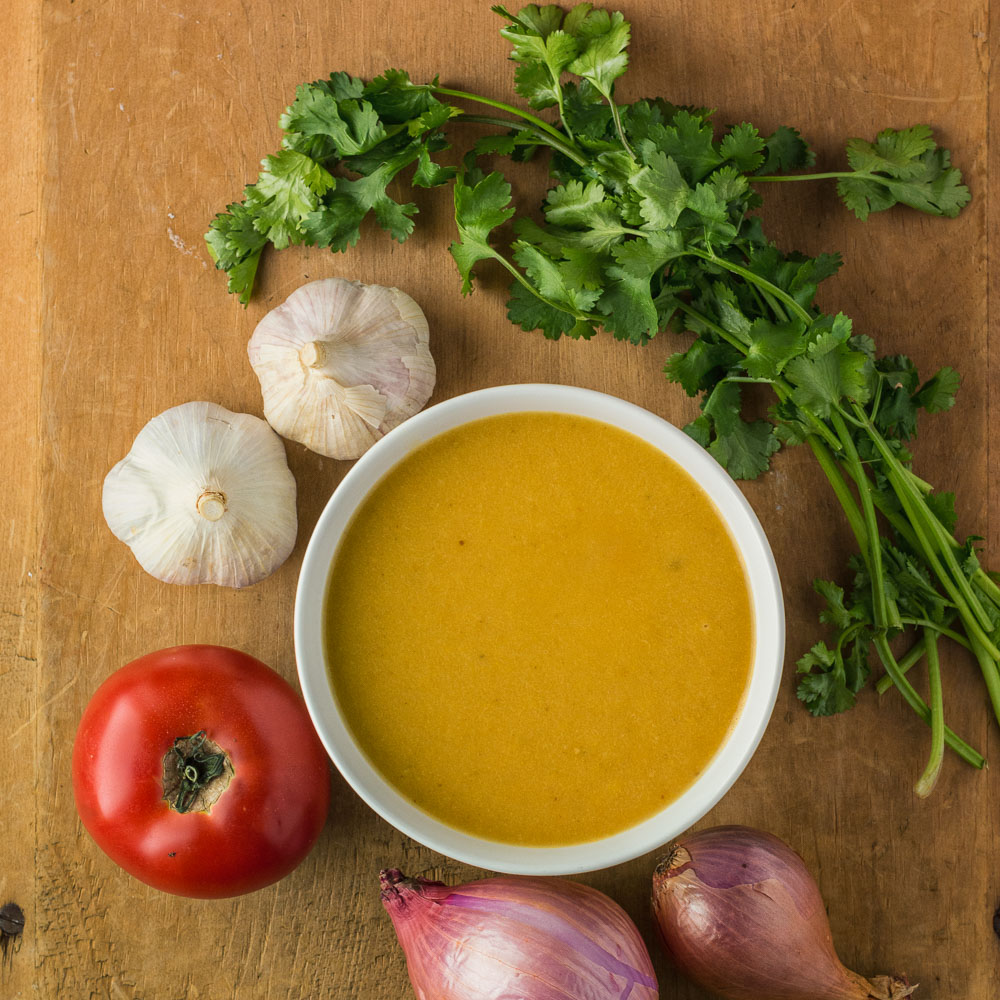 Tandoori masala. This comes in boxes and jars. It's tandoori seasoning complete with the red colour. It's used in some curries. You can also use it to make a quick tandoori marinade. Not a bad one to have around. Get it at Indian grocery stores.
Curry leaves. These are not what curry powder is made from. Think of it as an herb. It's popular in South Indian cooking and it's worth seeking out. It's only good fresh. Dry tastes like nothing. If you can't get fresh, leave it out. Get it at Indian grocery stores.
Pre-cooked meat. Cooking in this style relies on having the meat or poultry pre-cooked. That's the other secret. Even the vegetables are pre-cooked.
Pre-cooking your poultry or meat
For chicken, simply cut up the boneless chicken (I like thighs) into big bite size chunks. Put them in a pan with a teaspoon or so of curry powder, add salt to taste then cover in chicken stock.
Simmer until the chicken is just barely done. It will cook another 5 minutes when you cook the curry.
For lamb or beef, cut the meat into big bite size chunks. Brown the meat as you would for stew. Add some curry powder and salt, then cover with stock.
Simmer until tender – about an hour for lamb and two hours for beef.  You can freeze the lamb or beef so you don't have to do this every time. I use a food saver. Works great.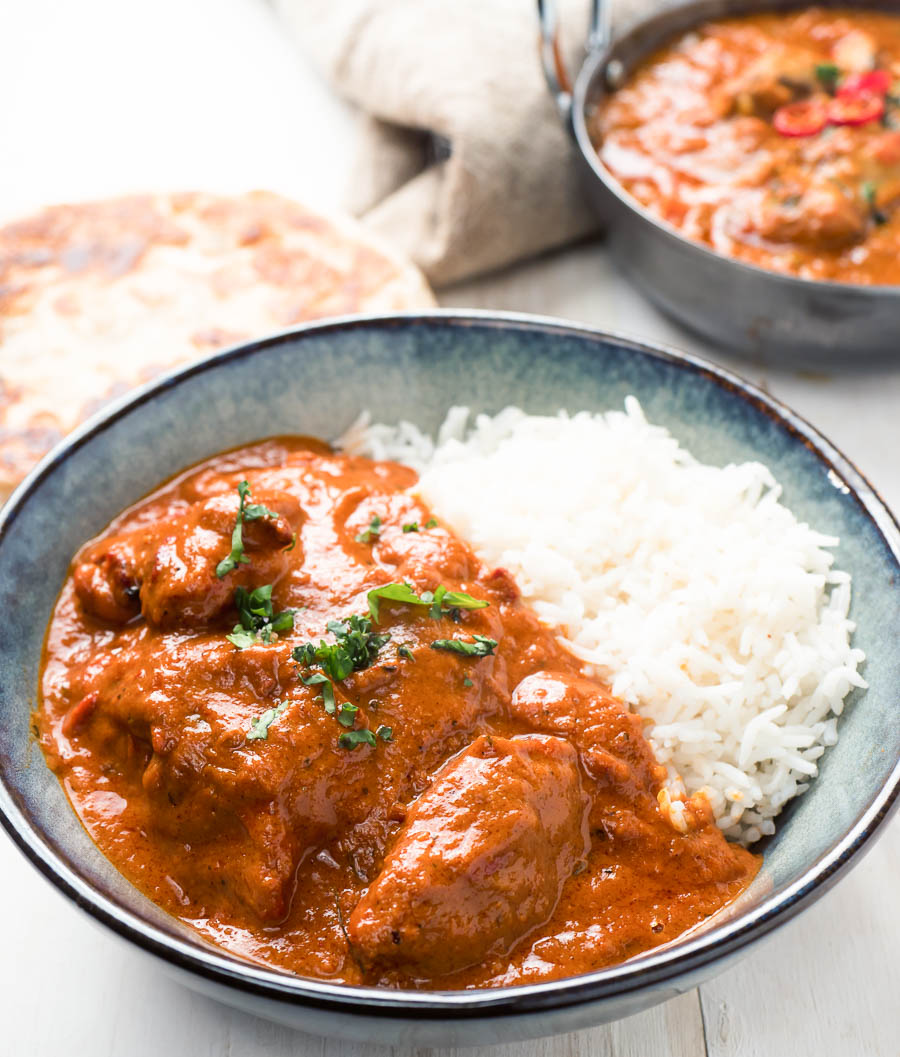 Prep
Prep is key when making Indian restaurant curry at home. A restaurant style curry takes 10 minutes or so start to finish to cook. There's no time to be fumbling for an ingredient.
Measure everything out. Have it at the ready. The recipes will contain a bunch of dry spices. Measure them out and mix them in one small bowl. Dilute your tomato paste. Have the garlic ginger paste on hand. Chop the onions and cilantro ahead of time.
Be ready before you start cooking. It's important.
The equipment
You don't need anything particularly fancy. A cheap 10 1/2 inch aluminum skillet is nice have. You can get those at a restaurant supply store for next to nothing.
Aluminum conducts heat almost as well as copper so it works well. Being able to control heat is pretty important when you are making Indian restaurant curry at home.
A roughly 6 ounce ladle is handy as well. The recipes typically call for 6 oz of curry base at a time. If you get into this seriously and start surfing the forums recipes often read "add a ladle of curry base".
Some small bowls for your prepped ingredients is another nice to have. That's about it.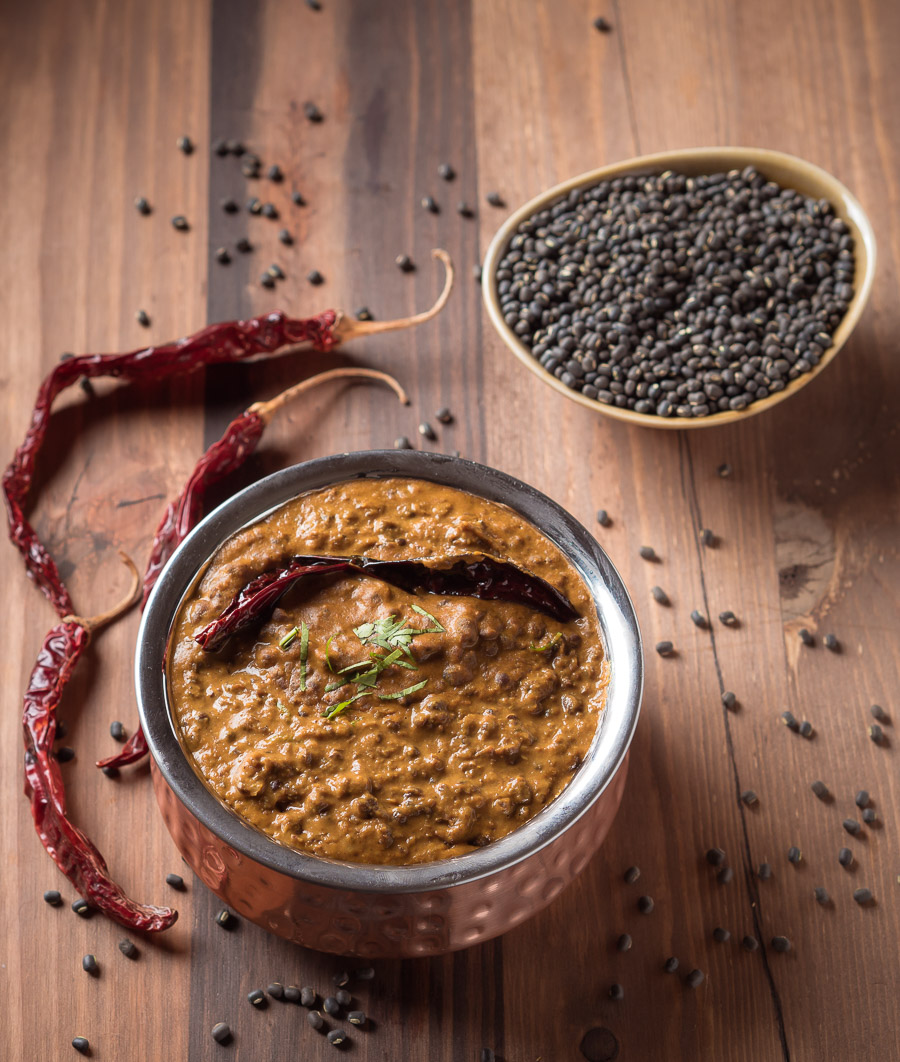 Curry cooking technique
Indian restaurant style curry is all about prep and technique. You may screw up the first couple times. As long as you don't burn the spices, your screw ups will still be really, really good. Probably as good as your local Indian restaurant.
When you get it though, you will be head and shoulders above all but the best Indian restaurants in town. When you get this you will amaze your friends. You will amaze yourself!
Do your prep
Chop any onions, cilantro, tomato etc that you need. Mix your tomato paste with water. Have your garlic ginger at the ready. Combine the dry powdered spices in a small bowl. In another bowl ready your whole spices (cardamom, cinnamon stick, bay leaf etc).
Prepare your coconut powder by mixing it with water. Read your recipe carefully and understand what you are doing before you start.
Pre-heat your curry base. If you are cooking one curry, you can heat it in the microwave. If you are cooking a feast keep it simmering on the stove.
This technique relies on caramelizing the onions in the base. The base needs to be hot for this to work. I don't understand why this is important. But it is. I've tried with cold base. It doesn't work.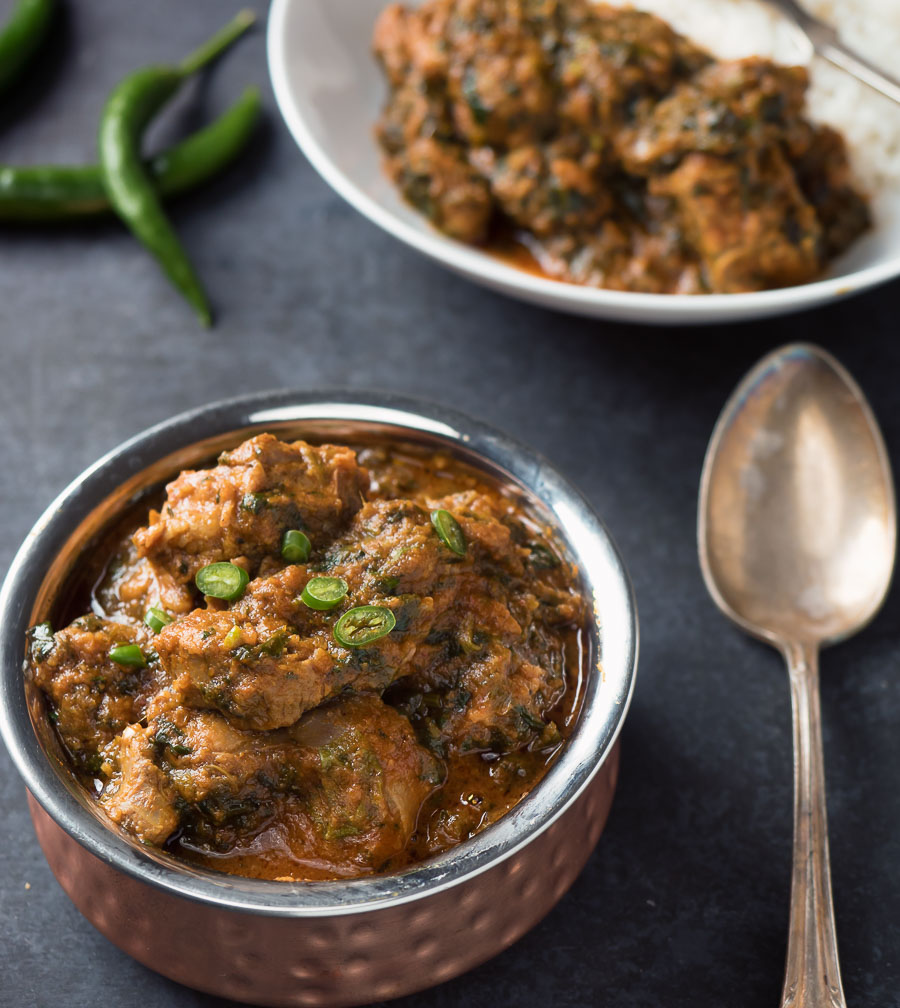 Cook the curry
Read this once to get familiar. It's worth it to get your groove. The general directions to cook curry are also found in each Indian restaurant curry recipe.
Pre-heat your pan over medium heat. A gas stove helps but it's not  essential. Add the oil to the pre-heated pan. You want to see it shimmer but not smoke like crazy. If it smokes, stop and let it cool a bit.
If the Indian restaurant curry recipe calls for whole spices they go in first. Just for 10 or 15 seconds. That's all it takes. They will start to crackle a bit. If the recipe called for diced onion it goes in next. Cook the onion until it's softened and the edges just start to colour.
Add your garlic ginger paste. You want it to bubble and sputter but not burn.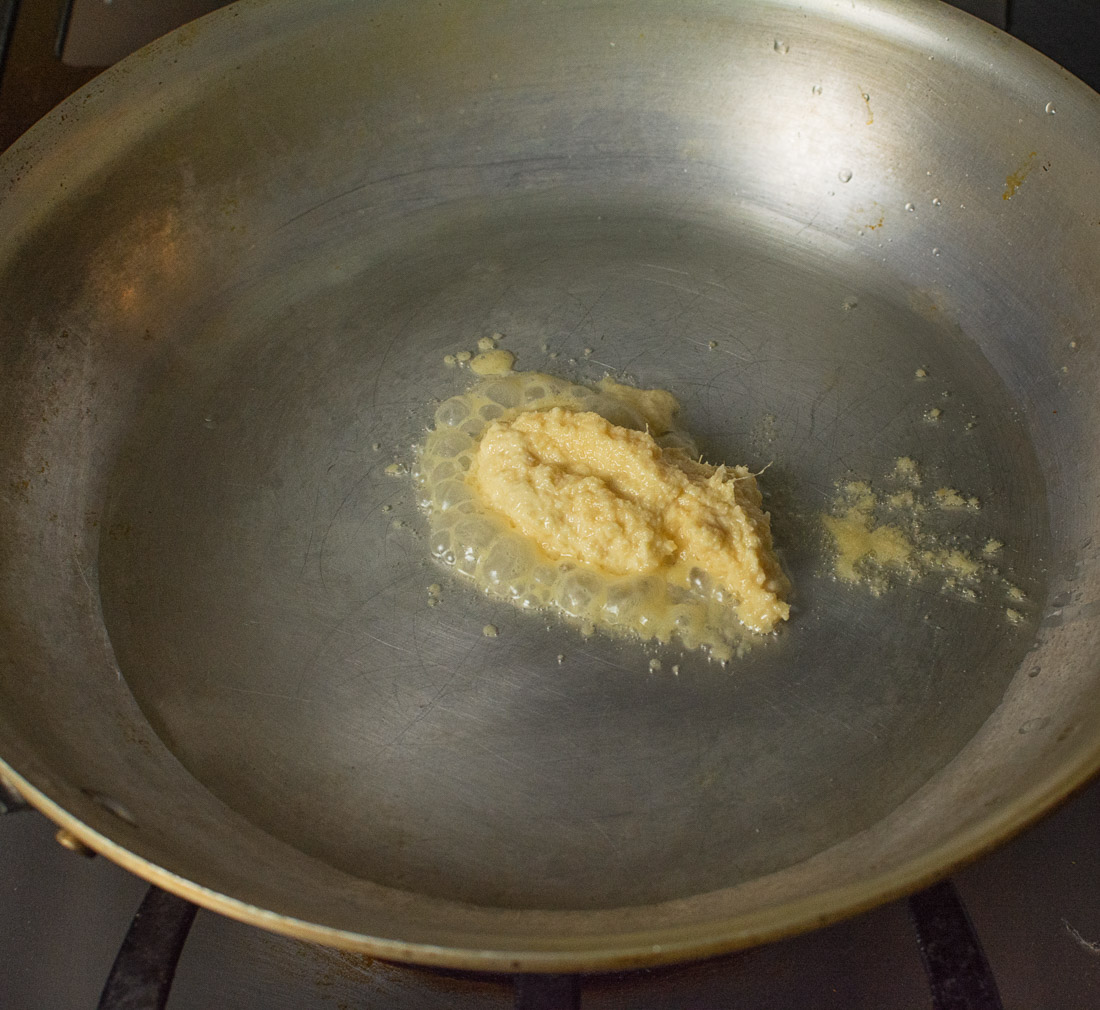 When it stops sputtering (30 seconds or so) turn down the heat and add the dry, powdered spices. Some recipes may have you add the kasoor methi first and everything else shortly after.
This is the critical step when cooking Indian restaurant curry at home. Stir constantly. If the spices look like they are at risk of burning turn the heat down. If you have an electric cooktop pick the pan up off the heat. You don't want to let the spices burn but you do want them to cook through.
Cooking the spices will get rid of the raw spice taste. If the spices burn, just chuck everything and start again. There's no fixing that. It will happen to you. It did to me at least.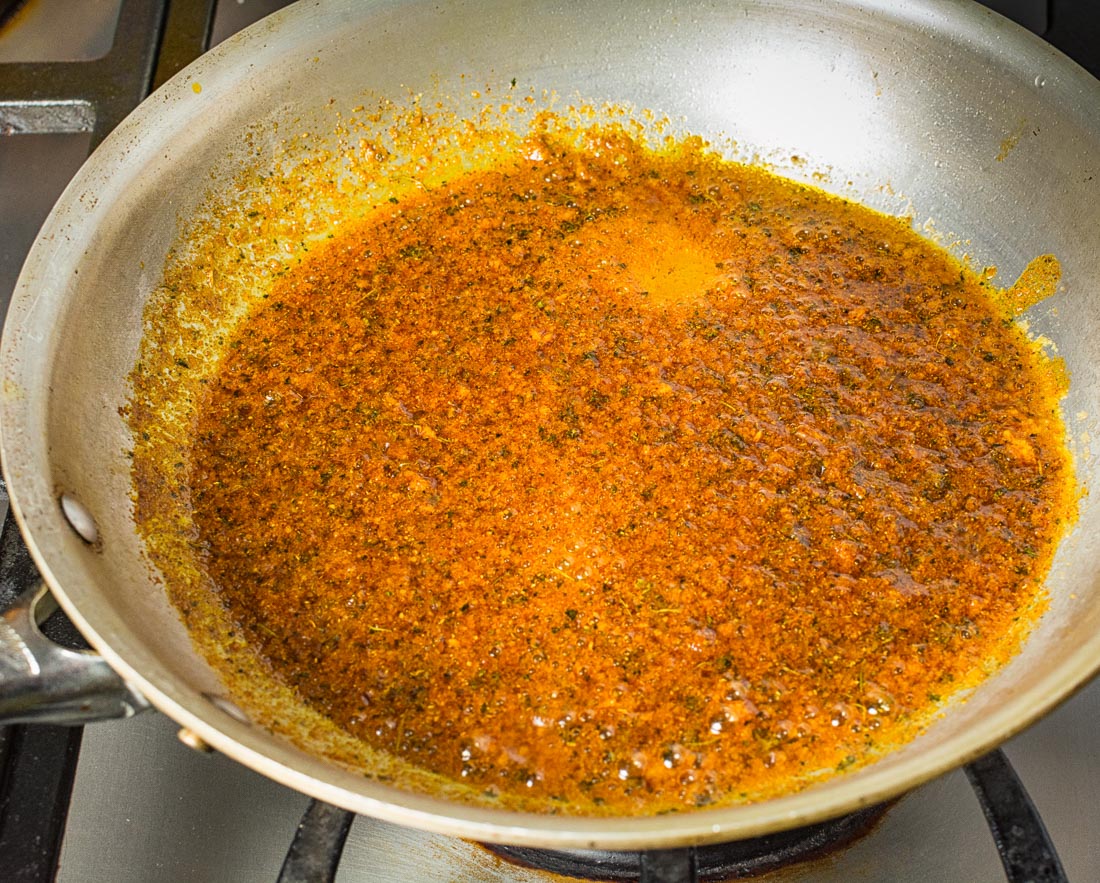 After cooking the spices for about thirty seconds, add the tomato paste water mix and turn up the heat. If the recipe doesn't call for tomato paste add a splash of curry base.
Stir constantly until bubbles form. The oil may separate at this point. That's good. You want that. This takes about 30-45 seconds.
Next comes about 3 oz (half a ladle's worth) of curry base. Add it in and give it a stir. Cook it until the bubbles form again. This takes anywhere between 30-60 seconds.
Now add about 6 oz (a full ladle) of the curry base. Cook it, stirring occasionally, until the bubbles form again. This takes around 90 seconds, depending on your heat.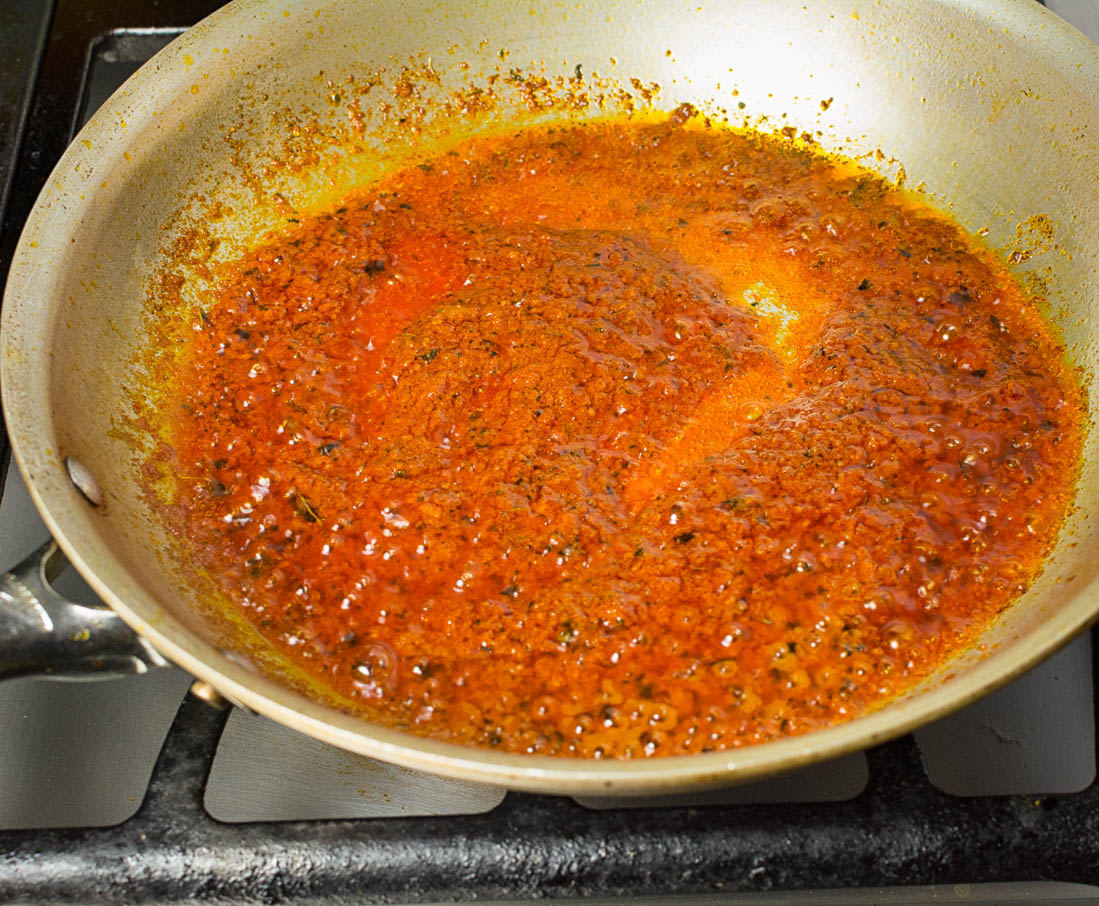 Add a second full ladle and repeat. When the bubbles form, turn the heat down to a simmer.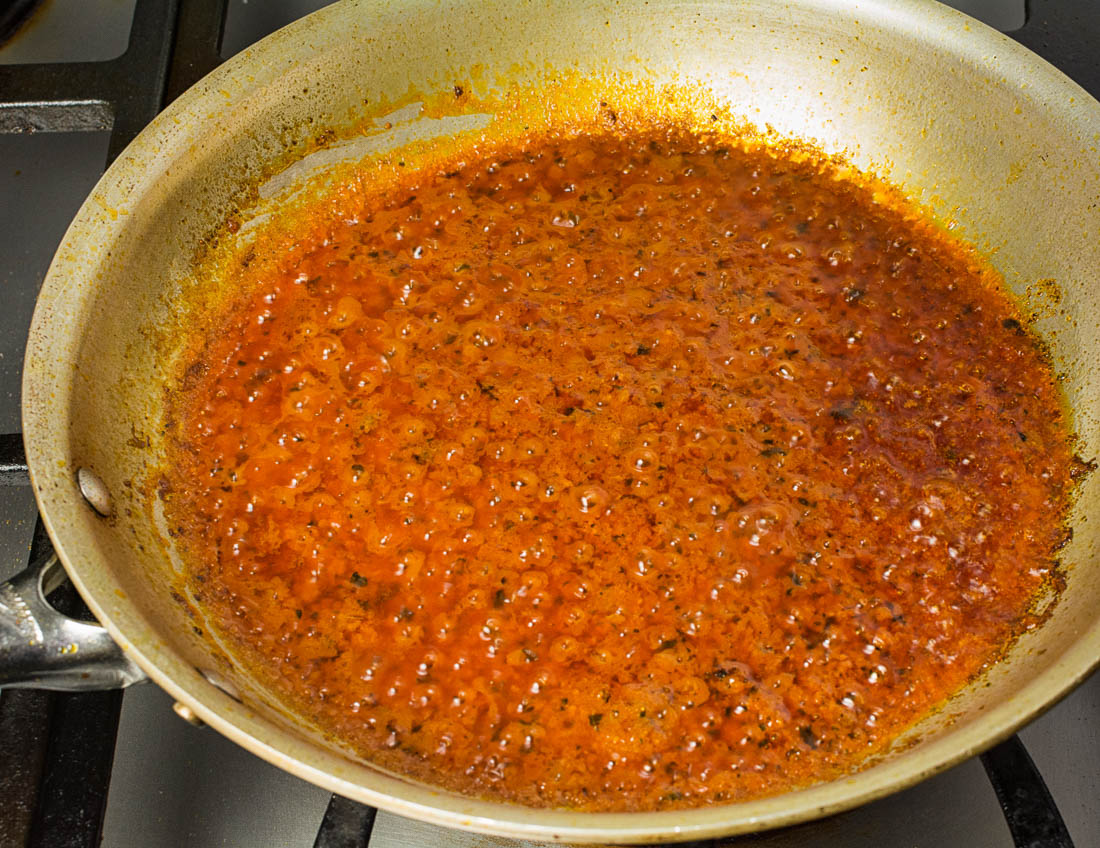 Now comes the pre-cooked meat or vegetable portion Usually, it's around 8-10 oz of meat per curry. Add it in and stir. Let simmer a few minutes.
At this point add in the finishing touches (lemon juice, coriander leaf, garam masala, coconut milk etc). Give it a final stir, check for salt and serve your Indian restaurant curry with rice, naan or chapatis.
That's it. It may seem a bit daunting at first but you can do it. You'll be cranking out really impressive Indian restaurant curry at home in no time!