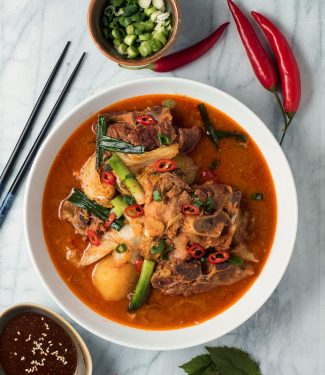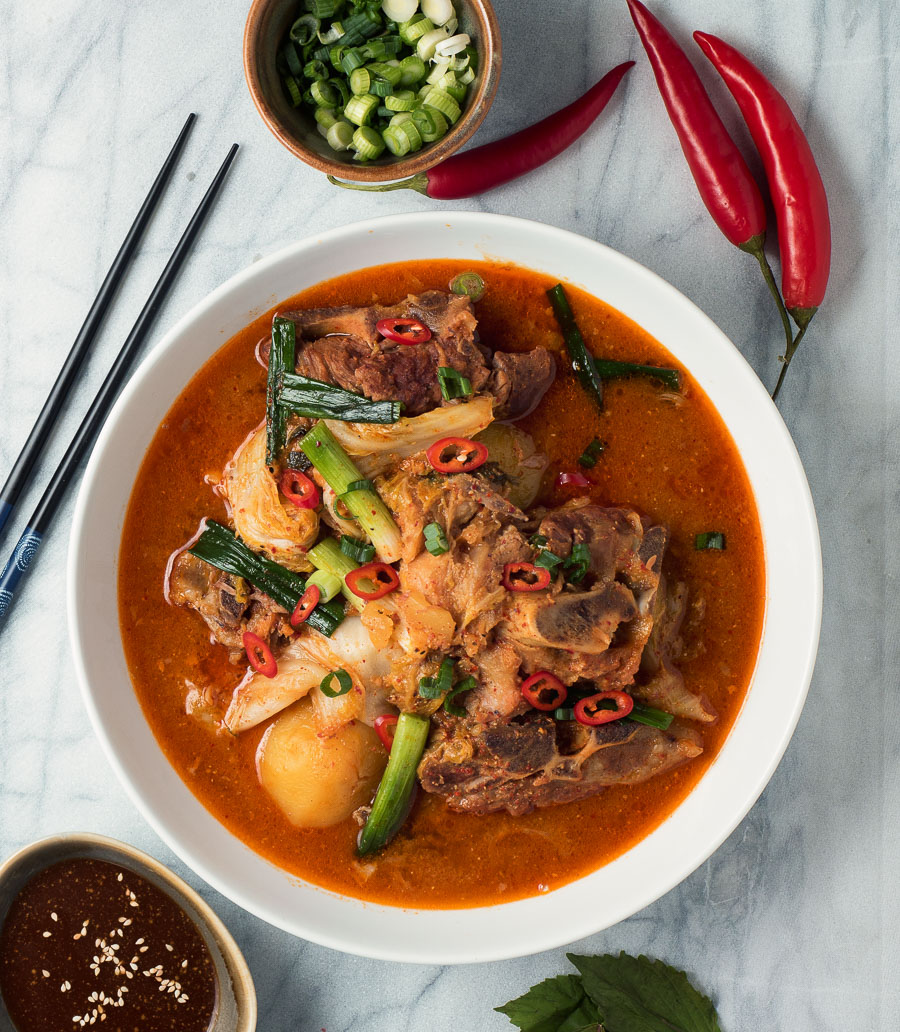 Print Recipe
korean pork bone soup - gamjatang
Don't let the long list of ingredients throw you. If you can make stock and you can make stew you can make Korean pork bone soup.
The spice mix
2

Tbsp

gochujang

1

Tbsp

gochugaru

- plus 2 more teaspoons if you like spicy

2

Tbsp

soy sauce

1

Tbsp

fish sauce

2

Tbsp

mirin

2-3

big cloves of garlic

- crushed

1

tsp

coarse ground black pepper

3

Tbsp

wild sesame seed powder

- deulkkae-garu - this is not easy to find but you can leave it out
The soup
3

lbs

pork neck bones

- cut into 1 1/2 inch pieces (really, talk to your butcher), in all

1 2

lb

pork hock

- cut in 6 pieces (again - your butcher is key)

3

Yukon gold potatoes

- cut in quarters

8

perilla leaves

- roughly torn (you can substitute shiso leaves or just leave them out)

1

lb

young napa cabbage or the inner leaves of an bigger one

6

green onions

- cut into 2 inch pieces
Make the stock
You should have 6 or so lbs of pork neck bones in total. Some will be meatier than others. Keep those for the soup. You will need to blanch and rinse all the pork so you might as well do it all up front.

Put all the pork into a pot large enough to hold it all and cover with cold water.

Bring to a boil over high heat. Boil for 5 minutes. You will see a mess of scum form. Don't worry. Down the drain it goes.

Rinse the pork well with cold running water. Set 3 lbs of meaty pork bones aside.

Place 3 lbs of the pork neck bones (pick the ones with less meat) into a pot and add the water along with the green onion and 2 whole cloves of garlic.

Bring to a boil, reduce heat, cover loosely and simmer for 4-5 hours. Longer is better if you have the time.

Strain the stock into a clean pot large enough to hold the remaining pork, potatoes and cabbage. You should have about 5-6 cups. If you have less, add water to get to 6 cups.
The soup
Mix 2 Tbsp doenjang with a bit of stock to dilute. Add the reserved pork neck bones and pork hock along thinned doenjang to the pot.

Simmer 90 minutes.

While the soup simmers, bring a pot of water large enough to hold all the cabbage to boil. Blanch the cabbage for 90 seconds. Remove the cabbage from the pot (use tongs) and cool under cold running water. Cut the cabbage into large bite size pieces.

After 90 minutes, thin the spice mix with a bit of stock and add it to the soup.

Add the potatoes and cabbage, being careful to submerge the potatoes.

Simmer until the potatoes are tender, around 30-40 minutes.

Add the green onions and simmer 3-4 minutes more.

Serve in bowls with a couple teaspoons of the drizzling sauce overtop. Garnish with green onion and sliced red chilies.
Serving:
6
servings
|
Calories:
679
kcal
|
Carbohydrates:
22
g
|
Protein:
53
g
|
Fat:
40
g
|
Saturated Fat:
14
g
|
Cholesterol:
190
mg
|
Sodium:
1118
mg
|
Potassium:
1321
mg
|
Fiber:
4
g
|
Sugar:
5
g
|
Vitamin A:
17.3
%
|
Vitamin C:
44.2
%
|
Calcium:
16
%
|
Iron:
36.8
%