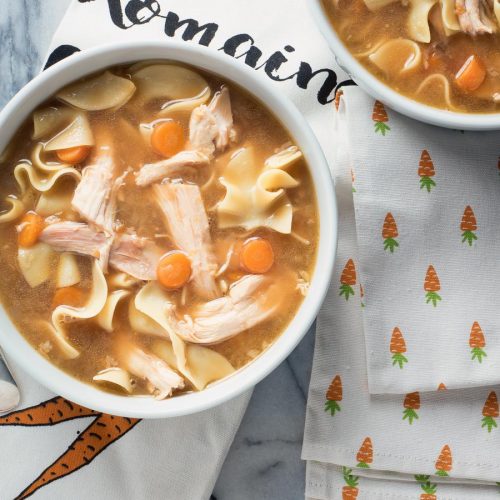 Print Recipe
turkey noodle soup
A good turkey noodle soup is the ultimate comfort food. It's the best way to use up the end of turkey leftovers.
The stock
1

turkey carcass

1

onion

halved with skin left on
The soup
3

Tbsp

vegetable oil

1

large

leek

diced - white and light green potion

1

large

onion

diced

4-5

large

carrots

coarsely diced

2

cloves

garlic

minced

2

tsp

dried thyme

2

tsp

salt

10

cups

turkey stock or as much turkey stock as you have plus water to make up 10 cups

6

oz

broad or extra broad egg noodles

4

cups

diced leftover turkey

1

Tbsp

corn starch

more

salt

to taste
The stock
In a pot large enough to hold your turkey carcass, combine the turkey, onion and enough water to cover. Simmer for 6-8 hours. You want the turkey tasting like nothing and the stock to be flavourful.
The soup
Heat a pot big enough to hold everything (6 quart dutch oven works) over medium low heat. Add the oil and then the leeks, onions and carrots. Cook, stirring occasionally, until onion and leek are soft but not brown. You won't get the carrots soft at this stage - don't bother trying. This takes about 7-10 minutes.

If you don't want bits of thyme floating in the broth, place it in a bit of cheesecloth. Tie securely with food safe string. Add the garlic and the 2 tsp salt and cook another 2 minutes. Add the thyme with the garlic and salt if adding it loose. If you are wrapping it in cheese cloth add it with the broth.

Pour in the stock. Let simmer, covered for about an hour. Add the diced turkey and let simmer another 10 minutes.

Add the egg noodles and cook until the egg noodles are tender, another 10 minutes or so.

Remove about a half cup of liquid and stir in 1 Tbsp cornstarch until thoroughly combined.

Return the cornstarch slurry back to the soup. Bring to a boil. The soup will thicken noticeably.

At this point the soup is under salted. Add salt gradually until you are happy with the salt balance. Soup takes a lot of salt.

Serve.