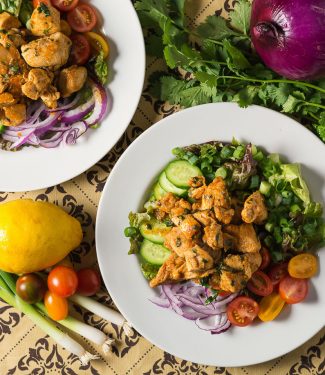 Chicken chaat salad makes a nice starter or a light main course. The lemon, coriander and spices strike a nice balance of sour, savoury and spicy. Salt your greens, then drizzle the salad with a bit of oil and lemon juice before topping with the chicken.
Combine all spices and salt in a small dish.

Heat oil in a frying pan over medium heat.

Add oil, then fry the onion gently until translucent.

Reduce heat to medium low and add the garlic ginger paste. Fry until sizzling subsides.

Add the spices and stir constantly for about 1 minute. You do not want your spices to burn so pay attention.

Raise heat to medium high. Add chicken and fry, stirring occasionally for about 2 minutes.

Add a bit of chicken stock and cook the chicken until just done and the stock has almost entirely boiled away. This takes about 5 minutes.

Add lemon juice and cilantro and continue cooking for one minute more.

Serve over greens or with Indian flat bread.
If you don't have garlic ginger paste just use equal portions of garlic and ginger really finely diced and cook it gently so it doesn't burn.
The specified amount of cayenne is moderately spicy. If you don't like spicy roll back on it. If you like spicy add some chopped green chilies.
Measure your dry spices into one small container so you can add them all at once.