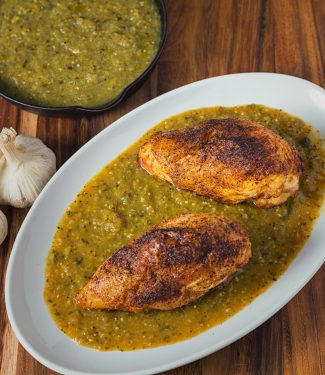 Print Recipe
roasted chicken with tomatillo sauce
Creole seasoning and tomatillo salsa come together in this Mexican inspired chicken.
Pre-heat the oven to 400F. Place an oven proof skillet in the oven to pre-heat

Rub the chicken breasts with olive oil and then season generously with creole seasoning.

Roast, skin side up, for about 35-40 minutes. You want an internal temperature of 165F.

Remove the chicken from the skillet and then heat skillet over medium heat.

When the skillet is hot, add the tomatillo salsa to the hot pan, stirring to scrape up the browned bits in the pan.

Simmer salsa for 3-4 minutes, adding stock to to adjust the consistency.

Spoon sauce onto plate, top with the chicken and serve.
If you have a favourite creole seasoning by all means use it. A fine low sodium version creole seasoning recipe can be found here.
You can buy tomatillo salsa or you can make it. I like it much better when I make tomatillo salsa from scratch.