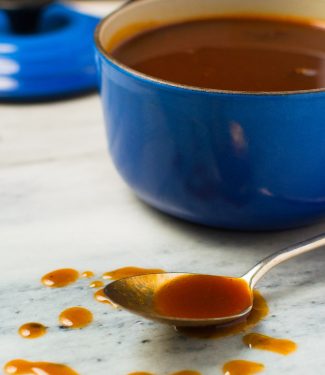 Print Recipe
demi-glace
Demi-glace is one of the restaurant's secret weapons. Virtually all high-end restaurants use it. Now you can too.
Total Time
1
d
6
hrs
30
mins
7-8

lbs

meaty veal bones

1

onion

coarsely chopped

2-3

shallots

coarsely chopped (or another onion)

1

leek

coarsely chopped

2-3

carrots

coarsely chopped

4

oz

tomato paste

2-3

sprigs of thyme

- wrapped in a bit of cheesecloth

enough water to cover the bones - topping up as required
Heat your oven to 375F.

Spread the bones in an even layer on a sturdy baking sheet and roast for 90 minutes. Make sure your baking sheet has sides at least 3/4" high as the bones will throw a lot of fat.

Remove fat and sprinkle the carrots, onions, shallots and leeks overtop. Roast another 30 minutes or so.

Place bones and aromatics in a large stock pot, add the tomato paste and thyme and simmer gently (I mean gently) for around 18-24 hours.

Remove from heat. Let cool slightly, remove bones and strain through a fine strainer.

Let cool completely. Skim any surface fat.

Return to a pot and simmer gently to a final volume of 2-3 cups.

Portion demi-glace in an ice cube tray and freeze. Place cubes in a zip loc bag or better yet vacuum pack 3 or 4 cubes per package.

Use on your unsuspecting guests to amaze them.