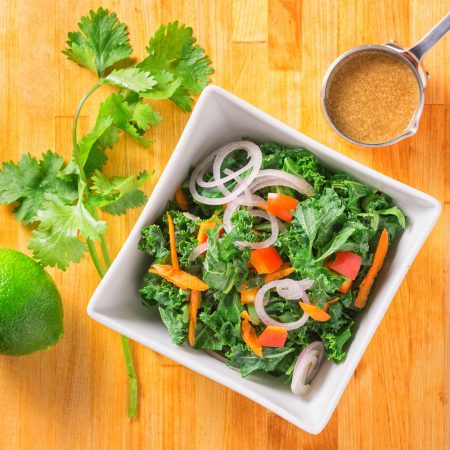 Print Recipe
asian kale salad
Massage your kale and toss with this simple vinaigrette for a refreshing kale salad.
Asian Kale Salad
1

small head kale

1/2

red pepper

diced

1

carrot

grated

1

shallot

thinly sliced into rings
Prep the kale
Use a sharp knife to remove the tough stems from the kale and discard. Chop the kale into small pieces. Add a bit of salt, mix and grab a handful of salted kale. Rub between your hands until the colour turns noticeably darker. Put the rubbed kale into a different bowl (or back onto the cutting board). Grab the next handful and repeat until all the kale has been massaged. Return kale to the bowl if it's on the cutting board.