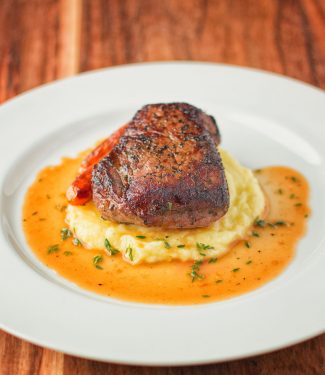 Print Recipe
steak with thyme white wine reduction and truffled mashed
Pan-fried steak with a white wine thyme reduction. Truffled mashed potatoes. 3 star dining at home.
For the truffled mashed potatoes
The potatoes
Boil the potatoes until tender. Tender means a fork inserted into the potato meets no resistance.

Add the butter and heated milk. Use a ricer, masher or hand mixer - whatever you are comfortable with - to mash the potatoes. You are going for a puree texture here so add more milk if needed.
The steaks
Heat a solid frying pan over medium heat.

Season the steaks generously with salt and pepper.

Pan fry the steaks to desired doneness - somewhere around 4 minutes per side for medium rare. An instant read thermometer is the only reliable guideline here. Different steaks, different stoves, different pans - nobody can figure this out except you and your thermometer. Cook to 125F for rare, 135 for medium.

Remove from pan and tent with foil.
The sauce
Spoon off fat from pan.

Deglaze with the white wine and reduce the wine to 1/4 cup.

Add chicken or veal stock and reduce by 1/2. Add the concentrated veal stock at this point if you are using it. If you don't have any please consider making some someday. It's flavour and mouthfeel dynamite.

Add the fresh thyme leaves. Add the accumulated juices from the steaks and simmer for another minute. Season with truffle salt or add a drizzle of truffle oil and adjust salt to taste.
Concentrated veal stock is a great thing to have on hand to push dishes over the top. It contributes both flavour and mouthfeel.
Serving:
4
servings
|
Calories:
204
kcal
|
Carbohydrates:
24
g
|
Protein:
7
g
|
Fat:
7
g
|
Saturated Fat:
4
g
|
Cholesterol:
18
mg
|
Sodium:
229
mg
|
Potassium:
901
mg
|
Fiber:
4
g
|
Sugar:
2
g
|
Vitamin A:
225
IU
|
Vitamin C:
19.7
mg
|
Calcium:
93
mg
|
Iron:
5.8
mg