Steak with thyme white wine reduction. A nice pan-fried steak perched on a smear of truffled mashed potatoes with a drizzle of thyme infused sauce all around. A dish fit for virtually any occasion. Fine dining at home.
Make steak with thyme white wine reduction your way
This is a bit of a guideline recipe. You can go different ways with it. Blue-cheese mashed instead of truffled. Garlic mashed works too. The baseline steak with thyme white wine reduction recipe can go a whole bunch of ways. How you like it.
Don't want mashed? Some potatoes roasted in duck fat would be spectacular. You can plate it different ways too. Place the whole steak on top of the potatoes or slice it and nestle the steak between spoonfuls of mashed.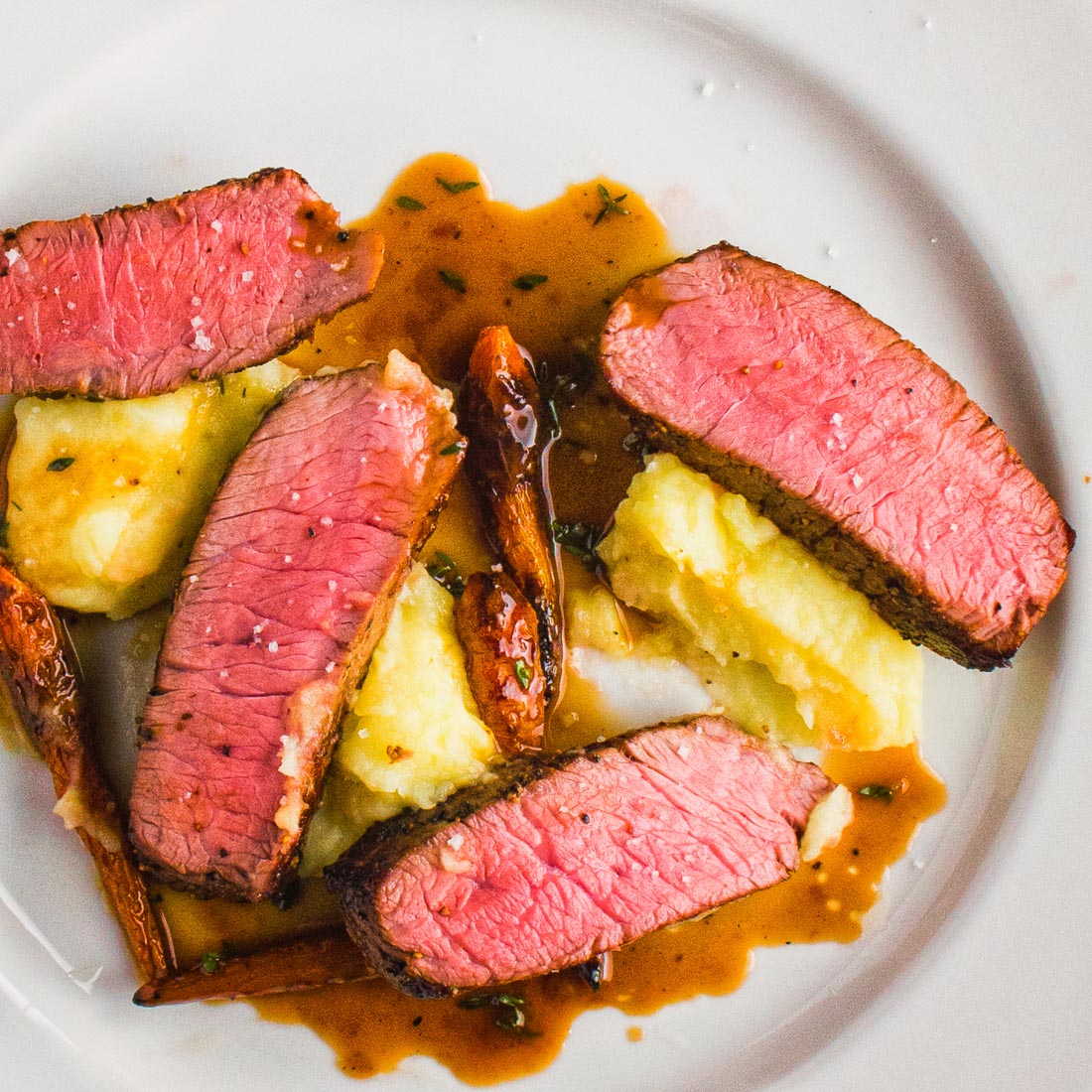 A bit of truffle flavour adds real wow
Getting the truffle flavour into the dish is easier than you think. Fresh truffles – overkill for this recipe. Truffle salt works beautifully though. Truffle salt is salt with little bits of real truffle.
It's a great ingredient – sauces, potatoes, soup – lots. Last is truffle oil. Truffle oil doesn't actually have anything to do with truffles. It's pretty tasty though so use that if it's all you can get.
But do learn about truffles if you haven't tried them yet. It's a wonderful flavour. Just remember – truffle is a delicate flavour. It will fade as you cook it so add it last.
This recipe works with chicken stock. It works better with veal stock. It works fantastically with concentrated veal stock.
Think of chicken stock as one star. Veal stock pushes it to two stars. Concentrated veal stock gets you the third star. Depends how nice a restaurant you feel like turning your kitchen into tonight.
steak with thyme white wine reduction and truffled mashed
Pan-fried steak with a white wine thyme reduction. Truffled mashed potatoes. 3 star dining at home.
Ingredients
For the steaks
4

decent steaks

- top sirloin or New York striploin cut 1 inch thick

1/2

cup

white wine

1

cup

veal or chicken stock

2

oz

concentrated veal stock

optional

1

tsp

fresh thyme leaves
For the truffled mashed potatoes
1.5

lbs

yukon gold potatoes

peeled and diced

1/2

cup

milk

heated

2

Tbsp

butter

Truffle salt or truffle oil

to taste
Instructions
The potatoes
Boil the potatoes until tender. Tender means a fork inserted into the potato meets no resistance.

Add the butter and heated milk. Use a ricer, masher or hand mixer - whatever you are comfortable with - to mash the potatoes. You are going for a puree texture here so add more milk if needed.
The steaks
Heat a solid frying pan over medium heat.

Season the steaks generously with salt and pepper.

Pan fry the steaks to desired doneness - somewhere around 4 minutes per side for medium rare. An instant read thermometer is the only reliable guideline here. Different steaks, different stoves, different pans - nobody can figure this out except you and your thermometer. Cook to 125F for rare, 135 for medium.

Remove from pan and tent with foil.
The sauce
Spoon off fat from pan.

Deglaze with the white wine and reduce the wine to 1/4 cup.

Add chicken or veal stock and reduce by 1/2. Add the concentrated veal stock at this point if you are using it. If you don't have any please consider making some someday. It's flavour and mouthfeel dynamite.

Add the fresh thyme leaves. Add the accumulated juices from the steaks and simmer for another minute. Season with truffle salt or add a drizzle of truffle oil and adjust salt to taste.
To serve
Smear a few tablespoons of truffled mash in the centre of the plate. Top with steak. Drizzle sauce around. If you have it, a little sprinkle of fleur de sel to finish is a nice touch.
Notes
Concentrated veal stock is a great thing to have on hand to push dishes over the top. It contributes both flavour and mouthfeel.
Nutrition
Serving:
4
servings
|
Calories:
204
kcal
|
Carbohydrates:
24
g
|
Protein:
7
g
|
Fat:
7
g
|
Saturated Fat:
4
g
|
Cholesterol:
18
mg
|
Sodium:
229
mg
|
Potassium:
901
mg
|
Fiber:
4
g
|
Sugar:
2
g
|
Vitamin A:
225
IU
|
Vitamin C:
19.7
mg
|
Calcium:
93
mg
|
Iron:
5.8
mg