Mexican pork ribs. Chili. Tomato. Spice. Creamy cheese grits. It comes together beautifully on the plate. A deeply flavoured, mildly spicy sauce blends with the creaminess of the grits. Meltingly tender pork ribs add a touch of richness. This dish takes Mexican cooking into fine dining territory.
The key is slow roasting back ribs in the oven before a quick braise to enrich the sauce. The slow roasting browns the ribs and contributes the always important Maillard flavour compounds (those flavours you can only get by browning your meat). With any other meat you can brown in the pot but back ribs are curved. You can't brown them evenly.
Nice thing about this dish is you can cook the ribs ahead and be ready for a dinner party. You can prep the sauce as well. When you are ready to serve you can simply warm the sauce then add the ribs to simmer for 20-25 minutes to let it all come together while you make the grits. Takes some of the pressure off…
Credit goes to the kitchn.com for the idea to cook the back ribs initially. A solid cookie sheet and a bakers rack lets air circulate around the ribs, promoting browning.
The cheese grits are really cheese polenta. You can't get grits up where I live. But the fine ground cornmeal works well here. You are going for rich, smooth and creamy. No grit needed.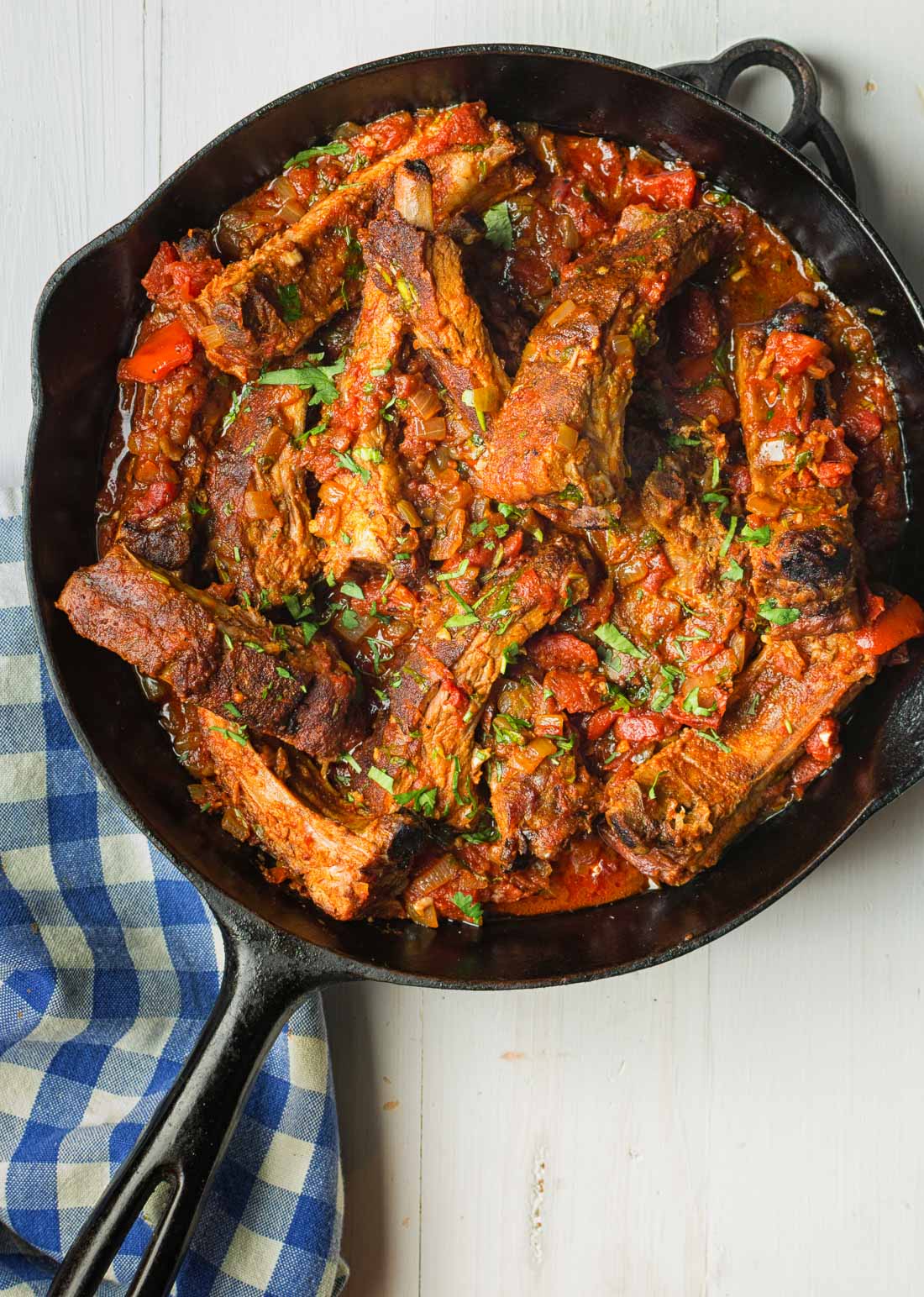 This dish plates up easily. Spoon some of the grits in the centre of a plate and place two ribs on the grits. Spoon some sauce around the ribs and you have a dish that puts most Mexican restaurants to shame. Worthy of a dinner party. Mexican pork ribs, fire roasted tomatoes, cheese grits. Could be on a menu somewhere.
mexican pork ribs with creamy cheese grits
Melting pork back ribs, fire roasted tomatoes and cheese polenta come together in this fine dining riff on Mexican pork chili.
Ingredients
The ribs
1 3

lb

rack meaty pork back ribs

2

Tbsp

pure chili powder

1

tsp

salt

1/2

tsp

cumin

1/2

tsp

granulated garlic

1/2

tsp

granulated onion
The sauce
1

onion

diced

2

cloves

garlic

minced

1 15

oz

can fire roasted diced tomatoes

1

tsp

pure chili powder

1/2

tsp

cumin

1/2

tsp

Mexican oregano

2

Tbsp

vegetable oil

1/2

tsp

salt

1/2

cup

fresh cilantro

chopped
Instructions
The ribs
Pre-heat your oven to 300F

Mix pure chili powder, cumin, granulated garlic, granulated onion and salt. This is your dry rub.

Remove silver skin from the rib side of the ribs. Insert a knife between the membrane and the rib and lift. Get your fingers under the skin and pull. This is easy sometimes and thoroughly annoying other times. I've never been able to figure out why.

Thoroughly coat the ribs with the dry rub.

Place ribs on a rack on the cookie sheet, place in oven and slow roast until they reach an internal temperature of about 185F. This can take up to 2 1/2 hours depending on the rack. Measure temperature in the thick parts and between the ribs. Don't let the probe touch bone. That will mess up the reading.

While the ribs are cooking prep the sauce.
The sauce
Add oil to a pan and heat over medium low.

Add the onion, chili powder, cumin, Mexican oregano and salt and cook until the onions are translucent.

Add the garlic and cook another 30 seconds.

Add tomatoes and a splash of chicken stock and simmer around 30-45 minutes, taking care not to let the pot boil dry.

When the ribs have reached 185F or so remove from oven and let cool slightly.

Slice into individual ribs and add to the tomato sauce. Add the cilantro. Simmer ribs in sauce for about 20-30 minutes.
Notes
Substitute rendered pork lard for the vegetable oil in the sauce if you can find it.
Pure chili powder is not the same as supermarket chili powder. Look for pure ancho or New Mexican red chili powder.
creamy cheese grits
These "grits" are a jumble of the top two cheese grits recipes on the web. Use whatever recipe you are comfortable with.
Ingredients
4

cups

chicken stock

1

cup

cornmeal

1 1/2

tsp

salt

4

Tbsp

butter

4

Tbsp

heavy cream

4

oz

grated old cheddar
Instructions
Add salt to the chicken stock and bring to a boil. Reduce heat to low.

Add cornmeal gradually, stirring to incorporate each time before adding more.

Cook, covered, stirring every 3-4 minutes for 20 minutes or until creamy.

Remove from heat and stir in butter and cream.

Add cheddar while stirring and serve immediately
Notes
The recipe actually uses cornmeal - not hominy grits.