I love a good prime rib roast. You know – deeply brown and crispy on the outside. Perfectly cooked the whole way through. No sign of grey meat.  That's the dream. Reverse sear prime rib makes that dream a reality.
It's the exact same as reverse sear steaks but on a bigger scale. A grander scale.  And this is how you do it. This is the Serious Eats prime rib recipe. If you want more details that's where you'll find them.
A few simple steps
There's a few steps involved to reverse sear prime rib. First, unwrap your prime rib and let it air dry for a day or two in the fridge. Just make sure you don't bump other things into it and you'll be fine.
Then cook it low and slow in a 225F oven. This takes time but it is time well spent. It took almost 3 hours for a 2 rib roast. For a big one plan on 4 or more hours.
Pull it from the oven when the internal temperature hits 125F. Let it rest for 30 to 60 minutes. Crank your oven to as high as it will go – like 500F – and let it pre-heat.
Return the rested prime rib to the oven and blast it for 10-12 minutes to crisp up and really brown. Done. Perfectly done.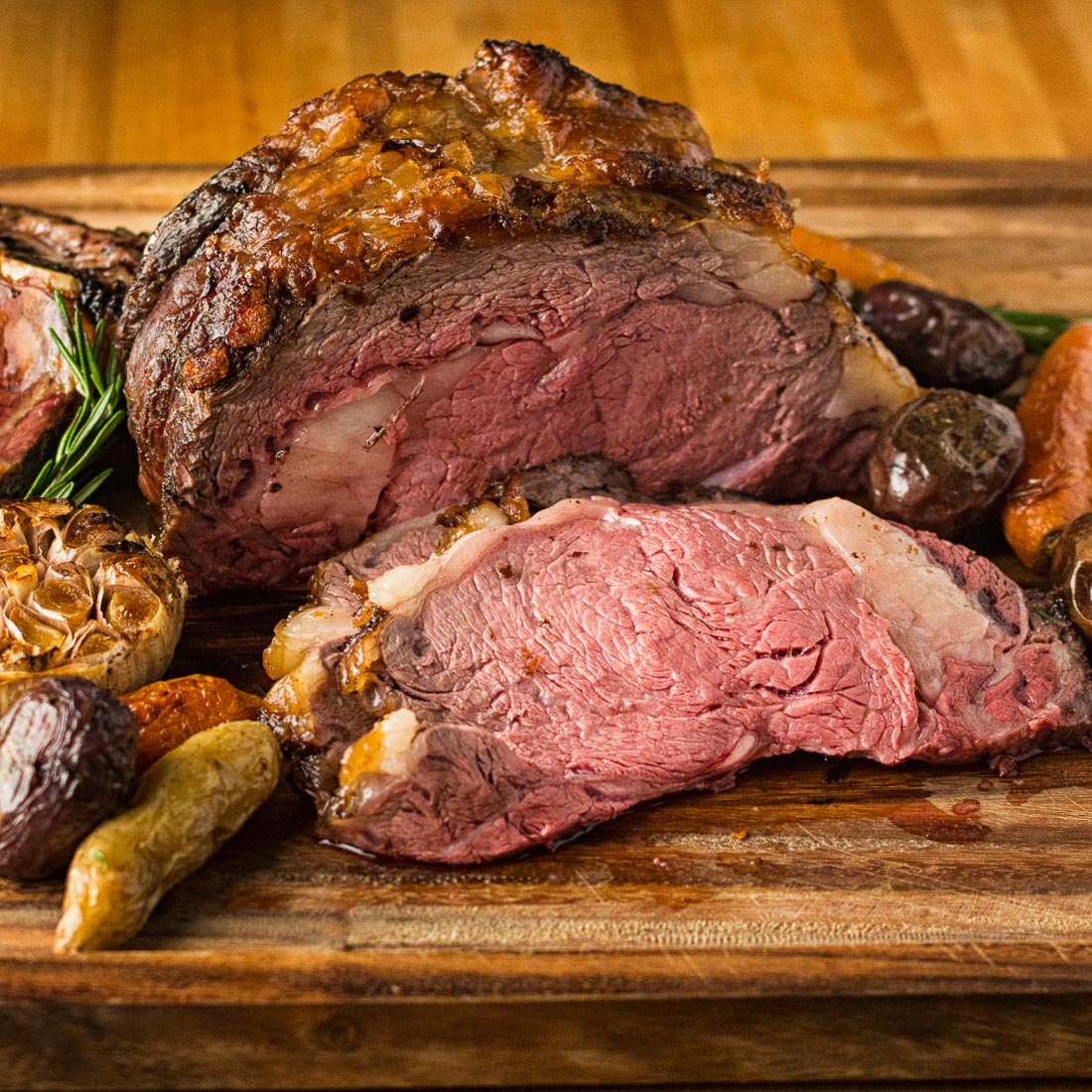 Make the gravy
There's one problem with reverse sear prime rib. And it's a big one. Everything comes at a price. In this case the price is no fond in the bottom of the pan. No beautiful little flavour bombs to make your gravy.
Luckily there's a way to fix that. Sort of. It won't be as good but it will work.
If you can get some demi-glace, that fixes the problem nicely. Just add it into your gravy. Problem solved. If you can't you have a bit more work to do. Demi-glace isn't that hard to make but it takes time.
Make a roux with some of the fat in the pan and about equal volume of flour. Add the best beef or veal stock you can find or make.
Concentrated veal stock works really well here. Season it with salt and pepper. Or you can just serve the prime rib sprinkled with a bit of fleur de sel. That works too.
At the end of the day you have a choice to make. Roast your prime rib at 325F and live with the grey meat on the outside. You'll get a great gravy.
Or, do the reverse sear and serve it with a gravy that's not quite as good. Tough decision? I don't think so…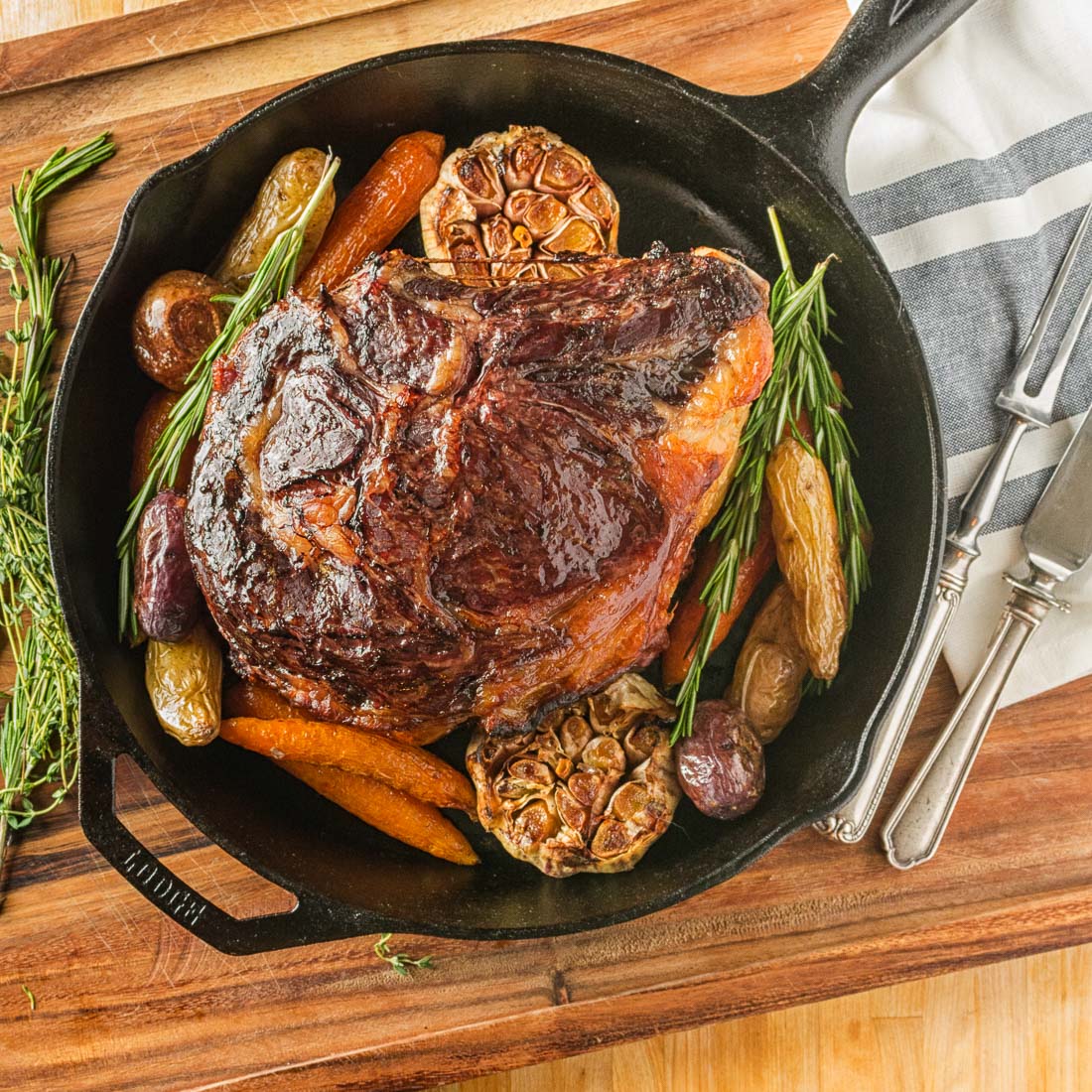 reverse sear prime rib
If you want perfectly evenly cooked prime rib with a crisp, deeply browned exterior then reverse sear prime rib is the way to go
Ingredients
Quantities depend on the size of your roast
1

prime rib roast - 2-4 ribs

salt

pepper

1/4-3/4

cup

red wine

flour

1-3

cups

really good beef or veal stock
Instructions
One or two days before roasting
Unwrap your prime rib. Place it on a cookie sheet, ribs down and let air dry for 1-2 days.
To roast your prime rib
Pre-heat your oven to 225F.

Place the roast in an oven proof dish (it will need to withstand 500F at one point) and place it in the 225F oven.

If you have a thermometer with a remote probe place it in the centre of the roast. If you don't then start checking internal temp after 2 hours. You are shooting for 125F internal temperature.

When you get to 125F remove the roast from the oven. Let your roast rest for 30-60 minutes while your oven heats to 500F.

While your oven is heating start preparing your gravy.

Add the red wine to a saucepan and simmer briskly until reduced by half. Add your stock and reduce slightly.

After the roast has rested for 30-60 minutes return it to the oven and blast it for 10 minutes to brown and crisp up.

Remove from oven and remove roast from the pan. Spoon off all but 2-4 Tbsp of beef fat.

Place pan on medium low heat. Add half as much flour as you left fat in the pan. If you have 2 Tbsp of fat, add one Tbsp of flour. Make a roux by stirring the flour and fat together. Cook, stirring constantly for about 1 minute. Add the warm stock/red wine mixture slowly, stirring constantly. Bring to a simmer. Adjust seasoning.

Carve the bones out of the prime rib and cut into slices across the grain. Serve with gravy.
Notes
The recommended range of stock and red wine scales with the size of your roast. Bigger roast. More liquid.
You can make demi-glace. It's not that hard. Get the recipe here. Once you try it you'll never do without again...