I love sandwiches. My absolute favourite sandwich is the Montreal smoked meat sandwich. Piled high on rye bread with ballpark yellow mustard and served up with a kosher dill. It's Canada's answer to pastrami and the only place you can get it done right is Montreal.
Making it is a campaign. It's epic. You do this and there's no doubt you qualify as hardcore. It takes 10 days start to finish. It takes up a bunch of room in your fridge. You have to tend to it every day. You have to smoke it then you have to steam it. Real work. But it's so worth it. It's magic meat.
Montreal smoked meat is cured, then smoked, then steamed just like pastrami. It's made with beef brisket though. Pastrami is made with the navel. You want to find a source for a high quality, untrimmed brisket. If the fat cap is any less than 3/8 inch stay away. Fat is critical. You want it. This isn't health food.
The first step is to cure the meat so you need to understand what you are playing with. There are different formulas for curing salts. This recipe uses pink salt or prague powder number 1. It's 6.25% sodium nitrite in salt. If you use a different curing salt follow the instructions to make sure you are using the right amount. More is not better here. You want to use what you need and no more. Nitrates…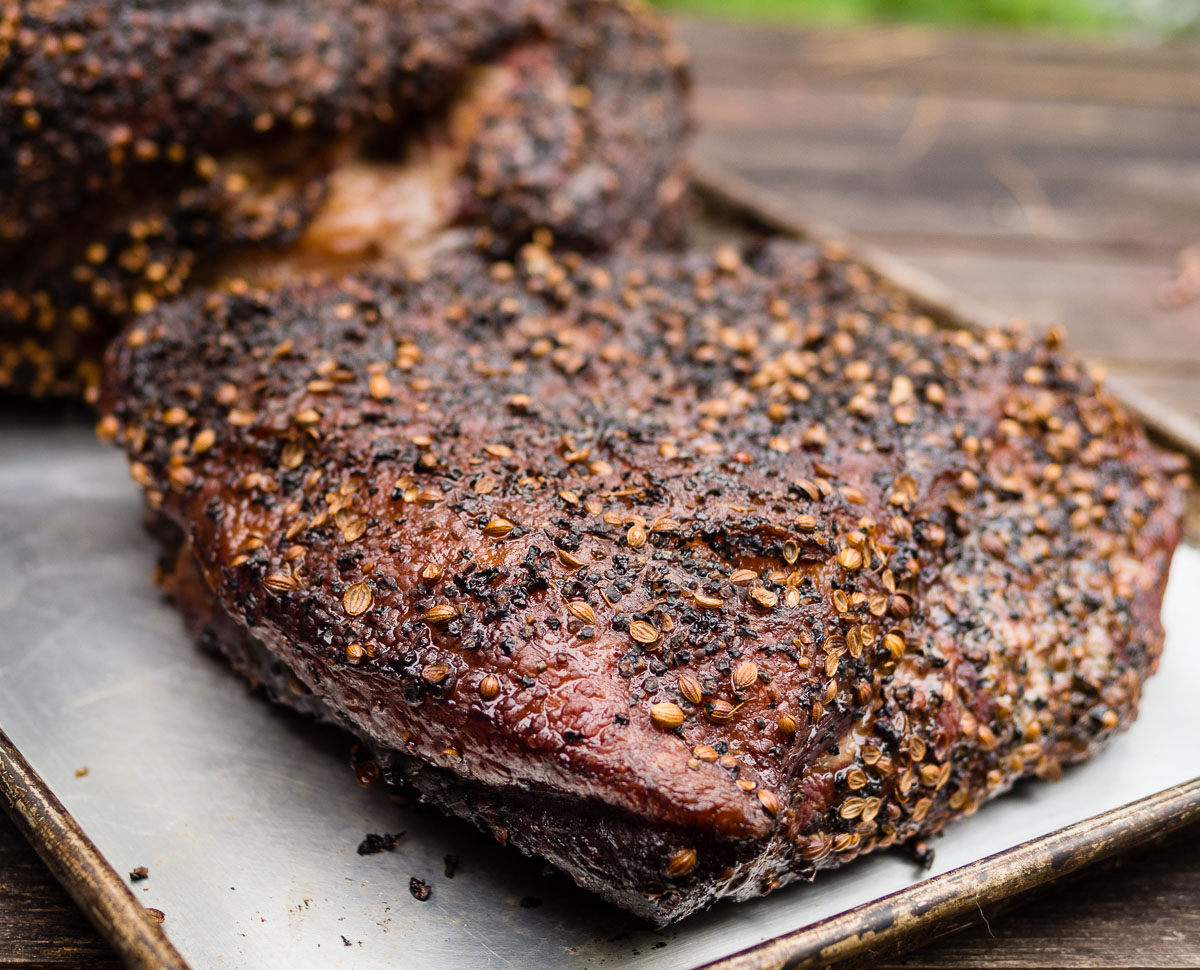 montreal smoked meat
This is a true Canadian masterpiece. I think it's best sandwich in the world.
Servings
12
big sandwiches
Ingredients
12-14

lb

beef brisket

flat and point with fat
The curing mix
8

oz

black peppercorns

cracked

4

oz

coriander seed

cracked

4

oz

white sugar

3/4

cup

kosher salt

3

Tbsp

whole cloves

10

dried bay leaves

crumbled

3

tsp

pink salt

- prague powder number 1
The rub
6

oz

black pepper corns, cracked

3

oz

coriander seed

cracked
Instructions
Cure the brisket
Trim the brisket, removing pockets of hard fat and trim the fat cap (or just don't) to no less than 3/8 inch. Best to google this looking for "trim texas brisket".

Combine all the cure ingredients and coat the brisket. You want to use all of it because you have included your curing salt in the mix and you need all of that. Wrap the brisket in plastic bags and place on a large cookie sheet. Refrigerate, turning the brisket over 2 times per day for 8 days.

On the eighth day, soak the brisket in a sink of cool water for 30 minutes. Drain the water and refill, continuing to soak the brisket. Repeat this for 3 hours (6 water changes), dry the brisket and coat it with the pepper corn, coriander seed rub. Back into the fridge it goes.
Smoke the brisket
On the ninth day smoke the brisket for 8-9 hours at 225-250F with maple if you have it. You may need to separate the brisket into the flat and the point to fit it onto the smoker. After 8-9 hours remove the brisket from the smoker, let cool slightly and refrigerate overnight.
Steam the brisket
On the tenth day, set up a steamer that will fit all this wonderful brisket. Outside is better. This is going to smell. Plan for this step. You are going to need a big steamer. I use a turkey fryer with an inverted strainer and about 3 inches of water to steam my smoked meat.

Steam the brisket gently for around 3 hours. Don't let it boil dry. You are looking for a couple things. A 195-200F internal temperature will ensure tender Montreal smoked meat every time. Probe tender is the other key indicator. Take the opportunity to figure that out by getting a feel for it when you hit 195F.

Probe tender means when you insert your probe you don't feel any resistance in the meat. It's like pushing a hot probe through warm butter. It just slides in. This is a good to learn if you are going to do briskets or pulled pork - it's how the pros figure out what's done and what's not.

Once you hit 195F and probe tender pull the brisket and let it cool to around 160-170F. This can take up to an hour.

Once it's cool enough to handle slice thinly against the grain with a sharp knife. Serve a mix of the flat and the point in each sandwich. Pile it high on rye bread with yellow mustard and you'll have a sandwich worthy of any of the Montreal smoked meat shrines in Montreal.
Notes
The prep time is about one hour but the cure takes 10 days so make sure you allow the time for the process to run its course. One easy way to crack the spices is to put them into a food processor and pulse until you get a coarse "grind". Fast and easy.