I love tomatillos. Not so long ago all you could get was canned. Now fresh tomatillos are available almost year round. Canned will do in a pinch but fresh is much better. I regularly feature tomatillo salsa in roasted dishes and braises in my kitchen. The fresh, vibrant taste really perks up lots of dishes. I use it as the star ingredient in sauces. Roasted chicken, pan fried pork chops, nachos, green pork chili. All are better with tomatillo salsa.
If you aren't familiar with tomatillos they are related to the tomato. They aren't the same as green tomatoes though. If you ever go to Mexican restaurants, they are what's in the green salsa.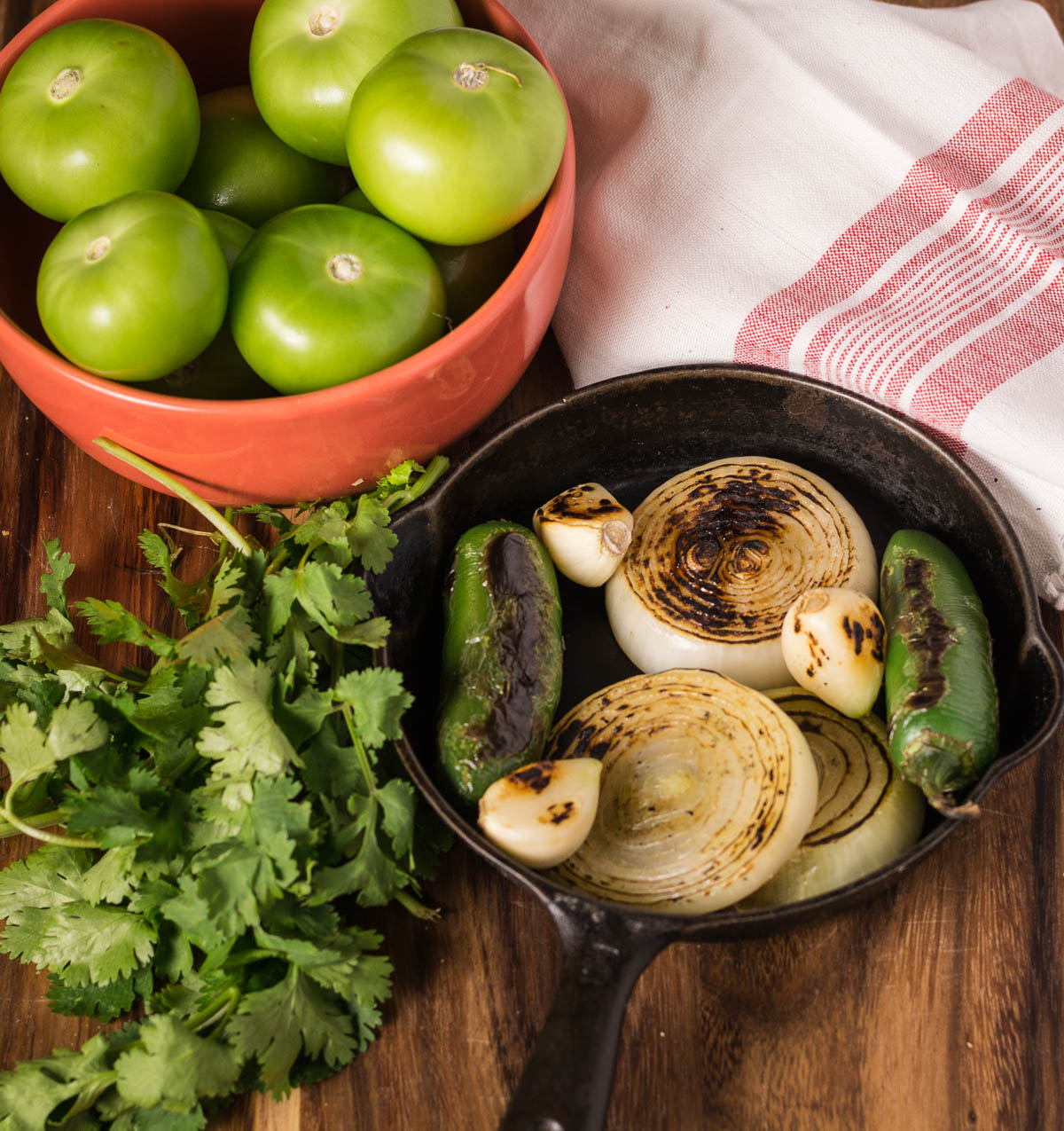 This tomatillo salsa recipe is more than just something to dip tortilla chips in. It's also an ingredient for other dishes. Try it with roast pork or with chicken. If you want a version for tacos don't roast the onion, garlic and jalepeno. Add some lime juice and maybe go bigger on the salt and you'll have a tomatillo salsa perfect for chips and salsa.

tomatillo salsa
Try this tomatillo salsa as a sauce for roasted pork or chicken. Mix it into a green pork chili. There's all kinds of places you can use it. Just keep in mind if you want one for chips and salsa don't bother roasting the onions, jalepenos and garlic.
Ingredients
1½ pounds fresh tomatillos
1 white onion
3 cloves garlic
2 jalepeno peppers
⅓ cup cilantro
¾ tsp salt
2 Tbsp vegetable oil
½ cup chicken or vegetable stock
Instructions
Cut onion into three big slices
Heat a cast iron frying pan or comal over medium heat.
Dry roast onions, jalepenos and garlic cloves in the comal until lightly charred.
If you don't want your salsa too hot, scrape out the ribs and seeds after roasting the jalepenos.
Bring a pot of well salted water to boil. Remove husks and cook tomatillos until they turn pale - around 4 minutes.
Combine all ingredients except oil and chicken or vegetable stock in a blender or food processor and puree.
Heat oil in a saucepan.
Add pureed salsa to the pan and fry over medium high heat for 3-4 minutes.It will spatter when you add the salsa so be ready.
Reduce heat, add chicken stock and simmer for 10 minutes