Is there a rule that says piccata has to be veal or chicken scaloppini? If there is, I'm breaking it here. Lemon, capers and chicken is a great flavour combination. You can make it even better, though. Imagine adding the goodness of a roasted poultry fond to it. Cornish hen with lemon and caper sauce. That's a whole different level of yum.
I have a thing for cornish hens. They're a bit more intensely flavoured than chicken. They're small so I can have dark and white meat in a single serving. They just work. This recipe works just as well with roast chicken. Works with chicken parts as well. Roast some chicken. Skim off the clear fat. Deglaze with lemon and chicken stock. Toss in some capers. If you can roast a chicken, you can make this. Simple.
I've shown it here served with roasted potatoes. It works just as well with pureed cauliflower or polenta or smashed new potatoes or… Mix it up!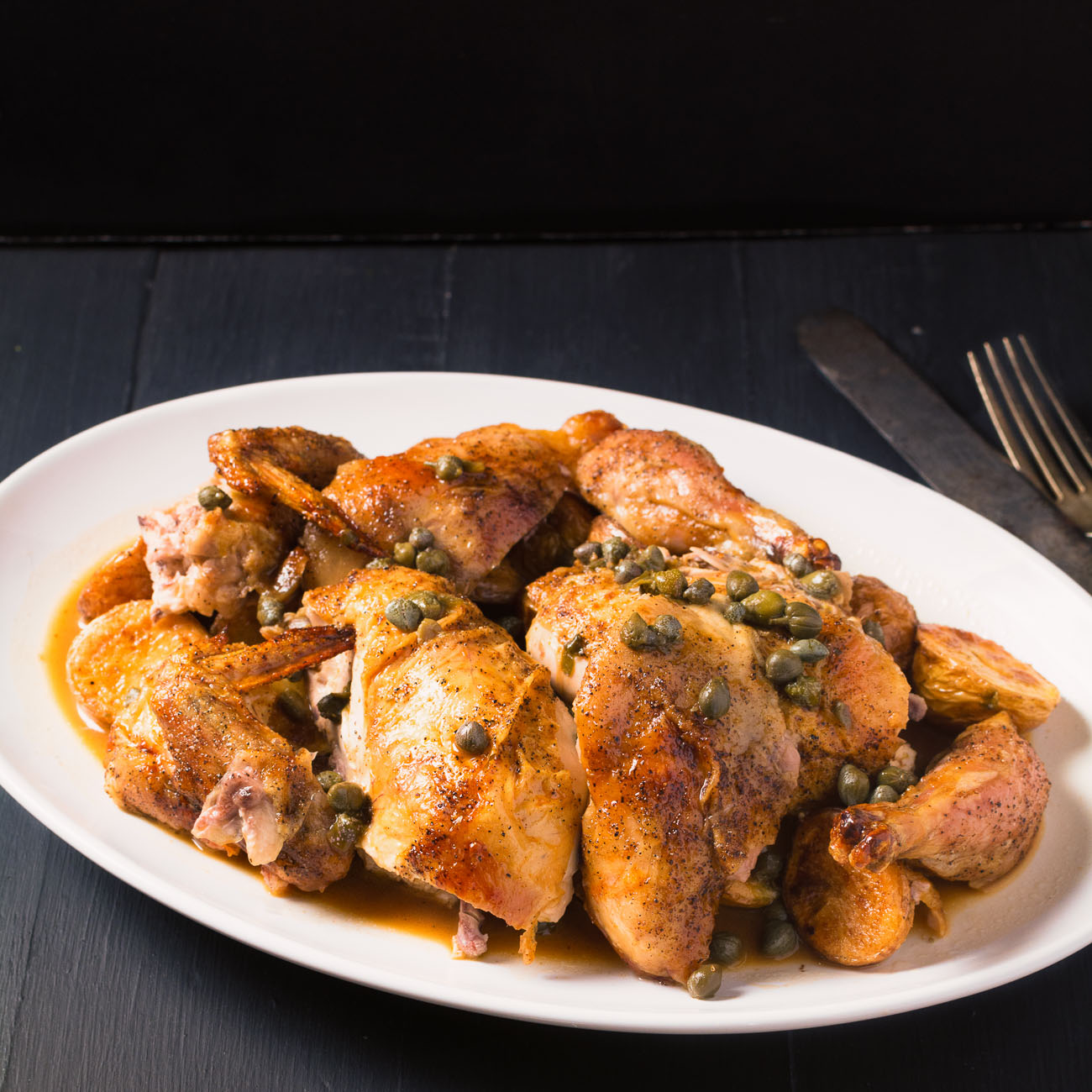 cornish hen with lemon and caper sauce
Cornish hen with lemon and caper sauce is a variation on chicken piccata. Substitute roasted cornish hen or chicken for chicken scaloppini and you have familiar flavours in a whole different dish.
Ingredients
1 cornish hen, about 2 lbs
Juice of ½ lemon
1 cup low or no sodium chicken stock
a bit of concentrated chicken stock if you have it
2 tsp capers
salt
pepper
olive oil to rub the cornish hen
Instructions
Pre-heat your oven to 400F. Pre-heat an oven proof skillet or small roasting pan.
Rub the cornish hen or chicken with olive oil and season with salt and pepper.
Roast, basting once or twice with accumulated fat, until the cornish hen reaches an internal temperature of 165F.
Remove the cornish hen from the roasting pan and set aside.
Spoon off clear fat. Place the skillet over medium heat.
Add the lemon juice and stir to dissolve any browned bits in the pan. Reduce slightly.
Stir in the chicken stock and simmer briskly until reduced by half.
Add concentrated chicken stock if using.
Add the capers.
Serve ½ cornish hen (or ¼ chicken) per person, spooning the sauce around it.
Notes
This works equally well with a whole chicken. If roasting a chicken increase use ¾ of a lemon juiced, 1½ cups chicken stock and 1 Tbsp capers.