Vietnamese beef noodle salad is a quick weeknight meal. Big tastes of lemongrass, beef, chili and fresh herbs hit all the right flavour notes. It's the best kind of salad. Everything in balance.
I'm a omnivore with carnivore tendencies. There's no doubt. Look around this blog. Probably five recipes that can qualify as vegan. Maybe less. But Vietnamese works for me. Fascinates me really. The notion that meat is another ingredient. Not the star. Not the focus. Just another supporting voice. It's very different from the North American perspective. But it's so good. We can learn something here.
This salad is called bun bo xao. Bun are the noodles. Bo is beef and xao is stir fry. Bun bo xao. Stir fried beef with rice noodles. Now you know
There's not a lot to Vietnamese beef noodle salad once you have your prep done. Cook some noodles, fry up some beef and drizzle a tasty Vietnamese dipping sauce overtop. Eat. Enjoy. Feel good.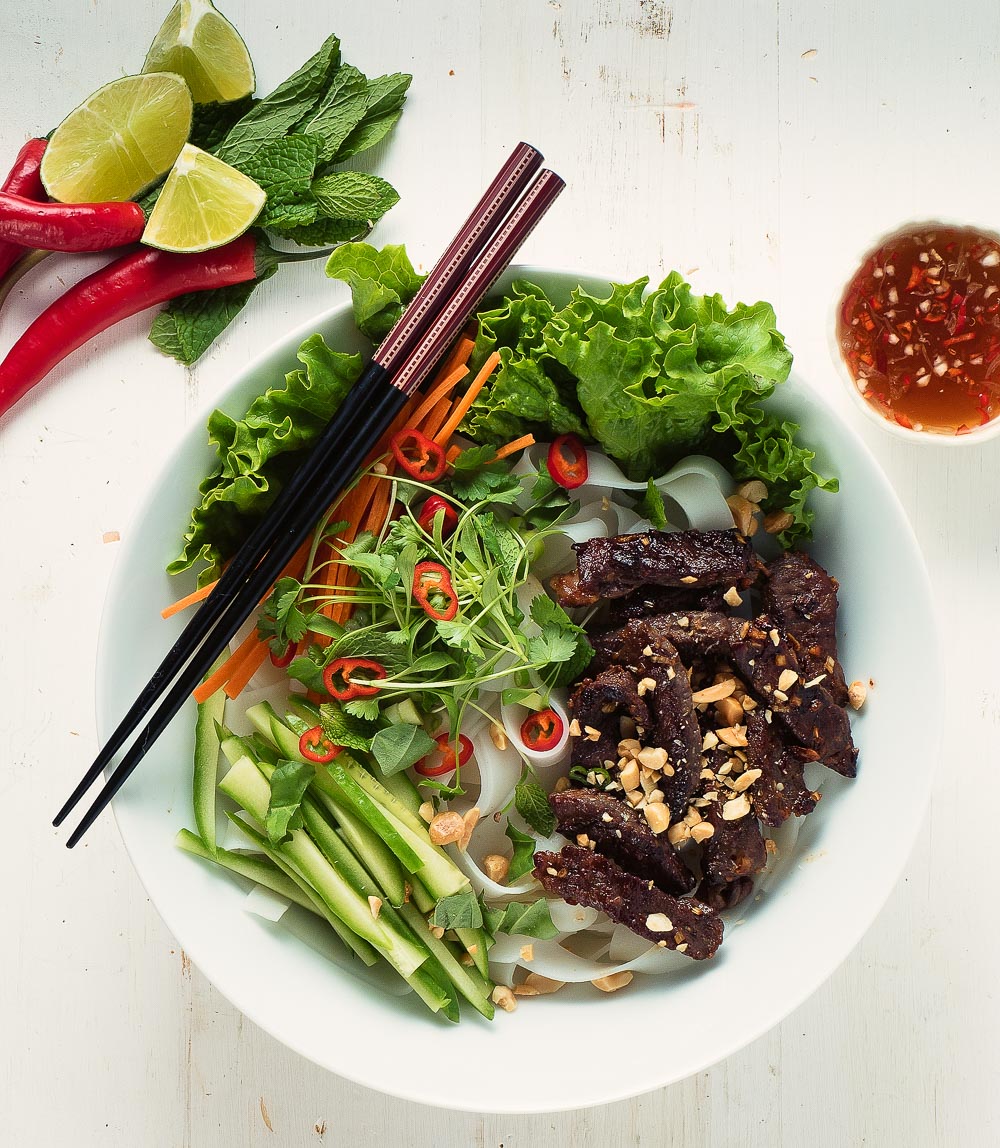 vietnamese beef noodle salad
This Vietnamese beef noodle salad comes together quickly so have all your prep done before you start cooking. Use rice vermicelli. The noodles in the picture were for effect only.
Ingredients
Beef
10 oz top sirloin, sliced about ¼ inch thick
2 Tbsp finely chopped lemongrass - tender inside part only
2 cloves garlic, crushed
1 Tbsp fish sauce
1 tsp sugar
½ tsp sambal oelek or other asian chili sauce
2 Tbsp oil
Nuoc cham dipping sauce
2 Tbsp fish sauce
2 Tbsp sugar
1 Tbsp lime juice (about ½ a lime)
½ tsp sambal oelek or other asian chili sauce
⅓ cup hot water
minced red chili to taste
Salad
8 oz vermicelli rice noodles
1 small cucumber, julienned
1 small carrot, julienned
1-2 green onions, chopped
leaf lettuce
Garnishes - be heavy handed
cilantro
mint
basil
crushed peanuts
Instructions
Combine the dipping ingredients in a small bowl and stir to dissolve sugar. You want hot water here to help the sugar along. You can do this ahead of time.
Mix the beef, lemongrass, sugar, fish sauce, garlic and sambal oelek and let stand 15-20 minutes (longer is fine).
Cook the rice vermicelli per the package instructions. Alternately, pouring boiling water to fully submerge the noodles works well. Drain them as soon as they soften - about 5 minutes. Check them before draining. Let the noodles cool briefly.
Heat the oil over medium high heat and stir fry the beef.
To serve place a couple pieces of leaf lettuce in the serving bowl. Add the noodles. Top with carrot, cucumber, green onion and beef. Garnish with cilantro, basil, mint and peanuts. Pour the nuoc cham overtop.