Grill roasted turkey is a great way to make a smaller turkey into something completely different from your traditional Thanksgiving bird. Something magic happens. The gentle smoke from a charcoal grill permeates the turkey. It's not a strong smoke like American BBQ. More like something from a wood fired oven.
If you have a kamodo, the ideal set up is to use your heat deflector (legs down for an egg) with a pizza stone. Use pieces of split firebricks or an extra set of big green egg feet to put an air gap between the two.
For a kettle, set up an indirect fire by banking coals on both sides, leaving space in the middle. Place the roasting pan over the middle. You will need to add fuel along the way so plan for that.
For a gas grill, set it up for indirect heat and use some wood chips to impart the smoke flavour. If you don't use wood, you are basically making your grill an oven. No smoke, no grill roasted turkey.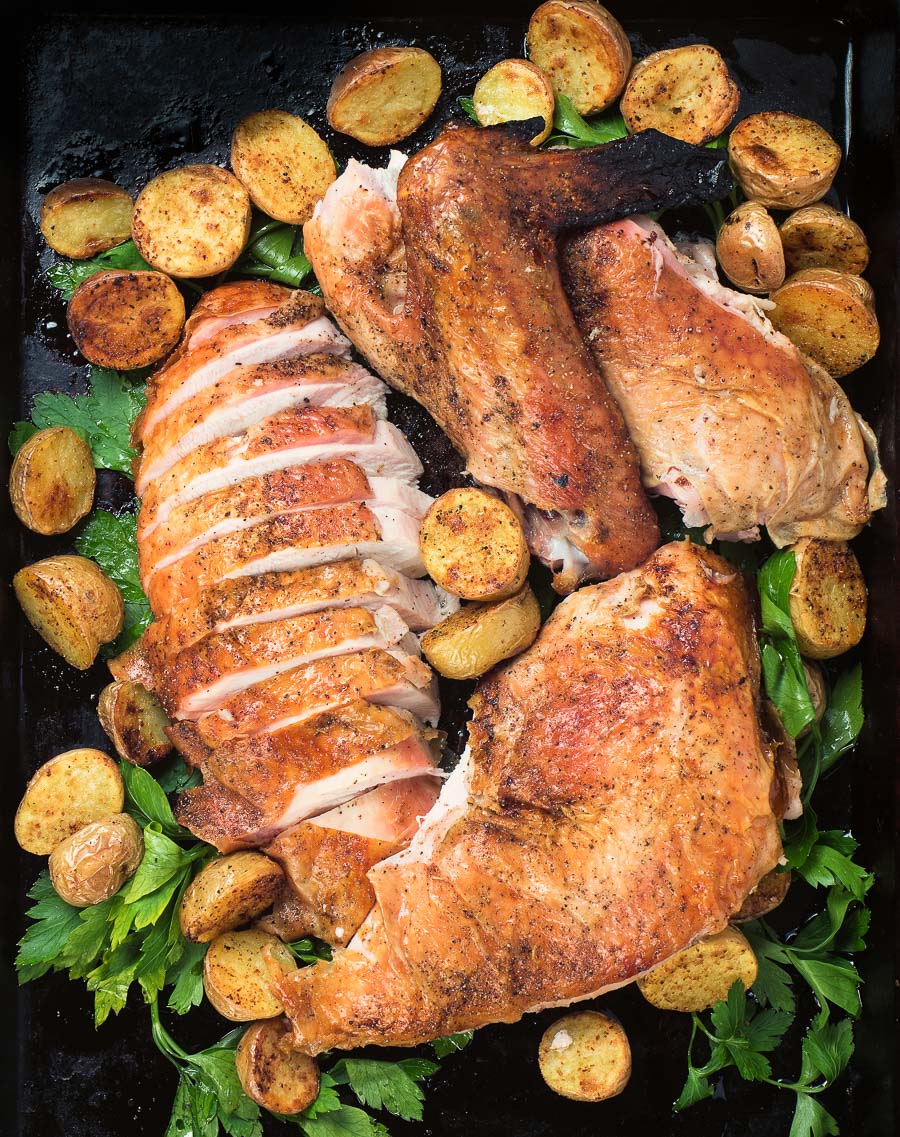 grill roasted turkey
Grill roasted turkey takes and every day bird and kisses it with a bit of smoke for a completely different roast turkey experience.
Total Time
2
days
2
hours
Ingredients
1

turkey

- 10-12 lbs

2

Tbsp

kosher salt

2

Tbsp

olive oil

to rub the bird

black pepper

1-2

Tbsp

flour

1 1/2 to 2

cups

chicken stock
Instructions
Dry-brine the turkey
Remove giblets and sprinkle salt liberally over the turkey. You don't want to skimp on the salt in this step. Maybe cut back by 1/2 Tbsp if you are super worried. But don't skip this step. This is key to the best bird you can make.

Double bag the turkey and place it on a cookie sheet. Refrigerate for up to 3 days, turning every 12 hours.
Grill roast the turkey
Grill roasted turkey is all about the smoke. Charcoal smoke. This works best on a kamodo grill or kettle set up for indirect heat. Get your grill somewhere around 400F and stable.

Pre-heat your roasting pan. A low sided roasting pan works best. A high sided pan will protect the thighs and make it difficult to get the thighs cooked fast enough so the breast doesn't dry out.

When it's hot, place the turkey, breast side up and roast for about 10 minutes per pound. Start checking internal temperature at about 7 minutes per pound. You are going for 160F in the breast and 170F in the thigh. The turkey will come up another 5 degrees as it rests.

Remove the bird from the grill and let rest.
Make the gravy
Spoon off all but a couple Tbsp of fat, being careful to leave any of the coloured drippings in the pan. Place the roasting pan over medium heat and add the flour. Stir to combine the flour with the drippings and cook the resulting roux about one minute. Add about 1/2 cup of stock and stir to incorporate the flour with the roux. Don't add too much liquid at once or you will get lumps.

Add the remaining stock and bring to a boil. If you get a few lumps, don't freak out. Just strain it quickly. Easy fix.

Serve as you would any roast turkey.
Notes
This recipe is about the smoke. If you are using a gas grill, you will need to try to add some chips to generate a bit of smoke. Just cooking it on a gas grill with no smoke is exactly the same as using your oven. Lump charcoal is best for this. Briquettes are a distant second. Gas grill with no wood chips is a non-starter. That sounds harsh but it's just a fact... No point to it at all.