Cajun roast chicken. Easy. Delicious. One skillet. It's perfect for weeknight dinners when you feel the need to eat something new.
I'm a cajun addict. There. I said it. Now you know. I've given up all my cred. I'm serving up the same food as bad chain restaurants. I'm the Denny's of the internet. Horrifying.
But I'm not. This is real cajun flavour. This is not Denny's new cajun grand slam breakfast skillet.
It's classic cajun cooking. Peppers, onions, cajun spices. A hint of roux. Cajun roast chicken. This will never be on the menu at Denny's.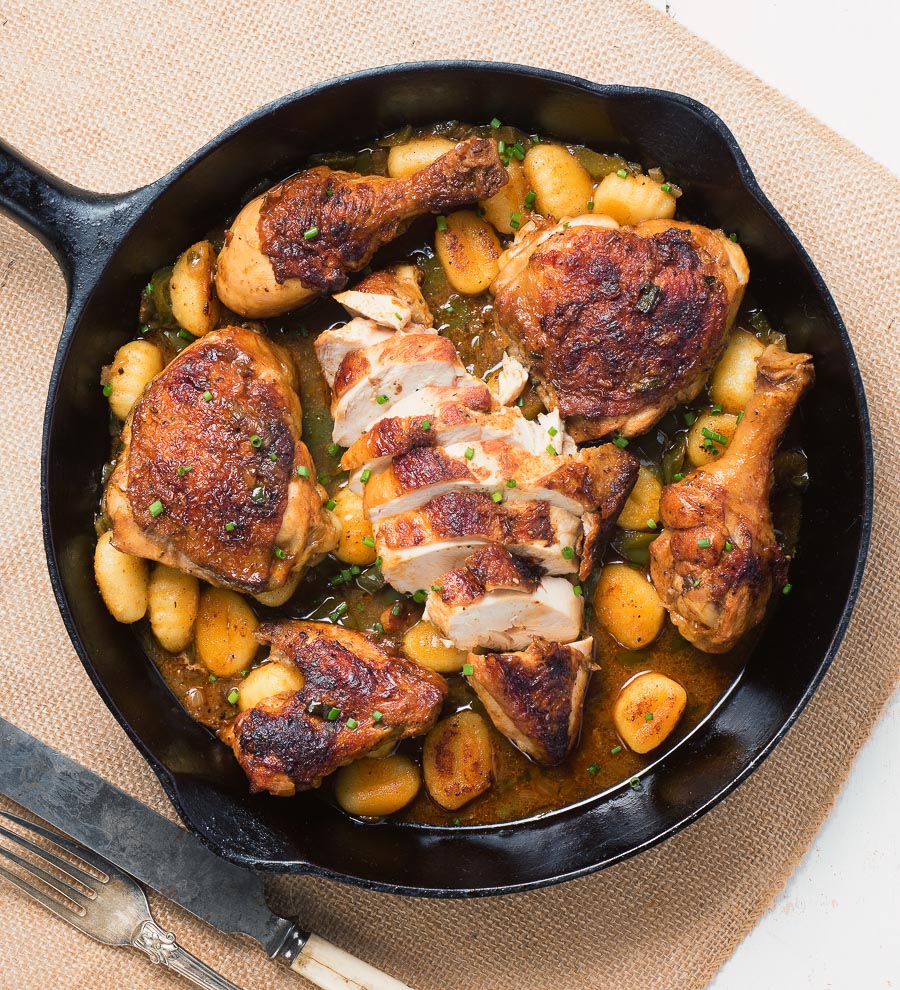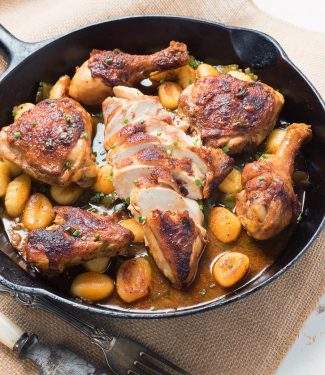 cajun roast chicken
Cajun roast chicken is a one skillet dinner that's a snap to make but doesn't skimp on big, bold tastes. Use low salt creole seasoning or the dish will turn out too salty.
Ingredients
1 3-4

lb

chicken

- cut into 8 pieces or 4 breasts or 8 thighs.

3

Tbsp

vegetable oil

1

green pepper

- diced

1

onion

- diced

1/2 - 1

jalapeno

- finely minced

1 1/2

Tbsp

low salt creole seasoning

- plus enough to season the chicken

1

Tbsp

flour

2

cups

chicken stock
Instructions
Pre-heat your oven to 400F.

Season the chicken liberally with creole seasoning.

Heat the oil in a skillet large enough to hold all the chicken in a single layer over medium heat.

Place the chicken in the skillet, skin side down, and cook until the skin is golden brown (about 4 minutes).

Flip the chicken and cook another 3-4 minutes.

Remove the chicken and drain all but 3 Tbsp of the fat in the pan.

Add the green pepper, onion and jalapeño and cook until the onion is soft, about 4-5 minutes.

Stir in the creole seasoning and cook about 30 seconds.

Add the flour and cook another 30 seconds.

Add 1/2 cup chicken stock and stir. It will be crazy thick at this point. Stay calm. Cook on.

Mix in the rest of the stock. Bring to a simmer.

Add the chicken, skin side down and roast 10 minutes. Make sure any juices find their way into the pan as well. Juices are more flavour!

Flip the chicken, skin side up and roast to an internal temperature of 165F, another 10-12 minutes.

Serve the chicken with the sauce.
Recipe Notes
Depending on how hot the jalapeño is you may find this dish pretty spicy. If you are not a fan of hot cut back to 1/2 jalapeño.