Indian spiced chicken wings with tamarind dipping sauce pack tons of flavour into what is already the world's most perfect food.
I mean seriously – what's better than chicken wings? Crispy chicken goodness with the maximum skin to meat ratio. Add a bit of smoky grilled goodness. Eat them with your hands. So tasty. So fun.
OK – maybe I like chicken wings more than most people but how can you not love them? Especially buffalo chicken wings. That's just artery clogging genius.
Take a piece of chicken that is mostly fat anyway. Deep fry it. Toss in a sauce that is nothing more than Frank's Red Hot sauce and butter. How can you go wrong? Absolutely delicious. Genius really. Might  slap on a few pounds if you eat them often. But as a treat once in while…
Grilling is a little better. Not deep fried at least. And this recipe doesn't add melted butter. So that's a step in a healthier direction. Lots of flavour. And a little less guilt. If that's something that bothers you.
I actually think grilling wings is the way to go. You get the crispy skin. You get the kiss of smoke. And you don't have to heat up a vat of oil. You don't have to worry about your house smelling like a KFC. Easier. But still delicious.
I can still remember how surprised I was the first time I tried it. Might even be better than buffalo wings. If you don't feel like Indian spiced chicken wings try them sprinkled with Old Bay and a bit of cayenne. Seriously. You can't believe how good that it.
Indian spiced chicken wings take the flavour into a new direction. Think tandoori but with the skin. It just works. The tamarind dipping sauce is a simplified version of the classic Indian tamarind chutney. That alone is work learning how to do.
Next time you have a party mix it up and serve Indian spiced chicken wings with tamarind dipping sauce. Even if you don't, at least try grilling your wings. That alone is a revelation.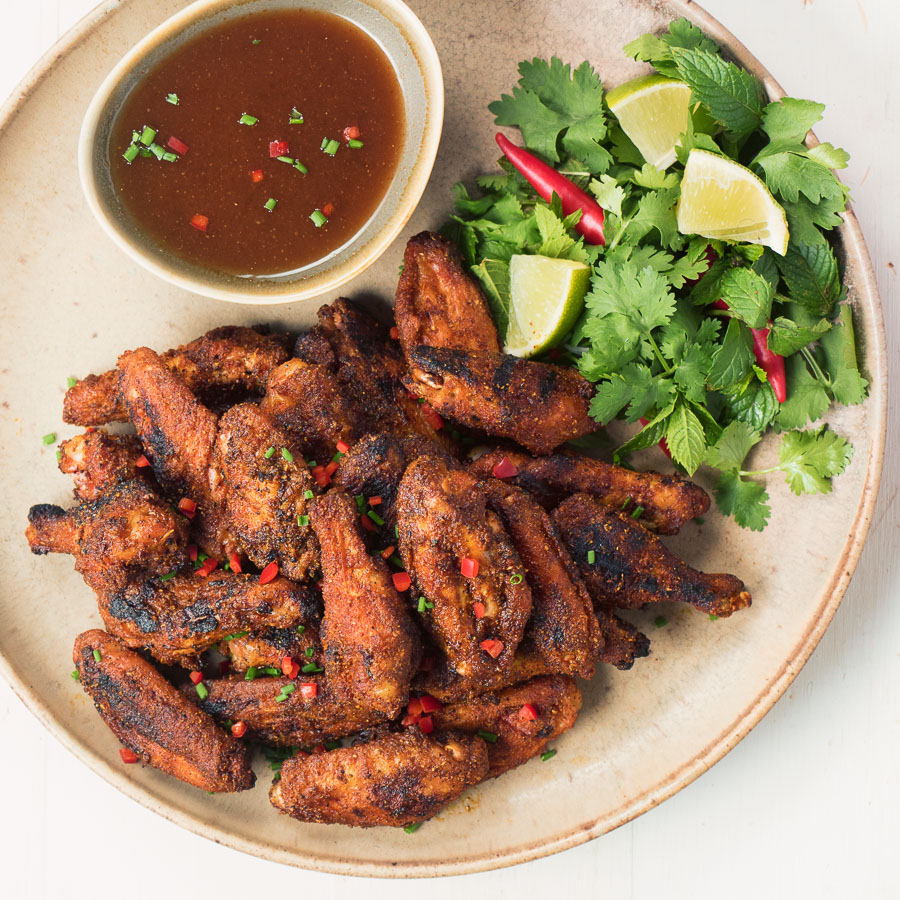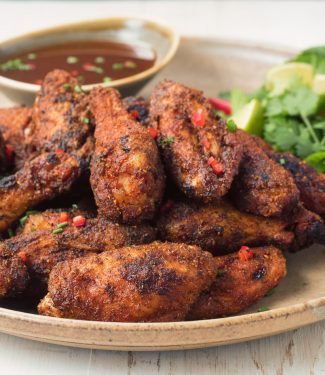 indian spiced chicken wings with tamarind dipping sauce
Grilling your Indian spiced chicken wings gets them crispy and delicious.
Ingredients
Indian spiced chicken wings
2

tsp

turmeric

1

tsp

mild kashmiri chili powder

- or 1/4 tsp cayenne

1

Tbsp

cumin powder

1

Tbsp

coriander powder

2

tsp

kosher salt

1/2

tsp

granulated garlic powder

1/4

tsp

ginger powder

1

Tbsp

paprika

3

lbs

split chicken wings

- tips saved for stock

Enough vegetable oil to coat the wings

Fresh lime to drizzle over the wings
Tamarind dipping sauce
2/3

cup

water

1

Tbsp

concentrated tamarind

- available at any Asian grocery store

1/2

cup

brown sugar

1/4

tsp

ginger powder

1/4

tsp

cumin powder

1/4

tsp

Kashmiri chili powder
Instructions
Indian spiced chicken wings
Combine the turmeric, chili powder, cumin, coriander, salt, granulated garlic powder, ginger powder and paprika in a small bowl. This is your spice mix.

Toss the wings in enough oil to coat. You don't need to drown them but you do need enough to coat.

Sprinkle the wings with the spice mix and toss.

Prepare your grill for medium-high indirect heat. As always, I prefer charcoal for the flavour.

Grill the wings for 10 minutes then flip the wings. Cook the wings for about another 10 minutes. They should be crispy but not dry so be careful not to overcook them.

If you want some grill marks or char, cook them quickly over direct heat to finish. Don't try to cook them over direct heat all at once. That's a good way to end up with burned wings. 5-6 at a time is a good pace.

Drizzle them with fresh squeezed lime juice (this is key for everything to come together) and serve with tamarind dipping sauce if you want.
Tamarind dipping sauce
Combine all the ingredients in a small, non-reactive saucepan.

Simmer until reduced by about half. This takes around 15-20 minutes. You can do this while the wings are grilling.

Let cool slightly and serve.