South Indian chicken curry. Ready in 30 minutes. Yes. You read that right. Delicious chicken curry wrapped up in that lush restaurant sauce you crave in half an hour.
All the big south Indian flavours. Bold spicing. Green chilies. Coconut milk. Tamarind. And the bite of black pepper.
No idea what I'm talking about? It's time to fix that. Seriously. You need to put this in your mouth.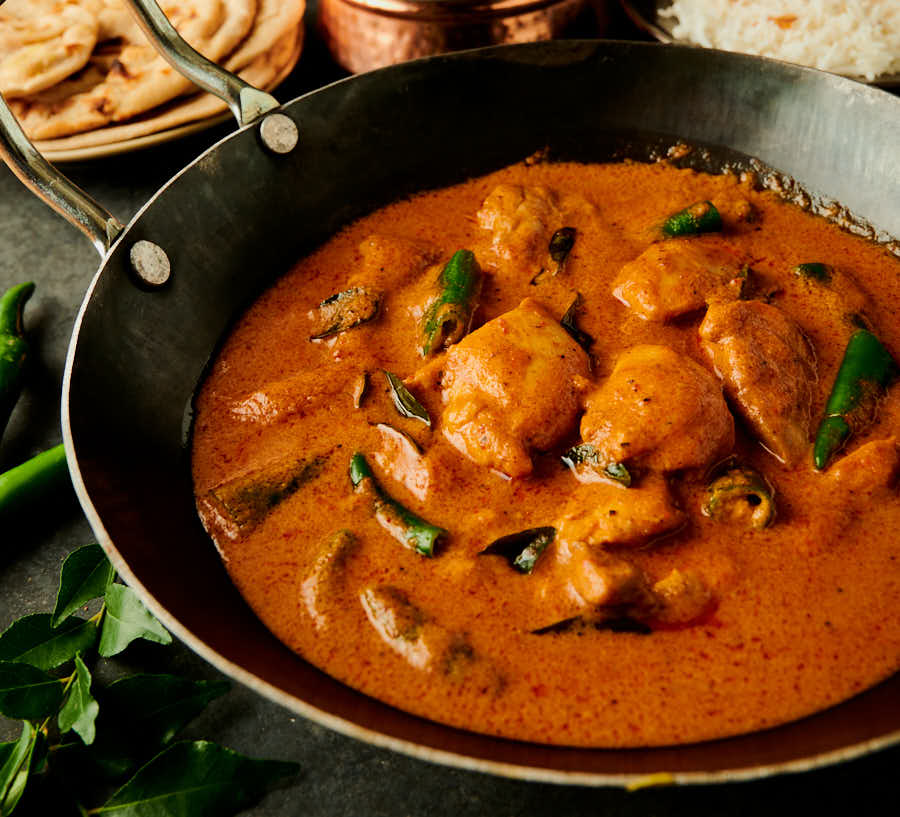 You need to make the south Indian spice mix ahead of time
I'm putting this up front. So there are no surprises. You can make this recipe in 30 minutes. It's not that hard.
Except you need to make the spice mix before you start. Twenty minutes before. The day before. The week before.
Doesn't matter when. But it has to be done first. There's no getting around it. Because the toasted spices have to cool.
You can't grind them while they are hot. It doesn't work. I actually tried it. Just to see if I could do this whole recipe in 30 minutes.
The spices clumped up. And things smelled a little odd. I will not be doing that again. And I suggest you don't either.
Fight the status quo
It's a funny thing. India has incredibly culinary diversity. Sits at the forefront of global the foodie scene.
Yet somehow it has been diminished. Reduced to the same 15 dishes you see on every Indian restaurant menu around the world.
Fifteen great dishes. No doubt about that. But a small box. A very small box. And you are being squeezed into that box. You should not be happy about that.
Imagine if all Italian restaurants served the same 15 dishes. Fettuccine alfredo. Chicken marsala. Veal parm. All day. Every day. How much would that suck?
That is exactly what is going on in Indian restaurants. It's a formula. Why is the whole world putting up with a formula?
Do me a favour. Ask your local Indian restaurant for a chettinad chicken curry. Or a nadan kozhi. Any south Indian chicken curry. See what they say.
Maybe they'll have something new on the menu when next you visit. And everyone will be a little better for it. We can make them change. If we stick together.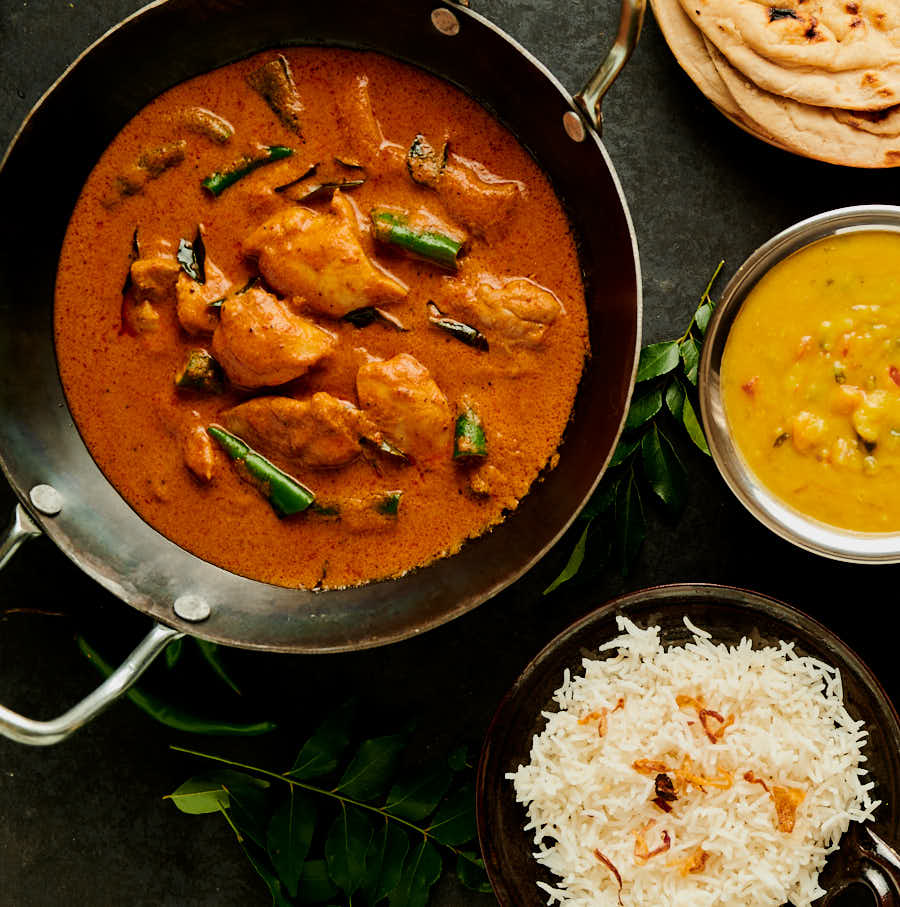 The secret to south Indian chicken curry in 30 minutes
Indian restaurants aren't all bad. They do some good stuff too. Like that lush sauce they serve. The one you love.
They have a trick for that. One you might not know. They use something called curry base. Or curry gravy.
It's how they get around the time needed to cook the onions. Indian is often all about the onions.
It's also how they make curries to order in 10 minutes flat. If you want to go down that rabbit hole there's a whole restaurant curry section here on glebekitchen.
Takes time to prep though. A couple hours. Restaurants are all about prep. But there's an easier way. This is that way.
Not exactly the same. But close. Really close. Close enough that I bet your guests won't know. Tell them it's takeaway night. See if they figure it out.
Those wonderful chicken juices
I love cooking full blown Indian restaurant style. But there is one little detail that has always bugged me.
Restaurants pre-cook their proteins. For speed of service. And for food safety.
So the line cook doesn't need to worry about underdone chicken. And you don't have to wait an hour for your lamb dhansak.
That speed comes at a price. Cooking chicken releases juices. And those juices taste incredible.
30 minute curry technique solves that problem. The whole process is built around it in fact. The chicken goes in raw. Cooks in the gravy.
Those tasty juices go from the chicken. Into the sauce. And then into your mouth. Which is exactly where they belong.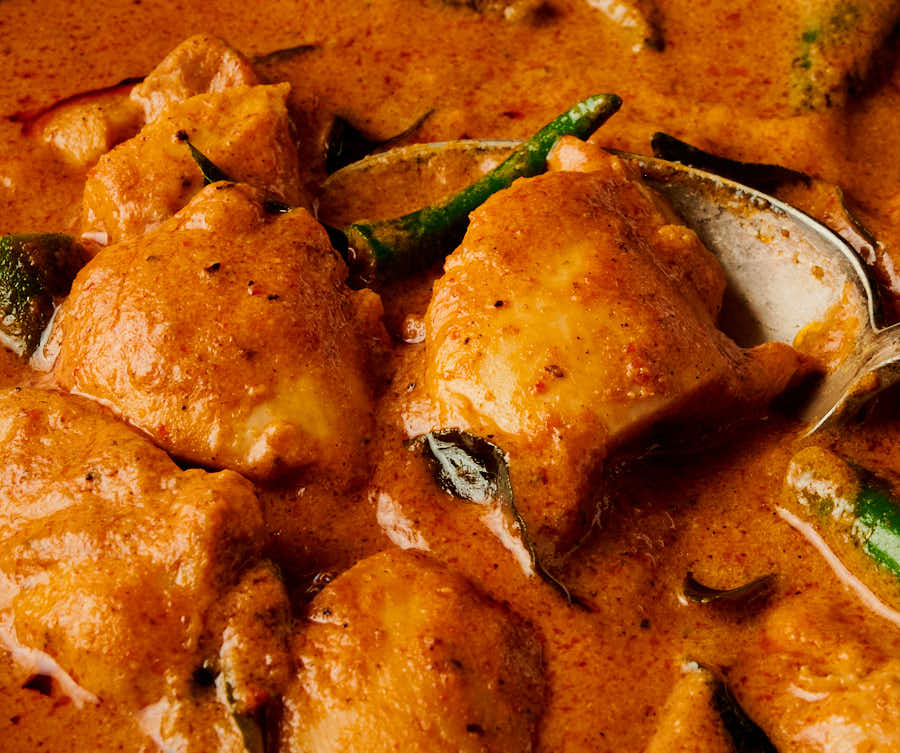 Spicing is the thing
South Indian chicken curry starts and finishes with the spicing.
That's a bit of a stupid statement. Most Indian recipes start and finish with the spicing. But this one is a little little special.
This isn't is toss in a little coriander, cumin, turmeric and chili powder and call it a day. That's just boring.
It's definitely not toss in a bunch of garam masala and pretend you are cooking Indian. That's just crazy.
South Indian chicken curry is about bold spices. Freshly ground. Flavours coming from everywhere. You will not believe how much of a difference that makes.
Full disclosure. There are a few ingredients in the spice mix you can't get at your local grocery store. That's a good thing. Because it means a trip to an Indian grocer.
Indian grocery stores can be a bit daunting at first. But once you get your head around them they are a lot of fun. Talk to your grocer. You might just get a tour.
Curry leaves are optional for this south Indian chicken curry
Curry leaves are an ingredient you may not know. Time to fix that too. They figure pretty highly in South Indian cooking. And they are well worth hunting down.
They have a distinct flavour. Unlike anything I've ever tasted. I don't think there is a substitute. No matter what the internet says.
They have to be fresh. Dried curry leaves taste like dust. There is absolutely no reason they should even exist. Think dried cilantro. Absolutely pointless.
Frozen is a not bad compromise. Not quite as good as fresh. They do lose something when frozen. But the core flavour is still there. It's just a little muted.
If you can't get them don't worry. There is enough punch in the spice mix to make up for a dropped ingredient.
I don't often say that. I'm usually pushing everyone to go the extra mile. But in this case I think dish works either way.
The spice mix is the backbone. Curry leaves are icing on the cake. Icing is good. But you don't always have to have icing.
I actually can't decide which version of this dish I like better. So I bounce back and forth. It's a tough life. Somehow I manage.
But do try to get them if you can. They are a little bit of magic.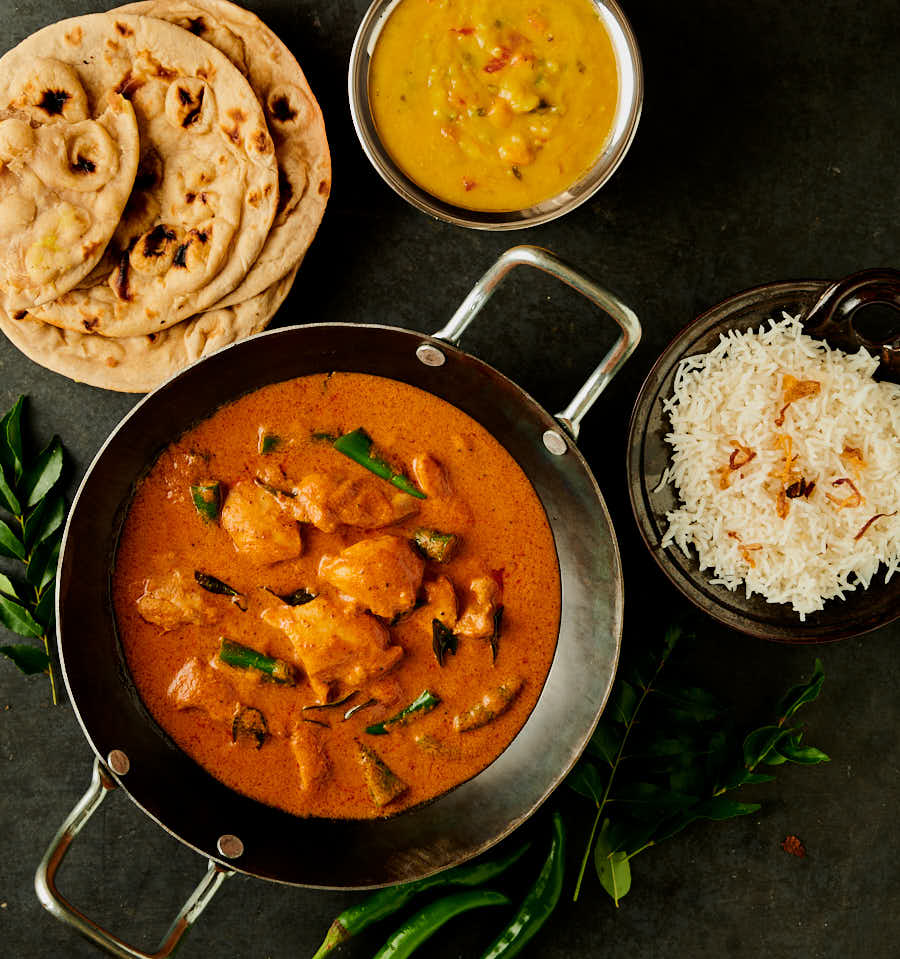 You need to make south Indian chicken curry
This one is a little different. Might even be out of your comfort zone. But it is something you need to experience for yourself.
I think of South Indian chicken curry as as a gateway curry. The first step to something beyond the same old same old.
You have the keys to the candy store in your hands. Open the door. There's a whole world of incredibly Indian food waiting for you.
See you on the other side.
South Indian chicken curry
Classic south Indian flavours with a lush restaurant style sauce. How can you go wrong?
Ingredients
South Indian spice mix
1

tbsp

coriander seeds

1

inch

cinnamon bark

– aka cassia bark

1/4

tsp

black pepper corns

– pepper is key in this blend

1

clove

2

green cardamom

– the whole pod

2

arms

star anise

– snap off a couple arms from a single star anise

1/2

tsp

cumin seed

1/2

tsp

poppy seed

pinch

ajwain

– aka carom seed

3

whole

dried red chilies

– I like Kashmiri chilies for this
The onion paste
2

cups

onions – coarsely chopped

2

tbsp

vegetable oil

1

cup

water
south Indian chicken curry
6

boneless skinless chicken thighs cut into 3 pieces per thigh

or 2-3 boneless skinless chicken breasts. About a pound and a half or 680 grams.

4

tbsp

vegetable oil

1

tbsp

garlic ginger paste

15-20

fresh curry leaves

optional but worth seeking out if you can

2-3

green chilies

coarsely chopped

5

tsp

South Indian spice mix

– from above. The magical stuff you toasted and ground.

1/2

tsp

black pepper

– butcher's grind is great for this recipe

1

tsp

kashmiri chili powder

1

tsp

kosher salt

– about half if using regular table salt

2

tbsp

tomato paste

diluted with enough water to get it to the consistency of tomato sauce or passata

1

tsp

tamarind paste

– not tamarind concentrate. Look for something that is 100 percent tamarind

1/2

cup

coconut milk
Instructions
The south Indian spice mix needs to be made before you start
You can't make this and keep to the 30 minute window. You have to make it up front. Because the toasted spices need to cool. You can't rush this. Sorry.

In one bowl measure out the coriander seed, cinnamon bark, black pepper corns, star anise, clove and green cardamom. These are your big spices.

In the other bowl measure out your cumin seed, poppy seeds and ajwain. These are your small spices.

Pre-heat a small skillet over medium low heat. You want to be a little gentle with the heat.

Add the big spices. Toast the spices, shaking the pan continuously until a wonderful smell starts hitting your nose. This should take under 2 minutes.

Add the little spices and toast around 30 seconds. Add the kashmiri chilies and toast another 30 seconds or so. Flip the chilies about half way through the final 30 seconds.

Remove the skillet from the heat and let cool. Don't rush this. Let them cool. If you want to speed things up transfer the spices from the pan to a bowl. Even still – let the spices cool.

Grind the spices. I use an old coffee grinder from the days before I knew about burr grinders. One with a spinning blade. Great for spices. Absolutely terrible for coffee. You now have more South Indian spice mix than you need but that's OK. You will find uses for it. It's magic fairy dust.
The onion paste
Place the onions in a microwave safe dish and cover loosely. Microwave at 70 percent until the onions are soft and translucent. This takes 10 minutes in my 1100 watt microwave. I can't predict how long it will take in yours…

Remove the onions from the microwave. Be careful. They will be hot. Let them cool slightly. Place the onions, 2 tbsp vegetable oil and 1 cup of warm water in a blender and puree until smooth. Set aside.
South Indian chicken curry
In a small bowl, combine the South Indian spice mix, the black pepper, the kashmiri chili powder and the kosher salt.

Heat 4 tbsp vegetable oil in a pot over medium heat until it shimmers. Add the green chilies and curry leaves if using. Cook for about 30 seconds.

Add the garlic ginger paste and cook until it stops spluttering.

Turn the heat to medium low. Add the powdered spices (5 tsp south Indian spice mix, 1 tsp kashmiri chili powder, 1/2 tsp of coarse black pepper and the salt) and stir continuously until it starts to smell really good – around 30-40 seconds. Pay attention. If you burn the spices at this point you have to start over.

Add the diluted tomato paste and stir to combine. Turn the heat up to medium. Cook for about 1 minute.

Add the onion paste and turn the heat up to medium high. Cook, stirring occasionally for about 4-5 minutes. Cover it loosely. It will splatter. If it doesn't your heat is too low. The curry will darken a bit as it cooks. Don't worry if it starts to look a little dry. The chicken in the next step will release those tasty, tasty juices and thin everything out so you get a lush sauce at the end.

Turn the heat down to medium low. Add the chicken and stir. Cover and simmer for about 5 minutes. Flip each piece of chicken and continue cooking until the chicken is done. You know it's done when it reaches an internal temperature of around 170F. I can't tell you exactly how long this will take. I don't know how big your chicken pieces are. Shouldn't take more than 10-12 minutes. Don't rush this step. You want a nice gentle braise.

Add the coconut milk and the tamarind paste and cook for about a minute.

Garnish with additional diced green chilies if desired.

Serve with rice and parathas. Parathas are amazing with this dish.
Notes
You can buy garlic ginger paste but it's easy to make and homemade is way better. Here's an easy recipe for garlic ginger paste. If you cook Indian fairly often it's so worth it to whip up a batch. It will keep for a few weeks in the fridge.
Nutrition
Serving:
4
servings
|
Calories:
498
kcal
|
Carbohydrates:
16
g
|
Protein:
35
g
|
Fat:
33
g
|
Saturated Fat:
12
g
|
Polyunsaturated Fat:
7
g
|
Monounsaturated Fat:
11
g
|
Trans Fat:
3
g
|
Cholesterol:
161
mg
|
Sodium:
893
mg
|
Potassium:
760
mg
|
Fiber:
4
g
|
Sugar:
6
g
|
Vitamin A:
662
IU
|
Vitamin C:
87
mg
|
Calcium:
92
mg
|
Iron:
4
mg