Bo kho is beef stew with a delicious Vietnamese twist. Wonderful, rich beef stew with the haunting flavours of lemongrass and star anise. Seriously, seriously tasty.
It's not like beef stew you know though. Lemongrass. Star anise. Background notes of curry. And just a hint of heat. So good. Bo kho is comfort food done Vietnamese style.
Bo kho is this amazing Vietnamese beef stew
It's not hard to make. It's braised beef. There's nothing intimidating about it. If you can make stew you can make bo kho.
But it's not just any beef stew. This is about huge flavours. Big. Bold. Different. Complex. Satisfying. But somehow still the same. Still beef stew with carrots.
Think of it as a variation on a theme. Classic beef stew with a few extra ingredients. It's those ingredients move this dish into completely new territory.
This is why cooking is so much fun. Take something you know and love – mix it up a bit – and get something new but still familiar. And incredibly delicious.
Mi bo kho. Bo kho translates literally to beef stew. Mi just means serve it with egg noodles. Mi bo kho – beef stew with egg noodles. How can you go wrong?
Don't like egg noodles? Use rice noodles. Then it's hu tieu bo kho.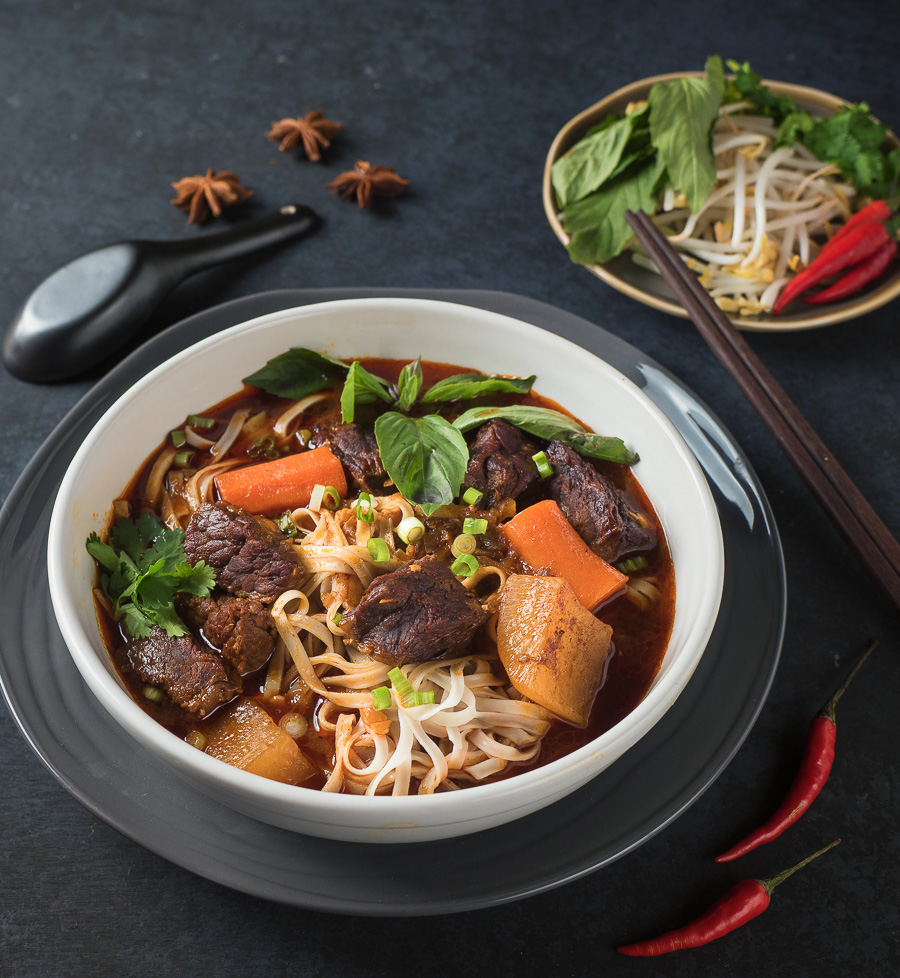 Bo kho or pho
That is the question I face every time I go for Vietnamese noodle soup. And it's a tough one. I love pho broth. Addicted to it really.
But the depth of flavour in bo kho is pretty incredible. And it is so satisfying. The braised beef is pure comfort. And I get my noodle fix either way. Really hard to choose. So I just go more often.
Try it next time you are out for Vietnamese. You will thank me. Or maybe you won't because you will have the same dilemma I do. That's a nice problem to have.
A bit of sate sauce at the end adds a big burst of flavour
Feel like going absolutely crazy? Mix in a bit of Vietnamese sate sauce right at the end. It's total overkill. But overkill isn't a bad thing here at all.
Subtle isn't always best. These aren't delicate flavours. Nuanced. Definitely. Subtle. Not a chance.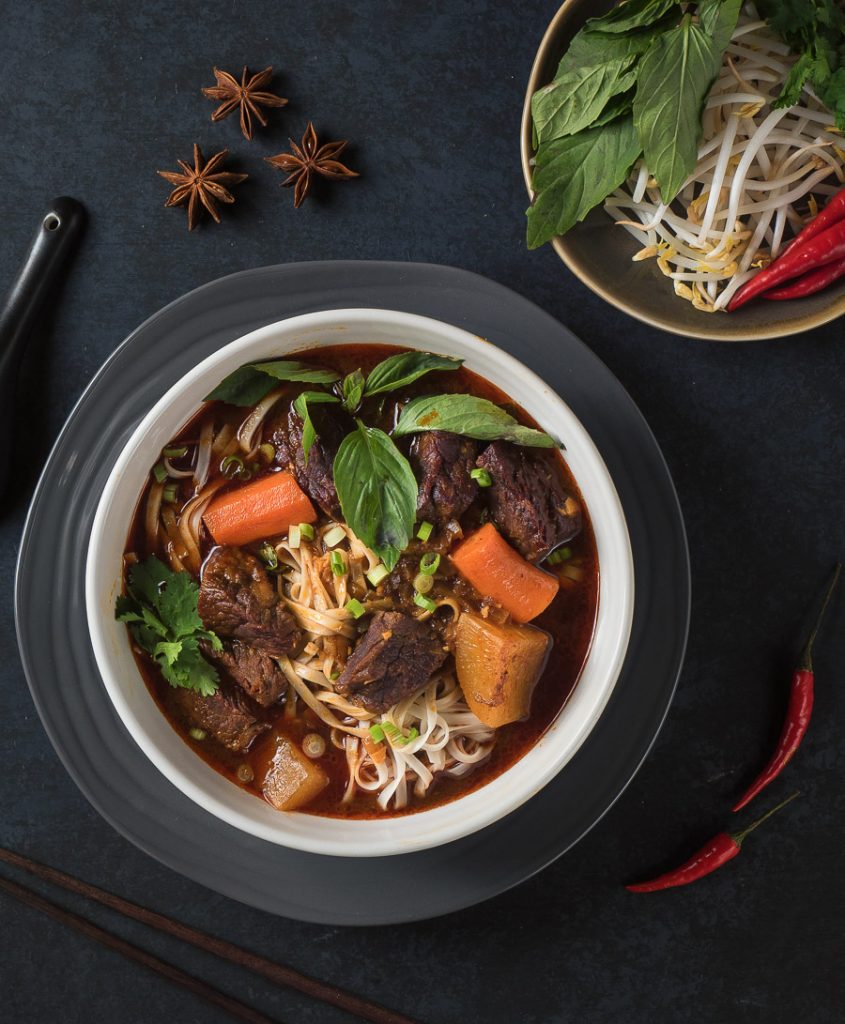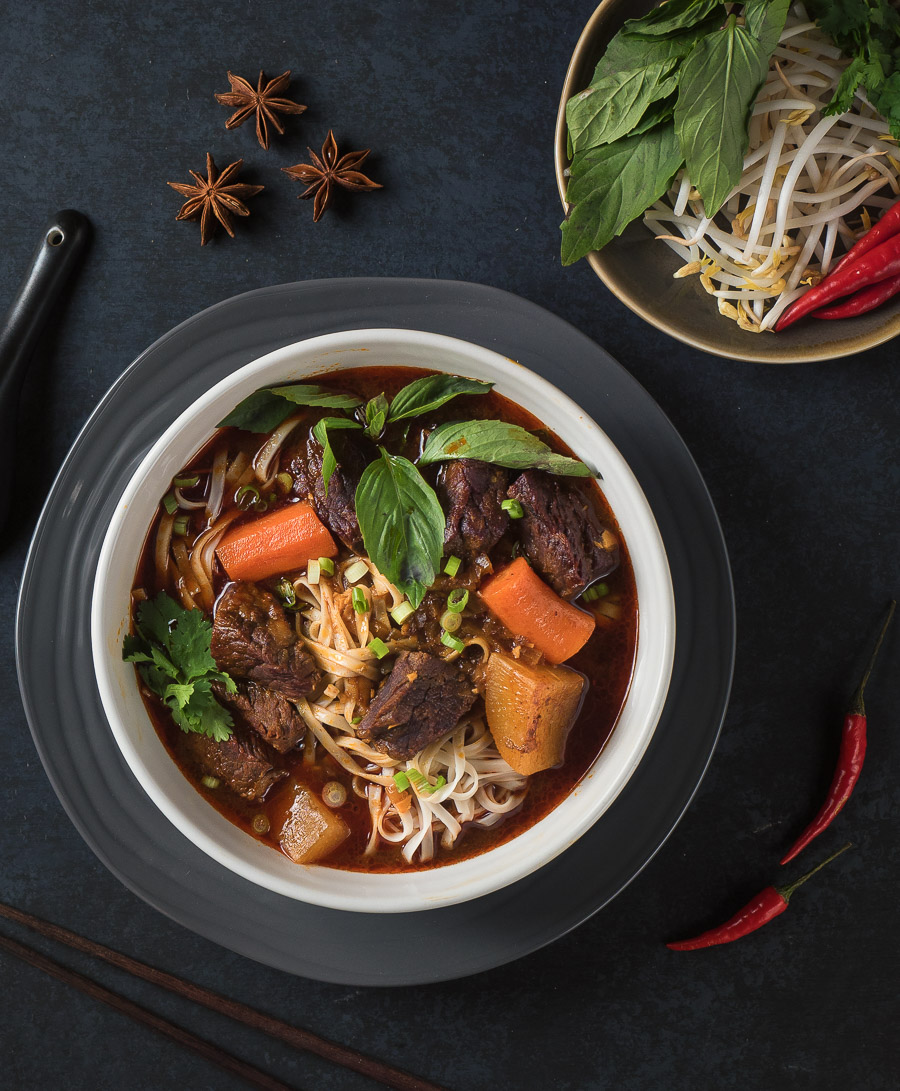 Boneless short ribs make the best bo kho
If you can get boneless short ribs use them. It's not super authentic but it puts this dish right over the top.
In fact, if you can get boneless short ribs any time you are making any beef stew just do it. Seriously.
Don't even stop to think. You will never regret it. When was the last time you heard somebody say "Damn, I should not have used boneless short ribs."
Great for dinner parties
This is a great dish for a dinner party with good friends. With foodie friends. It's stew. So you can make it ahead of time. Just keep it warm on the stove.
The aromas will fill the house. When your friends walk through the door they are going to start drooling. It's that good. Reach down and grab you from the inside good.
You can serve bo kho a few ways. Egg noodles. Rice noodles. Baguette even. All authentic. All just unbelievably tasty. Try it. You will love it.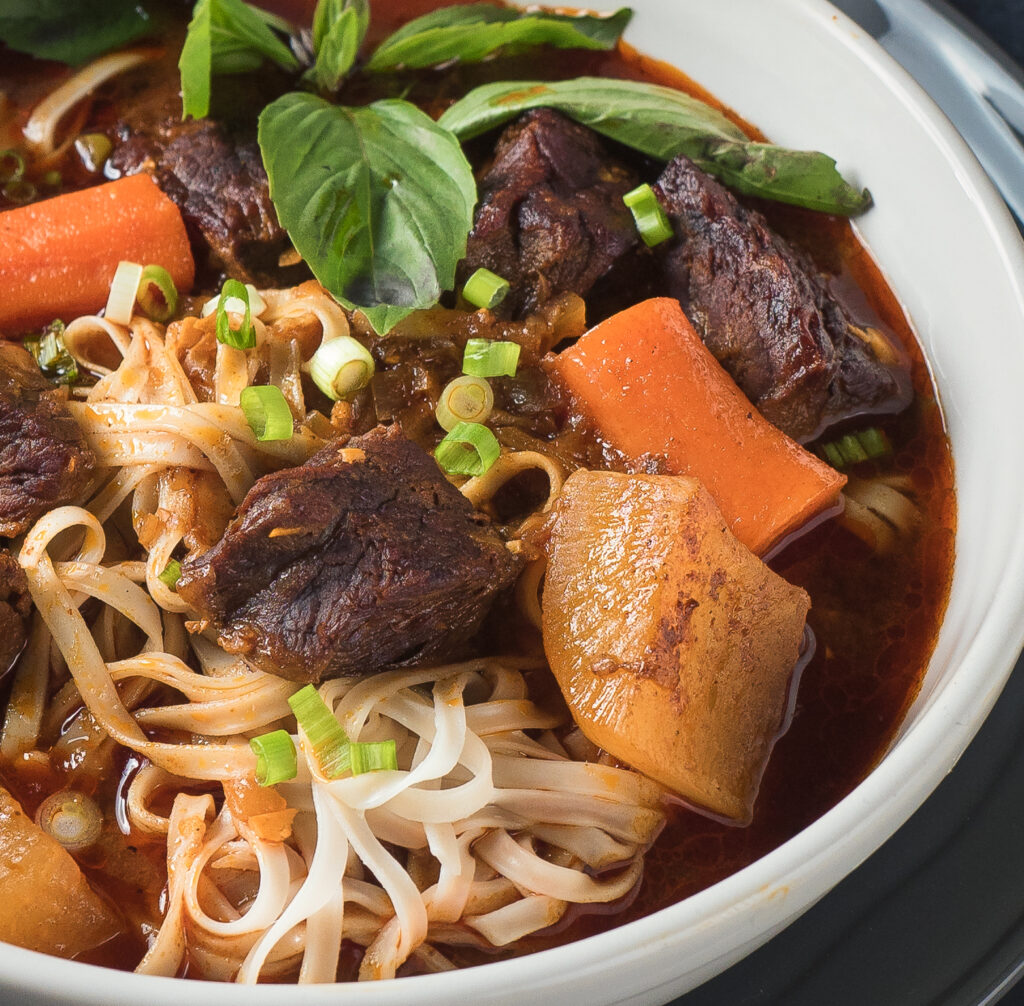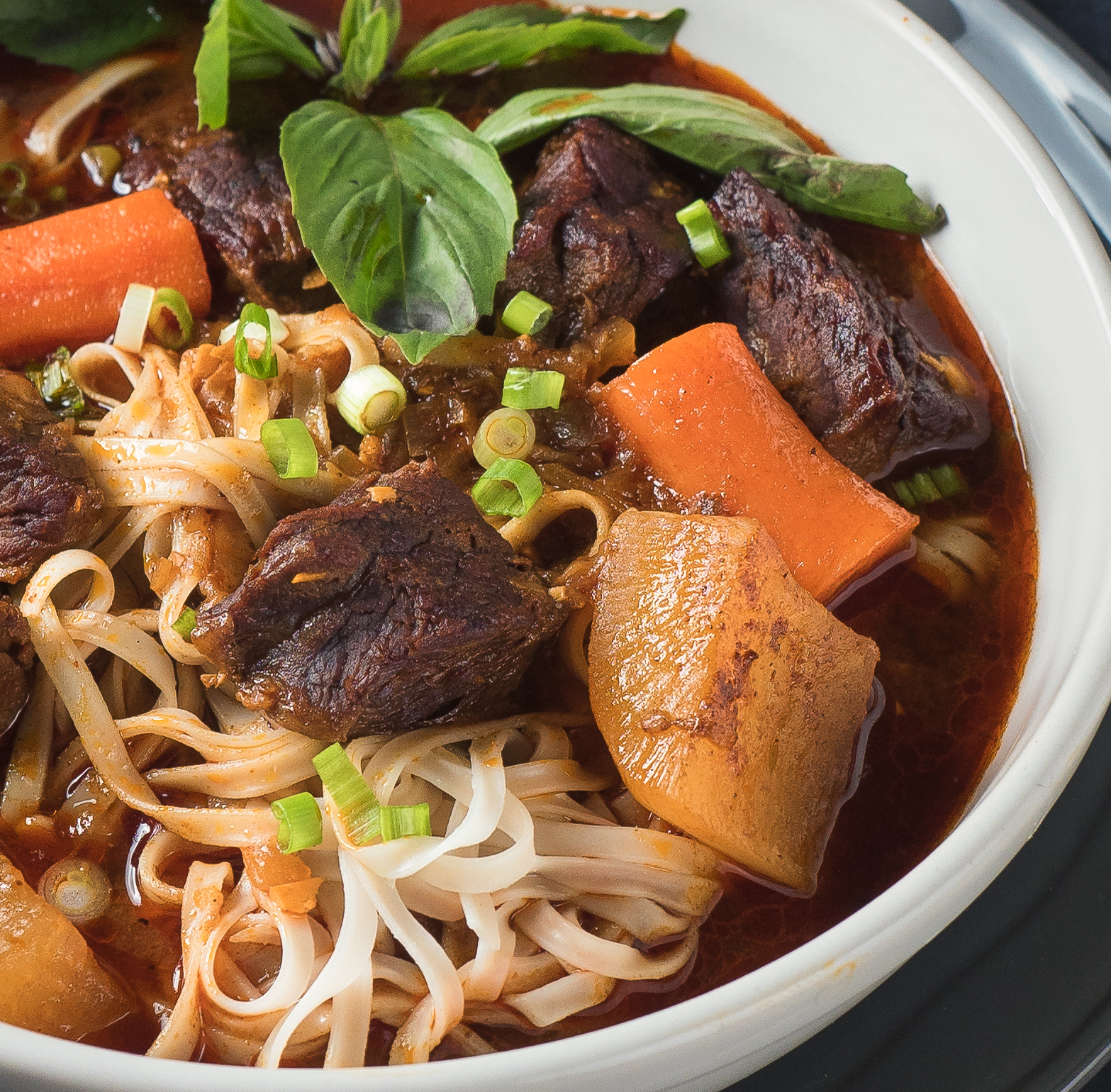 bo kho – spicy vietnamese beef stew
Bo kho – Vietnamese beef stew with egg noodles – is familiar and yet completely different at the same time.
Ingredients
Spice mix
1

Tbsp

madras curry powder

1

Tbsp

paprika

2

tsp

kashmiri chili powder

or 2/3 tsp cayenne

1

Tbsp

brown sugar

1

tsp

annatto powder for colour

optional
Bo Kho
4

lbs

boneless beef short ribs

cut into 1 inch cubes

3-4

Tbsp

neutral oil

e.g. vegetable

1

large onion

finely chopped

4

Tbsp

minced garlic

2

Tbsp

minced ginger

2

stalks lemongrass

cut into 3″ pieces

1/4

cup

lemongrass

finely minced

3

star anise

4

Tbsp

tomato paste

2

cups

coconut water

optional or 2 cups water

4

cups

beef stock plus 2 cups of water

6

Tbsp

fish sauce

2

Tbsp

soy sauce

1

lb

daikon

cut into 1 inch pieces

4-6

carrots

peeled and cut into 1 inch pieces

2

lbs

Chinese egg noodles
Garnishes
thai basil

cilantro

green onion

bean sprouts

red chilies

Vietnamese sate sauce

– optional but crazy good
Instructions
Pre-heat your oven to 325F.

Put the minced lemongrass and star anise in a little cheesecloth sack. Secure with string. This way you can fish it out at the end.

Heat the oil in an large, ovenproof pot.

Season the beef with salt and pepper and brown in batches. Do not overcrowd your pan. You will wind up steaming the beef if you do. Set beef aside.

Add onion to the pot and cook, over low heat, stirring occasionally, until well softened. This will take about 10 minutes.

Add the garlic and ginger and cook 30 seconds.

Add the spice mix and stir constantly for about one minute. Watch out. Don't let it burn.

Add the tomato paste and stir. Cook another minute.

Add the fish sauce, soy sauce, beef stock, coconut water (if using), big pieces of lemongrass and your little sack of lemongrass/star anise and stir to combine.

Add the beef and accumulated juices to the pot.

Cover the pot with a sheet of tin foil and then the lid.

Place in the oven and cook, covered, for about 90 minutes.

After 90 minutes, add the carrot and daikon.

Re-cover and return to the oven. Cook for an additional 45 minutes or until the beef is tender.

Taste and adjust seasoning. You will likely need to add a bit of salt. Go slow. Creep up on it. You'll know when it's right. All of a sudden the lemongrass and beef flavour will hit you over the head. If you are using Vietnamese sate sauce now is the time to mix it in.
To serve
Cook the egg noodles per the package directions.

Drain the noodles.

Divide the noodles into pre-heated bowls.

Spoon beef, carrots, daikon and broth over the noodles.

Serve with your choice of garnishes.
Notes
Vietnamese sate sauce is not that peanut sauce you are thinking of. It's a wonderful mixture of garlic, shallots, chilies and lemongrass. It is absolutely killer in this dish. It's also great in noodle dishes, on grilled chicken or in a stir fry. Try it. You won't be sorry…
Nutrition
Serving:
8
servings
|
Calories:
698
kcal
|
Carbohydrates:
46
g
|
Protein:
54
g
|
Fat:
31
g
|
Saturated Fat:
10
g
|
Cholesterol:
166
mg
|
Sodium:
1909
mg
|
Potassium:
1698
mg
|
Fiber:
5
g
|
Sugar:
9
g
|
Vitamin A:
5870
IU
|
Vitamin C:
19.7
mg
|
Calcium:
112
mg
|
Iron:
7.9
mg