Butter chicken done right can be an incredible curry. Rich. Creamy. Well-spiced. Just really tasty. Big, big tastes.
Done poorly, it tastes like a can of Campbells cream of tomato soup with a little garam masala. Like curried tomato soup with chicken. Who wants that?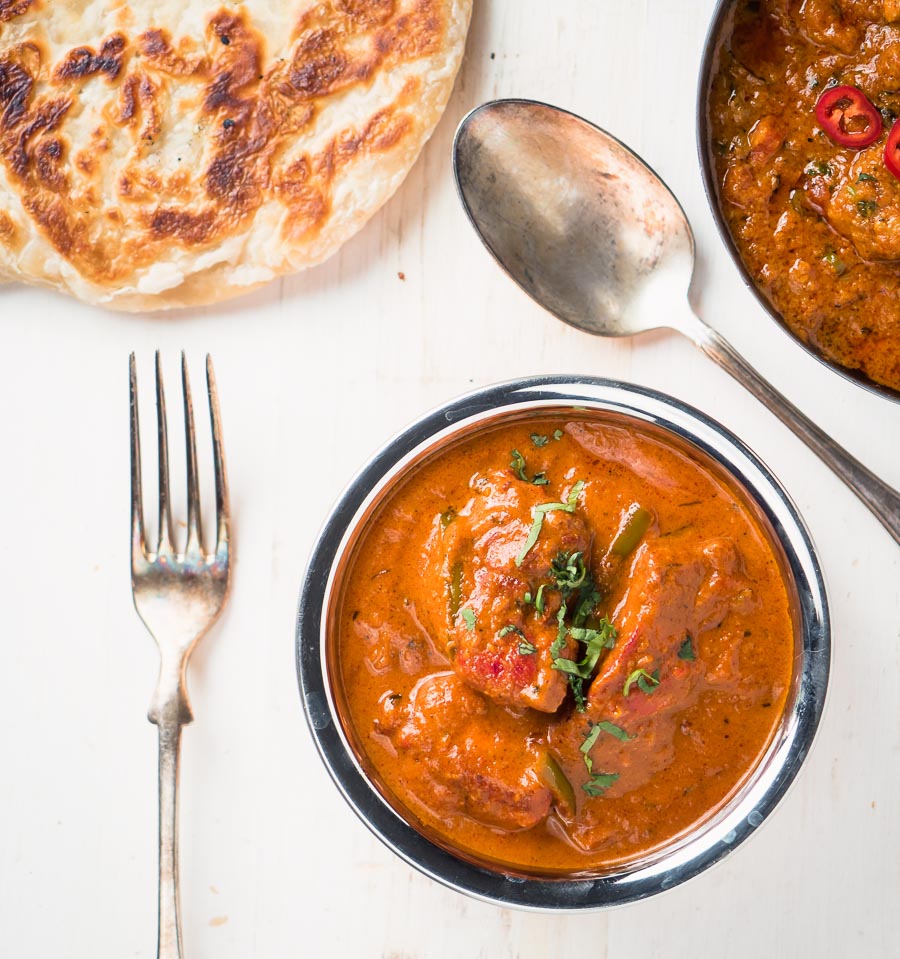 Butter chicken does not have to be bland
I don't know why people think condensed soup and garam masala is Indian. Or butter chicken. Or even worth eating.
I just don't get it. And yet there are lots of recipes out there that claim butter chicken is just that.
If that's your thing it's easy. Literally. Can of tomato soup. A teaspoon of garam masala. A little extra sugar. Some boneless, skinless chicken.
And a whack of cream and butter. Cook it up all together. Add the cream and butter at the end. Done.
I'm not saying that's wrong. Not judging. But I am thinking it. Be sure of that. If you want to make curry for 6 year olds, that's how you do it.
Unless the 6 year old is Indian. Then they want something tasty. And soup with garam masala doesn't cut it. Trust me. I was 6 once…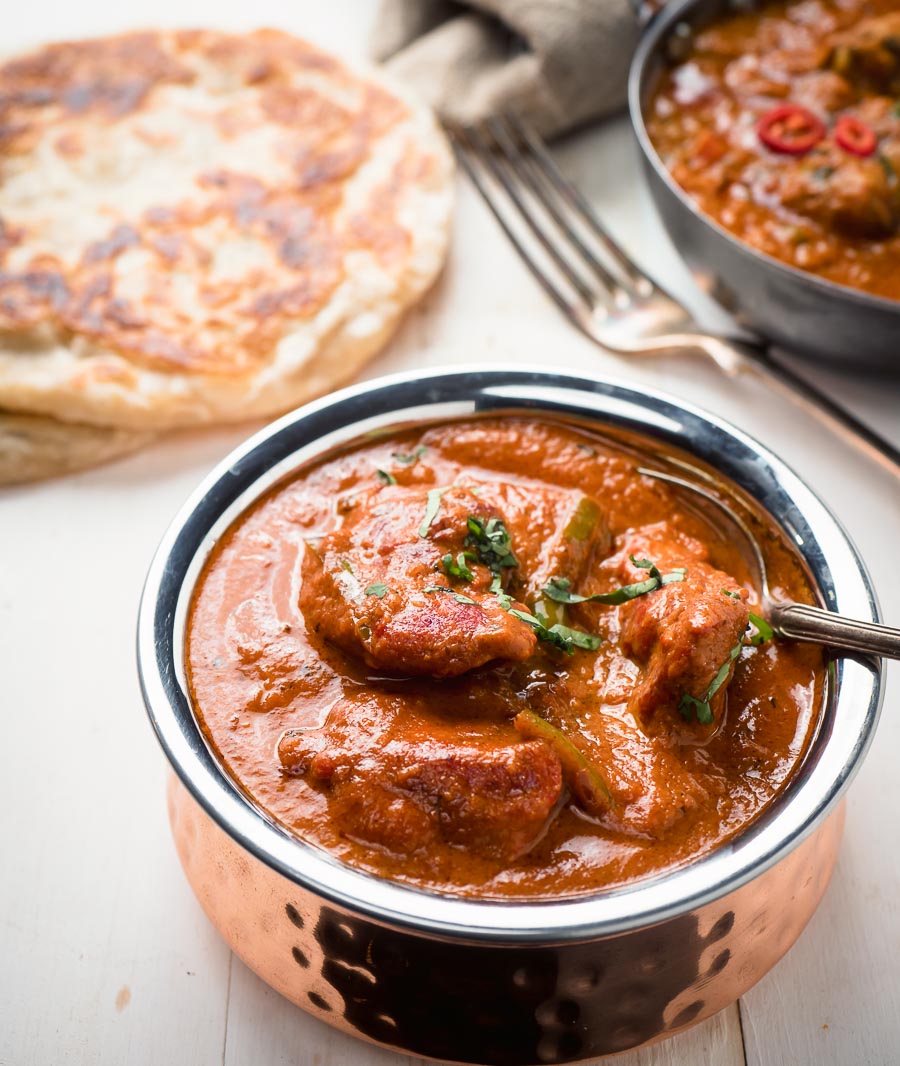 Murgh makhani is why this recipe works
It's when you start looking for murgh makhani that you start to see what it's really about. Murgh makhani is the Indian name for butter chicken.
And it's good. Really good. Goodbye canned soup. Hello flavour. Hello murgh makhani.
This murgh makhani is done restaurant style. Like they do in restaurants. Not like people say tastes like something close.
And then tells you to open a can of soup. Or add a ton of pureed tomatoes. Or a gallon of cream.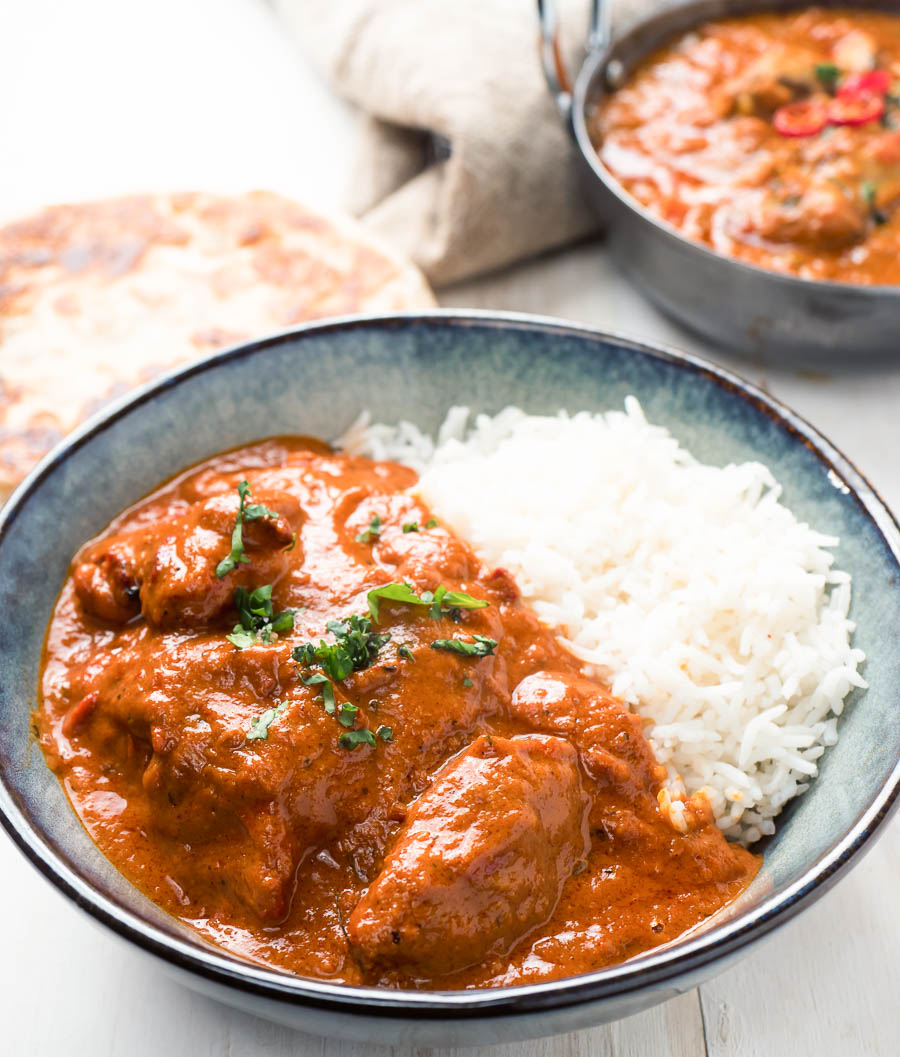 Restaurant style with extra flavour
This is restaurant technique. Real restaurant technique. And the results are as good or better than you can get in a restaurant.
I'm not even that fussed on this dish in a lot of Indian restaurants. It's kind of close to the soup version.
This is butter chicken like it should be served. Comes with flavour. Comes with heat. Murgh makhani really. For when flavour matters.
I know I rant a lot about how boring Indian restaurants have become. How they all serve the same 20 dishes. No variety. No representation of what a billion people call dinner.
This is a different rant. I know they have butter chicken on the menu. Let's make them make good butter chicken.
Next time you are out at an Indian restaurant demand better. Say you want murgh makhani like they make in India.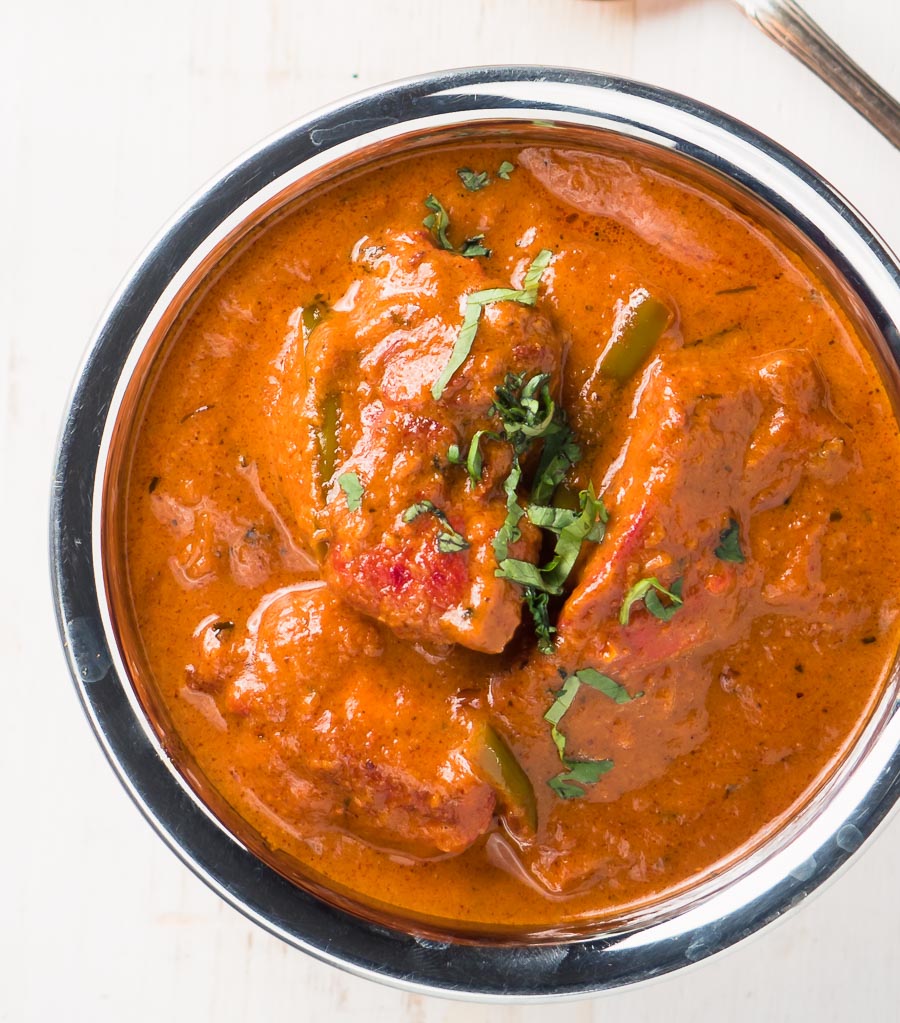 butter chicken
Butter chicken or murgh makhani doesn't have to be bland. Done like they do in restaurants, this butter chicken is loaded with flavour.
Ingredients
Tandoori seasoned chicken
10

oz

boneless, skinless chicken

- thighs or breasts. 3 thighs or one large breast

2

tbsp

vegetable oil

1

tsp

tandoori masala

- available in Indian grocery stores
Spice mix
1 1/2

tsp

indian restaurant spice mix

- recipe link below

3/4

tsp

tandoori masala

1/2

tsp

kashmiri chili powder

- or more to taste

1

tsp

kasoor methi

- dried fenugreek leaves

1/2

tsp

kosher salt

or 1/3 tsp table salt
Butter chicken
2

tbsp

onion

finely diced

1

green chili

cut into strips plus more for garnish

1

tsp

garlic ginger paste

- recipe link in notes

1 1/2

tbsp

tomato paste

diluted with 3 tbsp water

15

oz

curry base

- recipe link in notes

1

tbsp

almond flour

2

tsp

sugar

- jaggery is a nice touch if you can get it

2-3

tbsp

heavy cream

2

tbsp

butter

(optional)
Instructions
Do your prep.
Make the spice mix.

Dilute the tomato paste with enough water to get to the consistency of passata.

Have everything ready to go. Onions chopped. Chilies cut. Garlic ginger paste standing by. Curry base pre-heated. Ingredients at hand. Be ready. It's going to go fast from here.
Cook the tandoori seasoned chicken
Cut the chicken into bite sized pieces

Heat your frying pan (don't use non-stick) briefly over medium low heat. Add the oil and then 1 tsp tandoori masala.

Add the chicken and fry until it's all evenly coloured and partially cooked. This takes about 5 minutes. Don't worry. It will finish cooking in the curry.

Remove the chicken and set aside. Return the pan with the now seasoned oil to the stove over medium low heat.
Make the butter chicken
Add the onion and cook until well softened.

Turn the heat to medium. Add the garlic ginger paste and the green chili and cook, stirring constantly, until it stops sputtering.

Turn down the heat and add the spice mix. This is the critical step. Stir it constantly for 30 seconds. If it starts to darken lift the pan off the heat. You want the spice mix to cook in the oil but not burn.

Turn the heat up to medium high. This is important. The heat is what drives Indian restaurant flavour. Maillard reaction magic. You have to love food science! As you become more comfortable with this technique try pushing it. Add the diluted tomato paste and stir until bubbles form (the oil will likely separate). This takes around 30 seconds to one minute depending on the heat.

Add 3 oz of curry base. Stir until bubbles form (little craters really), around 30 seconds. Think lively boil. Watch the edges of the pan. The curry can stick here. Sticking is OK. Just scrape it back into the base. Burning is bad.

Now add 6 oz of curry base and stir briefly. Let it cook until the bubbles form again. This takes 1-2 minutes.

Add the rest of the curry base and let cook until the bubbles form.

Turn the heat down to low. Add the chicken, almond flour and sugar. Stir and simmer until the chicken is just done. This takes about another 5-6 minutes depending on how much you pre-cooked the chicken. Sneak a peek if you need to. Cut into a piece to see if it's done.

Let the curry simmer for about 5 minutes. If it gets too thick add a bit more curry base. Don't add water.

Remove from heat. Add the cream and butter if using.

Garnish with a bit of chopped fresh cilantro and green chili if you like. Serve.
Notes
The recipe for curry base is here.
The recipe for indian restaurant spice mix is here.
The recipe for garlic ginger paste is here.
If you haven't read about Indian restaurant technique yet, do that before you start cooking. It's a good read. Worthwhile.
Have all your ingredients prepped and ready to go. If you are making multiple curries, have your curry base warming in a pot on the stove. If you are just making one, microwave it to warm it up right before you start cooking.
Nutrition
Serving:
2
servings
|
Calories:
536
kcal
|
Carbohydrates:
18
g
|
Protein:
32
g
|
Fat:
37
g
|
Saturated Fat:
23
g
|
Cholesterol:
141
mg
|
Sodium:
1211
mg
|
Potassium:
799
mg
|
Fiber:
4
g
|
Sugar:
7
g
|
Vitamin A:
1000
IU
|
Vitamin C:
7.8
mg
|
Calcium:
31
mg
|
Iron:
2.1
mg