Chorizo potatoes. This is a riff on patatas bravas – one of the most famous tapas dishes of all time. It's famous for a reason. It's really good. But jack up the flavour with some chorizo. Drizzle it with some homemade aioli or garlic mayonnaise. That's great.
This is comfort food really. Potatoes. Sausage. Mayonnaise. How can you go wrong? Delicious. Familiar. But different. Special.
There's really only three things in this dish. A bit of spice. But the potatoes are roasted. The little bits of chorizo are bursts of flavour. And texture. Garlicky mayonnaise brings it all together.
Chorizo potatoes are about the chorizo
To get this right you have to get the chorizo right. Funny thing. You need to cook the chorizo to death for this to work. Seriously. It's completely counter-intuitive.
Somewhere along the way it goes from bits of sausage to these little nubbins of concentrated flavour. Sausage flavour bombs. I don't really understand why. But it works. Taste it along the way. You'll see.
Boil the potatoes first
I use this trick often. For duck fat roasted potatoes. For any roasted potatoes really. It's simple. Boil your potatoes before you roast them. Don't boil them to death. Just enough.
That way you don't have to worry about cooking the potatoes through. You can focus on getting the outside just right. The inside is already taken care of. Twice cooked potatoes. Works every time.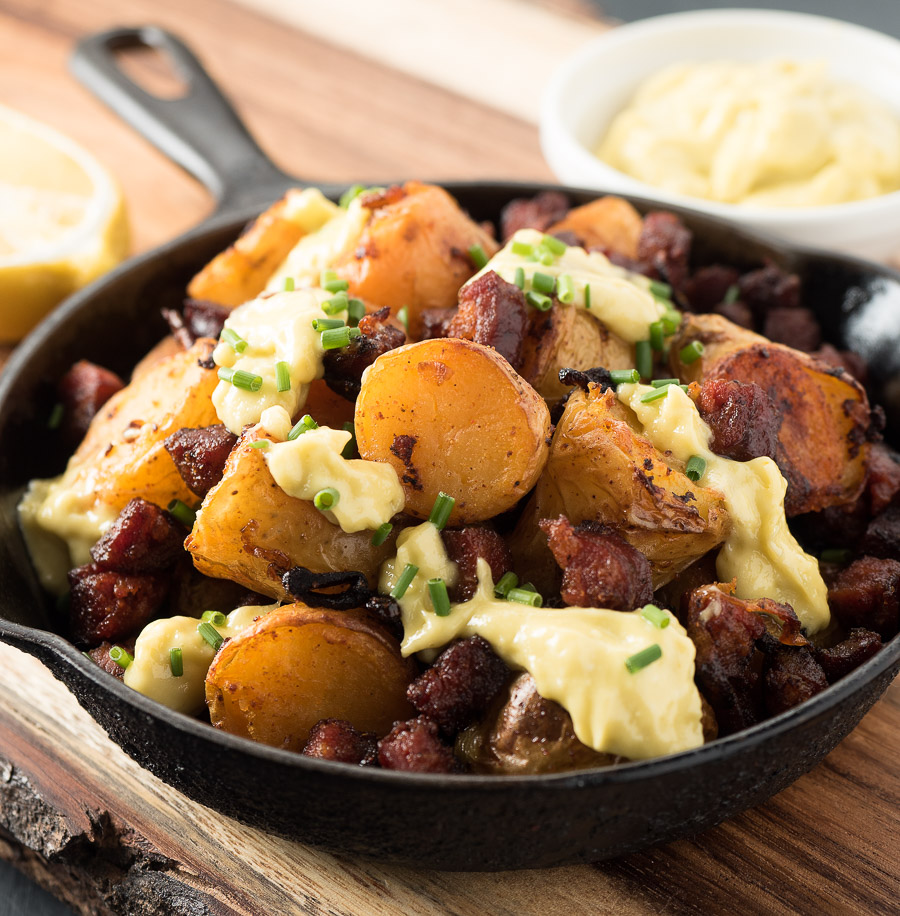 Aioli is just mayonnaise with garlic.
Never made mayonnaise before? It's no big deal. It's an emulsion.The trick is to pour the oil in slowly. That's key. The oil combines with the egg yolk.
There's a whole lot of chemistry behind this. But you don't have to worry about that. All that matters is that it works. Just go slow.
It's not hard. A small food processor makes it a snap. Coddle an egg. Pulse with a few other ingredients. Drizzle in some oil. Done. Delicious. It's great with simple boiled potatoes too. A bit of parsley. Maybe some butter. Yum.
Potatoes with chorizo. This is tapas times ten.
chorizo potatoes
Chorizo potatoes or patatas braves con chorizo is a traditional tapas dish kicked up big time. The chorizo is Spanish. This is not a good place to substitute Mexican style chorizo.
Ingredients
Chorizo potatoes
1

lb

small new potatoes

- cut in big bite size pieces.

8

oz

spanish chorizo sausage

- diced

1

or more large shallot

- sliced thinly

1/2

tsp

smoked paprika

- hot or mild

salt to taste

1

Tbsp

olive oil
Aioli
1

clove

garlic

- well crushed

An egg yolk

- coddle your egg if safety is a concern

1

Tbsp

sherry vinegar

Juice of 1/4 lemon

1

Tbsp

of plus 1/2 cup olive oil

1/2

cup

vegetable oil

1/4

tsp

salt
Instructions
Aioli
In a small food processor or blender combine the egg yolk, garlic, sherry vinegar, lemon juice and one Tbsp olive oil. Pulse a couple times.

Mix the olive oil and vegetable oil in a container well suited to drizzling. A measuring cup or drinking glass is not the answer here... You will curse.

Run the processor continuously while drizzling in the oil. You are making mayonnaise. It will thicken up nicely.

Add the salt and taste. If it's not quite right add a bit more salt or lemon. Your call.
Chorizo potatoes
Pre-heat your oven to 375F.

Boil the potatoes in well salted water until a knife slides into a potato easily. Drain.

Heat the olive oil in an oven-proof frying pan over medium heat.

Add the chorizo and cook for 3-4 minutes.

Stir in the shallot and cook until soft, another minute or so.

Now add the potatoes and mix until the potatoes are well coated with oil. Sprinkle them with paprika and season with salt.

Place the skillet in the oven and roast for 10 minutes. Stir and roast another 10 minutes.

Serve with aioli on the side or drizzled overtop or both.
Notes
Aioli is all about personal taste. One clove of garlic is pretty garlicky but if you like more or less adjust to taste. Traditional aioli is 100 percent olive oil. That's pretty assertive. A mix of olive and vegetable oil keeps the character of aioli but lightens the flavour somewhat - again do what you like. It's your kitchen!
Nutrition
Serving:
4
servings
|
Calories:
911
kcal
|
Carbohydrates:
22
g
|
Protein:
16
g
|
Fat:
85
g
|
Saturated Fat:
35
g
|
Cholesterol:
98
mg
|
Sodium:
856
mg
|
Potassium:
723
mg
|
Fiber:
2
g
|
Sugar:
1
g
|
Vitamin A:
190
IU
|
Vitamin C:
24.5
mg
|
Calcium:
24
mg
|
Iron:
2.2
mg