There aren't a lot of things in this world better on a cold winter day than French onion soup.
The richness from the caramelized onions. The melted then broiled cheese. The baguette croutons. It's comfort in a bowl. Deeply satisfying. Wonderfully delicious. Amazing really, that something so good can be so simple.
French onion soup is about the onions
It seems obvious but it's critical. Good French onion soup is real work. You need to cook the onions until they are deeply browned. Seriously. There's no skimping that on that step.
It's mostly about caramelization of the onions. All those sugars in the onions cooking down to a wonderful mess of delicious. But there's a bit of Maillard reaction going on as well. Magic.
Gruyere is king
There is one cheese in my mind that is perfect for French onion soup. Gruyere. Other cheeses melt well but gruyere brings a little more depth of flavour.
It's up to you. You can use whatever cheese you want. But try gruyere at least once. You will be surprised. Expensive but worth it.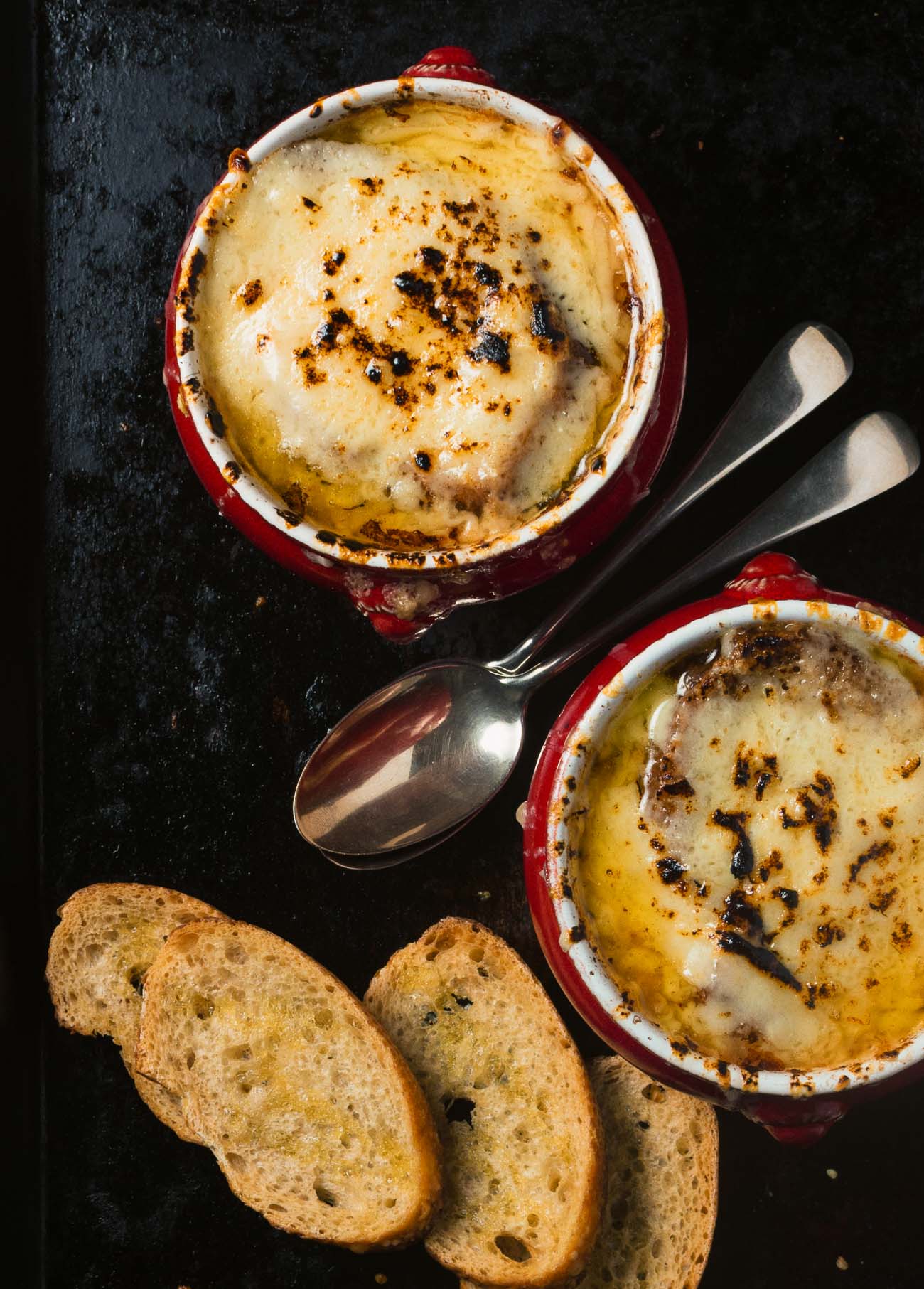 Some Julia – some Anthony
For years, my go to recipe for French onion soup was Julia Child's. The one in Mastering the Art of French Cooking. That's a book they they will pry from my cold dead hands BTW.
Then I snagged a copy of Anthony Bourdain's Les Halles Cookbook. Both recipes are really, really good but I like his just a little better.
She uses white vermouth and cognac. He uses port and balsamic vinegar. She cooks her onions covered to start and longer overall. She adds sugar. He doesn't. There's bacon in his. It's Bourdain after all…
This is the version from Les Halles with a bit of Julia's technique. It's the best of both in a bowl. A big gooey bowl of happiness.
classic french onion soup
French onion soup is all about the onions. Take the time to brown them deeply and you will enjoy this classic dish as it's meant to be.
Ingredients
6

Tbsp

butter

8

large yellow onions

thinly sliced

1/4

cup

port

1/4

cup

balsamic vinegar

2

quarts

good chicken stock.

If there was ever a reason to make your own stock this is it.

4

ounces

4-5 slices best quality bacon

diced. Don't skimp here.

2

sprigs of thyme plus one bay leaf

tied together in a bouquet Garni

16

slices

baguette

12

ounces

gruyere cheese

grated
Instructions
The soup
Melt the butter over low heat in a 5-6 quart heavy pot.

Add the onions, stir and cover. Cook 15-20 minutes.

Remove lid, turn heat to medium and cook, stirring occasionally, until the onions are well browned. This will take 30-40 minutes. It takes as long as it takes. This is how you make onion soup. Keep an eye on your onions. You don't want them to burn.

Once the onions are browned, turn the heat to medium high and stir in the port and balsamic vinegar. Give it a good stir to scape up any of the brown fond in the bottom of the pot.

Add the chicken stock, bacon and bouquet garni.

Bring to a boil and simmer for 45 minutes.

Add salt and pepper to taste.
The croutons
Pre-heat your oven to 325F. Drizzle the slices of baguette with a bit of olive oil and toast in the oven. You can rub them with a bit of garlic if you like.
To serve
Pre-heat your broiler.

Place your bowls on a cookie sheet. Ladle the soup into oven-proof bowls. Float two croutons on top and add a good amount of cheese. It's OK if it melts down the side. That's tasty too.

Place the bowls and cookie sheet in the oven and broil until the cheese bubbles and browns.

If you are making 8 portions and you don't have a double pass broiler consider doing them in two batches. Don't worry. The soup will be plenty hot.
Nutrition
Serving:
8
servings
|
Calories:
585
kcal
|
Carbohydrates:
47
g
|
Protein:
26
g
|
Fat:
31
g
|
Saturated Fat:
16
g
|
Cholesterol:
79
mg
|
Sodium:
782
mg
|
Potassium:
512
mg
|
Fiber:
3
g
|
Sugar:
7
g
|
Vitamin A:
680
IU
|
Vitamin C:
8.6
mg
|
Calcium:
519
mg
|
Iron:
2.8
mg