Dal palak is a creamy lentil curry that adds spinach to make it something special. This is a great flavour combination you need to try.
If you like spinach. And you like lentils. Then you are going to love this dish. It makes a great side dish to any Indian meal. It's healthy. Vegan. Low fat. High fibre. Gluten free. Inexpensive. All the check boxes ticked. And somehow still delicious.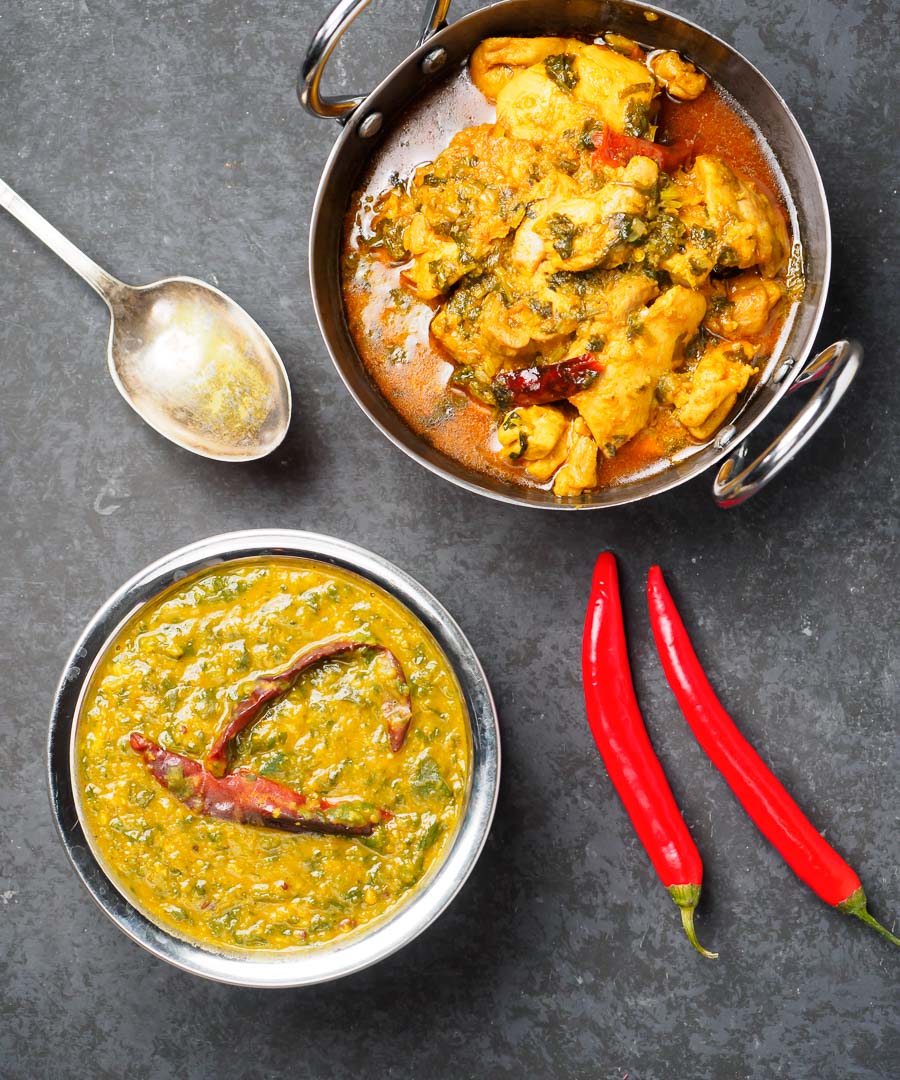 Tempering adds a flavour bomb to dal palak
Tempering is a fancy word for a little spicy sizzle to finish off any lentil curry. Some people call it a tarka. Or tarda even. Not sure why there's so many names for the same thing. Doesn't really matter though.
What matters is it's a great technique to learn. And to use every time you make dal. Any dal.
Nothing to it really. Heat up some oil. Fry some spices to bloom the flavours. Mix it into your dal spinach mixture. Instant flavour bomb. Indian cooking magic.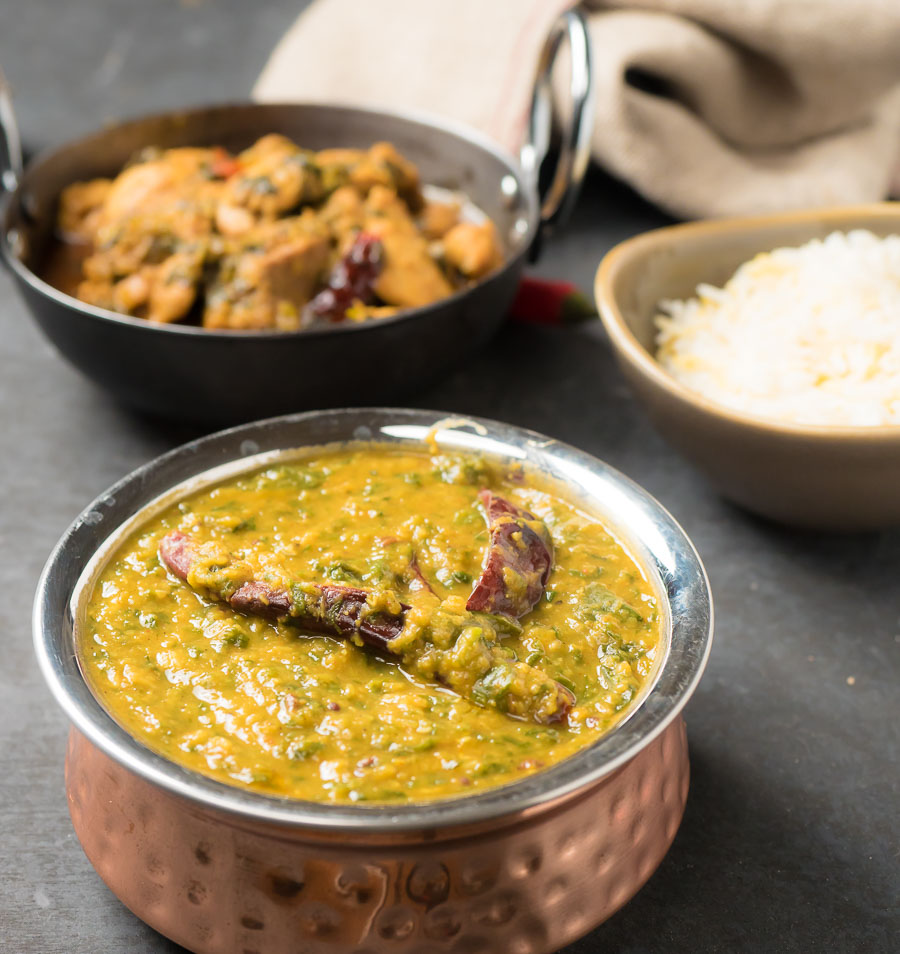 This is dal palak done restaurant style
You can make this to order. 10 minutes top. Once you have your lentils cooked.
In a restaurant they have a bunch of cooked masoor dal ready to go. They add some spinach to a portion of dal. Whip up the tempering and out the door it goes.
It's not quite the same at home but the idea is the same. Cook your lentils. Once they are ready it's pretty much identical. Lentils. Spinach. Tempering. Dinner. Easy as that.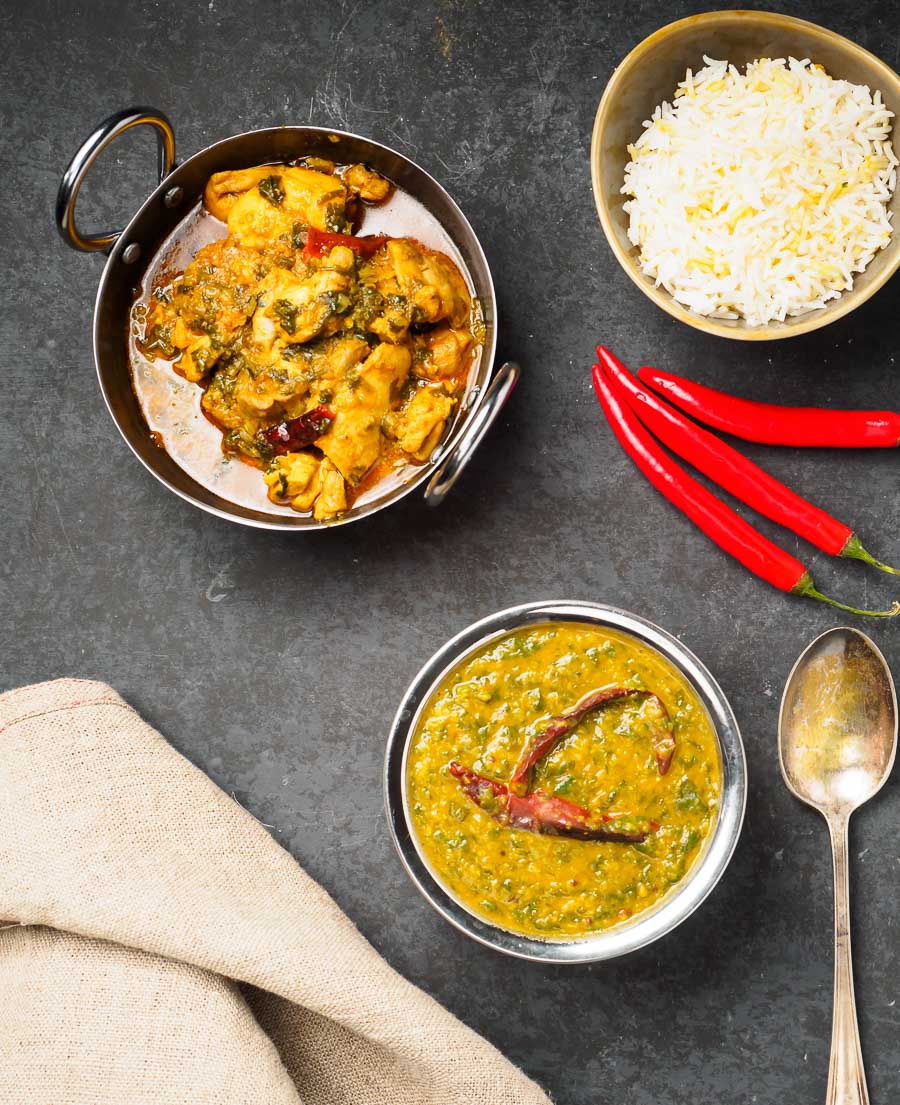 Amchoor gives it a bit of tang
Amchoor is my new secret weapon for lentil dishes. I use it in my over the top chana masala and I use it here. It's dried mango powder. You can get it at any Indian grocer. You need to get some. It's that good.
It adds an earthy, slightly sour flavour. Hard to describe. Kind of like tamarind. But different. If you can't get amchoor, tamarind will do in a pinch.
Spinach and lentils go great together
When I first started cooking Indian some time in the Bronze age I found a recipe for lentils and spinach in a Madhur Jaffrey cookbook. I made it and I loved it. Been playing with the flavour combinations since then.
This version of dal palak is my current favourite. I love the combination of the whole cumin and mustard seeds with the ground spices.
The earthiness of the lentils and amchoor tame the sharper taste of the spinach. It just comes together nicely. So I'm sticking with this one for a while.
Dal palak. Lentil curry with spinach. Really tasty stuff.
dal palak – lentil curry with spinach
Dal palak is a healthy and delicious lentil curry that's sure to please.
Servings
6
as a side dish
Ingredients
Spice Mix
1

tsp

cumin powder

1

tsp

kashmiri chili powder

2

tsp

indian restaurant spice mix

or curry powder

1/2

tsp

amchoor powder

1

tsp

kosher salt

plus more to taste at the end
cook the lentils
1

cup

red split lentils

(masoor dal)

1/2

tsp

turmeric

3 1/2

cups

water
dal palak
3

tbsp

neutral oil

(e.g. vegetable)

1/2

tsp

cumin seeds

1/2

tsp

brown mustard seeds

2-3

dried kashmiri chilies

1

tbsp

garlic ginger paste

the spice mix

9

oz

cooked spinach

(frozen works well here)

the cooked lentils
Instructions
Make the spice mix
Combine the cumin powder, Kashmiri chili powder, restaurant spice mix, amchoor powder and salt in a small bowl. Set aside.
Cook the lentils
Combine the water, turmeric and lentils in a pot large enough to also hold the spinach (you will add that later). Bring to a boil, cover and simmer until the lentils disintegrate. You are after creamy mush here.
Make the tempering
Heat the oil over medium heat. Add the cumin seed and mustard seed to the hot oil.

When the cumin and mustard seed starts to crackle (around 30 seconds) add the whole, dried chilies. As soon as they start to discolour add the garlic ginger paste.

Stir until the garlic ginger paste stops sputtering.

Reduce the heat to medium low and add the spice mix. Stir to combine and cook for about 30 seconds. Be careful not to let the spices burn.

Add this tempering to the lentils. Stir to combine.

Add the drained spinach. Mix well. Reheat the dal palak gently over low heat if needed. Taste and adjust the salt. Lentils do take a fair bit of salt but creep up carefully. You can add salt. You can't take it away.
Nutrition
Calories:
133
kcal
|
Carbohydrates:
20
g
|
Protein:
6
g
|
Fat:
2
g
|
Saturated Fat:
1
g
|
Cholesterol:
19
mg
|
Sodium:
613
mg
|
Potassium:
5
mg
|
Fiber:
1
g
|
Sugar:
1
g
|
Vitamin A:
120
IU
|
Calcium:
88
mg
|
Iron:
1.1
mg