Gobi manchurian. The ultimate cauliflower wings. Been around forever. Indian spiced cauliflower with attitude. Seriously good eating.
Never heard of Gobi Manchurian? Not surprising. Not sure why but it's a well kept secret. Gobi is Hindi for cauliflower. Manchuria is a region in China. India meets China.
You can't go three hops on the internet without bumping into buffalo cauliflower wings. But no gobi manchurian. Time for that to change.
This is unapologetically delicious stuff. Battered and deep fried. Not oven fried. No pretending. This is all about flavour. And texture. You won't believe how crazy tasty these things are.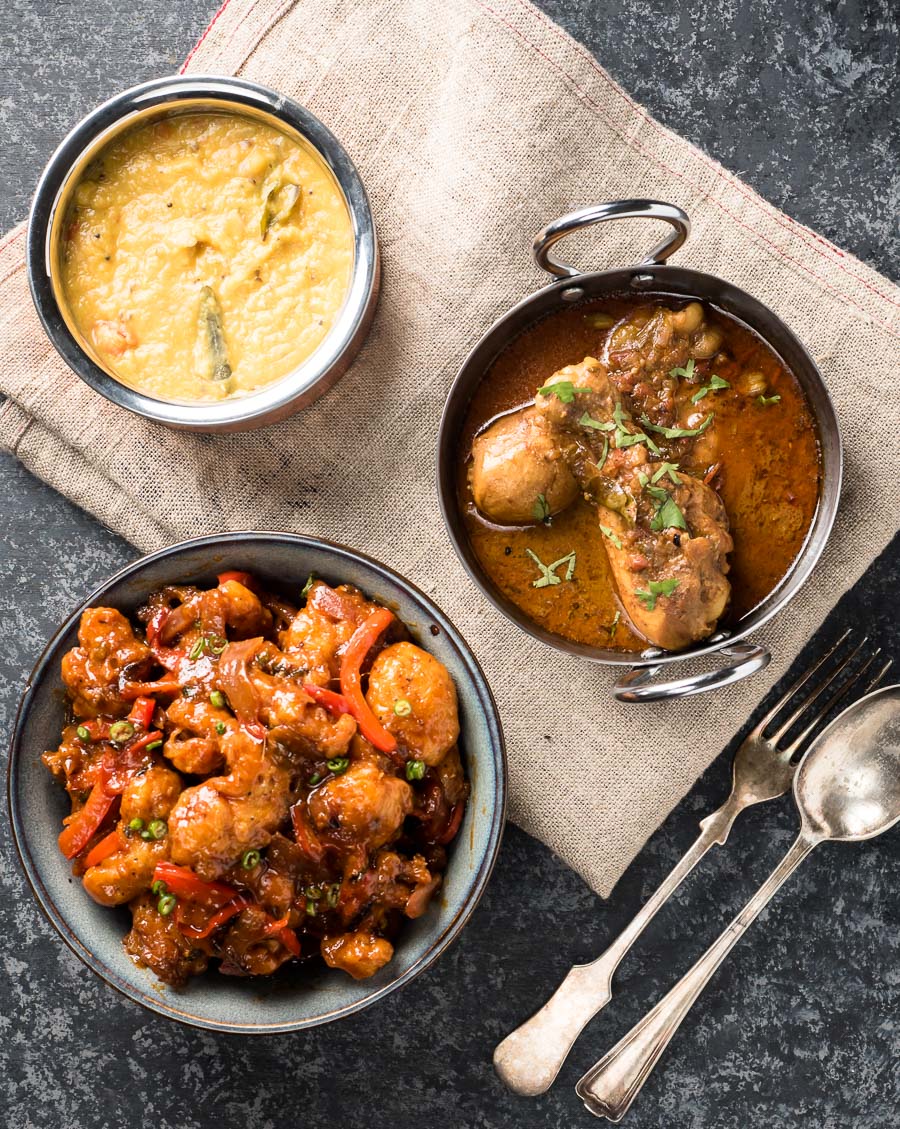 Gobi manchurian – India meets China
Technically gobi manchurian is Indo-Chinese. My tastes run more towards Indo than Chinese so I've tweaked this recipe to be a bit more Indian than Chinese. Want it tweaked to China? More soy. Asian chili sauce. Easy as that.
The important thing is that you add the words "battered and deep fried" to your cauliflower vocabulary. After that, do what you want. Indian. Chinese. Sauce. No sauce. All good. Really, really good.
Popular thinking says this is Chinese cooking adapted to Indian taste. That's pretty credible. Think Cantonese chicken balls. But jacked with Indian flavour.
You could argue the opposite as well though. Could be pakoras or bhajis tossed in a Chinese inspired sauce. Hard to say which way it went. My guess is Chinese first. But I don't know.
Doesn't really matter though. What matters is somebody came up with it. So we all get to enjoy. Thank you whoever you are.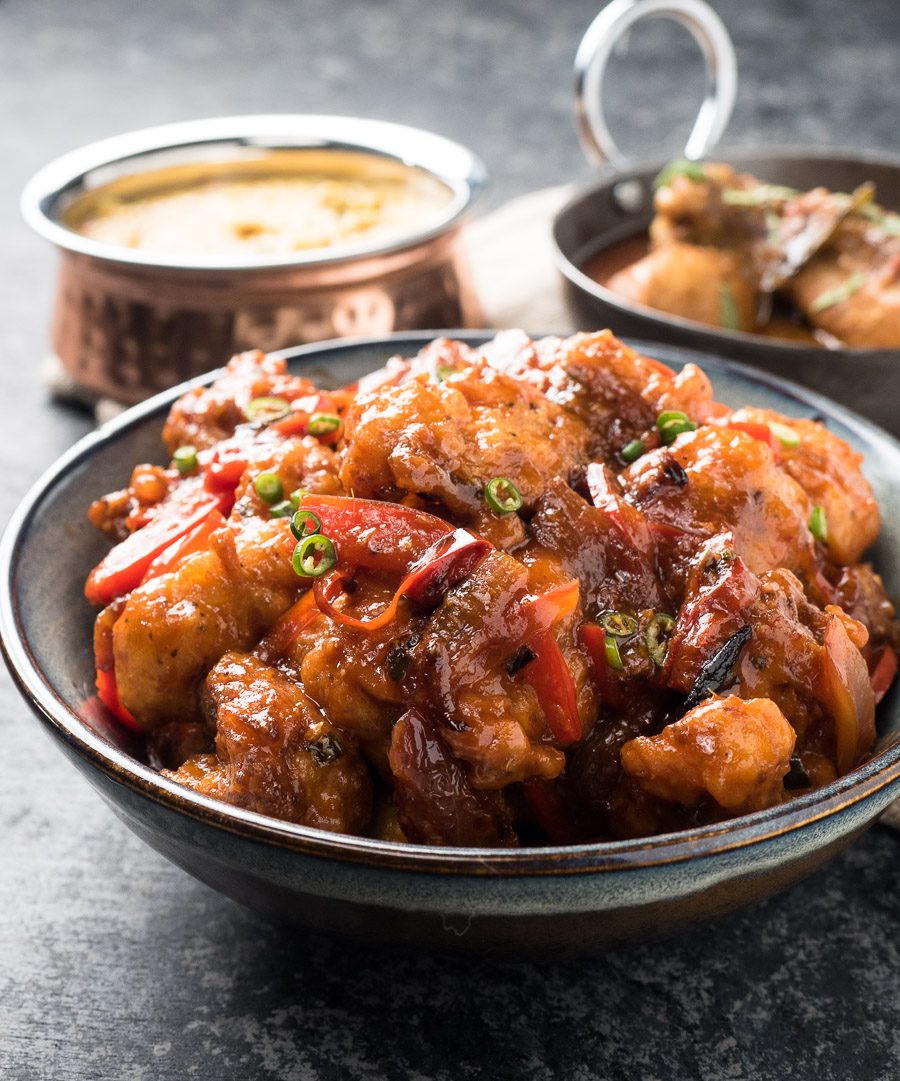 Sauce or no sauce – tasty either way
These are really good straight up. No sauce required. There's lots of flavour in the batter. Garlic. Ginger. Green chili, Black pepper. Chili powder. No shortage of big tastes in these cauliflower wings.
Serve them up as you would pakoras or bhajis. They make great finger food.
That's the Indian way. Little fried bites. Serve it up with a yoghurt or tamarind dipping sauce. Guaranteed hit.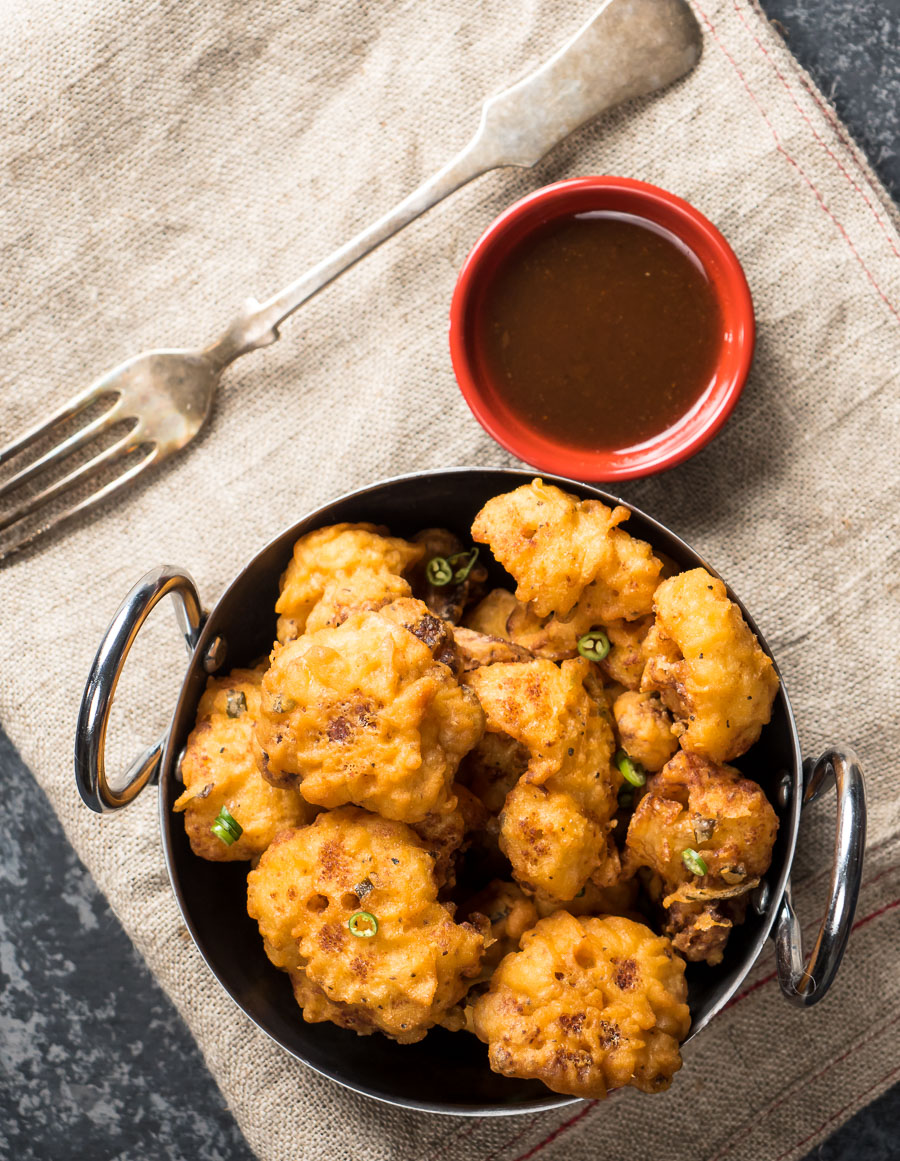 Or go the distance. Toss them in sauce for a whole different experience. More of a side dish. Or a main course even. I am an omnivore with a fondness for protein. These cauliflower wings satisfy. Cauliflower is amazing stuff.
Either way, you can't lose. Try them both ways. Decide for yourself.
Gobi manchurian. The original cauliflower wings. And still one of the best things you can do with cauliflower.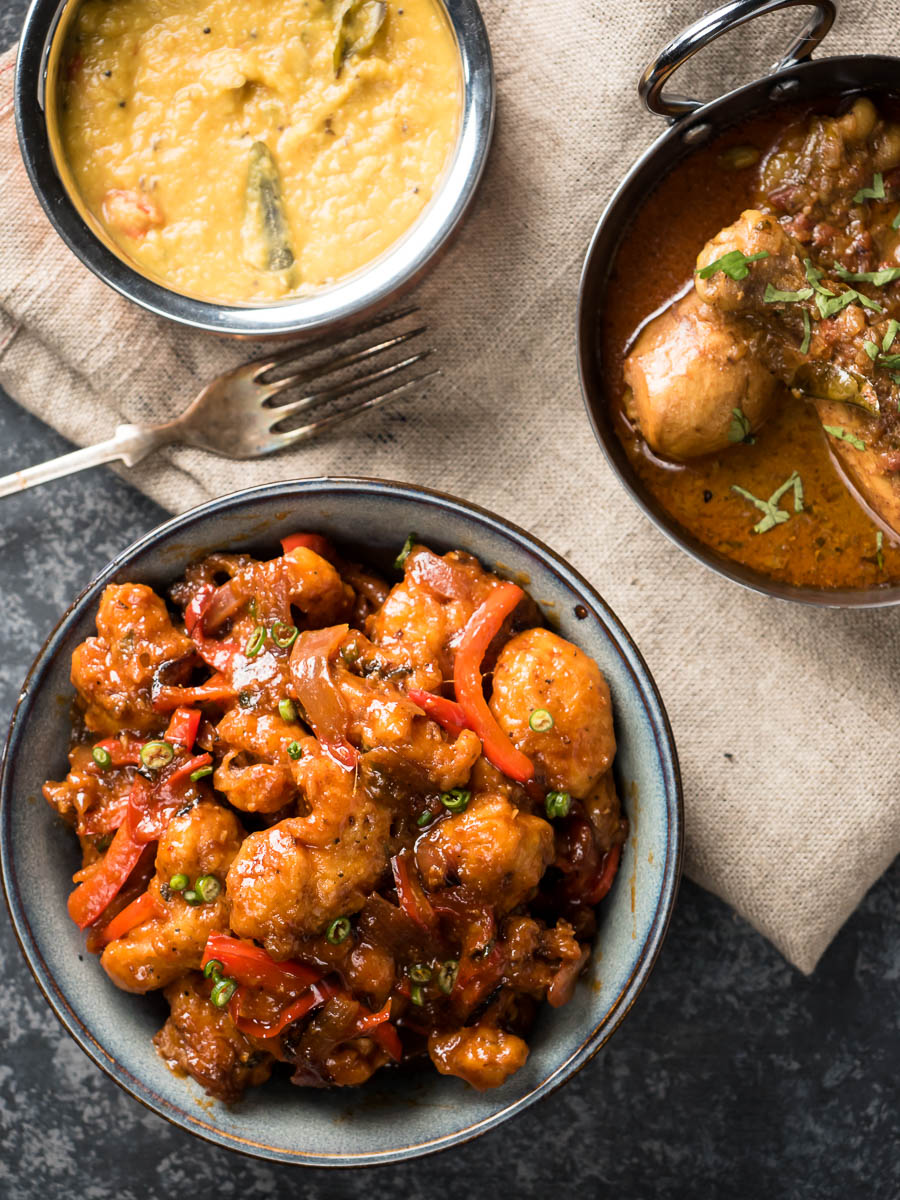 Gobi Manchurian
India and China go to dinner together in this Indo-Chinese gobi manchurian.
Ingredients
The batter
3/4

cup

all purpose flour

1/4

cup

corn starch

2

green chilies

- finely chopped

2

tsp

garlic ginger paste

1/2

tsp

kashmiri chili powder

1/2

tsp

black pepper

1

tsp

kosher salt

3/4

cup

water

plus a couple tablespoons
Gobi Manchurian
3

cups

cauliflower florets

- not too big

3

tbsp

vegetable or other neutral oil

1

tbsp

garlic ginger paste

2

green chilies

seeded and chopped

1/2

red pepper

chopped

1/4

onion

chopped

2

tsp

soy sauce

2

tbsp

chili sauce

- This is the spicy ketchup stuff. I use Sri Lankan

2

tsp

rice vinegar

1/4

cup

water

1/4

tsp

kosher salt

to taste

1

tbsp

corn starch

dissolved in 1/4 cup water - you will not need all of it.

oil

to deep fry
Instructions
Parboil the cauliflower
Bring enough water to cover the cauliflower to a boil. Add some salt. Like you were making pasta. Cook the cauliflower for 3-4 minutes. You want it just barely tender. Remove from the water and set aside to cool.
Make the batter
Combine all the batter ingredients except the water. Stir to mix thoroughly.

Add 3/4 cup water and mix to create a smooth batter. I like the batter a little thin so I add a couple extra tablespoons of water. You want the cauliflower coated with batter. You don't want them to turn out like sweet and sour chicken balls in a bad Chinese restaurant. All batter and no filling is not good.
Make the sauce
Pre-heat a frying pan over medium high heat. Add the oil, red pepper and onion. Fry aggressively. You want the peppers to blister a bit if you can. This is taking a page out of the jalfrezi playbook. A little bit smoky taste adds a nice touch. You are cooking them until the peppers are soft and the onions start to char a bit. Add the green chilies towards the end. Maybe the last minute or so.

Turn the heat down to medium and add the garlic ginger paste. Stir until it stops spluttering - about 30 seconds.

Mix in the soy, rice wine vinegar and chili sauce. Stir to combine. Add 1/4 cup water (not the water with the cornstarch) and bring to a simmer.

At this point you need to decide how sticky you want the sauce. I usually add about a tablespoon of the cornstarch water mix. That works out to a little less than a teaspoon of cornstarch. If you want really thick and gloppy add more.

Add about a tablespoon of the cornstarch mixture. Bring to a simmer. Now decide if that works for you. If not add a bit more. Do not add it all. You will make glue.

Taste your sauce for salt. It probably needs about 1/4 tsp.
Get ready to deep fry
Heat enough oil to deep fry (about 3 inches deep) in a large pot. A dutch oven works well. Pre-heat the oil to 335-350F. Use a candy/frying thermometer.
Cook the cauliflower
Mix the cauliflower with the batter. Be gentle. Add about half the cauliflower to the oil. Regulate the heat to try to keep it around 325-350F.

The cauliflower is done before it goes into the oil so you are really just cooking the batter. Remove the cauliflower when it gets golden brown. Place it on a wire rack on a cookie sheet.

Repeat with the other half of the battered cauliflower.

At this point stop and taste one of the fritters. Decide if you just want to stop here next time. Serve it up with a little tamarind chutney. I really like this for an appetizer.
Finish it off
Re-heat your sauce. Add the cauliflower fritters and toss to combine.

Garnish with green onions (more traditional) or little bits of green chili (tastier). Serve some lemon wedges along side if you want a bit more tang.

Nutrition
Serving:
4
servings
|
Calories:
264
kcal
|
Carbohydrates:
37
g
|
Protein:
4
g
|
Fat:
10
g
|
Saturated Fat:
8
g
|
Sodium:
1180
mg
|
Potassium:
318
mg
|
Fiber:
4
g
|
Sugar:
4
g
|
Vitamin A:
615
IU
|
Vitamin C:
62.3
mg
|
Calcium:
20
mg
|
Iron:
1.7
mg