Indian lentil curry with spinach is a wholesome bowl of delicious. If you are looking for something that's healthy but still tastes great this is it.
It's even vegan and gluten-free. It combines classic Indian spices, onion, ginger, garlic and a bit of green chili with red lentils and spinach. A bit of tomato rounds it out.
This is a dish that I cook all the time. Maybe not exactly the same way every time but close. It makes a great side dish to any Indian meal.
Dal palak would be the Indian name. I doubt you'll find it done this way on a menu anywhere though. This is homestyle cooking. And it's easy to make. Really easy.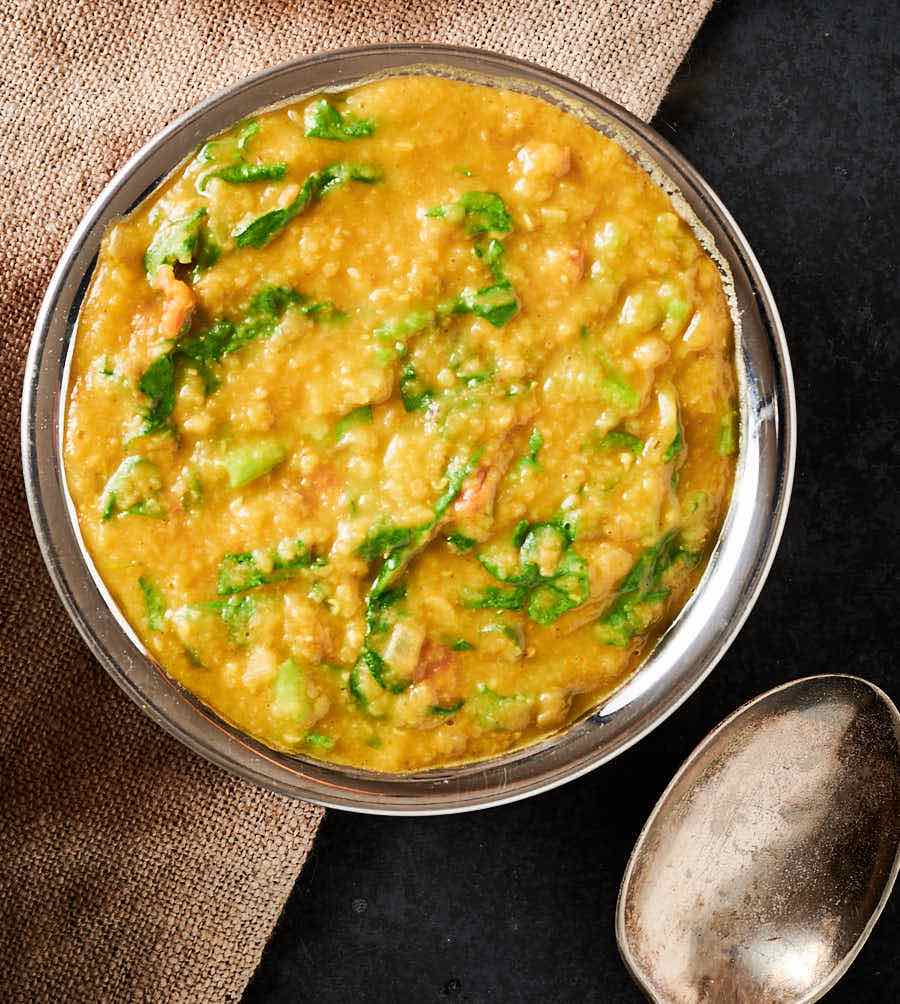 This is what Indians call dal
Dal palak is a famous dish. This is a simpler version. Straightforward. It's just something I like to make. There are a million variations out there.
I vary it depending on my mood. Hotter sometimes. A few curry leaves when I feel like taking it towards south Indian. Mix it up.
You could fry up a bit of mustard seed or whole cumin seed at the start if you wanted to. Tomato paste if you can't get nice fresh tomatoes. Squeeze of fresh lemon juice. A big handful of chopped cilantro.
All sorts of possibilities with this one. This is a baseline recipe. Make it as written. Or take it wherever you feel like going. Indian lentil curry with spinach doesn't even need to have spinach in it. Although you'd have to change the name I guess.
Really cook your lentils to make creamy lentil curry with spinach
The key to making any red lentil or masoor dal recipes is to first cook the lentils with a bit of turmeric until they disintegrate. Completely lose their shape. Nice and creamy. I love this. Do it all the time.
While the dal is cooking, make what's called a tempering – the flavours that will season the dish. Temperings can be as simple as a few mustard and cumin seeds, fried in oil.
Or it can be a bit more involved like is is here. Dal is great like that. It's a canvas waiting to be painted by whatever suits your fancy.
It's tasty stuff. Lentils and spinach. Practically health food. But it's tasty. And that's what counts.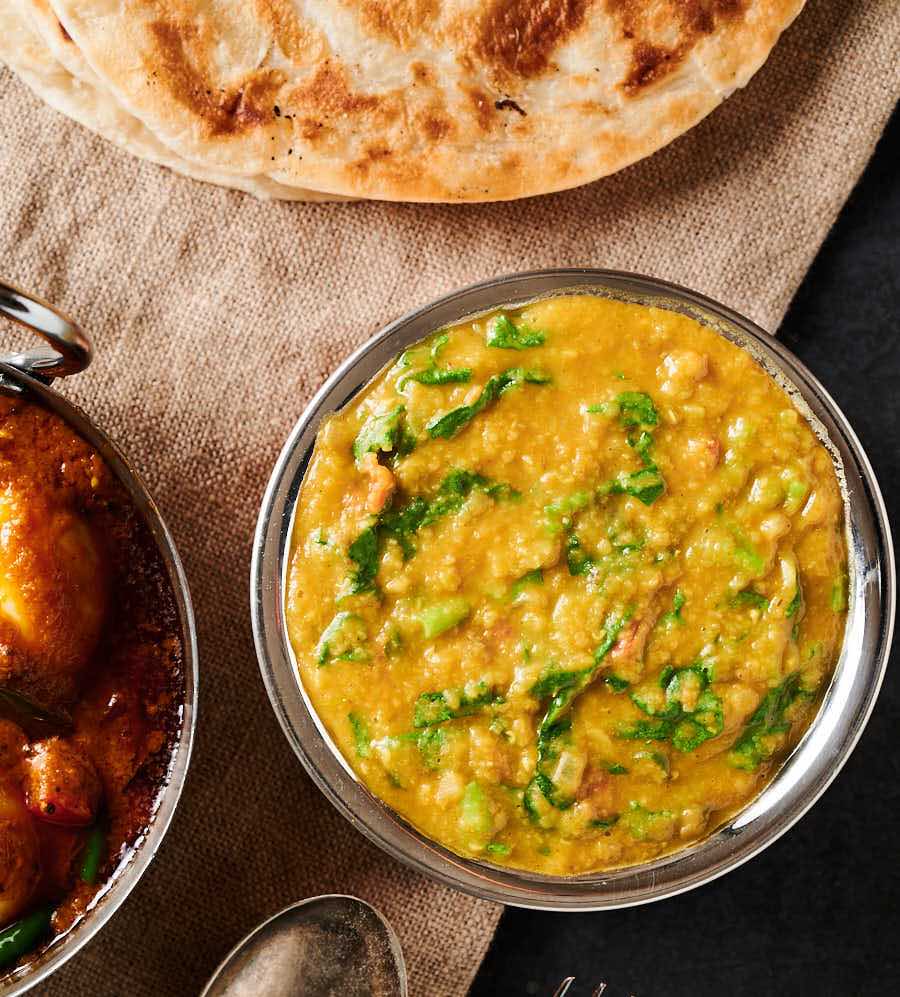 indian lentil curry with spinach
Ingredients
The spice mix
1

Tbsp

coriander powder

2

tsp

cumin powder

1

tsp

kashmiri chili powder

1 1/2

tsp

salt
The dahl
1

cups

red split lentils

masoor dahl

3 1/2

cups

water

1/2

tsp

turmeric

8

oz

baby spinach

coarsely chopped
The tempering
4

Tbsp

vegetable oil

1

onion

finely chopped

2

green chilies

minced

2

Tbsp

garlic ginger paste

- recipe link below

1/4

cup

tomatoes

diced or use 2 Tbsp tomato paste diluted in 2 Tbsp water

1

tsp

salt

to start. You are going to need more. Adjust to taste.
Instructions
Cook the dal
Combine the lentils, water and turmeric in a pot big enough to hold the spinach.

Bring to a simmer and cook, covered, until the lentils disintegrate, about 40 minutes. Add a bit more water if needed. You are going for a thick puree consistency.
Make the tempering
Heat a skillet over medium heat.

Add the oil. When the oil starts to shimmer, add the onion and cook until the edges of the onions start to brown.

Add the spice mix and cook for about 30 seconds, stirring constantly. This is the critical step. You don't want your spices to burn.

Add the tomato paste and stir. Turn the heat down and let it simmer 3-4 minutes.

Stir the tempering into the lentils. Add the salt and taste.

Mix in the spinach, a bit at a time, letting it wilt into the dal. When all the spinach has been mixed in, cover and let simmer 5 minutes.

Adjust the salt and serve. You are going to need more. For sure. So creep up on it. Add a bit. Stir. Taste. Add some more. Keep going until you get it where you want it.
Nutrition
Serving:
8
servings
|
Calories:
168
kcal
|
Carbohydrates:
19
g
|
Protein:
8
g
|
Fat:
8
g
|
Saturated Fat:
6
g
|
Sodium:
824
mg
|
Potassium:
586
mg
|
Fiber:
9
g
|
Sugar:
2
g
|
Vitamin A:
5470
IU
|
Vitamin C:
20
mg
|
Calcium:
84
mg
|
Iron:
3.8
mg