This mac and cheese is so good it will outshine your lovingly prepared mains. It's a star attraction. I know. I've done it to myself. More than once.
This is one of those recipes that you have to be careful with. It's good. Very good. Crazy good.
But it can be a secret weapon as well. Imagine you are going to a pot luck and you want to be the one that blows everyone away.
This is a dish that can do it. The ultimate sleeper side. Killer mac and cheese. Absolutely killer.
One mac and cheese to rule them all
I know this sounds like a pretty tall claim. It's mac and cheese after all.
You're thinking – "Mine is pretty damn good. Why would I bother? Everyone loves mine".
Maybe that's true but has anyone ever begged you to serve leftovers for breakfast? I have.
"Forget bacon and eggs. Not interested in lox and cream cheese. We want the mac and cheese".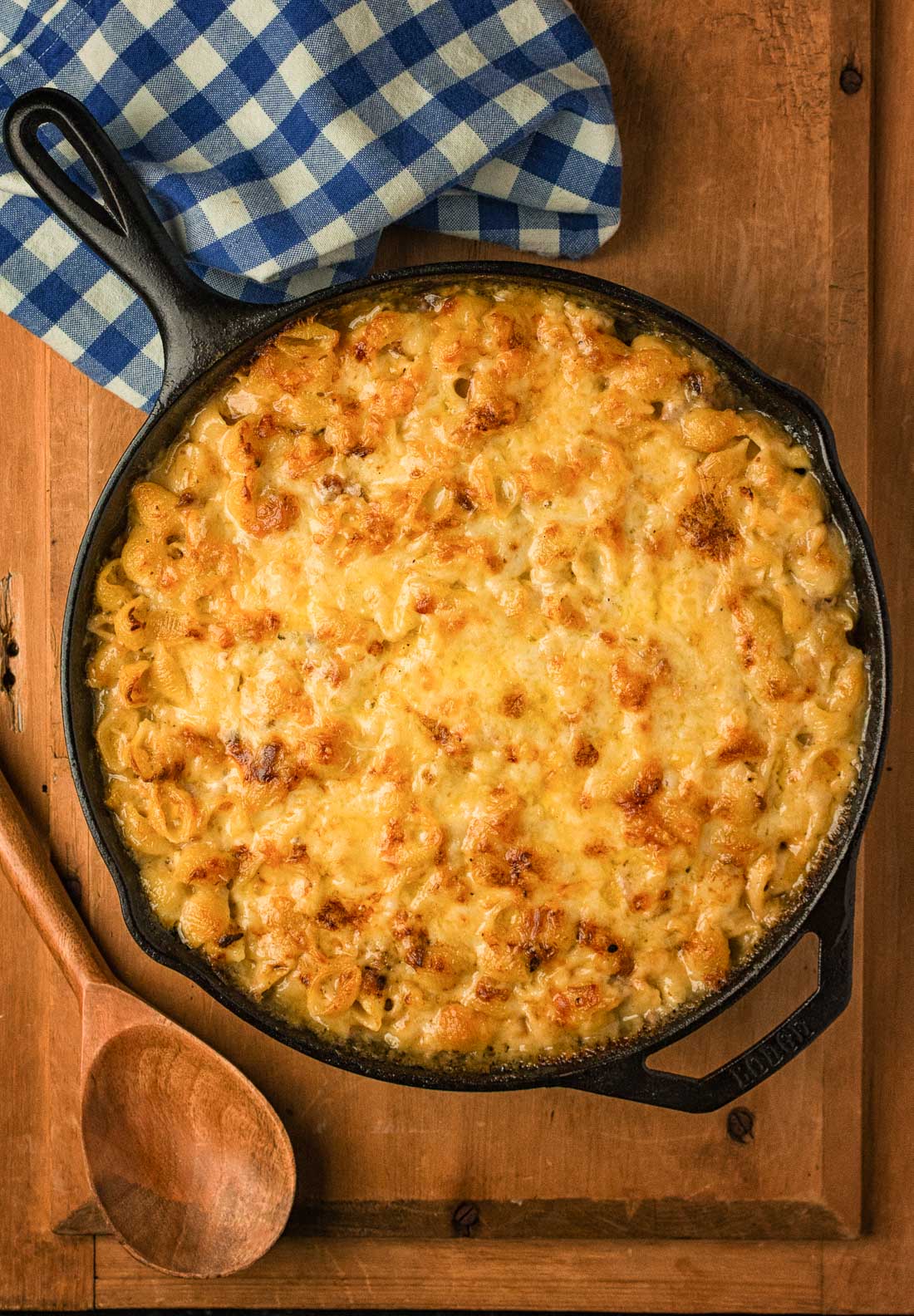 Gruyere and cheddar make it special
It's about more. More cheese. Creamy béchamel. There's no real secret here.
Just clobber you over the head more. More flavour. Better texture. Crazy rich.
It's somewhere between a regular mac and cheese and lasagna.
There's no bread crumbs. There's no tomato. And there's no pinch of this and touch of that. It's about cheese and pasta.
The complexity comes from the gruyere and cheddar. And there's cheese melted on top. Just because that's better.
If you want to go absolutely crazy add pulled pork. You don't have to. But that adds a whole extra layer of wow. Real pulled pork though. Not the slow cooker stuff.
It's pretty easy to make as well. Cook your pasta al dente. Make a béchamel. Melt the cheese into it. Add the pasta. Top with more cheese. Bake. Let stand. Serve. Bask in adulation from everyone who tries it.
This is not health food. It's not food for when you are watching your weight.
This is going for gold. Win at all costs. Sinful. But every now and then sinful is OK. Life is too short for bad food.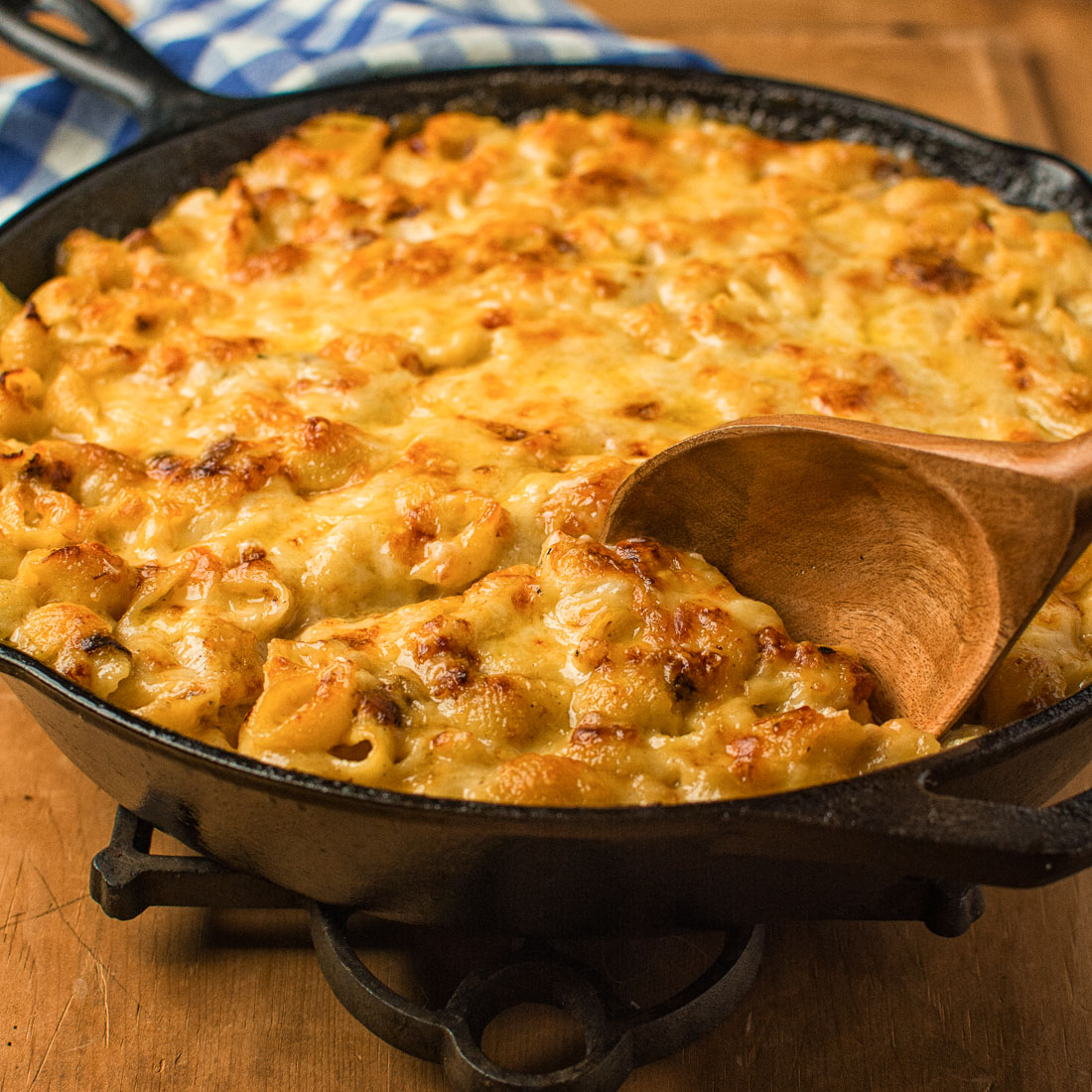 killer mac and cheese
This is mac and cheese for when you want to impress. It's not any harder to make than any other mac and cheese. But it's really, really good.
Ingredients
1

lb

small shell pasta

– conchiglie

6

Tbsp

butter

1/2

cup

flour

4

cups

milk

1

lb

gruyere

grated

12

oz

old cheddar

grated

1

tsp

salt

6 -12

oz

pulled pork finely chopped

optional but oh so magical
Instructions
Preheat your oven to 375F.

Bring a large pot of generously salted water to boil. For guidance – generously salted means it tastes like the ocean.

Cook the pasta until just under the recommended time and drain. It will continue cooking as it bakes so you don't want it overly soft after boiling.

Mix the grated cheeses. Reserve around 4 oz of cheese.

Heat the milk but don't let it boil.

In a 2 quart saucepan melt the butter over low heat. Mix in the flour and cook gently for 2 minutes. You don't want the mixture to colour. After two minutes start adding the warm milk a couple of tablespoons at a time to start mixing constantly. Once you have about a half a cup incorporated you can start adding the milk faster, maybe half a cup at a time. Once you've added all the milk bring it to a gentle, gentle boil. It will thicken at this point. If this sounds familiar it's because you are making a béchamel.

Add the salt.

Off heat, add the cheese mixture a handful at a time stirring constantly. After the cheese has incorporated, add the next handful. Repeat until all but the reserved cheese remains. This is called a mornay sauce if you like cooking trivia.

Fold in the pasta and pork if using and mix. Transfer the mac and cheese mixture to a 10×14 inch oven proof baking dish. Sprinkle the reserved cheese overtop. Cover with tin foil and bake 30-40 minutes. Remove the foil and bake an additional 10 minutes to brown. You may need to broil it briefly. If you do watch it closely. That's it. Easy and crazy good.
Notes
The pulled pork puts this over the top but even without this recipe is a show stealer so don't think it's critical.
What is important is you use smoked pork without the sauce. This isn't a place for slow cooker drowned in sauce "pulled pork". If that's what you have I think it would be better without.
Nutrition
Serving:
12
servings
|
Calories:
415
kcal
|
Carbohydrates:
36
g
|
Protein:
19
g
|
Fat:
21
g
|
Saturated Fat:
12
g
|
Trans Fat:
1
g
|
Cholesterol:
65
mg
|
Sodium:
408
mg
|
Potassium:
230
mg
|
Fiber:
1
g
|
Sugar:
5
g
|
Vitamin A:
665
IU
|
Calcium:
485
mg
|
Iron:
1
mg