Korean pork ribs with gochujang glaze. Perfect for when you need a rib fix. Sticky. Spicy. Salty. Sweet. Just really tasty in a messy sort of way. Lip smacking finger food.
Pork back ribs with sauce. Who doesn't love that. This is just that. Sticky delicious ribs. Coated with sauce.
Except this isn't Bull's Eye. Not your run of the mill sauce. Can't buy this sauce in the grocery store. No cheating here.
Gochujang is the new Korean secret ingredient
It is BBQ sauce though. Sort of. A little sweet. A little tangy. But with that Korean gochujang magic. If you haven't discovered gochujang yet it is time. It's past time. It's a spicy Korean umami bomb.
Think Sriracha times 10. Not 10 times hotter though. Just 10 times better. It's a secret ingredient that is starting to come out of the shadows. Get some now. And make Korean pork ribs with gochujang glaze your first taste of it.
Gochujang is a mildly spicy cousin to miso. All that salty depth of flavour of miso but with chili. It's just addictive. And you can use it in all sorts of ways. One of my faves is gochu mayo. So good.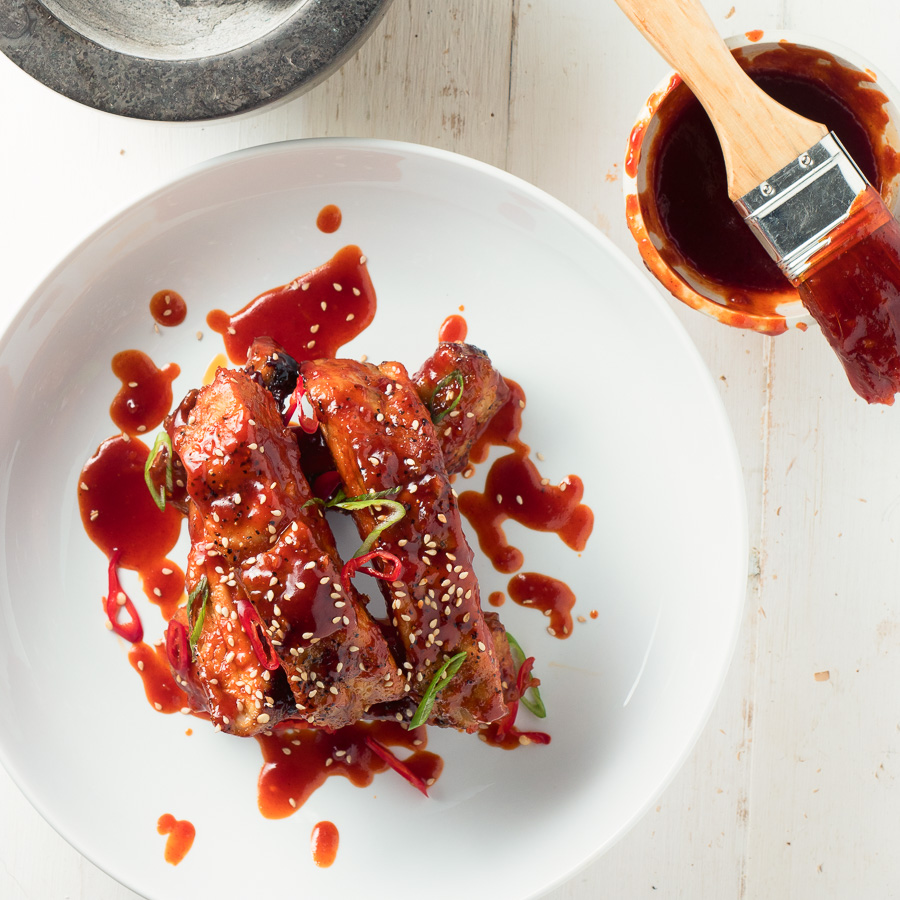 Korean pork ribs. Any time. Anywhere.
Everybody grills ribs. Or maybe they do real BBQ. Low and slow. I do. A lot. But there's so much more you can do. Korean pork ribs are a great way to cook ribs.
And why not. You would cook a chicken in the oven. Fish. Shrimp don't need to be done on the barbie. You can pan fry a steak. I know. I've done it. I just do not get why ribs can only be done on a grill or a smoker?
Who made that law? Who says? Makes no sense. I choose to be part of the rib revolution. Rise up. Cast off your chains. Dare to bake some ribs. Make Korean pork ribs. In the oven. And be proud you did.
Or if you want to lead the revolution, braise them. Seriously. They are great in a braise. The rib police have to learn we won't take this anymore.
These ribs are a snap to make
Not too much to this recipe really. Season the ribs with some salt and pepper. Toss them in the oven. Wait a while.
Mix up the gochujang glaze. Brush it on the ribs. Cook them a little longer. Eat. Smile. Then be ready for the knock on the door. The rib police would like to have some. Because they smell amazing. Tell them to get lost.
Do yourself a favour though. Have some paper towel on the table. Korean pork ribs with gochujang glaze are the ultimate sticky ribs. Messy and delicious. Who doesn't want that?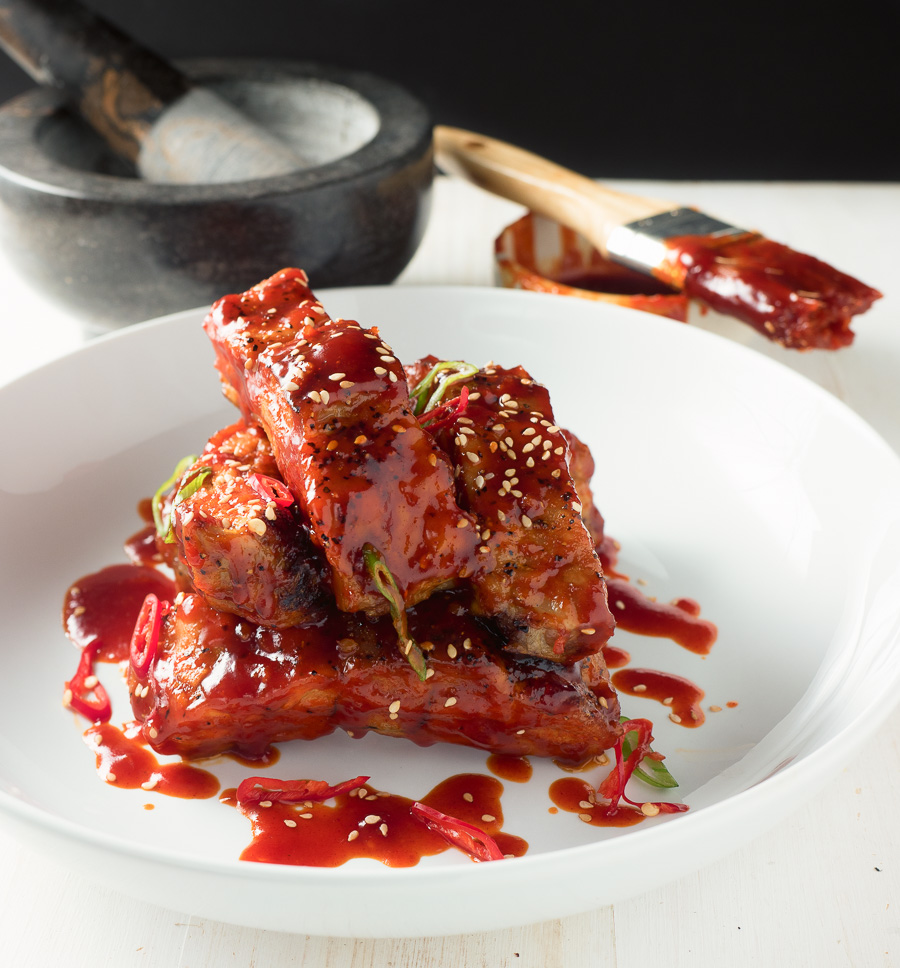 korean pork ribs with gochujang glaze
Korean pork ribs with gochujang glaze. Sticky. Spicy. Salty. Sweet. Perfect for when you need a really good sticky asian rib fix.
Ingredients
The ribs
2

racks

pork back ribs

- meaty ones are good here

1

tsp

salt

1

tsp

ground black pepper

1

tsp

granulated garlic
The gochujang glaze
2-3

cloves

garlic

- crushed

1

inch

ginger

- grated (a microplane works great for this)

1/2

cup

gochujang

1/4

cup

mirin

1/4

cup

brown sugar

1

Tbsp

sesame oil

1

Tbsp

soy sauce

2

Tbsp

rice wine vinegar

1

Tbsp

fish sauce

- optional but it really brings it together

1

Tbsp

vegetable oil
Instructions
Cook the ribs
Pre-heat your oven to 350F.

Season the ribs with salt, pepper and granulated garlic.

Place ribs on a sturdy cookie sheet and bake until they reach an internal temperature of 185F, about an hour to 75 minutes. Start checking after 45 minutes.
Make the gochujang glaze
Heat a small saucepan over low heat.

Add the vegetable oil, then the garlic and ginger and cook, stirring constantly, for about 90 seconds. You don't want it to colour - just get cooked through.

Add the remaining ingredients and simmer over low heat for 10 minutes.
Finish the ribs
Once your ribs have reached an internal temperature of 185 brush them generously with the glaze and return them to the oven. Let cook an additional 10 minutes.

If you want extra sticky individual ribs let the ribs rest briefly. Cut them into individual ribs and coat all 4 sides with sauce. Return to the oven as above.
Nutrition
Serving:
4
servings
|
Calories:
817
kcal
|
Carbohydrates:
31
g
|
Protein:
55
g
|
Fat:
53
g
|
Saturated Fat:
19
g
|
Cholesterol:
195
mg
|
Sodium:
1557
mg
|
Potassium:
876
mg
|
Sugar:
20
g
|
Vitamin A:
130
IU
|
Vitamin C:
5.9
mg
|
Calcium:
109
mg
|
Iron:
2.7
mg