This is my riff on kimchi jjigae. It's a salty, spicy, porky bowl of cabbage and broth goodness. Korean pork stew really. Easier and a bit more approachable than absolutely authentic kimchi jjigae.
I took the Korean fish stock out of the recipe. No pulling the guts out of dried anchovies here. Just some simple chicken stock instead. Pork belly I kept. The world needs more pork belly. It's a bit fatty so it adds a wonderful richness to the stew.
Tofu is a traditional ingredient. I like it because it adds another texture. Don't like tofu? Just leave it out.
Kimchi jjigae is a little bit spicy
This recipe is a bit spicier than traditional kimchi jjigae. It doesn't have to be. Stick with the lower quantities of Korean chili powder (gochugaru) and chili paste (gochujang) and it's zingy.
Go at the high end of the recommendation and it's into Thai or Indian curry heat. The heat builds so don't base it entirely on one little taste as you are cooking it.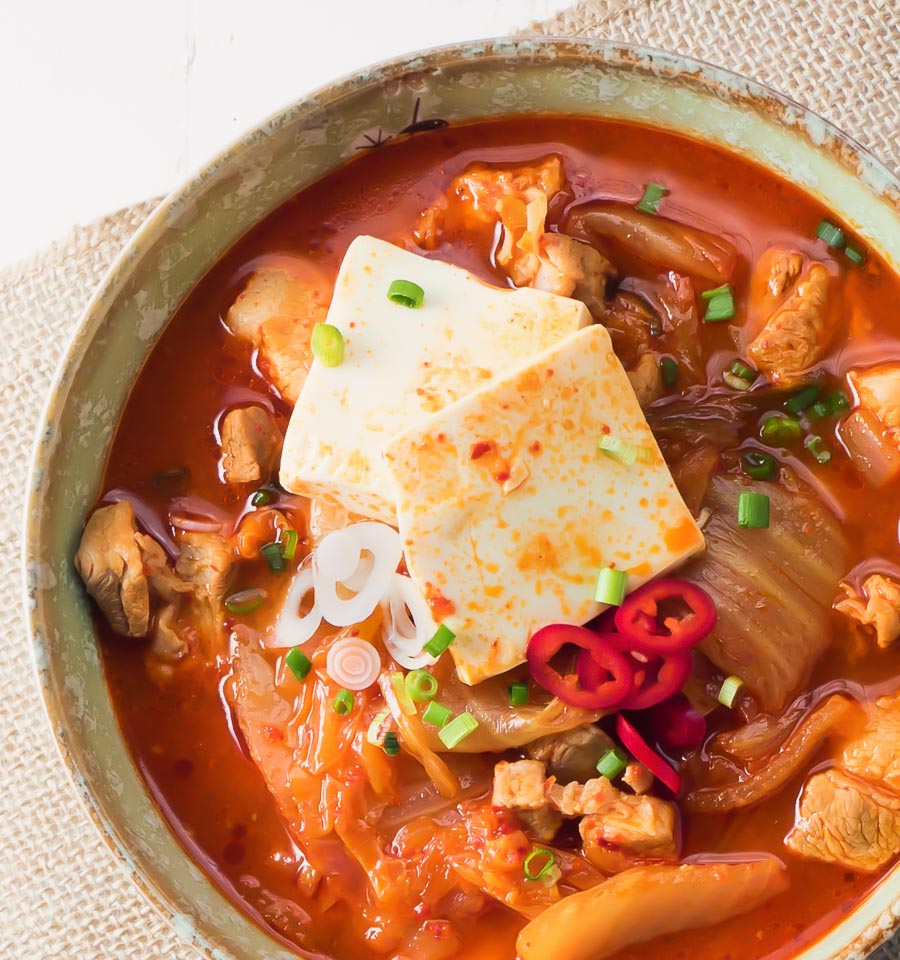 Gochugaru and gochujang are a bit tricky to find. A big asian market should have them. Korean is getting more popular so if you have a Korean market in town it's easy.
If you can't find gochugaru and gochujang, you can get away with Sriracha and a bit of white miso. It won't be the same but it will still be good. The kimchi will carry the dish.
Korean pork stew is about pork belly
One thing to note. You need to cut the skin off the pork belly. You'll see when you get your hands on some belly. There's a distinctly tough membrane on one side. A sharp knife makes short work.
Best thing about this dish is it cooks in around 45 minutes. Korean pork stew has to be about the fastest braised dish around. The kimchi somehow magically gives it the depth of a slow and long simmered dish.
Traditional kimchi jjigae is served with rice. I like it straight up or with rice noodles. Mix it up and see what you think.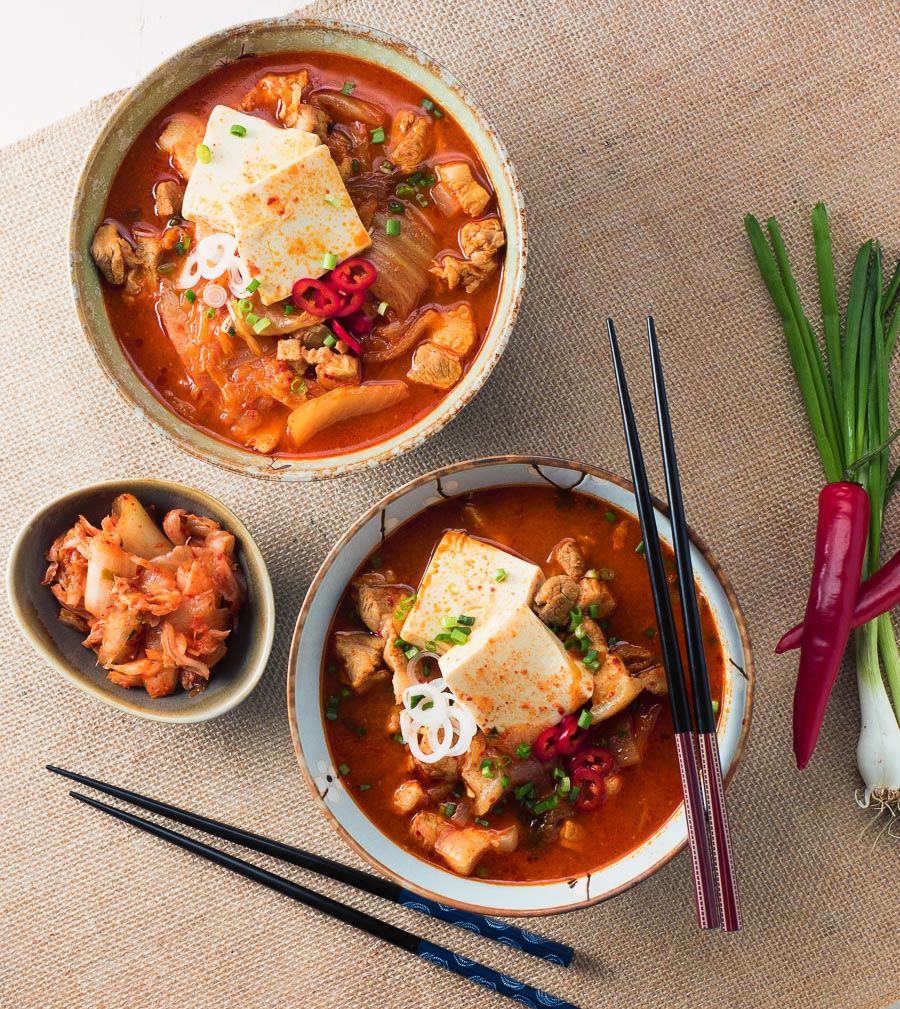 korean pork stew - kimchi jjigae
Korean pork stew. My take on kimchi jjigae. If you can't get all the ingredients don't let that stop you. Kimchee drives most of the flavour. You can tinker with the other ingredients and it will still be good.
Ingredients
1 1/2

lbs

pork belly

- skin removed, cut into 1/2"x1/2"x1" pieces (you can use shoulder instead)

1

large onion

- coarsely chopped

2

cups

kimchi

3/4 to 1 1/2

Tbsp

gochugaru

3/4 to 1 1/2

Tbsp

gochujang

2

tsp

sesame oil

3 1/2

cups

chicken stock

12

oz

firm tofu

- cut into slices

a bit of white vinegar to taste

salt to taste

Chives or green onions to garnish
Instructions
Heat the sesame oil in a large pot. A dutch oven works here.

Add the onion and sweat until slightly softened (2-3 minutes).

Add the pork, kimchi, gochugaru and gochujang. Stir well and cook for a minute or two more.

Add the stock and bring to a gentle simmer.

Taste and adjust the salt. It will take a tsp or so.

Simmer, covered for 30 minutes then check again for salt. If you want it a bit more sour add a little bit of vinegar at this point.

Gently add the tofu to the pot (rest it on the pork) and simmer, covered for an additional 5-10 minutes.

Garnish with green onion.

Serve with rice or rice noodles or just eat it out of the pot when nobody is looking.
Notes
The pork belly in this recipe isn't getting the benefit of a long, gentle braise. It is going to be toothy. If you don't like this type of texture substitute pork shoulder. If you really don't like it, try pork loin but add it after the broth has cooked for about 10 minutes to reduce how long it cooks.
Nutrition
Serving:
4
servings
|
Calories:
1016
kcal
|
Carbohydrates:
7
g
|
Protein:
27
g
|
Fat:
97
g
|
Saturated Fat:
34
g
|
Cholesterol:
122
mg
|
Sodium:
120
mg
|
Potassium:
532
mg
|
Fiber:
1
g
|
Sugar:
1
g
|
Vitamin A:
15
IU
|
Vitamin C:
2.6
mg
|
Calcium:
129
mg
|
Iron:
2.4
mg