Restaurant chicken tikka masala is one of the most popular Indian restaurant dish going. Creamy. A little bit sweet. A little bit savory. It has something going on for everyone.
I think it's funny that restaurant chicken tikka masala isn't an Indian dish at all. It was invented in the UK some time in the early 1970s.
Some say chicken tikka masala was invented in Glasgow
The best story around this dish is that it was invented in Glasgow when a bus driver complained that his curry wasn't saucy enough.
The chef, who was eating tomato soup at the time, tossed some of his soup in the curry and sent it back out to the bus driver. The rest is history.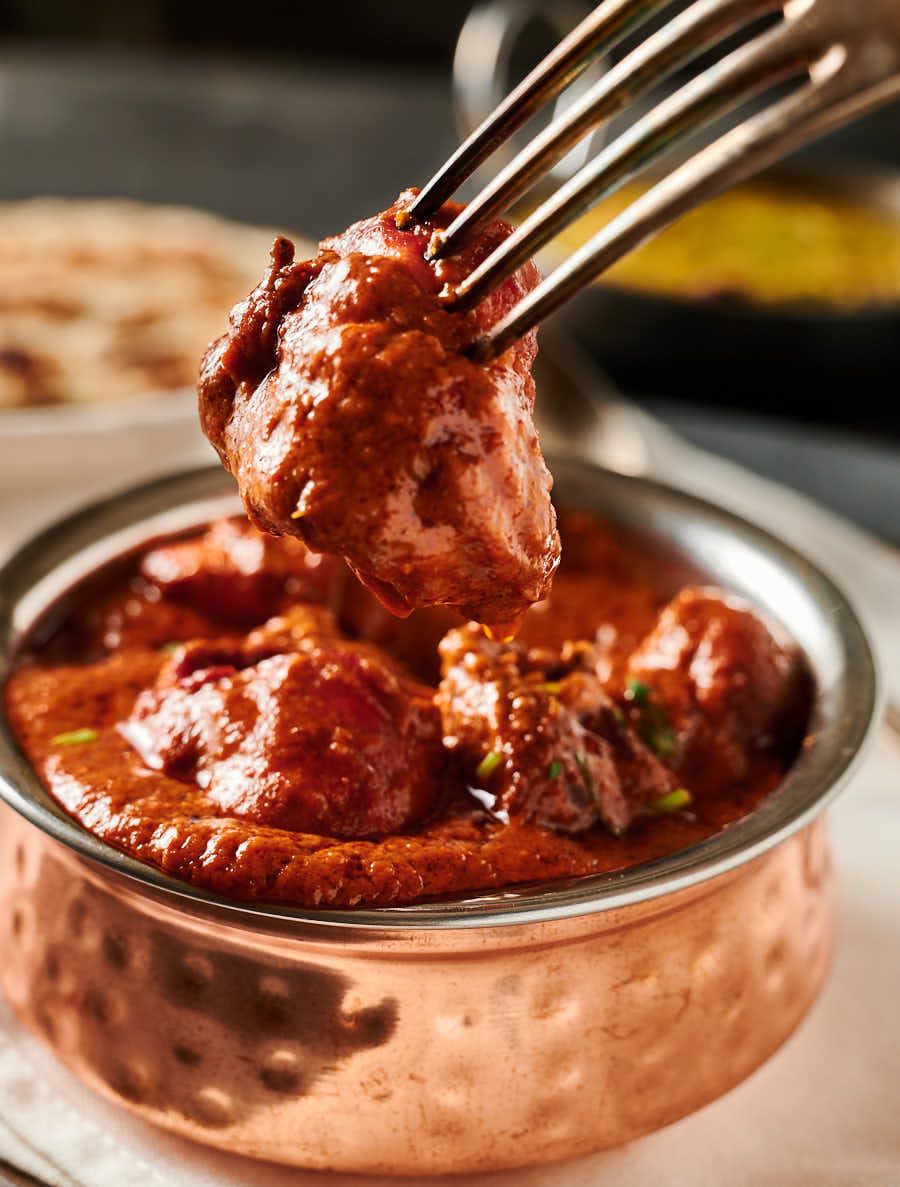 There's no tomato soup in this recipe. Please don't do that. I know there are recipes out there that use tomato soup, garam masala and cream.
That's Indian spiced cream of tomato soup with chicken. I know that's how the story goes but it has evolved. Improved. If your local Indian restaurant is still serving something that tastes like soup it's time to find a new restaurant.
Build flavours for a really tasty chicken tikka masala
It's a mild curry. One suitable for the most timid palates. You can make restaurant style chicken tikka masala for your kids. Or as a counterpoint to spicier dishes. It's a crowd pleaser for sure.
Layering flavours is key. The chicken is first cooked in tandoori spice and then finished in a tomato cream sauce. Hints of coconut and almond and a bit of sugar round it out.
This chicken tikka masala is pretty straightforward and follows the Indian restaurant technique exactly. Do yourself a favour and read that post first. There are pictures to help you understand.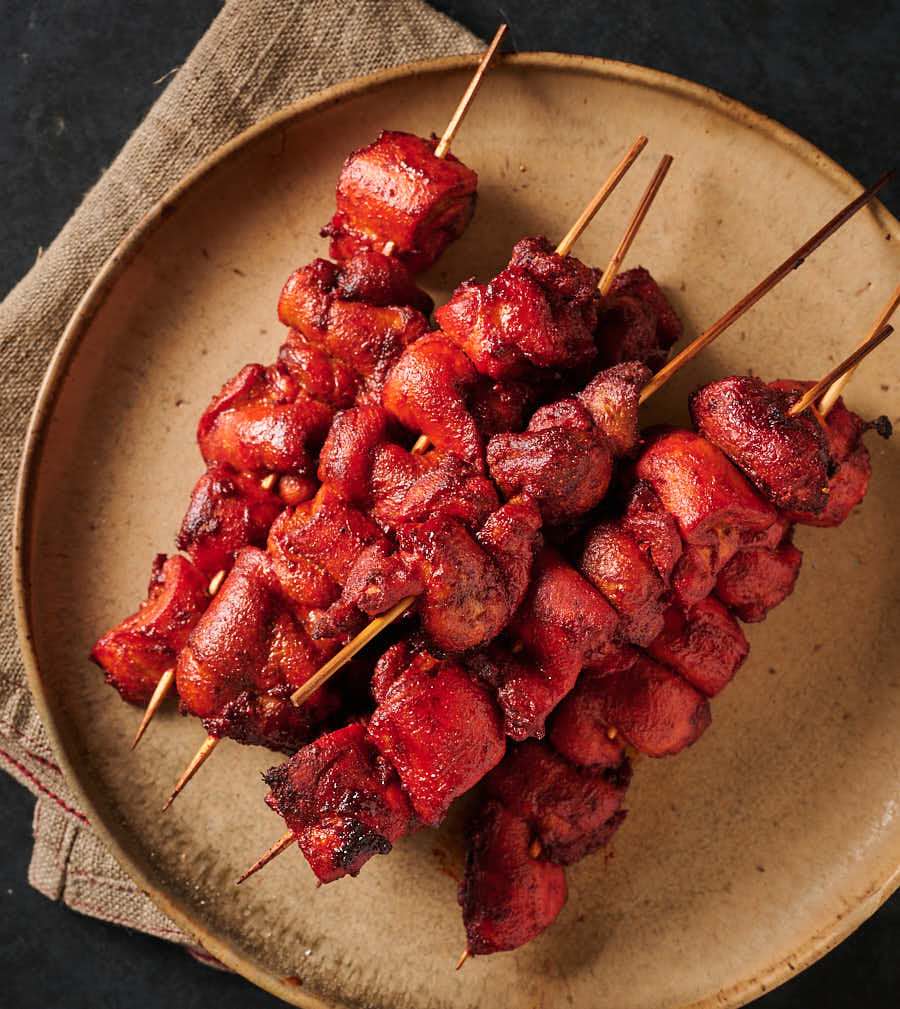 Pre-cook your chicken tikka
You can pre-cook chicken for all restaurant style curries. I do. Adds a bit of flavour to the chicken and keeps the sauce from getting to runny. It is optional in most recipes though.
Not this one. You need tandoori chicken or chicken tikka to start. It's not hard. Make a runny paste with oil and the tandoori spice. Toss the chicken in to coat. Marinate for as long as you'd like.
I skewer the chicken to make it easier to handle. Makes it easier to make sure every piece cooks evenly. You don't have to do this. If you do, wear some sort of gloves. Tandoori spice has food colouring in it. It stains like crazy.
You can make this right before you make chicken tikka masala. Or you can cook it ahead of time. Up to a day before. You reheat the chicken in the curry at the end. Like they do in restaurants.
You might want to cook a little extra as well. I can't help myself. Comes out of the oven and I want some.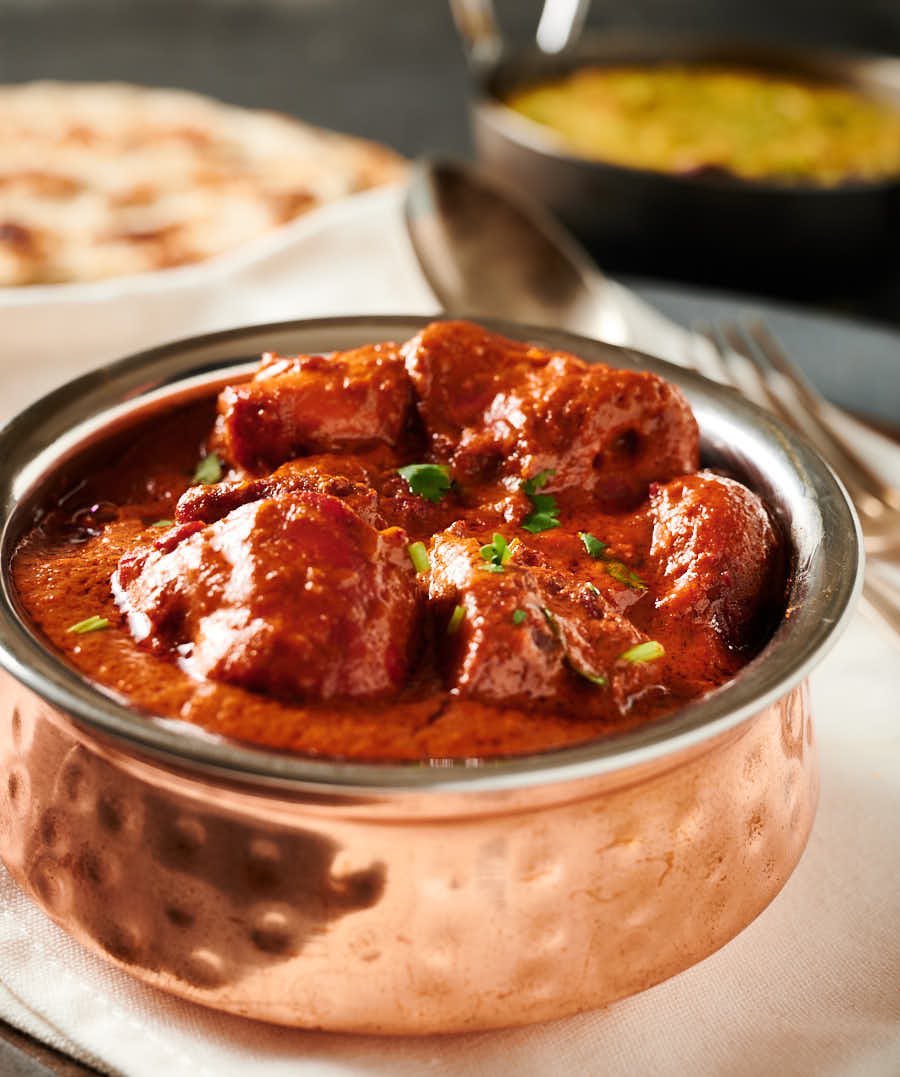 Grilling chicken tikka is an option
If you feel like going all out you can grill your chicken tikka. Adds a nice smoky flavour. I do that sometimes. In the summer when I can get to my grill.
Indirect high heat is best. As high as you can get it. Tandoors run around 700 plus degrees Fahrenheit.  So if you can get your grill to 600 F you are getting close. 
Watch it closely. At these temperatures little pieces of chicken can dry out fast. 
If you do grill your chicken tikka do yourself a favour and make lots extra. You will want to nibble. It's really hard not to.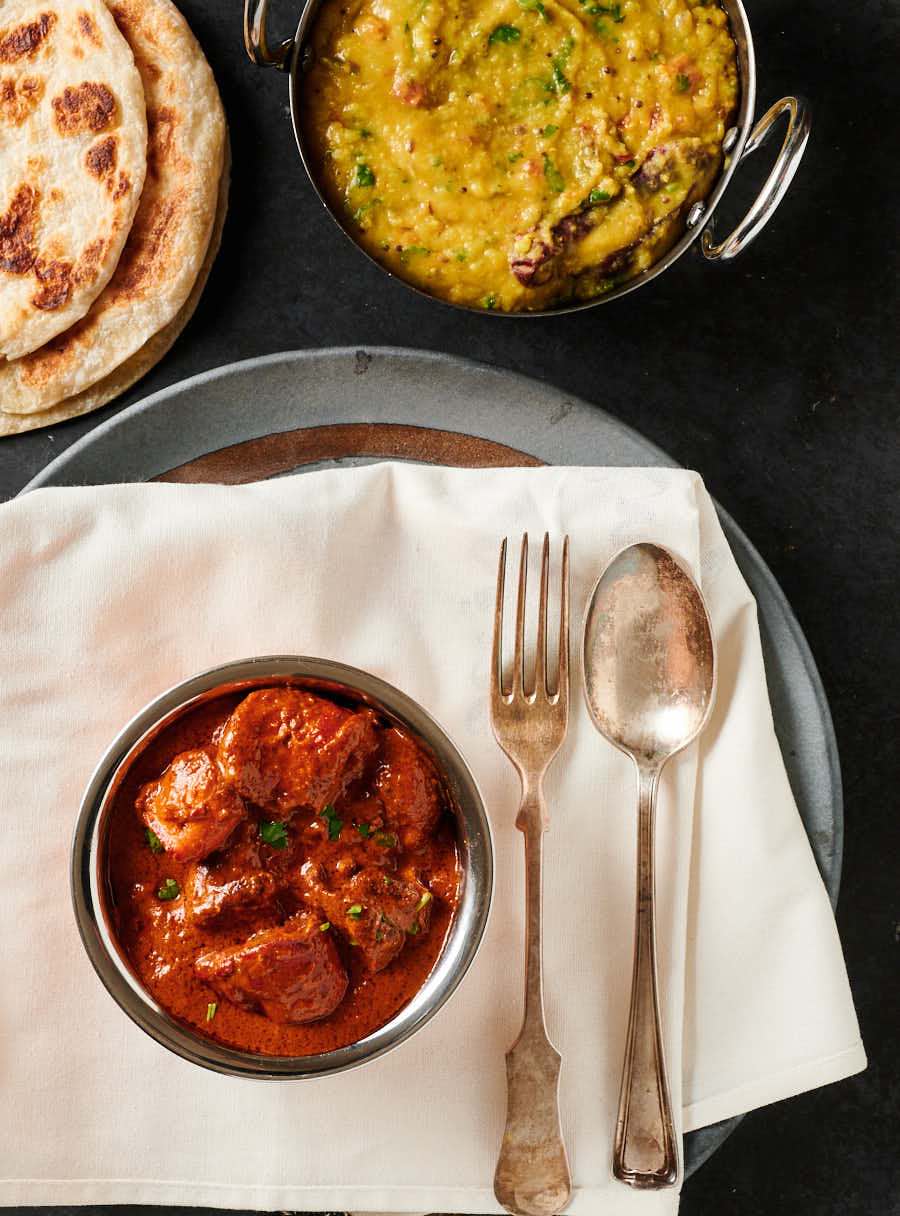 Be ready before you start cooking Indian restaurant style
This is Indian restaurant cooking. It goes fast. Prep your ingredient. Make your curry base and have some heated and ready to go. 
Measure out your ingredients. Put on some old clothes – the curry sputters.
You can make most of the recipes here with just about anything. This is chicken tikka masala. But you can still do what you want. Lamb tikka is really nice as an example…
Try this one if you always order chicken tikka masala in restaurants. Or if you are just getting into learning Indian restaurant cooking. Or if you just want a nice mild but still tasty curry. It's a great place to start.
restaurant chicken tikka masala
Restaurant chicken tikka masala is a mild, tangy curry with a hint of coconut and almond.
Ingredients
The chicken
4-5

boneless chicken thighs or two chicken breasts

2

Tbsp

tandoori masala powder

1/2

tsp

kosher salt

3-4

Tbsp

vegetable oil
Restaurant chicken tikka masala
3

Tbsp

vegetable oil

2

tsp

garlic ginger paste

- recipe link below

2

tsp

Indian restaurant spice mix powder

- recipe link below

1

Tbsp

tandoori masala powder

1/2

tsp

kosher salt

1 1/2

Tbsp

tomato paste

diluted in 2 Tbsp water

15

oz

curry base

- recipe link below

3

Tbsp

coconut milk powder

1

Tbsp

almond flour

1

Tbsp

brown sugar

1/4

cup

whipping cream

35%

juice of 1/6 lemon
Instructions
The chicken
Pre-heat your oven to 400F.

Combine 2 Tbsp tandoori masala powder, 1/2 tsp salt and 3-4 Tbsp vegetable oil in a bowl that won't stain. Cut the chicken into big bite size pieces and combine with marinade. Let stand briefly.- or up to 4 hours in the refrigerator.

Transfer chicken to a sturdy cookie sheet and roast until it reaches an internal temperature of about 165F, about 15 minutes.
Chicken Tikka Masala
Combine Indian restaurant spice mix powder, tandoori masala and salt in a small bowl. This is your spice mix.

Combine the almond and coconut milk powder with enough water to get to the texture of coconut milk or heavy cream.

Dilute the tomato paste with enough water to get to the consistency of passata.

Heat your frying pan (don't use non-stick) briefly over medium heat. Add 3 Tbsp vegetable oil. Use all the oil specified. It's important.

When the oil starts to shimmer add the garlic ginger paste. Cook it, stirring constantly, until it stops sputtering.

Turn down the heat and add the spice mix. This is the critical step. Stir it constantly for 30 seconds. If it starts to darken lift the pan off the heat. You want the spice mix to cook in the oil but not burn.

Turn the heat up to medium high. Add the diluted tomato paste and stir until bubbles form (the oil will likely separate). This takes around 30 seconds to one minute depending on the heat.

Add 3 oz of curry base. Stir until bubbles form (little craters really), around 30 seconds. Watch the edges of the pan. The curry can stick here.

Now add 6 oz of curry base and stir briefly. Let it cook until the bubbles form again. This takes 1-2 minutes.

Add the rest of the curry base and let cook until the bubbles form. Turn the heat down to low and add the pre-cooked chicken, coconut almond mixture and sugar.

Let the curry simmer for about 5 minutes. If it gets too thick add a bit more curry base. Don't add water.

Add the cream and stir. Mix in the lemon juice, garnish with a bit of chopped fresh coriander if you like and serve.
Notes
Tandoori masala powder is available in any Indian grocery. Check the list of ingredients. Some contain quite a bit of salt. If you see salt high on the list of ingredients reduce the amount of kosher salt accordingly.
The recipe for curry base is here.
The recipe for indian restaurant spice mix is here. 
The recipe for garlic ginger paste is here.
If you haven't read about Indian restaurant technique yet, do that before you start cooking.
Have all your ingredients prepped and ready to go.
If you are making multiple curries, have your curry base warming in a pot on the stove. If you are just making one, microwave it to warm it up right before you start cooking.
Nutrition
Serving:
2
servings
|
Calories:
614
kcal
|
Carbohydrates:
23
g
|
Protein:
6
g
|
Fat:
55
g
|
Saturated Fat:
40
g
|
Cholesterol:
41
mg
|
Sodium:
1502
mg
|
Potassium:
451
mg
|
Fiber:
5
g
|
Sugar:
10
g
|
Vitamin A:
715
IU
|
Vitamin C:
3.4
mg
|
Calcium:
81
mg
|
Iron:
3.9
mg