Is there a rule that says piccata has to be veal or chicken scaloppini? If there is, I'm breaking it. Lemon, capers and chicken is a great flavour combination. You can make it even better, though. Imagine adding the goodness of a roasted poultry fond to it. Roast chicken with lemon caper sauce. That's a whole different piccata flavour experience.
I am a roast chicken addict. A whole roast chicken gives everyone a bit of dark. A bit of white. A whole chicken throws a nice fond as well. Fond is those wonderful brown bits in the pan that melt into the sauce. They are key. They add big flavour. That's true every time you roast a chicken. Or pork. Or lamb. It's just a bit of cooking magic that happens when you roast meat. Learn to love it.
Roast some chicken. Skim off the clear fat. Deglaze with lemon and chicken stock. Toss in some capers. If you can roast a chicken, you can make this. Simple. But oh so tasty.
I've shown roast chicken with lemon caper sauce served up with roasted potatoes. It works just as well with pureed cauliflower or smashed new potatoes. With whatever your favourite starch is. This works just as well with chicken parts. Breasts. Thighs. Cornish hens even. Full disclosure. I used a Cornish hen for these pictures. Makes a perfect dinner for two. So go crazy. Mix it up. But try roast chicken with lemon caper sauce. You won't be sorry…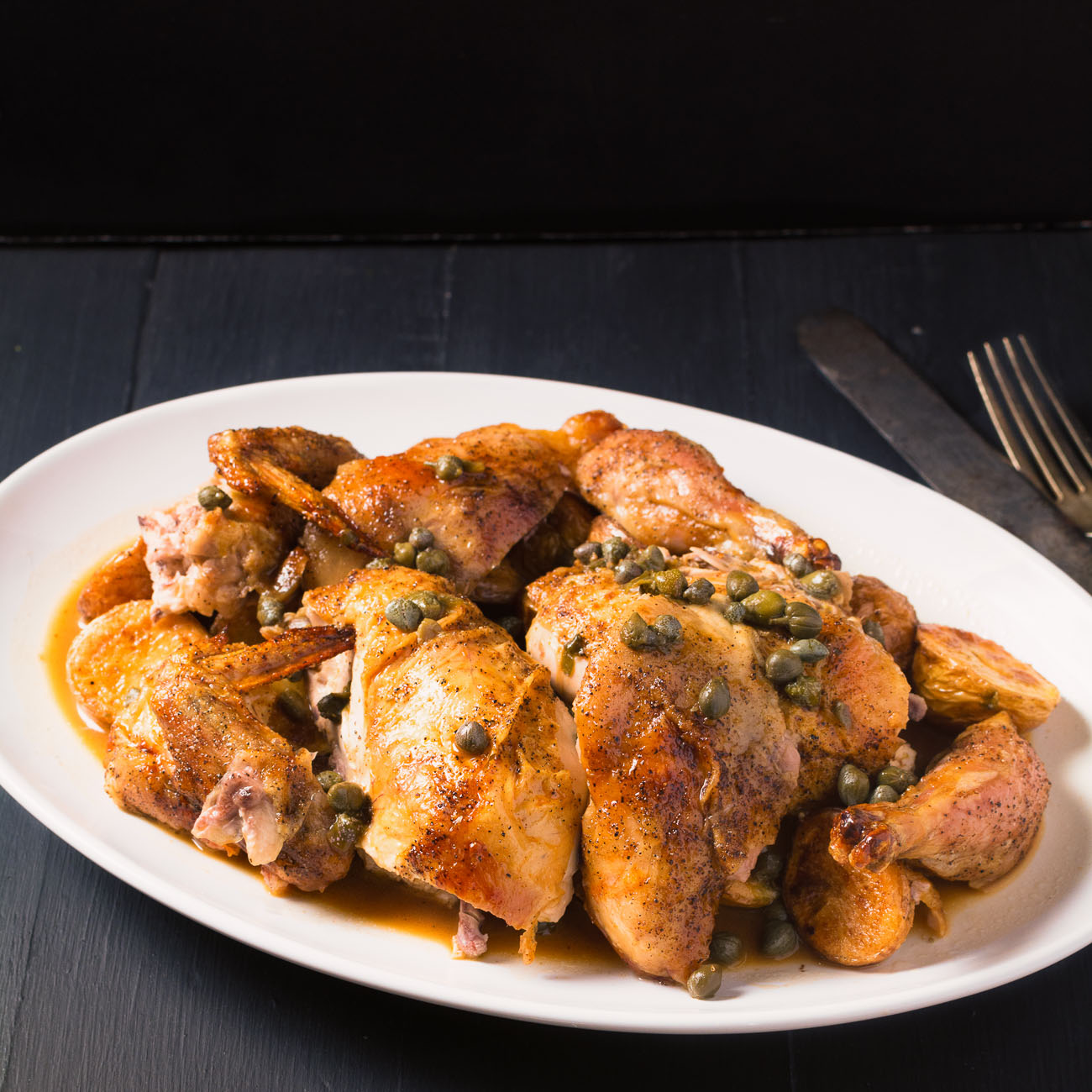 roast chicken with lemon caper sauce
Roast chicken with lemon caper sauce is a great alternative to same old, same old chicken piccata.
Ingredients
1

3-4 lb

chicken

or chicken parts of your choice

Juice of 3/4 lemon

1 1/2

cup

low sodium chicken stock

concentrated chicken stock

- if you have it. Recipe link below.

1

tbsp

capers

salt

pepper

olive oil to rub the chicken
Instructions
Pre-heat your oven to 400F. Pre-heat an oven proof skillet or small roasting pan.

Rub the chicken with olive oil and season with salt and pepper.

Roast, basting once or twice with accumulated fat, until the chicken reaches an internal temperature of 165F for white meat and 175F for dark meat.

Remove the chicken from the roasting pan and set aside.

Spoon off clear fat. Place the skillet over medium heat.

Add the lemon juice and stir to dissolve any browned bits in the pan. Reduce slightly. Those brown bits are going to make the sauce incredible.

Stir in the chicken stock and simmer briskly until reduced by half.

Add the capers.

Carve the chicken, spooning the sauce around it, and serve.