My appreciation for quinoa came late. This was one trend I didn't pay any attention to initially. Quinoa? Ancient grains? Sounds like barley to me. Who cares! That was a mistake. I finally got around to trying it. Hooked. That mildly nutty flavour is a canvas to play with. It's healthy. It's tasty. And you can do all kinds of stuff with it. Salmon with quinoa salad is just one way to use it. Not a bad one though, if I do say so myself.
The guacamole salsa is a riff on the taqueria salsas at taco joints. It's much thinner than regular guacamole. A bit of water stretches expensive avocados at taquerias. Here you want it to flow and not overpower the fish. Different intentions. Same result.
The salmon is gently cooked in butter. You don't want it to brown and you don't want it overdone. I take it to translucent inside. That's how I like it. If you like it flaky, then cook it longer. But if you like sushi and you've never cooked your salmon to just barely done give it a go. It's delicious. Worst case you can just cook it some more. Best case you discover something new. Salmon with quinoa salad. Try it for a weeknight dinner sometime.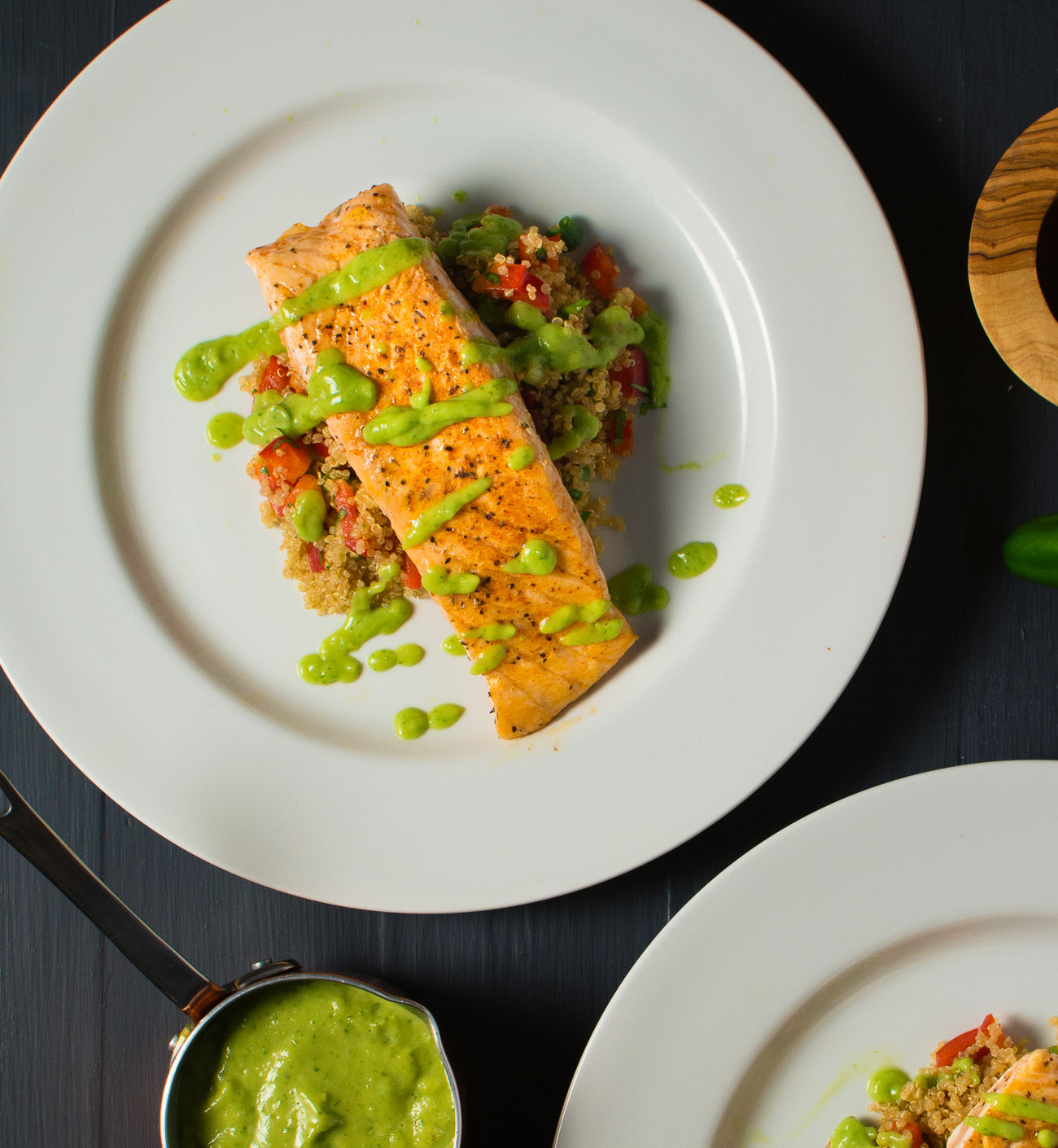 salmon with quinoa salad
Ingredients
4

salmon fillets

2

Tbsp

butter

creole seasoning

to dust - recipe link below
For the quinoa salad
1

cup

quinoa

2

cups

chicken stock

1/2

tsp

creole seasoning

1

red pepper

diced

1/2

jalapeno

seeded and minced

4

green onions

chopped

2-3

Tbsp

minced cilantro

2

Tbsp

vegetable oil

juice of 1/4 lime
For the avocado salsa
1

ripe avocado

peeled, seeded and coarsely chopped

1

Tbsp

white onion

coarsely chopped

3

Tbsp

cilantro

1/4

tsp

salt

1/2

jalapeño

seeded and coarsely chopped

water to bring the salsa together
Instructions
Quinoa salad
Bring the stock to a boil. Add the

creole seasoning

and quinoa. Cover and cook per the instructions on the quinoa package. Fluff and let cool slightly.

Toss with the red pepper, jalapeño , cilantro, oil and lime.

Adjust salt.
Avocado salsa
Combine all the ingredients in a blender. Pulse, adding enough water to bring the salsa to the consistency of heavy cream.
The salmon
Warm the butter in a non-stick frying pan large enough to hold all four fillets. Cook gently over low heat until just warmed through/translucent, flipping the fish as required. Cook it longer if you want it cooked through.

To serve mound the quinoa salad in the middle of the plate. Place the fish overtop and drizzle with the avocado salsa.
Notes
1/2 tsp of creole seasoning is pretty lightly seasoned. If you want to make this to go with something more assertive than fish or as a stand-alone quinoa salad, add 1 full tsp.
Black beans make a nice to the quinoa salad if serving it with poultry.