Sambar is this delicious South Indian lentil and vegetable stew that you've never heard of. It's something you need to try for yourself.
It really should be popular. I think it's only on two Indian restaurant menus in town. The two best restaurants. But still. Just not enough South Indian restaurants around. Not yet anyway. But it's coming. And it's about time.
More restaurants need to serve sambar – seriously
I know. I rant about the world needing Indian restaurants to mix it up a lot. But it does. And if we don't ask for it we won't ever get it. Seriously.
There are more than 20 dishes served in India. Restaurants should try harder to represent their culture. Their food. That wonderful, wonderful food.
Traditional sambar is served with different South Indian flatbreads you've probably never heard of. Idli. Dosa. Or vadas. Vadas are these super tasty fried ground lentil donuts. Crazy good. And they eat it for breakfast. My kind of breakfast!
Convinced yet? You should be. Big flavours in this dish. Curry leaves. Green chilies. Tamarind. Spice. Tomato. All working together. Perfect against the lentils.
Vegetarian, healthy and delicious
This is a vegetarian meal. Vegan even. But it's not just for vegetarians. It's deeply satisfying. For anyone. And it makes a great addition along side other curries. A counterpoint for whatever curry you feel like cooking. That's how I eat sambar. Equal footing with other curries.
A little spice wakes thing up
This sambar recipe is a bit different from many out there. I find a lot of them could use a bit of heat. Just to wake your taste buds up a bit. I'm not talking blow your head spicy. But a little something.
The green chili add a bit of heat. They also add flavour. Another layer. More complex. They are a really nice touch. Don't know why all the sambar recipes out there leave this out.
Ingredients have been simplified a bit in this version. Authentic sambar has this vegetable called drumsticks in it. I like drumsticks. Like a fibrous okra.
That's hard to find. And not everyone gets it. So I left it out. Beans are easy to find. And the flavour profile works.
You can use all sorts of vegetables
Lots of vegetables work. Carrots. Peas. Okra. All good candidates. Up to you. Keep in mind that the sambar will pick up the flavours of the vegetables you cook in it. Choose wisely.
Or par-boil your vegetables. Some of the flavour goes down the drain when you do that. Can't believe I'm suggesting you let flavour go down the drain. But you don't want to overpower the sambar.
The onions are every day ordinary pearl onions. Easy to find. Bit of a pain to peel though. Shallots work too. Not that they are easy to peel either. But at least they are bigger. So you don't have to peel as many.
This is one of those dishes you may never taste if you don't make it yourself. Which is too bad. Sambar is worth trying.
Make it for your friends. Share the experience. People need to know there's more to Indian than chicken tikka masala…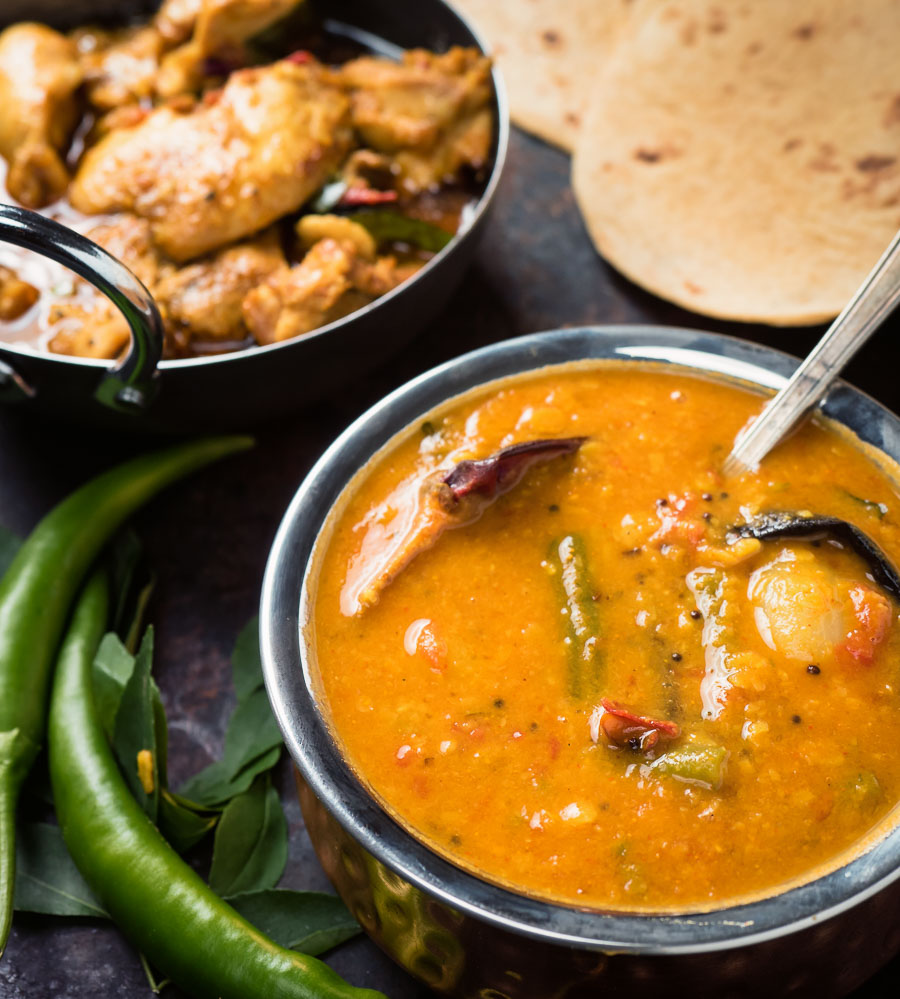 south Indian sambar
Sambar is a delicious South Indian lentil and vegetable stew. Eat it with rice, idli, dosas, vadas or just on its own.
Ingredients
Sambar
1

cup

toor dal

- you can substitute masoor dal

3 1/2

cups

water

plus more at the end

1

tsp

turmeric

1 1/2

cup

diced tomatoes

fresh in season, canned otherwise

2

tbsp

sambar powder

- available at any Indian grocer

1

tsp

kashmiri chili powder

1-2

green chilies

seeded and diced

1

tsp

kosher salt

10-12

pearl onions

- boiled for 3 minutes and peeled

1

cup

green beans

- your choice of any vegetable here

1-2

small

potatoes

cut into 1/2 inch pieces and par-boiled for 7-8 minutes(optional)

2

tbsp

tamarind paste

- paste is not the same as concentrate. Do not use concentrate.

1-2

tbsp

cilantro

finely chopped
Tempering (the final flavour blast)
2

tsp

mustard seeds

1

tsp

cumin seed

4-5

dried red chilies

broken into large pieces

20-25

curry leaves

fresh

2

tbsp

vegetable oil
Instructions
Cook the lentils
Combine the toor dal, water and turmeric in a pot. Bring to a simmer and cook, covered, over low heat until they start to fall apart. This takes 20-30 minutes.

Add the chopped tomatoes, green chilies, sambar powder and chili powder. Simmer until the lentils are pretty much broken down. This can take another 20-30 minutes.

Add the potatoes, beans, onions and salt. Simmer for 5-10 minutes.
Make the tempering
Heat the oil over medium heat in a small skillet. Add the chilies, mustard seed and cumin seed and cook until the seeds start to pop. Press the chilies into the oil. Flip them. This takes about 30 seconds.

Add the curry leaves and cook another 20-30 seconds.

Add the tempering into the sambar. Stir in the tamarind and cilantro. Cook for 5 minutes. Add enough water to make the consistency a bit runny. Taste for salt and adjust

Serve with Indian flatbreads or rice as a vegetarian meal or serve as a side with whatever other curries you want. No rules here...
Nutrition
Serving:
4
servings
|
Calories:
304
kcal
|
Carbohydrates:
49
g
|
Protein:
12
g
|
Fat:
8
g
|
Saturated Fat:
5
g
|
Sodium:
694
mg
|
Potassium:
656
mg
|
Fiber:
12
g
|
Sugar:
12
g
|
Vitamin A:
850
IU
|
Vitamin C:
124.1
mg
|
Calcium:
144
mg
|
Iron:
5.7
mg