Shahi chicken korma is a rich and flavourful curry. It's a dish invented for nobility. Spice, coconut, almond, cream and a hint of sugar come together in a sumptuous curry worthy of any celebration.
Chicken korma can be a great dish. If it's done right. This is a dish that has been around forever. Traces back to the 16th century. Legend says it was served at the inauguration of the Taj Mahal. That's a pretty big deal.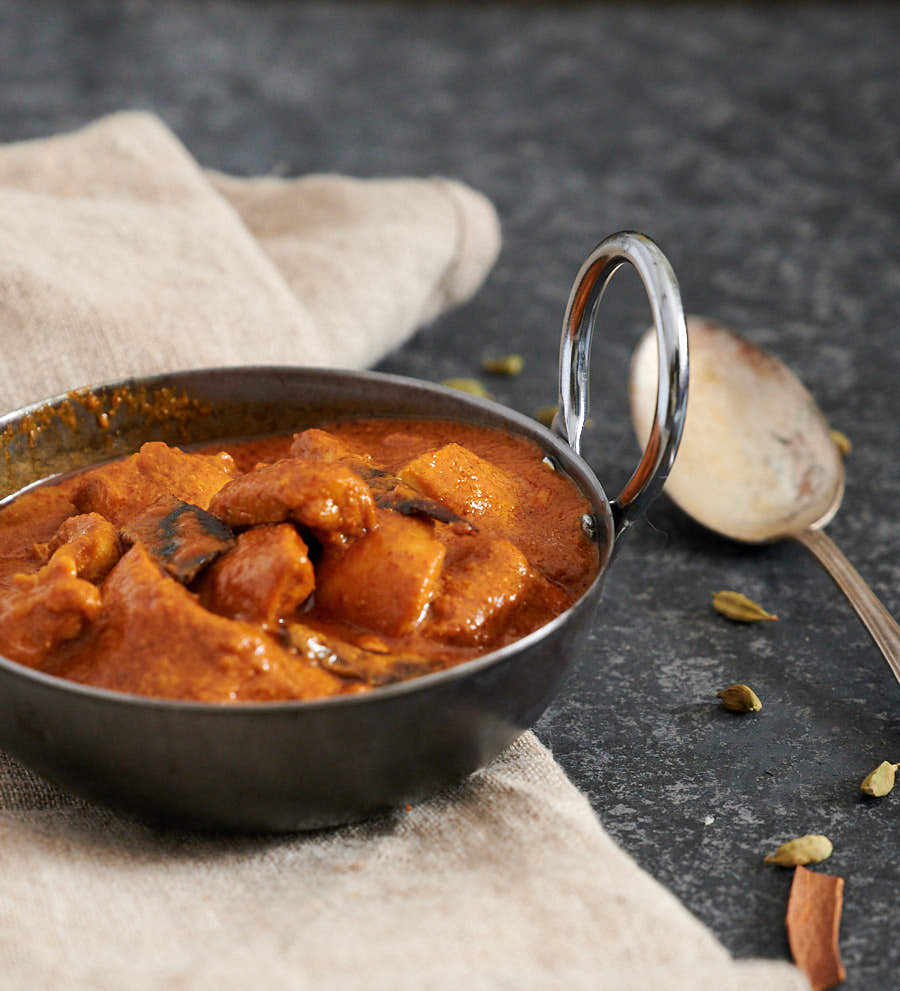 Chicken korma can have real flavour
Traditionally, it can run from mildly spiced to fiery hot. That's right. Fiery hot. But something happened. Something I don't think was good. Korma went from great to bland. Lost along the way. I've even seen recipes with bananas in it. Bananas???
This is royal food. Mughlai nobility to be precise. They weren't chili heads. Ate pretty simply really.
Imagine what they would think if they tasted the cloyingly sweet, flavourless versions served today. Not impressed I bet. Not at all. Korma used to be party food. Now it's baby's first curry.
It doesn't have to be that way. There's no rule that says it needs to be bland. Or sweet. In fact the Mughlai version is well spiced. No sugar. But that version is a lot of work.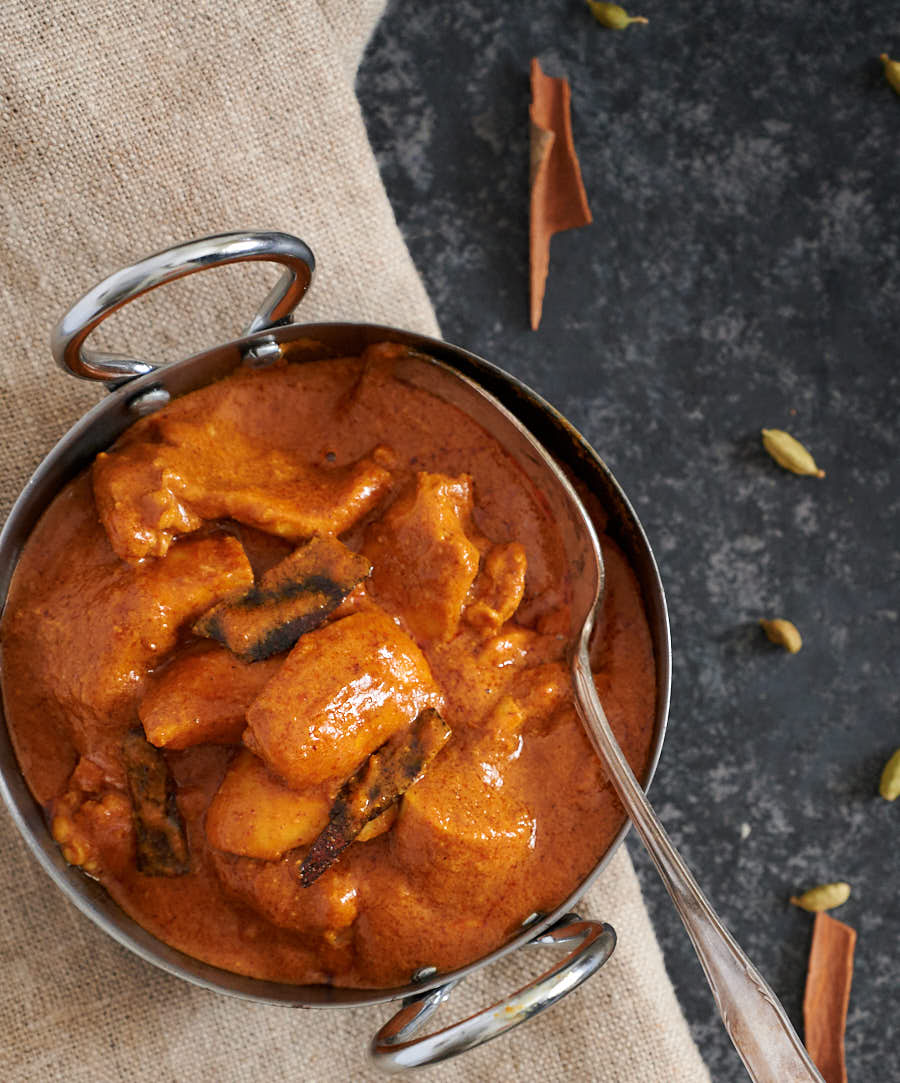 This chicken korma strikes a balance
Somewhere in the middle though. That is special. That's what this shahi chicken korma is all about. Not a ton of work.  Not bland. Real flavour.
A bit spicy. Rich.  Not so hard to make. If you've made any of the restaurant curries on this blog this one is no different really.
Look at the pictures. This isn't some yellow chicken korma loaded with sugar and cream. It's red. If you are looking for creamy, bland and cloyingly sweet this isn't it. Consider yourself warned.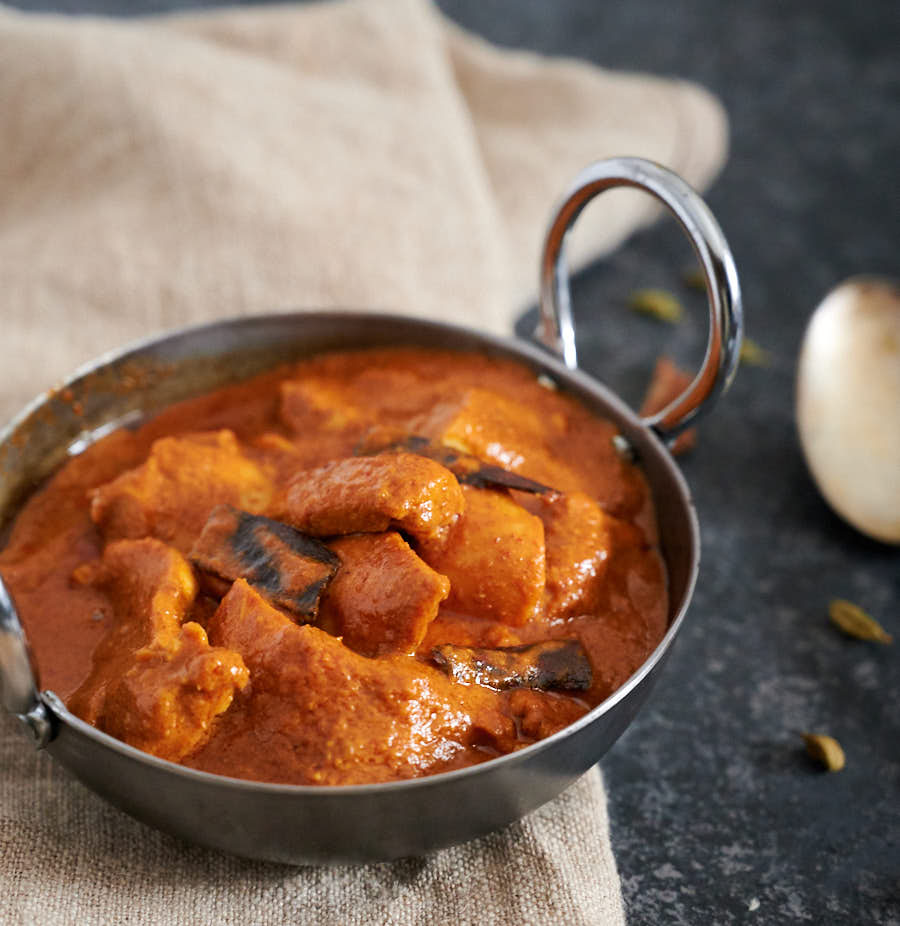 Restaurant style curries mean restaurant style prep
This is how they make curries in restaurants. It goes fast. Prep everything. Be ready. Have all your ingredients measured out before you turn on the heat.
Restaurant style cooking is different from homestyle. It relies on high heat and curry base. This isn't the slow braise you are used to. If you don't know what I'm talking about read this primer to restaurant style cooking. There's even a video. It will help.
I could see this on a restaurant menu. Two versions. Chicken korma – curry for your kids. Shahi chicken korma – curry for you.
shahi chicken korma
Shahi chicken korma - or royal chicken korma - is a curry fit for a king
Ingredients
The spice mix
1 1/2

tsp

indian restaurant spice mix

- recipe link below

2

tsp

kashmiri chili powder or 1/2 tsp cayenne mixed with 1 1/2 tsp paprika

1/4

tsp

turmeric

1/2

tsp

kosher salt
The curry ingredients
3

Tbsp

oil

1 3

inch

piece of cinnamon stick

- cassia bark

2

green cardamom pods

2

tsp

garlic/ginger paste

- recipe link below

15

oz

curry base

3

Tbsp

coconut milk powder

- Maggi brand is pretty readily available

1

Tbsp

almond flour

10-12

oz

pre-cooked chicken

- this works with pre-cooked lamb as well

1 1/2

tsp

sugar

- more to taste if you like it sweet

2

Tbsp

heavy cream

- 35% (optional)
Instructions
Make the spice mix.

Combine and mix the coconut milk powder and almond flour with enough water to form a thin paste.

Heat your frying pan (don't use non-stick) briefly over medium heat. Add the oil.

When the oil starts to shimmer add the cinnamon and cardamom and cook until they start to crackle.

Now add garlic ginger paste and cook, stirring constantly, until it stops sputtering.

Turn down the heat and add the spice mix. This is the critical step. Stir it constantly for 30 seconds. If it starts to darken lift the pan off the heat. You want the spice mix to cook in the oil but not burn.

Turn the heat up to medium high. This is also really important. The heat is what caramelizes the onion in the curry base and gives the curry it's Indian restaurant flavour. As you become more comfortable with this technique try pushing it.

Add 3 oz of curry base. Stir until bubbles form (little craters really), around 30 seconds. Think lively boil. Watch the edges of the pan. The curry can stick here. Sticking is OK. Just scrape it back into the base. Burning is bad.

Now add 6 oz of curry base and stir briefly. Let it cook until the bubbles form again. This takes 1-2 minutes.

Add the rest of the curry base and let cook until the bubbles form.

Stir in the coconut/almond paste.

Turn the heat down to low and add the pre-cooked chicken.

Let the curry simmer for about 5 minutes. If it gets too thick add a bit more curry base. Don't add water.

Add the sugar. Taste and decide if you want it sweeter. Creep up on it. You can add sugar. You cannot take it away.

Add heavy cream to taste. None is a really good curry. 2 Tbsp is a creamy, kingly version. Decide what you are in the mood for. The cream does dull the flavours but it adds richness and tempers the heat.

Garnish with a bit of chopped fresh cilantro if desired and serve with rice or Indian flatbread.
Notes
The recipe for curry base is here.
The recipe for indian restaurant spice mix is here. 
The recipe for garlic ginger paste is here.
If you haven't read about Indian restaurant technique yet, do that before you start cooking.
Have all your ingredients prepped and ready to go.
If you are making multiple curries, have your curry base warming in a pot on the stove. If you are just making one, microwave it to warm it up right before you start cooking.
Indian restaurants pre-cook their meat so it's ready for service. This recipe assumes the same. To pre-cook chicken, simply simmer it with a bit of curry powder and salt in chicken stock for about 10-15 minutes - until it's barely cooked.
To pre-cook lamb or beef, do the same but plan for 1 to 1/2 hours for lamb and 2 hours or more for beef. You are making stew meat so you are braising until tender. You will need to keep an eye on the level of the stock. For beef use beef stock.
Nutrition
Serving:
2
servings
|
Calories:
651
kcal
|
Carbohydrates:
22
g
|
Protein:
34
g
|
Fat:
47
g
|
Saturated Fat:
17
g
|
Cholesterol:
119
mg
|
Sodium:
962
mg
|
Potassium:
552
mg
|
Fiber:
4
g
|
Sugar:
5
g
|
Vitamin A:
1095
IU
|
Vitamin C:
3.7
mg
|
Calcium:
78
mg
|
Iron:
2.9
mg