This is ginger beef stir fry with a big nod to Vietnamese cooking. Big, bold tastes meet sizzling beef in a spicy flavour explosion that's sure to put a big grin on your face. It put a big grin on my face the first time I tried it.
Ginger beef stir fry is usually more of a Chinese dish. Soy, cornstarch. Orange zest sometimes. Definitely Chinese. And it's a pretty good dish. No reason not to stick with your favourite.
Unless you want something different. Mix it up. Go for big tastes. Then this might be for you. It's big on southeast Asian flavours. Totally different.
Vietnamese style ginger beef stir fry
This is not like Chinese ginger beef stir fry at all. The flavours are pure Vietnamese. Lemongrass. Shallots. Red chilies. Fish sauce.
Definitely Vietnamese. Except it isn't. I don't think this is actually a Vietnamese dish. At least I can't find it. And I've l've looked. But that's OK. You wouldn't know if I hadn't told you. It could be on a menu somewhere. Probably should be.
Vietnamese sate sauce makes this special
This is what happens when you take a classic ginger beef stir fry dish and slam it with some Vietnamese sate sauce. Ho-hum goes to wow! Just like that.
If you've already made Vietnamese sate sauce then it's easy. Stir fry some beef. Follow it up with a bit of green onion and julienned ginger.
Some soy. Bit of sesame oil. Fish sauce. And a good dollop of the sate sauce. Stir it up, garnish and get ready to impress yourself.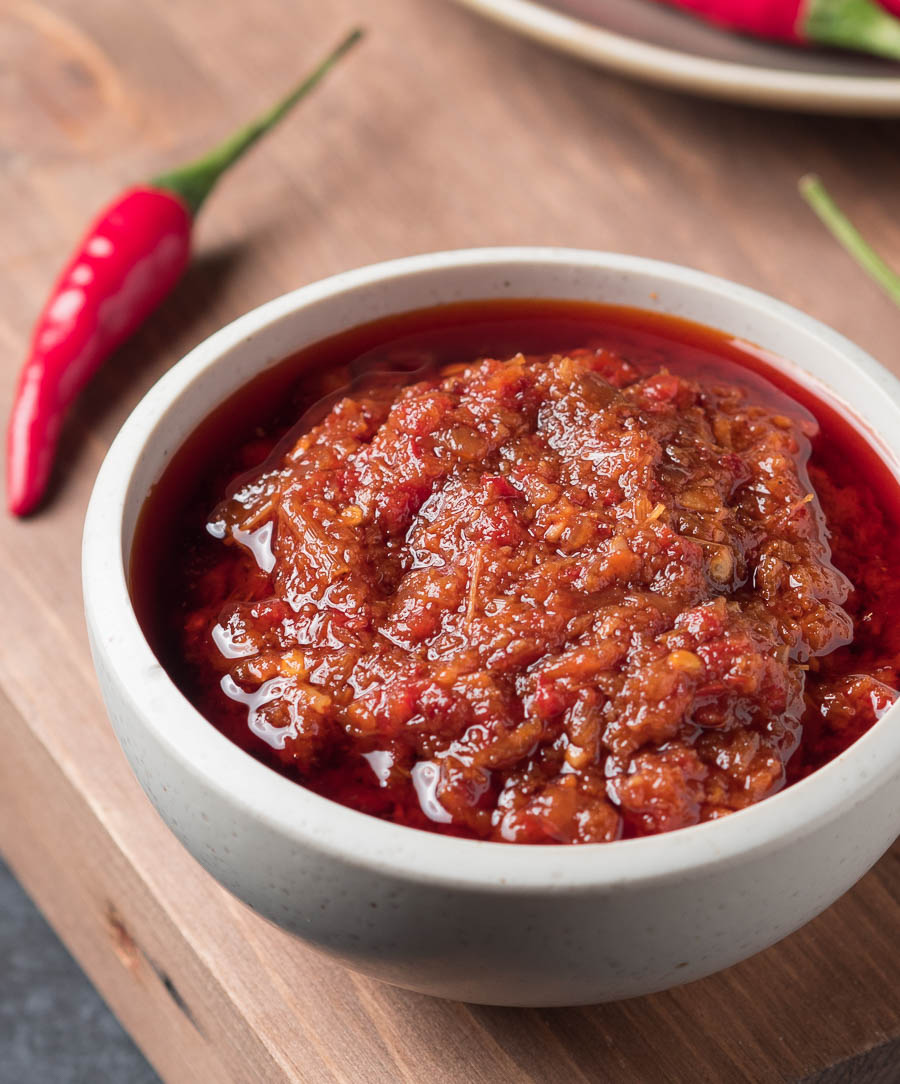 This is as spicy as the sate sauce you use. That's the beauty of making it yourself. You control the fire. Mild to wild to OMG. It's up to you.
But if you don't like spicy then this isn't really a recipe for you. Maybe try going with a more traditional approach. Don't think it will be anywhere near as good. My opinion.
If you do like spicy though – and southeast Asian food – this version of ginger beef stir fry is perfect for you.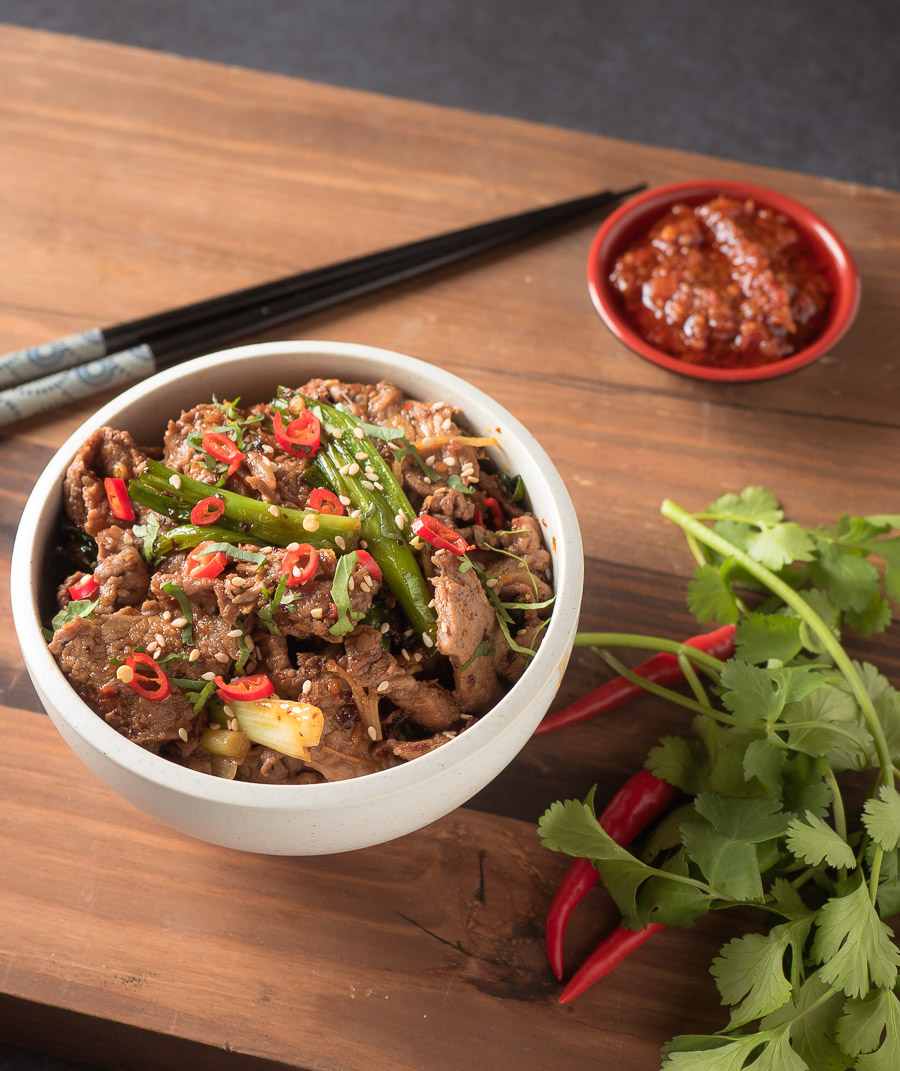 vietnamese ginger beef stir fry
This is not your regular ginger beef stir fry. It's loaded with south east asian flavours. Perfect for when you want to mix things up!
Ingredients
12

oz

beef

- thinly sliced. See note.

6

green onions

- two inch pieces

2

tbsp

ginger

- julienned

1

tbsp

soy sauce

1

tbsp

fish sauce

1

tsp

sesame oil

3

tbsp

vegetable oil

- more or less

1

tbsp

vietnamese sate sauce

- link to recipe in instructions

1

tsp

coarsely ground black pepper

cilantro, red chili and sesame seeds

- to garnish
Instructions
Prep your ingredients. Combine the soy, fish sauce and sesame oil in a small bowl. Mix the beef with the black pepper. Julienne the ginger. Cut up the green onion.

Pre-heat your wok or skillet over medium high heat. Add 1 Tbsp vegetable oil. Stir fry 6 ounces of beef. Remove the beef from the pan and add the second Tbsp vegetable oil. Stir fry the remaining beef. Remove the beef from the pan.

Add a bit more oil if needed (you don't need a lot at this point) and add the green onions. Stir fry the onions for 20-30 seconds. Now add the ginger and stir fry for another 20-30 seconds.

Stir to combine. Cook until the beef is warmed through.

Garnish with sesame seeds, minced cilantro and red chili (very optional). Serve with jasmine rice or stir fried rice noodles.
Notes
Try top sirloin or striploin for this dish. Get a small roast, partially freeze the beef and slice thinly across the grain. Once you try this technique it will become your go to for any beef stir fry recipe. Works great for bulgogi as well.
You can buy it or better yet you can make vietnamese sate sauce.
Nutrition
Serving:
2
servings
|
Calories:
694
kcal
|
Carbohydrates:
5
g
|
Protein:
31
g
|
Fat:
56
g
|
Saturated Fat:
29
g
|
Cholesterol:
120
mg
|
Sodium:
1467
mg
|
Potassium:
632
mg
|
Fiber:
1
g
|
Sugar:
1
g
|
Vitamin A:
360
IU
|
Vitamin C:
6.8
mg
|
Calcium:
57
mg
|
Iron:
4.1
mg