Next time you want something cool and refreshing for dinner think Vietnamese noodle salad bowl. Simple. Easy. Delicious.
It's perfect for those hot summer nights. The ones where you just don't really feel like heating up the kitchen.
It's so easy to make a Vietnamese noodle salad
There's almost nothing to making a Vietnamese noodle salad bowl. Prepare some rice noodles. Chop some vegetables. A few herbs. Some marinated pork. And a simple sauce to bring it all together.
It's not zero work. Picking up the phone is zero work. But it's fun. Do your prep with friends or family. Make it social. Have a cocktail. Simple party food.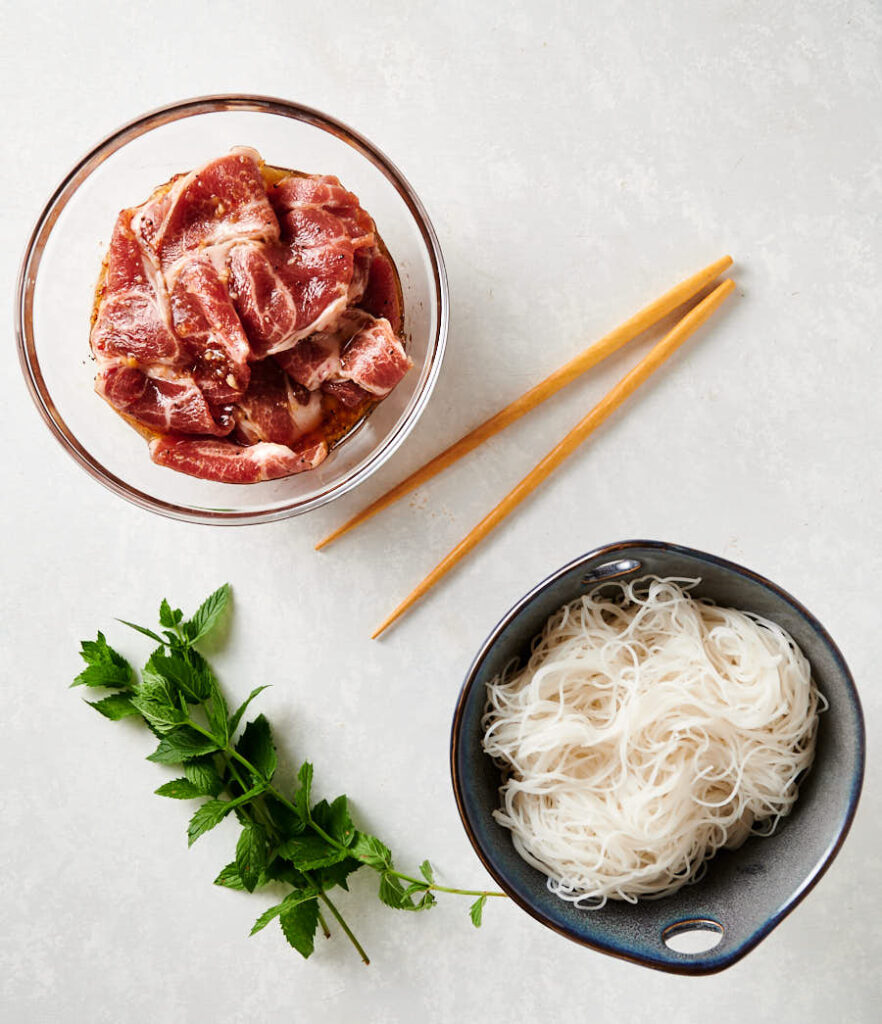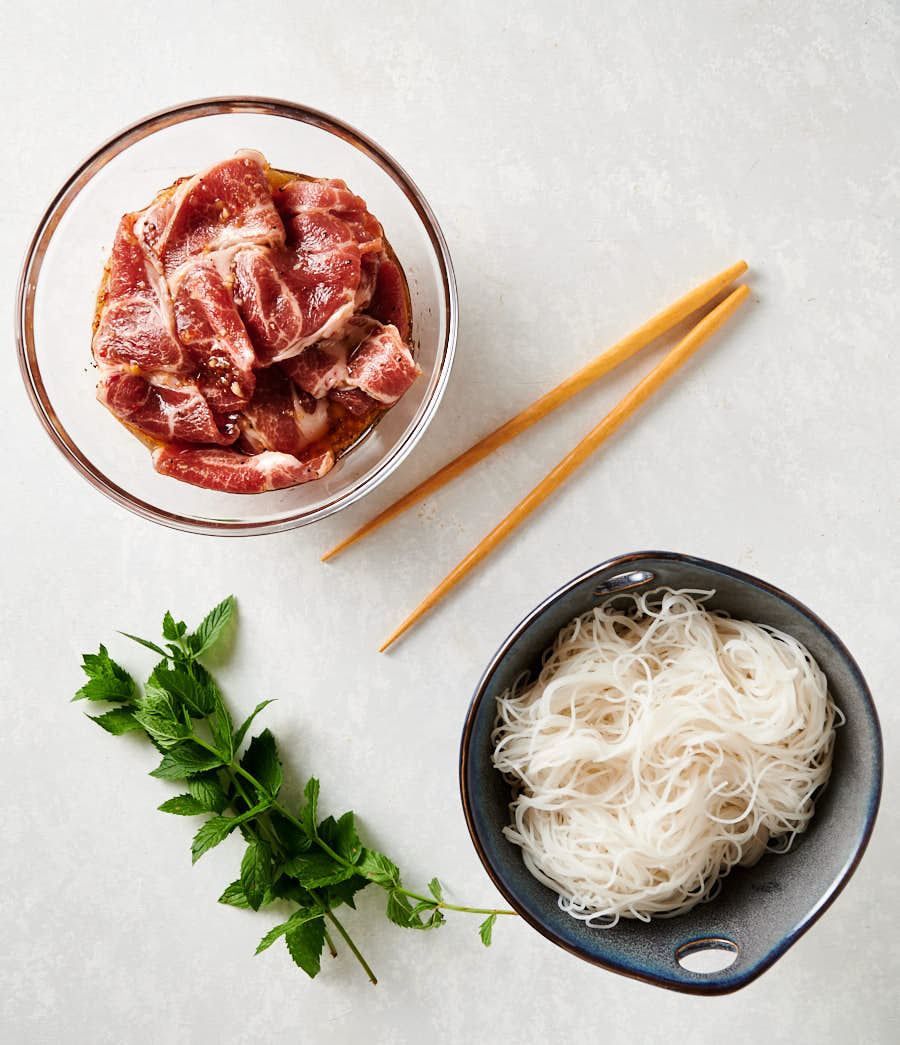 Stir-fry marinated pork makes a Vietnamese salad bowl a meal
This version skips the usual grilled pork. Because it's easier. Doesn't mean you shouldn't grill the pork. But it's tricky.
This Vietnamese noodle salad bowl gets its substance from a bit of thinly sliced pork shoulder. That's not easy to grill. If you want to jazz it up think bun this nyong. But if you want fast this way is easier.
But you don't have to use pork. Use chicken. Or shrimp. It works with just about anything. You can even skip the marinade. This isn't a bad meal with leftover shredded chicken. Have fun with it. Think outside the box.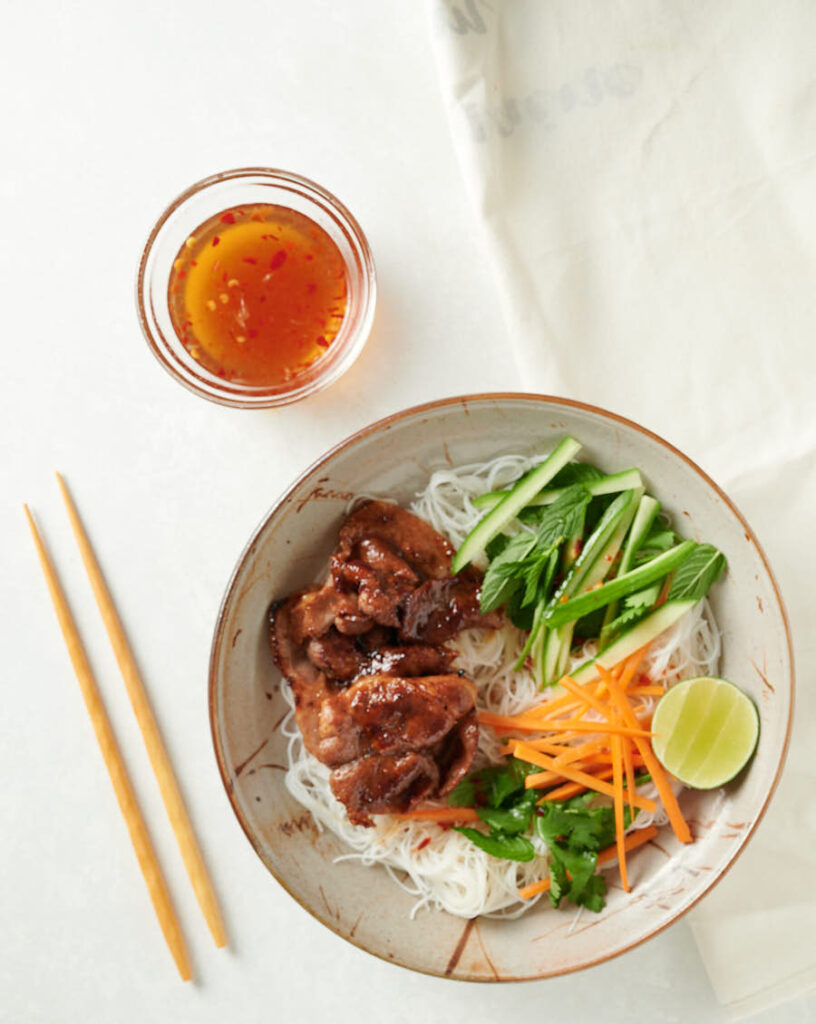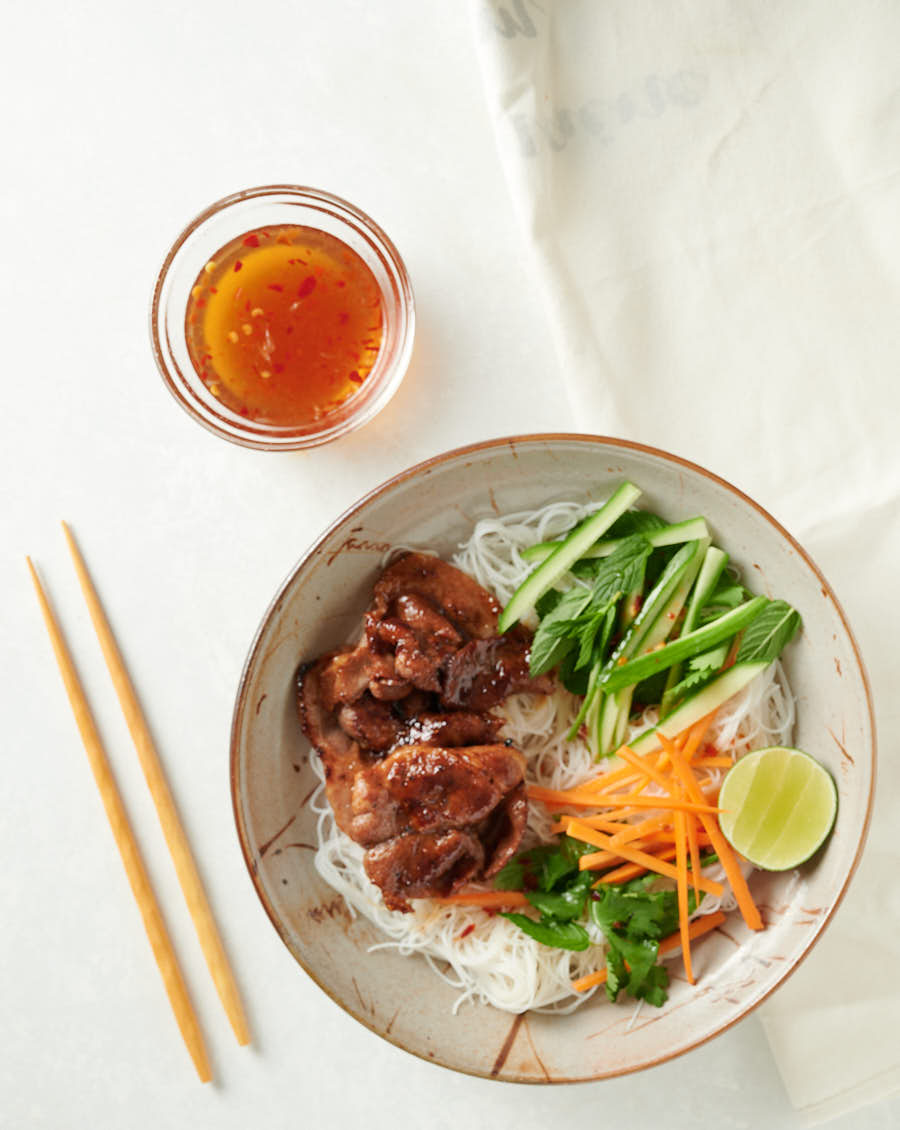 Get your sliced pork shoulder from an Asian market
This is about easy. And slicing pork shoulder into 1/8 inch slices is not easy. You can do it. Cut it into manageable pieces. Partially freeze the pork. Get a really, really sharp knife. And go for it. Just not easy.
Or you can go to just about any Asian market and buy it pre-sliced. Ready to go. That's easy. You can stock up on Asian ingredients while you are there. Worth the trip.
If you have a Korean market nearby that's a good bet. They almost always have it fresh. They almost always have sliced pork belly as well. Korean's know what to do with those wonderful rich bits of pork.
A butcher will probably do this for you as well. But you'll need to call ahead. And pay more. Up to you.
Weeknight fun food
That's about it. Not hard. And seriously tasty. Perfect when you need great food fast.
Next time you're looking for a fun and delicious weeknight dinner think Vietnamese noodle salad.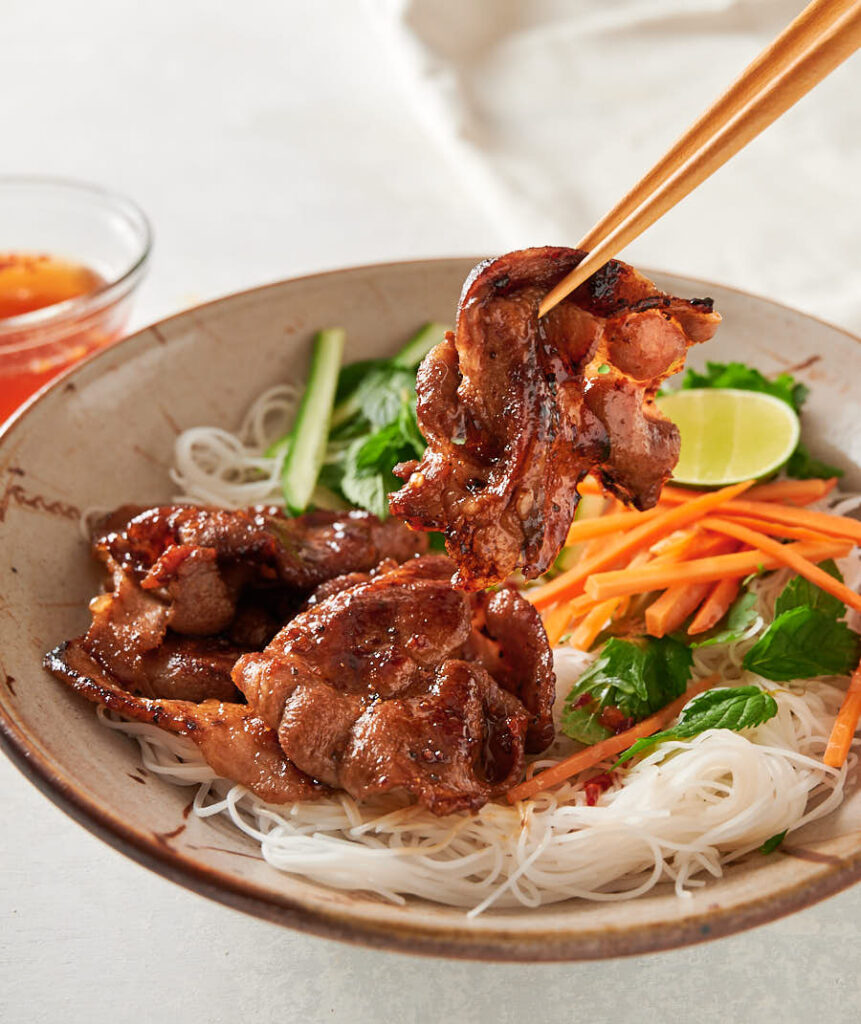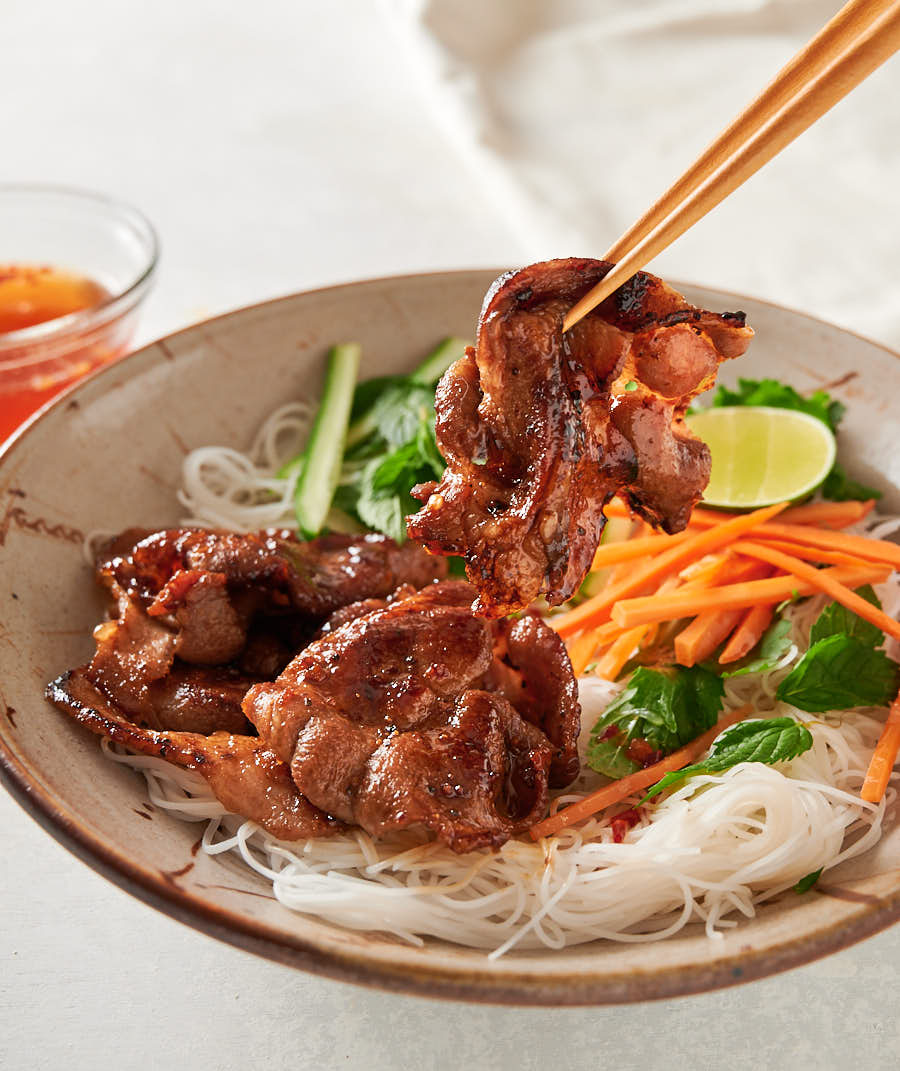 vietnamese noodle salad bowl
Pork, rice noodles and nuoc cham make a great weeknight meal.
Ingredients
Marinade
1/4

cup

white granulated sugar

2

Tbsp

fish sauce

1

Tbsp

garlic

crushed

1

Tbsp

soy

3

Tbsp

vegetable oil

1

tsp

sambal oelek

– srirachi would work as well

black pepper to taste
Vietnamese Pork Bun
12

ounces

pork shoulder

– sliced thin

2

tbsp

vegetable oil

1/2

package of rice vermicelli

shaved carrot

sliced cucumber

cilantro

– chopped coarsely

mint leaves

– chopped coarsely

Nuoc cham

to serve
Nuoc Cham
1/4

cup

water

2

Tbsp

sugar

– up to 3 if you like it a bit sweet

2

Tbsp

fish sauce

or more if you like it a bit saltier

Juice of 1/2 lime

1/2

tsp

sambal oelek

– srirachi would work here as well
Instructions
Vietnamese Pork Bun
Combine all marinade ingredients with the pork and refrigerate for 1-2 hours.

Pour boiling water over the rice noodles to soften (follow the instructions on the package) and chill the noodles. Running cold water over the noodles to chill works nicely.

Pre-heat your frying pan or wok over medium high heat. Add the oil. When it starts to shimmer cook half the pork, flipping it regularly until it browns and is cooked through. This will not take long. A few minutes max. Remove the pork when cooked and repeat with the remaining pork.

To serve, divide rice noodles into two bowls and top with chopped vegetables, cilantro and mint and pork. Pour 1/2 the nuoc cham over each bowl (or serve on the side and let people season to taste).
Nuoc Cham
Combine all ingredients in a small sauce pan and heat to a simmer. Cool and serve.
Nutrition
Serving:
2
servings
|
Calories:
977
kcal
|
Carbohydrates:
134
g
|
Protein:
44
g
|
Fat:
27
g
|
Saturated Fat:
18
g
|
Cholesterol:
107
mg
|
Sodium:
3217
mg
|
Potassium:
773
mg
|
Fiber:
1
g
|
Sugar:
38
g
|
Vitamin A:
30
IU
|
Vitamin C:
4.5
mg
|
Calcium:
62
mg
|
Iron:
2
mg