Chicken tikka is boneless tandoori chicken on a stick. The pieces are smaller, of course. That's good. More surface equals more seasoning. These are little tandoori flavour bombs.

Making chicken tikka is easy. Cut up the chicken. Coat liberally with tandoori marinade. Refrigerate for a few hours. Soak your skewers. Assemble. Wear gloves to skewer if you used food colouring. Grill. Eat. Or use them to make chicken tikka masala.
Grilling is key. You are working with small pieces of chicken – it's easy to overcook them.
Start with indirect heat. Finish over direct heat. You want a bit of char. You don't want dry chicken. Watch it closely.
Serve chicken tikka over a small green salad. You can do a tikka sizzle –  serve them on a bed of fried onions. Serve them straight up. Tamarind dip, raita or a green chili chutney mixed with yoghurt all pair well.
The key is the tandoori marinade. Bad marinade equals bad chicken tikka. Use this tandoori marinade for best results. It's a lot of ingredients but it really works well.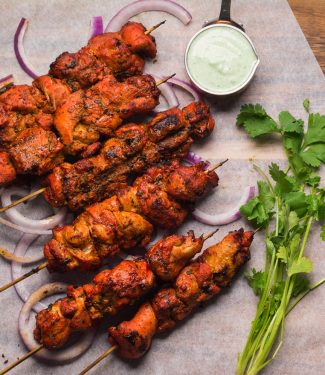 chicken tikka
Chicken tikka makes a great appetizer for an Indian meal. Serve it when you want an explosion of tandoori flavour in small bites. Make sure you soak your skewers before you assemble.
Ingredients
12

boneless

skinless chicken thighs

tandoori marinade

1 batch - recipe link below
Instructions
Combine

tandoori marinade

with chicken. Refrigerate for at least 1 hour and up to 12 hours.

Soak skewers in water for 30 minutes.

Light your grill. Build a two zone fire if using charcoal. Turn one burner to high and another to low if using gas.

Remove chicken from marinade. Cut each thigh into 4 pieces. Cut each breast, if using, into 8 pieces.

Skewer the chicken.

Grill over indirect heat until almost done - around 10-15 minutes.

Move chicken skewers over direct (high) heat and grill an additional 2-4 minutes, turning every minute.. You want a bit of char but you don't want it to burn or dry out.
Recipe Notes
If you prefer chicken breasts substitute 6 chicken breasts for the thighs. White meat is more delicate so be extra vigilant when grilling.