This tandoori marinade is loaded with big Indian flavours. If you can grill, you can make better tandoori chicken than you can buy.
I don't know why it is but the tandoori chicken in restaurants in North America is just not good. Maybe it's marinated too long. Maybe it's overcooked. Maybe they use mass produced tandoori paste. For sure is nowhere as good as it could be.
Which is too bad because it's one of the great chicken dishes of all time. I use tandoori marinade all over the place. Tandoori chicken – sure. But tandoori tacos. And chicken tikka. Shashlik. Or rotisserie up a whole tandoor chicken. Why not?
Think of this recipe as an alternative to store bought tandoori paste. It is tandoori paste when you think about it. Just homemade. Fresher. Tastier.
Grill or oven?
My favourite way to cook tandoori chicken is to grill over charcoal. That little hint of smoke just makes it magic for me. If I had a tandoor maybe that would be my favourite.
But if you can't get to your grill the oven works too. Slather the chicken. Roast the chicken on a rack. Hit it with a blast of the broiler at the end to crisp it up a bit. Beautiful.
That works especially well for chicken tikka. Kebabs just work well in the oven for some reason. That's what I do in the dead of winter to get my tandoori fix.
Tandoori marinade is better without yoghurt
I'm a bit of a heretic when it comes to tandoori marinade. I don't like to include yoghurt. That goes against pretty much every tandoori recipe out there.
But there's a reason. Yoghurt and other acidic marinades break down the proteins in the chicken. Think of ceviche. That is fish cooked with nothing but acid. No heat at all.
That pre-cooking effect turns chicken into mush. Terrible texture. Just not tasty. You can try to fix it by cooking it over crazy high temperature.
That helps some as long as you don't overcook it. That's what a tandoor oven does. Searingly high temperatures.
Or you can set yourself up for success from the start. Leave the yoghurt out of your tandoori marinade. Break with tradition. It's not that scary. Honest.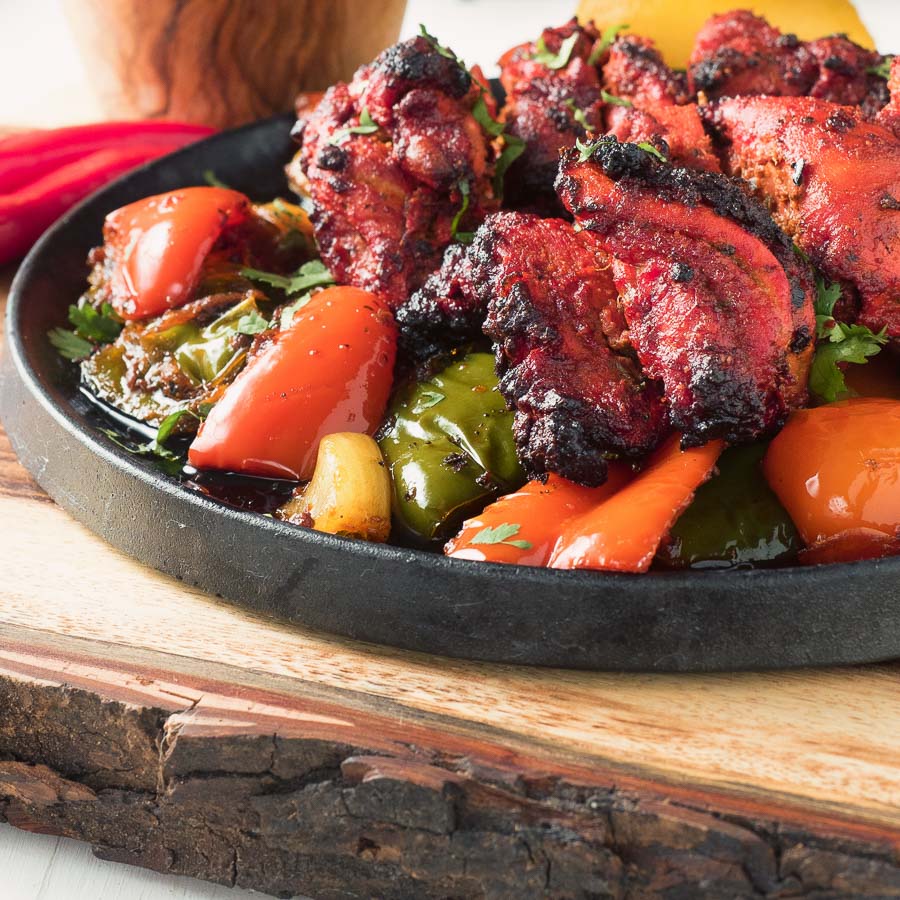 Tips from a Bangalore tandoori restaurant
I came to this conclusion after eating at a tandoori kebab restaurant in Bangalore. Their chicken was moist, the flavours explosive. So good.
I thought about it for a while then asked "Do you use yoghurt in your tandoori paste?". "No, we don't".  Haven't used yoghurt since. I add the lemon at the end. I don't get mush and nor will you.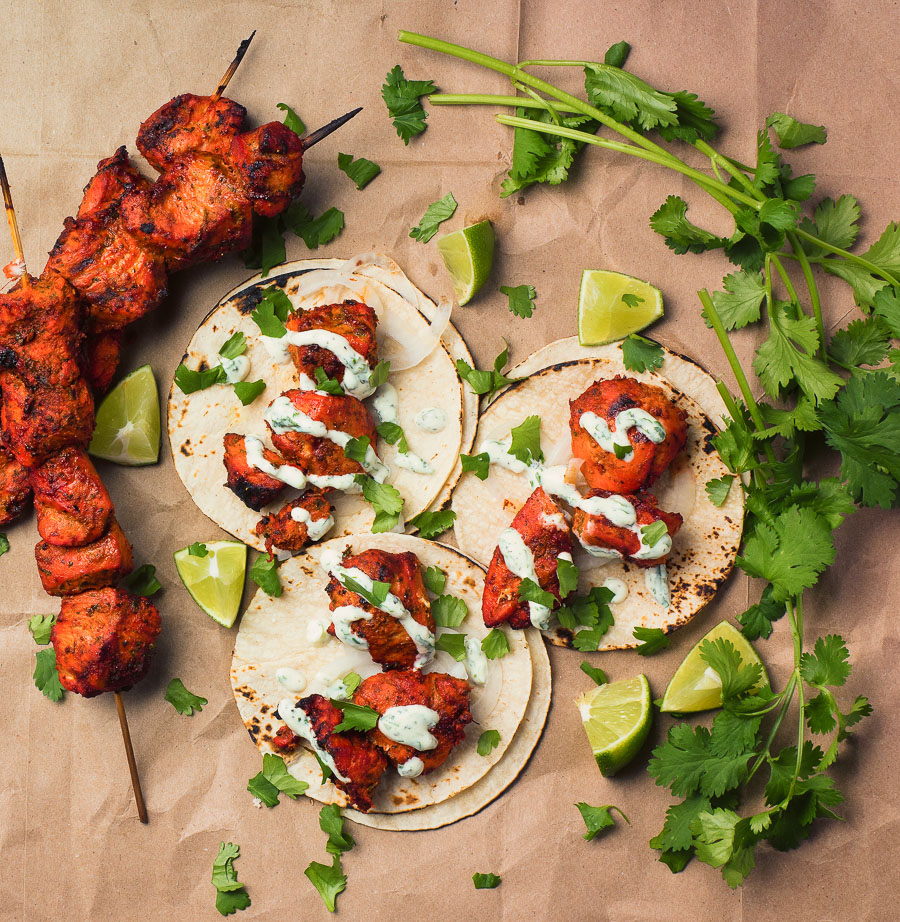 Don't let the list of ingredients stop you
There's a lot of ingredients in this marinade. The recipe works really well as written. But it won't completely fall apart if you leave one out. Even two.
But each ingredient adds a little something. And the combination is what makes this recipe special. Complexity. This isn't a one-dimensional tandoori marinade.
It might seem harder than it needs to be but all you are doing is mixing some stuff up in a bowl. Nothing more involved than that. Dump some stuff in a bowl and mix. Not so hard.
And it's going to be better than you have been getting at your local Indian restaurant. Unless you live in India I guess. Then it will just be as good.
Try it to make really good chicken tikka, tandoori chicken or even tandoori tacos. Oven or grill or tandoor. Start with a great tandoori marinade and you'll get great tandoori chicken.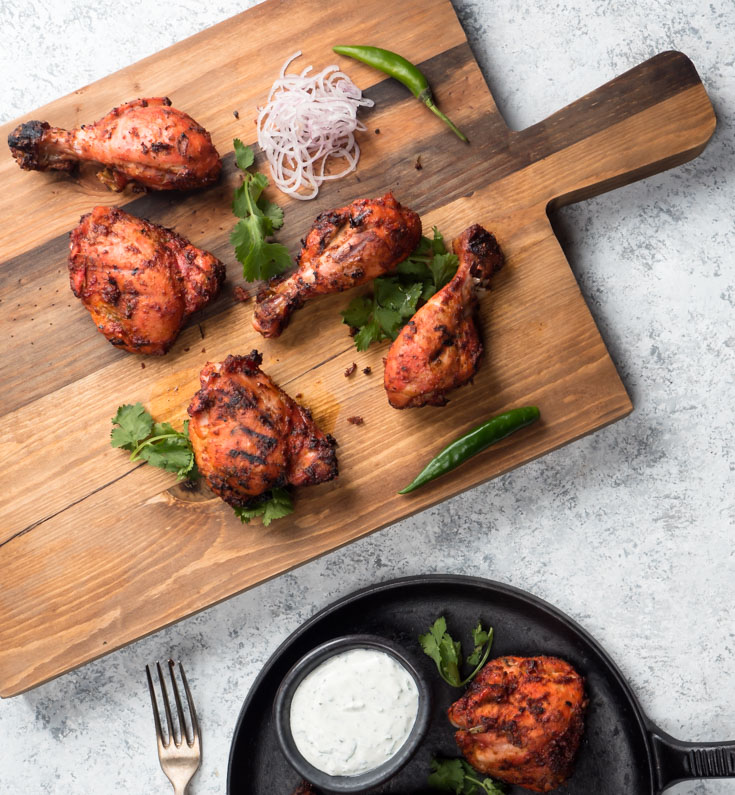 tandoori marinade
Leave the yoghurt out completely and add the lemon at the end to keep the mushy texture away. Don't be put off by the long list of ingredients. You can skip one or two if you can't find them. Each one adds a little bit to the whole, though.
Ingredients
1

Tbsp

cumin powder

1

Tbsp

coriander powder

2

tsp

hot curry powder

1

tsp

turmeric

1

Tbsp

dried fenugreek leaves aka kasoor methi

2

tsp

kosher salt

1

tsp

mint sauce

2

tsp

mild kashmiri chili powder

1

Tbsp

chopped coriander leaf/stem

1

Tbsp

Patak's tandoori paste

optional

1

Tbsp

garlic ginger paste

3

Tbsp

oil

4-6

Tbsp

water

to make a runny paste

pinch

red food colouring

Juice of 1/2 lemon
Instructions
Combine all the ingredients except the water and the lemon juice.

Add water, a bit at a time until you get a consistency like the picture.

Marinate meat at least an hour and up to 12. Add the lemon juice just before cooking.
Notes
Find dried fenugreek leaf or kasoor methi at any Indian food store. It's a key flavour to many indian dishes so if you like to cook Indian, it's good to have on hand.
I used food colouring for this marinade. Other than colour it adds nothing. It's messy as well and you have to use gloves to handle the chicken. I normally leave it out.
If you don't have, or can't get a mild kashmiri chili powder, substitute 1/2 tsp cayenne plus 1 1/2 tsp paprika.
This marinade makes enough for one chicken plus four chicken thighs.
Nutrition
Serving:
1
servings
|
Calories:
478
kcal
|
Carbohydrates:
13
g
|
Protein:
3
g
|
Fat:
47
g
|
Saturated Fat:
4
g
|
Sodium:
4838
mg
|
Potassium:
393
mg
|
Fiber:
6
g
|
Sugar:
1
g
|
Vitamin A:
4155
IU
|
Vitamin C:
2.3
mg
|
Calcium:
149
mg
|
Iron:
8.2
mg