Chicken tikka. Boneless tandoori chicken. Bite sized even. What's better than that? Seriously. How can you not want to put that in your mouth?
I cannot resist chicken tikka. I have zero will power. My name is Romain and I have a problem.
I make it. And it winds up in my mouth. I make extra to be sure. And I still run short. All the time.
I like it in curries too. An extra layer of flavour. Chicken tikka masala. Butter chicken. Chicken tikka jalfrezi. Naga chicken tikka curry. The list goes on. Same problem though. Never enough tikka.
Chicken tikka is all about the marinade
I was never happy with my tandoori chicken. Or my chicken tikka. I struggled for years. It was always good. Really good even. But never great.
Took me a trip to Bangalore to figure it out. I was in a restaurant that specialized in tandoori dishes. I loved the chicken. It was amazing. Like tandoori nirvana amazing.
So I started tasting critically. Thinking. And asking questions. Eventually I got the secret. And it surprised me. A lot. But I've never looked back. The flavours are just too good.
No yoghurt. Yes. You heard me. This is a recipe for chicken tikka that doesn't have any yoghurt in it.
Crazy talk. I get how you might think that. But it works. And it works better than any other marinade I've ever tried. Way better.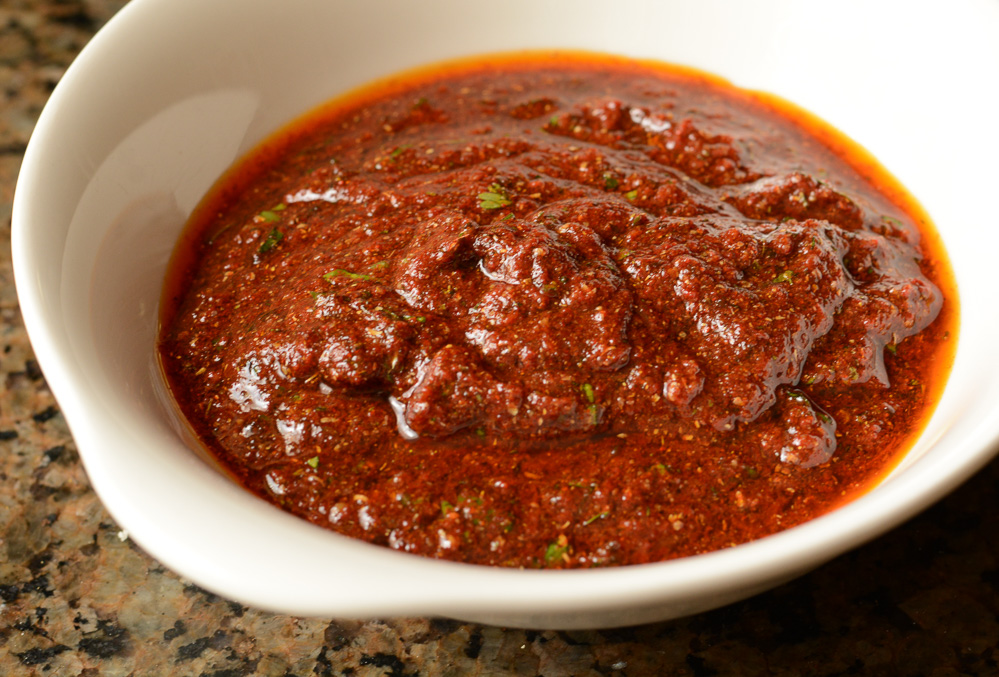 Yoghurt is not your friend – at least in this recipe
I have two problems with yoghurt for any tandoori or chicken tikka recipe.
Dairy blunts flavours. Think about it. If your curry is too hot what do you do? Add dairy.
Dairy adds richness. But it also blunts spices. Takes the edge off. I like the edge though. Especially in this dish.
Diary also contains lactic acid. You won't be surprised to learn that's acidic. And acid denatures protein. Which is a fancy way to say it "cooks" the chicken. Think ceviche. Same general idea.
And that kills the texture. It gets mushy. I have zero tolerance for mushy chicken. And it is a function of time. So those of you who insist on marinating chicken tikka for two days. Extra mushy.
Yoghurt might work if you have a real tandoor. If you can fire the chicken at 800F. Beat back that mushiness. But I have a charcoal BBQ. And I fire at under 600F.
So I have to work with what I have. And what works is leaving the yoghurt out.
Grilling technique is key
This recipe works in the oven. Maybe a blast from the broiler at the end. To give it that signature touch of char.
It works over a gas BBQ as well. Tasty stuff. Just make sure to give them some intense direct heat at the end. Again, a little char is a good thing.
But where is really shines is over charcoal. Smoke is that little something extra that puts it right over the top.
Grilling technique is key. Small pieces of chicken. High heat. It's easy to overcook them. You need to be careful.
Thighs help here. They are tastier too. A little more fat. A little more flavour. Dark meat is more forgiving than white. Win. Win.
For any grill I like a two zone fire. Hot on one side. Cool on the other. Direct heat on one side. Indirect on the other.
Start the chicken over indirect heat. If you are using charcoal that kiss of smoke is happening the whole time the chicken is on the grill.
When you get close to your target internal temperature move the tikka over direct heat.
Get them mostly cooked on low then blast them with heat. You want a bit of char. You don't want dry chicken. Watch it closely.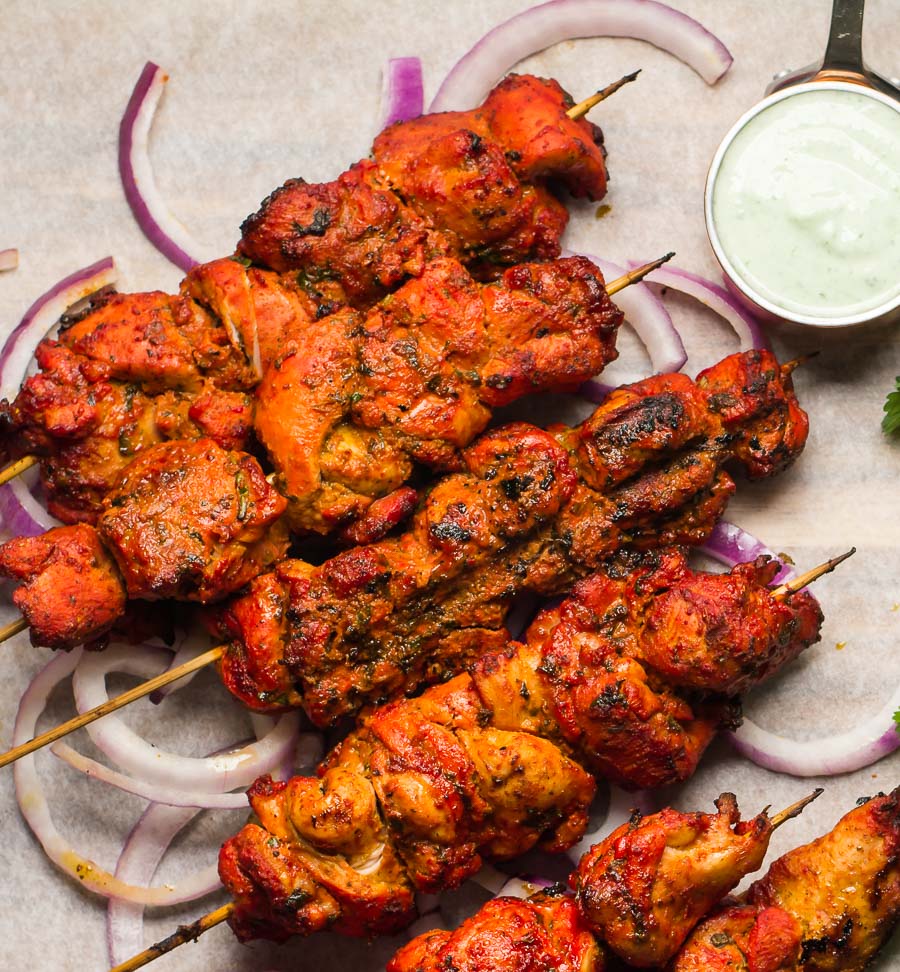 Chicken tikka is just fun food
The beauty of chicken tikka is you get that great tandoori chicken flavour. But boneless.
I'm almost tempted to say the Indian equivalent of chicken fingers. Except chicken fingers sound like the revenge of the bad grocery freezer section. Right there next to the fish sticks. And the frozen Brussel sprouts. The stuff nightmares are made of.
What it is is incredibly versatile. Serve it as an appetizer. Or over a nice green salad. Chicken shashlik.
Or on a pizza. My favourite pizza these days is chicken tikka, red onion and jalapeño. Doesn't sound like much but it is so good. I have yet to have anyone not love that combination.
It is absolutely killer in restaurant and hotel style curries. It's a whole extra layer of flavour.
Or in a kathi roll. Think chicken tikka wrapped up in a warm paratha. With a big drizzle of "secret sauce". That is a sandwich worthy of the maharajah.
If you take one thing away from this post remember to always make extra. How much extra depends on how much willpower you have. Double is usually about right. Triple is almost always safe. For me anyway.
chicken tikka
Chicken tikka makes a great appetizer for an Indian meal or as an extra flavour boost in your curries.
Ingredients
chicken tikka
12

boneless

skinless chicken thighs

tandoori marinade

recipe below

1/2

lemon

– juiced
Tandoori marinade
1

Tbsp

cumin powder

1

Tbsp

coriander powder

2

tsp

madras curry powder

1

tsp

turmeric powder

1

tsp

mint sauce

(not mint jelly)

2

tsp

kashmiri chili powder

1

Tbsp

coriander stems/leaves

chopped

2

tsp

salt

1

Tbsp

kasoor methi

– dried fenugreek leaves

1

Tbsp

Patak's tandoori marinade

(optional)

1

Tbsp

garlic ginger paste

3

Tbsp

vegetable oil

1/4

cup

water

– you may need a little more. You are after a runny paste.
Instructions
Combine all the ingredients for the tandoori marinade in a stain proof bowl.

Cut each thigh into 4 pieces. Cut each breast, if using, into 8 pieces. Combine tandoori marinade with chicken. Refrigerate for at least 1 hour and up to 12 hours.

Soak skewers in water for 30 minutes.

Add the lemon juice to the chicken. Mix to combine. Let stand no more than one hour.

Light your grill. Build a two zone fire if using charcoal. Turn one burner to high and another to low if using gas.

Remove chicken from marinade. Use gloves if you have them. Tandoori marinade stains something fierce.

Skewer the chicken.

Grill over indirect heat until almost done – around 10-15 minutes. You want an internal temperature of about 150F for breasts or 160F for thighs at this point. You will be cooking them a bit more over direct heat. Your final target is 165F for breasts and 175F for thighs.

Move chicken skewers over direct (high) heat and grill an additional 2-4 minutes, turning every minute.. You want a bit of char but you don't want it to burn or dry out.
Notes
If you prefer chicken breasts substitute 6 chicken breasts for the thighs. White meat is more delicate so be extra vigilant when grilling. It dries out very easily.
You can add a bit of food colouring if you really want the restaurant look (like in these pictures). Just a pinch though. Don't go crazy. Orange is actually better than red for this. Or maybe a mix of orange and red. 
Nutrition
Serving:
6
servings
|
Calories:
174
kcal
|
Carbohydrates:
1
g
|
Protein:
22
g
|
Fat:
8
g
|
Saturated Fat:
1
g
|
Cholesterol:
107
mg
|
Sodium:
503
mg
|
Potassium:
309
mg
|
Vitamin A:
375
IU
|
Calcium:
10
mg
|
Iron:
1.6
mg