I don't know why it is but the tandoori chicken in restaurants in North America is just not good. Maybe it's marinated too long. Maybe it's overcooked. For sure is nowhere as good as it could be. As it should be. This tandoori marinade works. If you can grill, you can make better tandoori chicken than you can buy.
I came to this conclusion after eating at a tandoori kebab restaurant in Bangalore. Theirs was moist, the flavours explosive. I thought about it for a while then asked "Do you use yoghurt in your marinade?'. "No, we don't". Yoghurt and other acidic marinades break down proteins, pre-cooking your chicken into mush. Blast it with some crazy heat to try to offset the mush. Dry, underwhelming tandoori. Now I leave the yoghurt out. I add the lemon at the end. I don't get mush and nor will you.
Try it to make really good chicken tikka, tandoori chicken or even tandoori tacos.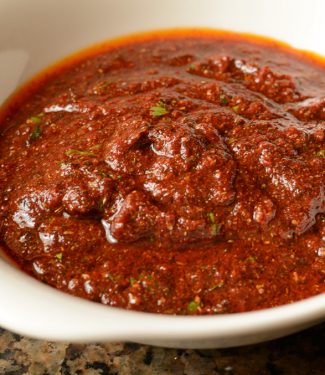 tandoori marinade
Leave the yoghurt out completely and add the lemon at the end to keep the mushy texture away. Don't be put off by the long list of ingredients. You can skip one or two if you can't find them. Each one adds a little bit to the whole, though.
Ingredients
1

Tbsp

cumin powder

1

Tbsp

corriander powder

2

tsp

hot curry powder

1

tsp

turmeric

1

Tbsp

dried fenugreek leaves aka kasoor methi

2

tsp

salt

1

tsp

mint sauce

2

tsp

mild kashmiri chili powder

1

Tbsp

chopped coriander leaf/stem

1

Tbsp

Patak's tandoori paste

optional

1

Tbsp

garlic ginger paste

3

Tbsp

oil

4-6

Tbsp

water

to make a runny paste

pinch

red food colouring

Juice of 1/2 lemon
Instructions
Combine all the ingredients except the water and the lemon juice.

Add water, a bit at a time until you get a consistency like the picture.

Marinate meat at least an hour and up to 12. Add the lemon juice just before cooking.
Recipe Notes
Find dried fenugreek leaf or kasoor methi at any Indian food store. It's a key flavour to many indian dishes so if you like to cook Indian, it's good to have on hand.
I used food colouring for this marinade. Other than colour it adds nothing. It's messy as well and you have to use gloves to handle the chicken. I normally leave it out.
If you don't have, or can't get a mild kashmiri chili powder, substitute 1/2 tsp cayenne plus 1 1/2 tsp paprika.
This marinade makes enough for one chicken plus four chicken thighs.