Chickpeas. Indian spices. Tomatoes. Chilies. Onions, garlic and ginger. Sound good? It is. This isn't the most conventional chana masala but I'm going by the literal translation so I think I'm safe. Chana is Hindi for  chickpea and masala means spiced or spice mixture. I have chickpeas. I have spice. I'm calling it chana masala. I think I'm safe.
It's really not that far off a conventional chana really. It's not in your face spicy. Balanced. A nice counterpoint to a big lamb curry. Any curry really. Or no curry. It stands alone as a vegetarian main.
The only big twist is the fresh curry leaves. They add a South Indian flair. A new taste. Leave them out and you have a good chana masala. Keep them in and you have something different. Something new.
Curry leaves have nothing to do with curry powder. They don't grind up curry leaves to make curry powder. Think of them as an Indian herb with a misleading name. They have to be fresh. Dried curry leaves taste like nothing. Nothing at all.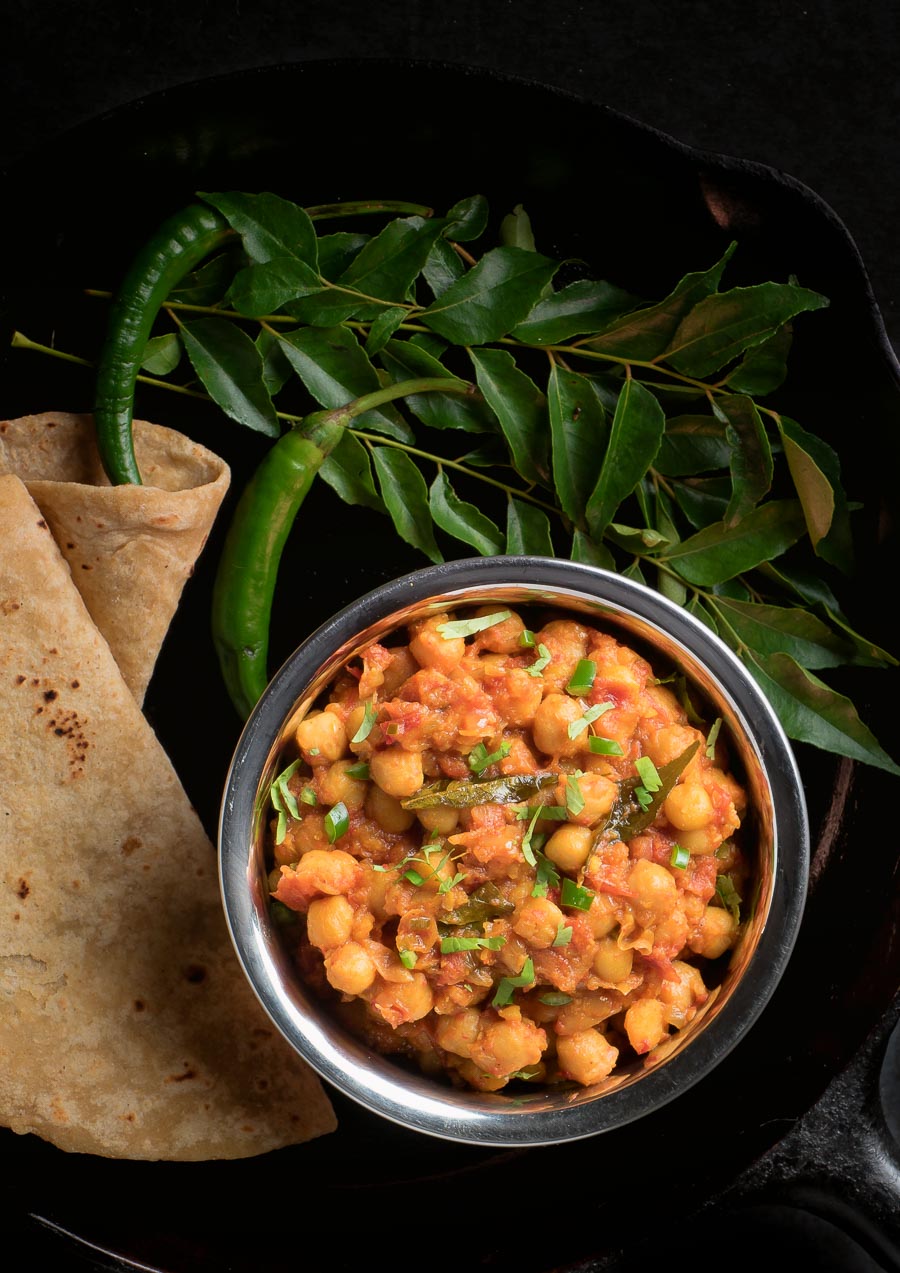 The key to this recipe – as with many curries – is the onions. Take the time to chop them finely or use a food processor. That makes short work of chopping onions.
And please, take the time it takes to cook them to a nice brown. This is what makes a homestyle curry. There's no way around it. Caramelized onion is good curry. Barely cooked onions is curry flavoured stew. It's that simple.
Once the onions are nicely browned, cooking the spices in oil makes the dish. After that it's a coast over the finish line. Not that hard once you get your head around those two concepts. But until you do you don't have a chance.
This chana masala, as written, is a bit on the hot side. If you don't like spicy, leave out the kashmiri chili powder. It will be as tasty. Just not quite as much zing. Serve with Indian flatbread or rice or both.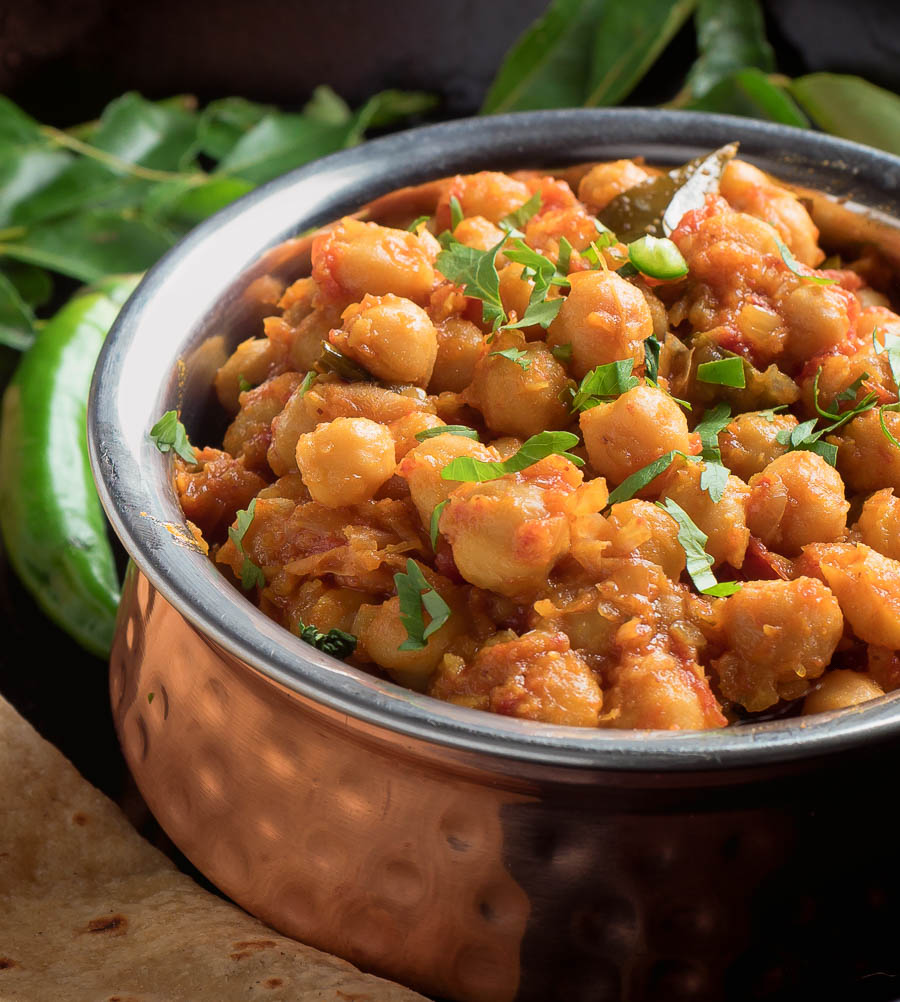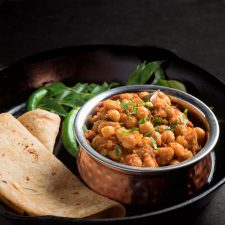 chana masala
Chana masala is a great vegetarian meal or side for any Indian meal. The curry leaves are optional but add a nice South Indian touch. Don't skimp on the oil for this recipe. You need it to fry the spices.
Servings
:
6
as a side dish
Ingredients
To make the chana masala
4

Tbsp

vegetable oil

2

large onions

minced

1

Tbsp

garlic ginger paste

- recipe link below

2

green chilies

minced

15

fresh curry leaves

- optional

2

tsp

restaurant spice mix or curry powder of your choice

- recipe link below

1

tsp

mild kashmiri chili powder

or 1/4 tsp cayenne mixed with 3/4 tsp paprika

1

tsp

cumin powder

1 15

oz

can diced tomatoes

or better yet 4-5 plum tomatoes, seeded and diced

2 19

oz

cans chickpeas

drained and rinsed

1

Tbsp

cilantro leaves and stems

minced

1

tsp

salt

to taste
To finish the chana masala
2

Tbsp

cilantro leaves

minced

1/4

lemon

juiced

pinch

of garam masala

optional
Instructions
Heat the oil in a sauce pan large enough to hold all the ingredients.

Add the oil and fry the minced onions until flecks of brown start to appear. This can take 10-15 minutes.

Add the garlic ginger paste, green chili, curry leaves if using them and indian spice mix, salt, chili powder and cumin. Cook about 1 minute. Be careful not to burn the spices.

Add the tomatoes and simmer about 10 minutes.

Mix in the chickpeas and enough water or stock to keep the mixture loose.

Simmer about 20 minutes, adding water or stock as needed.

Add the cilantro, lemon juice and garam masala and simmer 5 minutes more. Taste and adjust for salt.