I've been getting into miso lately. The salty, earthy, savory flavour just seems to add magic to everything it touches. I saw a blog on Japanese broiled miso chicken. I started thinking. What if I made that but slammed it up against Korean zing? And tossed it on the grill? It worked. In the end, spicy miso grilled chicken is more Korean than Japanese. Subtle Japanese inspiration crushed by a big dollop of gochujang.
Gochujang is miso jacked up with Korean flavours. It's miso with chili and fermented soybean. Straight up it's pretty assertive.  Mix miso and gochujang and you mellow out the bite. That's why this works. The miso smooths things out nicely.
Grilling technique is important in this recipe. Indirect, medium hot heat is what you are after. There's sugar in the marinade. There's skin on the chicken. Direct heat invites burning. Burning badly.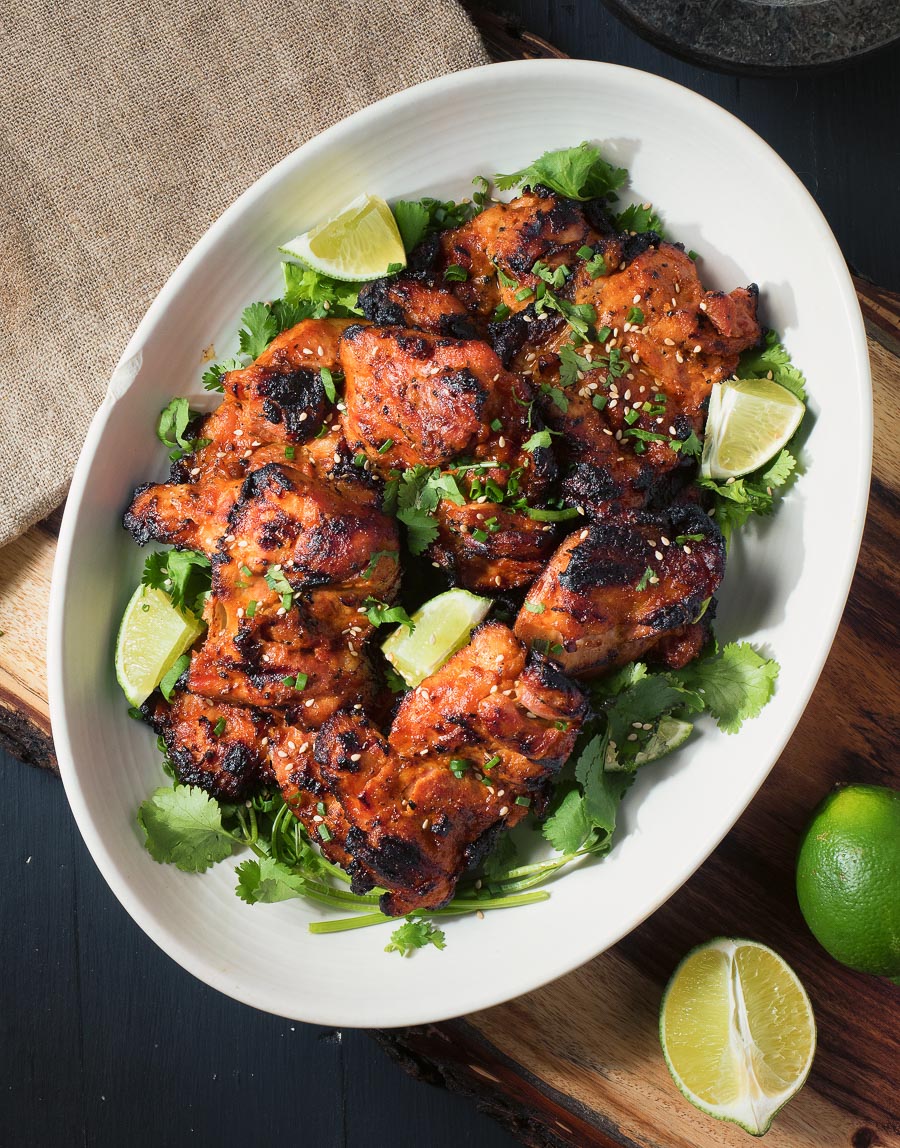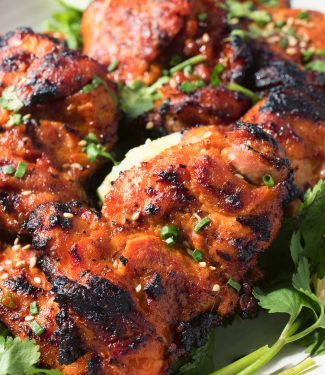 spicy miso grilled chicken
Spicy miso grilled chicken mixes Japanese and Korean flavour for great tasting grilling. If you don't have gochujang, you can just mix in another chili sauce. Sambal oelek or even Sriracha would work here. The chicken is delicious hot or cold.
Ingredients
2

Tbsp

shiro miso

2

Tbsp

gochujang

1

Tbsp

soy sauce

2

Tbsp

sake

1

Tbsp

sugar

1

tsp

garlic ginger paste

- or a 1/2 tsp garlic and 1/2 tsp ginger, finely minced

1/2

tsp

black pepper

12

boneless

skin-on chicken thighs
Instructions
Combine all the ingredients except the chicken and mix thoroughly.

Toss the chicken in the marinade and refrigerate for 1 to 4 hours.

Set your grill up for indirect, medium high heat.

Place a drip pan under the grill where you will be putting the chicken.

Grill until the chicken reaches an internal temperature of 175F, about 20-25 minutes.

Working in batches of 2 or 3 pieces, place the chicken over direct heat to colour up.
Recipe Notes
If you don't have gochujang, you can use a different chili paste. Use 4 Tbsp shiro miso and add chili paste to taste.