Chile verde. Chili Colorado. Braised pork with tomatillos. Add some more green chilies and some cilantro and you have what might be the state dish of New Mexico. It's all over the southern US. It's nowhere up north. I don't know why. It's flat out comfort food.
Don't overlook pork as a stew meat. That pork shoulder you make into pulled pork is perfect for stew. Rich in collagen, it gets better as it breaks down in the BBQ pit. It does the exact same thing in a braise. This dish uses tomatillo salsa. Make it if you can. If you can't you can use a decent jarred green tomatillo salsa. Better to use pre-fab than not learn about chile verde.
I put pinto beans in this dish. I like the contrast of the pork with tomatillos against the beans. It's very good without it if you feel like being a purist. Beans on the side work nicely too. This makes a pretty awesome burrito if you have leftovers. Just pick out the bones (if you're using meat on the bone) before you make your burritos.
The choice of pork is important. You want meat that needs low and slow. Ribs and shoulder are what you should be looking at. Loin will wind up dry. Who wants dry braised pork with tomatillos?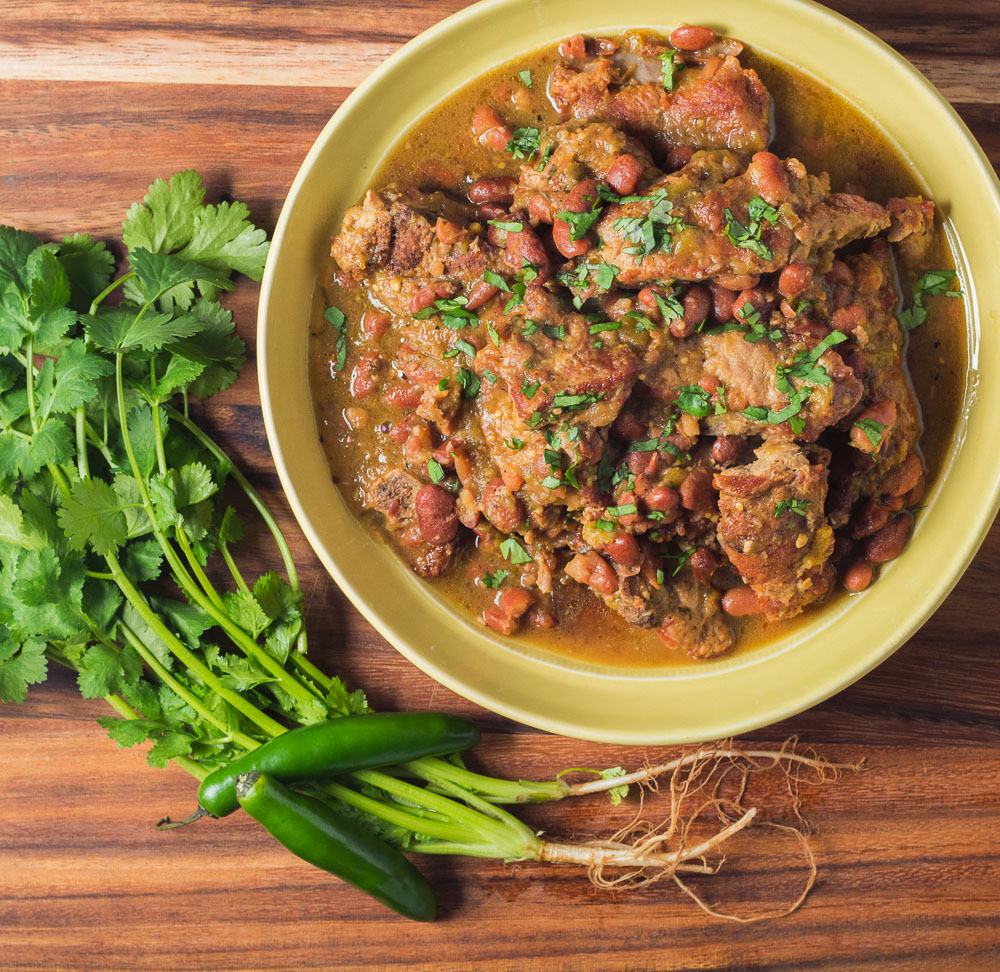 braised pork with tomatillos and green chilies
Chile verde or pork with tomatillos and chiles is a refreshing alternative to the usual red beef chili.
Ingredients
4

lbs

pork ribs

or pork shoulder

3

Tbsp

vegetable oil

1 1/2

cups

tomatillo salsa

4

oz

can of diced green chiles

2

cups

low sodium chicken stock

1

tsp

salt

2 19

oz

cans pinto beans

big handful cilantro

chopped
Instructions
Cut pork into individual ribs or 1 inch by 1 inch cubes. Season with salt and pepper.

Heat the vegetable oil in a pot large enough to hold all the pork.

Work in batches. Brown the pork. Each batch should be no more than one layer deep with room around individual pieces. One pound per batch is a reasonable starting point. The maillard reaction that comes from browning the pork adds tons of flavour to this dish so take the time here. It's worth it.

Remove each batch as it finishes browning and place in a bowl. You want to catch all the juices. Juices are flavour.

Remove all but 2 Tbsp fat from the pot. Heat over medium heat. Fry the

tomatillo salsa

for 2 minutes. Stir constantly to scrape up the brown bits on the bottom of the pot. The sauce will darken.

Add the canned, diced chiles and stir. Return the pork and all accumulated juices to the pot. Add the chicken stock (you want enough so the pork is almost covered).

Simmer for 1 hour.

Add the beans, if using, and simmer another 30 minutes.

Add the cilantro and simmer five minutes more.