Beef and beer stew – carbonnade a la flamande – is all about the beef, the beer and the onions.
Browned beef. Caramelized onions. Brown Ale. A little bit sweet from the sugar. A little bit sour from the vinegar. A little bit smoky from the bacon. Everything in balance. Delicious.
Beer and beef stew is slow food. Weekend food. Food to impress if you take time and care. Brown the feef in batches. Really cook the onions. Like you're making French onion soup.
A good stew is dinner party worthy. And beer and beef stew is good stew.
Beer and beef stew cooks in the oven
You want the onions to melt into the final sauce. Take 30 minutes or more for this step. Once you've done that you are on auto-pilot.
Cover your pot of stew and stick in a 325F oven and wait. For a couple hours. Maybe check in once in a while to make sure there's enough liquid.
That's the beauty of stew. Do work up front, then sit back and relax. Invest up front and you're sure to get something wonderful at the other end.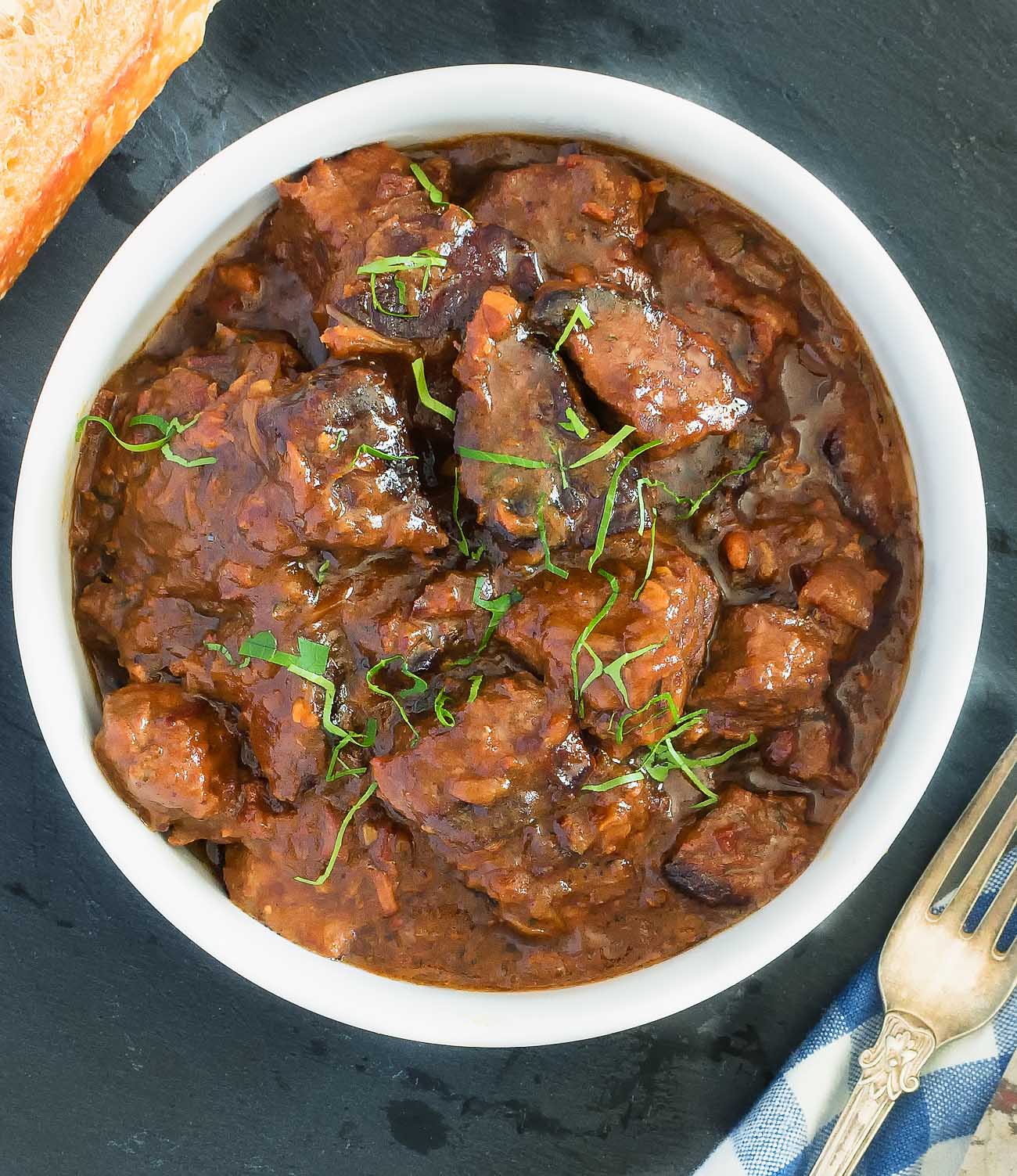 You can't rush carbonnade a la flamande
If you take one thing away from this recipe, make it that browning beef takes time. The beef will throw liquid as it cooks. If you've ever browned beef for stew you've seen it.
If you overcrowd the beef, it will cook in the liquid. That's boiled beef. And that's a shame. You want brown. Brown tastes good. Look up Maillard reaction. It's critical to cooking.
Leave at least a quarter inch between all the pieces. Work in batches. You will get browned beef. Don't do this and you will get boiled beef.
Serve beef and beer stew – carbonnade a la flamande with boiled potatoes and carrots. Or with good crusty bread and a green salad. Or even with mashed potatoes. Stew with mashed potatoes. Comfort city.
Serve it to good friends. Eat. Drink. Enjoy.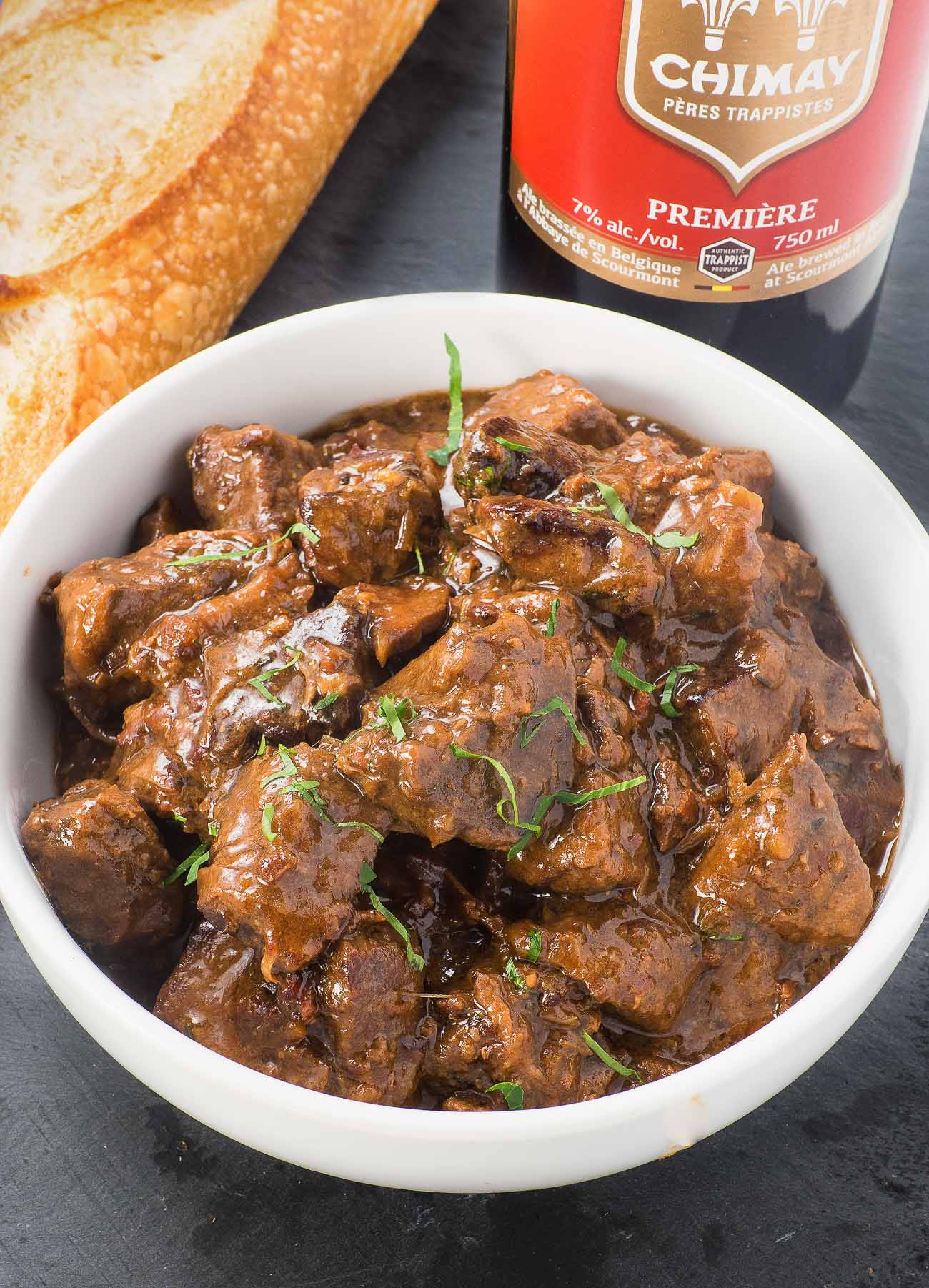 beef and beer stew – carbonnade a la flamande
This is Belgian beef and beer stew. It's all about beer, beef and onions. Take your time browning the beef and cooking down the onions. It's totally worth it.
Ingredients
4

lbs

beef stew

– chuck is nice for this

6

pieces

bacon

– good quality

3

large onions

sliced thin

3

cloves

garlic

crushed

3

Tbsp

flour

3

cups

belgian dark ale

– look for a Dubbel like Chimay

3

sprigs fresh thyme

2

bay leaves

1

Tbsp

brown sugar

1

Tbsp

cider vinegar

1

Tbsp

dijon mustard

Vegetable oil as required to brown the meat.

Chicken stock as required to cover the beef.
Instructions
Heat a large dutch oven over medium low to medium heat (you will need to find the browning sweet spot).

Add 2-3 Tbsp of oil to the dutch oven.

Working in batches brown the beef well. Be careful not to overcrowd the pan. If you get a big puddle of liquid in your pan, it's overcrowded. You are boiling your beef. That's bad. It took 5 batches in a 6 quart dutch oven for 4 lbs of beef.

Dice the bacon into 1/4 inch pieces and add to the dutch oven along with the leftover oil and goodness. Cook to render the fat and add the thinly sliced onions. Add a bit of salt and cook, covered, for 20 minutes. Stir occasionally. Uncover and cook another 10 minutes. You are going for meltingly tender onions. Think French onion soup. It may take a little longer but it's worth it.

Add the crushed garlic and flour and cook another 2 minutes, stirring well.

Mix the mustard with a little beer to dissolve.

Add about 1/2 cup of the beer and scrape up any browned goodness on the bottom of the dutch oven.

Pour in the rest of the beer, along with the mustard, cider vinegar, brown sugar, bay and fresh thyme. Add a bit of fresh ground black pepper as well.

Return the beef to the pot along with any accumulated juices.

Add just enough chicken stock to cover the beef. You may not need any at all.

Add a good tsp of salt at this point, cover and place in a 325F oven for about 2 to 2 1/2 hours.

Start checking at about 90 minutes. You are done when the beef is tender.

At this point adjust the salt to taste.

This is traditionally served with boiled new potatoes and carrots. I like it with a green salad to start and crusty bread.
Nutrition
Serving:
6
servings
|
Calories:
614
kcal
|
Carbohydrates:
15
g
|
Protein:
72
g
|
Fat:
24
g
|
Saturated Fat:
8
g
|
Trans Fat:
1
g
|
Cholesterol:
202
mg
|
Sodium:
351
mg
|
Potassium:
1208
mg
|
Fiber:
1
g
|
Sugar:
4
g
|
Vitamin A:
37
IU
|
Vitamin C:
5
mg
|
Calcium:
85
mg
|
Iron:
7
mg