Dhansak is a famous Parsi dish. Indian restaurant dhansak curry is adapted from the traditional. But the big flavours, lentils and a bit of sweet and sour remain.
Dhansak gets it roots from Persian cuisine
Little bit of history. The Parsis were from Persia and migrated to India to escape persecution in or around the 10th century. That's the beauty of history.
People move around. They bring their cooking with them. Don't mean to oversimplify but immigration is good for food. Diversity. Variety. Ideas.
My guess is this dish started out as a way to stretch a relatively rare and expensive ingredient – meat – with plentiful and cheap lentils.
It's a wonderful dish done the original way. Try that some time. It's also really good done the Indian restaurant dhansak curry way. Try that too.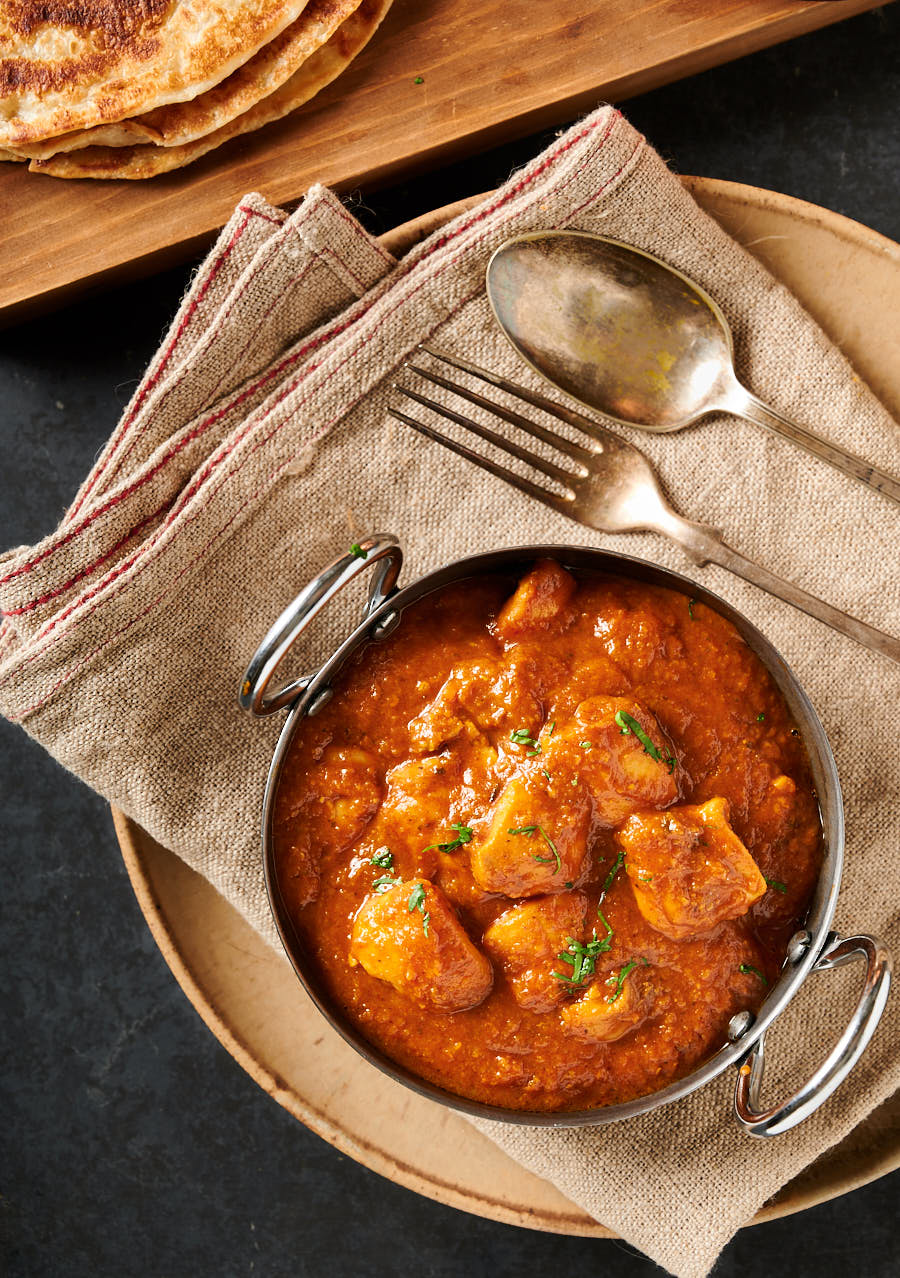 The lentils give the sauce it's body
The lentils are cooked until they disintegrate. They disappear into the sauce but they bring body and smoothness.
The sweet and sour notes come from tamarind sauce. If you don't want to get tamarind sauce use a bit of sugar and fresh lemon juice. Don't worry – it will still qualify as Indian restaurant dhansak curry.
Tamarind sauce is not the same as tamarind paste
This recipe calls for tamarind sauce. Specifically I use Maggi Tamarina. I don't like to call out product names if I can avoid it. But this is pretty important.
There are different tamarind products out there. You can get a block of tamarind and make it yourself. That's hard.
You can buy tamarind concentrate or tamarind paste. That's pretty much pure tamarind and has a far stronger tamarind flavour.
If you want to substitute tamarind paste use 1 tsp or 2 tsp sugar. That should give you about the same flavour profile. Not exactly the same. But close.
Make it with chicken, lamb or beef – or serve it as a lentil curry
This curry works well with chicken, lamb or beef. It's great as a vegan lentil dish. Increase the lentils to about a cup and just don't add any meat.
That's actually better depending on your mood. Could be the best lentil dish ever. Creamy lentils with in your face dhansak flavours.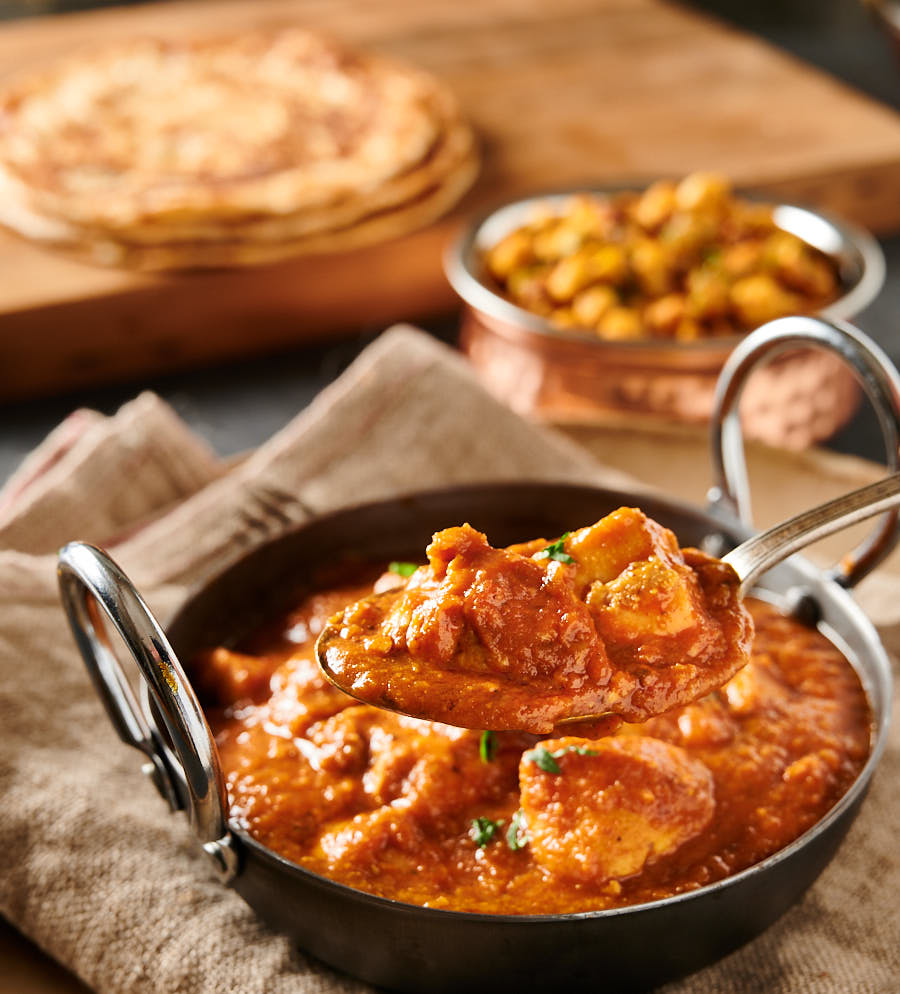 Always do your prep for Indian restaurant style cooking
Do your prep before you get started. Make your curry base and have some heated and ready to go. Pre-cook your meat.
Measure out your ingredients. Have everything ready. Restaurant style Indian curries take about 10 minutes to cook. There is no time to fiddle once you get started.
Oh, and put on some old clothes. A bit of splatter is part of the fun but turmeric stains are murder to get out. Don't say I didn't warn you.
If you read the guide to Indian restaurant technique yet, do it now. It has pictures to help you understand the recipe. There's also a guide to Indian ingredients in that post.
Indian restaurant dhansak curry is a great dish. Creamy from the lentils with a great balance of savoury and sweet. If you are a fan of Indian food this one hits the spot. Just really, really tasty.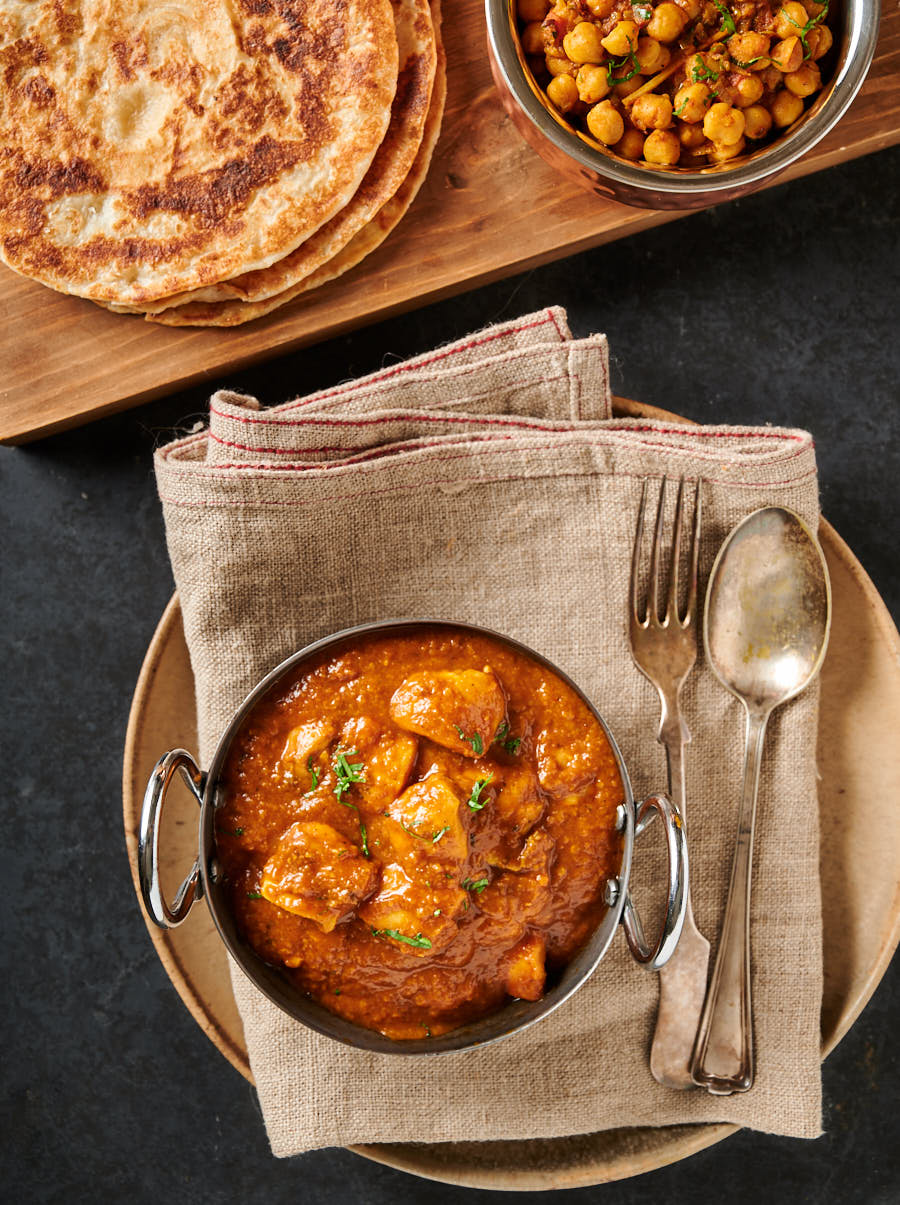 indian restaurant dhansak curry
Indian restaurant dhansak curry adds a little bit of cooked, pureed lentils for texture.
Ingredients
The spice mix
2

tsp

indian restaurant spice mix or curry powder

– recipe link below

1

tsp

kashmiri chili powder

or 1/4 tsp cayenne mixed with 3/4 tsp paprika

1

tsp

kasoor methi

– dried fenugreek leaves

1/2

tsp

kosher salt
The curry ingredients
3

Tbsp

oil

1

Tbsp

garlic/ginger paste

– recipe link below

1

Tbsp

tomato paste

with enough water to dilute to the consistency of pasatta

15

oz

curry base

1-2

Tbsp

tamarind sauce (not the same as tamarind paste)

– more will crank up the tart/sweet nature of this curry. If you want to substitute tamarind paste see the note below.

5-6

Tbsp

cooked masoor dahl

– make a tarka dahl and use a bit of the lentils in the dhansak

10-12

oz

pre-cooked chicken or lamb
Instructions
Make the spice mix.

Dilute the tomato paste with enough water to get to the consistency of passata.

Heat your frying pan (don't use non-stick) briefly over medium heat. Add the oil. Use all the oil specified. It's important.

When the oil starts to shimmer add the garlic ginger paste. Add it into the pan and cook it, stirring constantly, until it stops sputtering.

Turn down the heat and add the spice mix. This is the critical step. Stir it constantly for 30 seconds. If it starts to darken lift the pan off the heat. You want the spice mix to cook in the oil but not burn.

Turn the heat up to medium high. Add the diluted tomato paste and stir until bubbles form (the oil will likely separate). This takes around 30 seconds to one minute depending on the heat.

Add 3 oz of curry base. Stir until bubbles form (little craters really), around 30 seconds. Watch the edges of the pan. The curry can stick here.

Now add 6 oz of curry base and stir briefly. Let it cook until the bubbles form again. This takes 1-2 minutes.

Add the rest of the curry base and let cook until the bubbles form. Turn the heat down to low. Add the tamarind sauce to taste.

Stir in the lentils.

Now add the pre-cooked lamb, beef or chicken. For a vegetarian version add the paneer and/or pre-cooked vegetables.

Let the curry simmer for about 5 minutes. If it gets too thick add a bit more curry base. Don't add water.

Garnish with a bit of chopped fresh cilantro and serve.
Notes
Tamarind sauce is a sweet sauce based on tamarind. Maggi makes one that's pretty commonly available. Tamarind paste or tamarind concentrate is not the same thing as tamarind sauce. If you want to try substituting tamarind paste use 1 tsp of tamarind paste and one or two tsp sugar (creep up on it so you don't wind up too sweet). Won't be exactly the same but it will be close.
The recipe for curry base is here.
The recipe for indian restaurant spice mix is here. 
The recipe for garlic ginger paste is here.
If you haven't read about Indian restaurant technique yet, do that before you start cooking.
Have all your ingredients prepped and ready to go.
If you are making multiple curries, have your curry base warming in a pot on the stove. If you are just making one, microwave it to warm it up right before you start cooking.
Indian restaurants pre-cook their meat so it's ready for service. This recipe assumes the same. To pre-cook chicken, simply simmer it with a bit of curry powder and salt in chicken stock for about 10-15 minutes – until it's barely cooked.
To pre-cook lamb or beef, do the same but plan for 1 to 1/2 hours for lamb and 2 hours or more for beef. You are making stew meat so you are braising until tender. You will need to keep an eye on the level of the stock. For beef use beef stock.
Cooked lentils are the key ingredient in this recipe. Plan on making this one on a day when you are also making a masoor lentil dahl – just set a few spoonfuls aside.
Nutrition
Serving:
2
servings
|
Calories:
536
kcal
|
Carbohydrates:
31
g
|
Protein:
41
g
|
Fat:
26
g
|
Saturated Fat:
2
g
|
Cholesterol:
90
mg
|
Sodium:
1024
mg
|
Potassium:
1030
mg
|
Fiber:
2
g
|
Sugar:
2
g
|
Vitamin A:
565
IU
|
Vitamin C:
4
mg
|
Calcium:
50
mg
|
Iron:
3.9
mg