This is a simple, yet elegant curried carrot soup. It's carrot with a hint of curry so will work nicely with just about any entree you pair it with.
The secret with any carrot soup is to really cook the carrots. I see a lot of recipes that suggest you cook the carrots for 20-25 minutes. Maybe if you cut the carrots really small. Or you like lumpy carrot soup. If that works for you stick with 20 minutes. If you want silky smooth an hour is better. Soft carrots. Good soup.
This is a really pretty soup. The orange from the carrots get a big kick of colour from the turmeric in the curry powder. A little finely julienned cilantro adds a bit of contrast. Looks great against a white bowl. They say you eat first with your eyes. That's a bit flowery a description but it's true. The little things count.
Try curried carrot soup for a dinner party when you need a soup that's just a little bit exotic.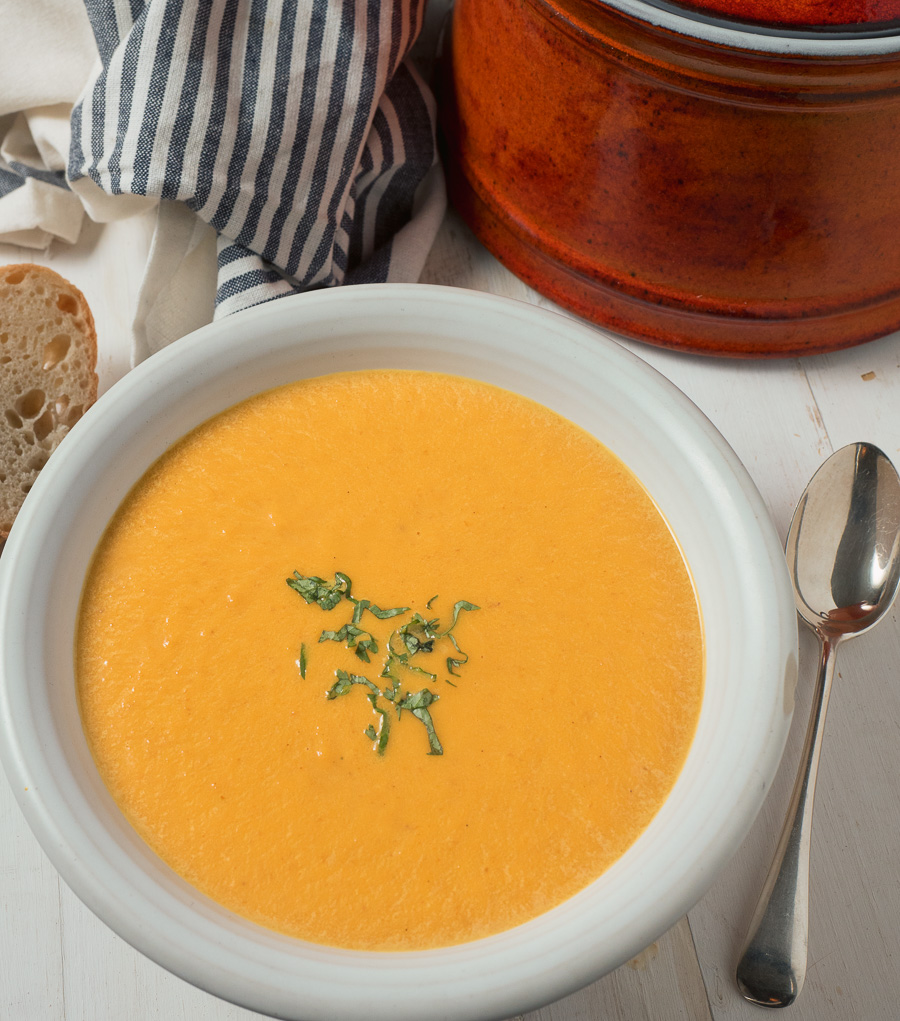 curried carrot soup
Don't believe the recipes that have you cook carrots for 20 minutes. Cook them until they are soft. Then you'll have silky smooth curried carrot soup.
Ingredients
1.75 lbs carrots (2 lbs before trimming), chopped
1 large onion, diced
2 cloves garlic, minced
2 Tbsp butter
1½ tsp mild curry powder
6 cups chicken stock
2 tsp salt
1 cup heavy cream
minced cilantro for garnish
Instructions
Melt the butter in a pot large enough to hold all the ingredients. Add the onion and cook over low heat until translucent. Now add the garlic and cook for another minute. Finally, add the carrots, stock, curry powder and salt. Simmer until carrots are quite tender, about one hour.
Remove from heat and puree in batches. Remember hot liquid in a blender is explosive - make sure you have it set up to relieve pressure. If you are using an immersion blender make sure you don't leave any bits of carrot in the soup.
Wipe out the pot and return pureed soup to pot. When ready to serve, reheat the soup, if needed, and add the cream off heat. Adjust seasoning to taste.
Garnish with minced cilantro and serve