Mexican comfort food. Well, maybe somewhere between Mex and Tex-Mex. Doesn't matter. Chicken with tomatillo sauce is all about simple, satisfying flavours. Tomatillo, jalapeño, garlic, onion, chicken. That's just good living.
This is a house favourite. Been around forever. I know I didn't invent it. Maybe I evolved it though. I can't remember. I owe somebody out there. But I don't know who.
There's not much to chicken with tomatillo sauce. Not a lot of ingredients. It's about the juices from the chicken cooking into the sauce. That's the key. Huge. That's a trick you can use almost anywhere. Any time you can get fond or juices into your sauce you have a winner. Make this dish or don't but remember that trick. It's a game changer.
Chicken with tomatillo sauce.  Try it with pinto beans. Or black beans. Re-fried beans. Any beans. Some corn tortillas on the side. You get the picture…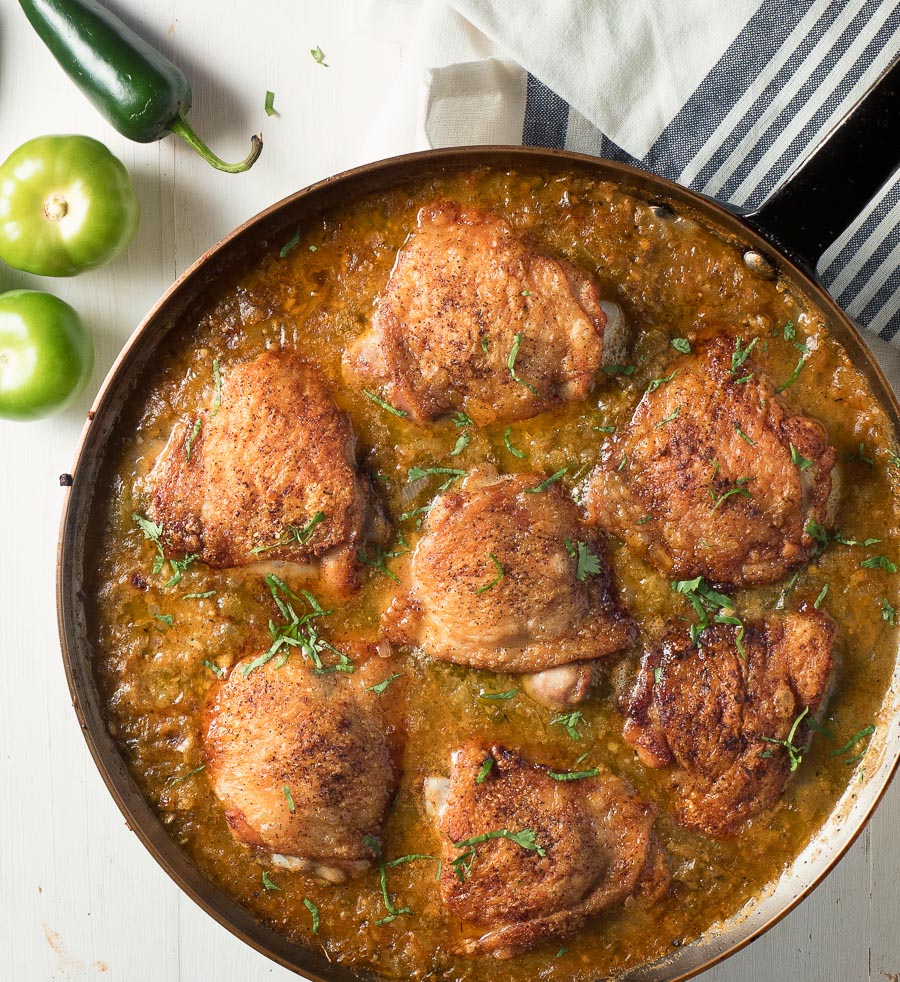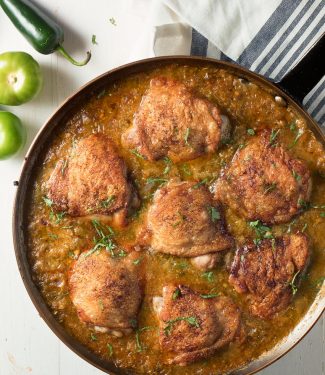 chicken with tomatillo sauce
Chicken with tomatillo sauce delivers big Mexican flavours and is easy enough to make any night of the week.
Ingredients
6

bone-in skin-on chicken thighs

1 1/2

lbs

tomatillos

2-3

jalapeños

- seeded and minced

1

large onion

- finely diced

3

cloves

garlic

- crushed

2

tsp

creole seasoning

- plus more to season the chicken

up to 3/4 cup chicken stock

olive oil

salt

- to taste

cilantro

- to garnish
Instructions
Pre-heat your oven to 400F.

Bring a pot of water to boil and cook the tomatillos for 10 minutes. Drain and chop.

Heat a skillet large enough to hold the chicken in a single layer over medium heat.

Coat the chicken thighs with olive oil and season liberally with creole seasoning.

Film the skillet with olive oil.

Place the chicken, skin side down and cook until golden brown.

Remove the chicken from the skillet and remove all but 2 Tbsp of fat.

Saute the onions and jalapeños until soft, around 5 minutes.

Add the garlic and cook another minute.

Mix in the tomatillos and 2 tsp creole seasoning and cook for 2-3 minutes.

Now add 1/4 cup chicken stock and nestle the chicken in the sauce. It's critical to keep the skin above the liquid or it will get soggy.

Roast the chicken until you get an internal temperature of 175F, about 20-25 minutes. Keep an eye on the dish. If the sauce gets too dry (like it looks like it might burn) add another 1/4 cup chicken stock.

When the chicken is done remove the skillet from the oven. Remove the chicken and set aside. If the sauce is too runny place the skillet over medium heat and reduce until you get a saucy but not runny consistency. If it's too dry, add a bit more chicken stock.

Adjust for salt.

Garnish with a bit of cilantro.

Serve the chicken over the sauce.
Recipe Notes
A low sodium creole seasoning recipe can be found here.