Chicken shashlik is a great way to kick your chicken tikka up a big notch. Tandoori chicken on a bed of Indian spiced onion, green and red pepper. Simple ingredients. Explosive flavours.
I love tandoori chicken. I grew up eating it. So I look for any way I can get more of it. If you are a fan too then chicken shashlik is for you.
Chicken shashlik is like Indian fajitas
Seriously delicious Indian fajitas. This is India meets Tex Mex. Sounds crazy I suppose. Never really thought about it until I started writing this post.
But that's what it is. Grilled chicken on a bed of fried peppers and onions.
If you served this up on chapatis or naan you could call it Indian chicken fajitas. Really not that different.
Except for the spicing. That's pure Indian. No mistaking that. No mistaking where chicken shashlik comes from.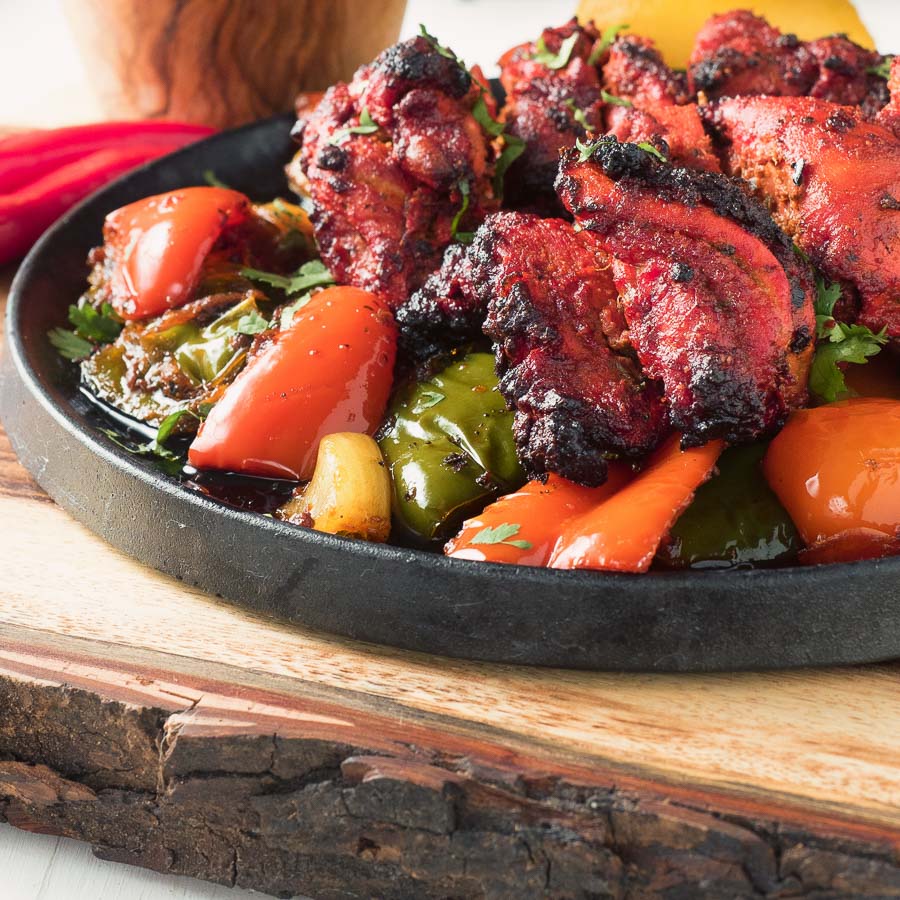 Make a better kebab
Chicken shashlik fixes the whole mixed kebab mess. That one has always really been a mystery to me.
Think about what you're trying to do. Put some meat, peppers and onions on a stick. Throw it on the grill. Expect it to work out.
It is just madness. More like meat done right. Vegetables way underdone. Or worse. Bone dry meat and edible vegetables.
Makes no sense. None at all. Why would you do that? It's mission impossible.
So why not deconstruct? Cook the meat and vegetables separately so everything is perfect?
Or go a step further. Why not grill the meat? Cook up the vegetables in a mess of spice on the stove?
That's how they do it in restaurants. And that's how you should do it at home.
Everything perfectly cooked
That's exactly what this chicken shashlik is about. The chicken tikka is grilled until it's done perfectly. The vegetables are sizzled up in Indian spices on the stove.
The two don't see each other until they hit the plate. And everything is done just right.
Eat this like it was a kebab. A piece of chicken. A bite of pepper. Some onion.
All in one unbelievably tasty bite of chicken shashlik done right. It's like a whole new take on fajitas came to your local Indian restaurant.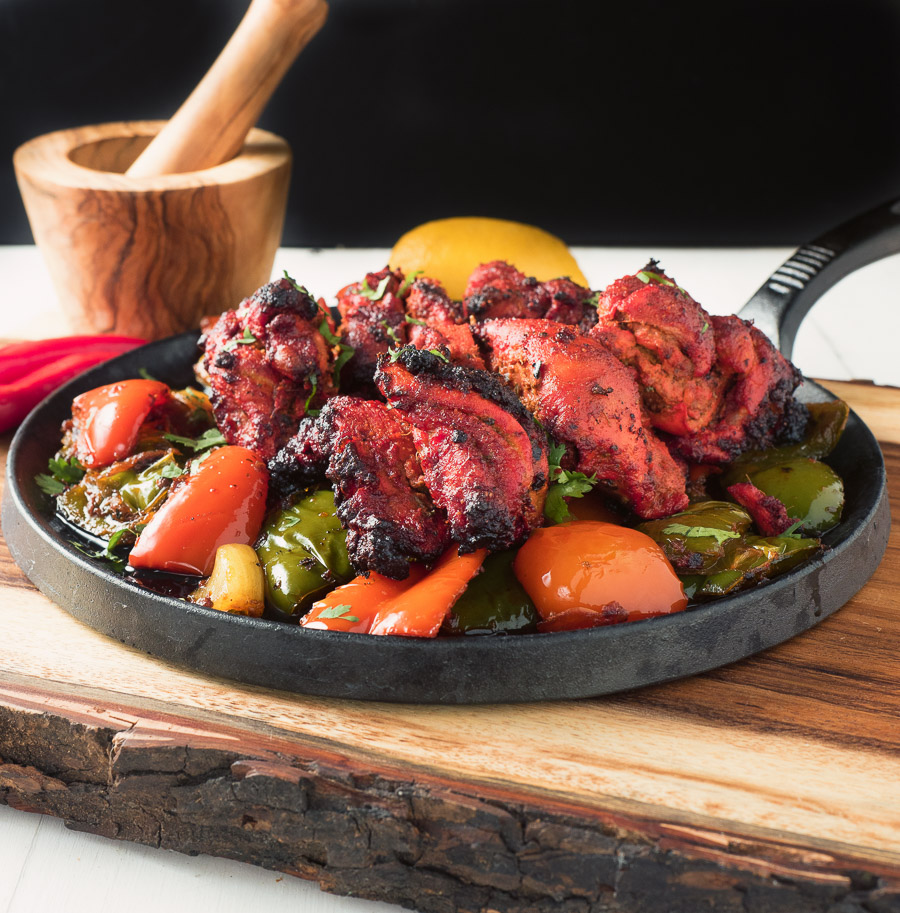 chicken shashlik
Chicken shashlik fix the problems with regular kebabs. Everything is done perfectly when it hits the table.
Ingredients
Chicken shashlik
6

whole boneless skinless chicken thighs

1/2

batch of tandoori marinade

- recipe link below

1

red pepper

- cut into 1 inch pieces

1

green pepper

- cut into 1 inch pieces

1

onion

- cut into 1 inch petals (one onion layer thick)

1

Tbsp

garlic ginger paste

3

Tbsp

vegetable oil

1

Tbsp

tomato paste diluted with 2 Tbsp water
Spice Mix (for the vegetables)
1

tsp

indian restaurant mix powder or commercial curry powder

- recipe link below

1

tsp

kasoor methi

- fenugreek leaves

1/4

tsp

mild kashmiri chili powder

1/2

tsp

kosher salt

lemon to serve
Instructions
Marinate the chicken for about 2-3 hours in the tandoori marinade. Add the lemon juice right before grilling.

Soak 4 skewers in water for 30 minutes.

Prepare your grill for medium-high indirect heat. You will start your chicken on indirect heat and then move it over direct heat at the end.

Skewer 3 whole chicken thighs on two skewers set up side by side. Fold the chicken thigh in half so you have 6 layers of chicken per skewer pair.

Grill over indirect heat for about 25 minutes.

Check internal temperature after 15 minutes.

When you hit 160F start lightly charring the chicken over direct heat.
Peppers and onions
Heat the vegetable oil over medium heat.

Add the garlic ginger paste and cook, stirring constantly until the sizzles subsides (about a minute).

Reduce heat to low and add the spice mix. Cook, stirring constantly, for about 30 seconds.

Stir in the diluted tomato paste and turn the heat back to medium, stirring constantly.

Add the peppers and onions and cook, stirring every minute or so, for about 15 minutes. You want the onions soft and the peppers pretty soft. Turn off the heat when you get there and tend to your chicken.

Once the chicken is done, let it rest briefly while you heat up the onion/pepper mix.

Serve the chicken over the onions.

Squirt a bit of lemon juice over top. That really brightens things up and brings everything together.

This goes great with Indian flatbread - think Indian fajitas...
Notes
Nutrition
Serving:
4
servings
|
Calories:
442
kcal
|
Carbohydrates:
10
g
|
Protein:
34
g
|
Fat:
29
g
|
Saturated Fat:
10
g
|
Cholesterol:
161
mg
|
Sodium:
1690
mg
|
Potassium:
709
mg
|
Fiber:
3
g
|
Sugar:
3
g
|
Vitamin A:
2230
IU
|
Vitamin C:
64.8
mg
|
Calcium:
25
mg
|
Iron:
4
mg