Chicken khao soi is a curried coconut soup from Chiang Mai in northern Thailand. It will make you wonder why pad thai was ever your favourite noodle dish. It's not famous. It's not on a lot of Thai menus. But it is really, really good.
There's something special about this dish. The creaminess of the coconut milk against the curry flavour. Using chicken thighs pretty much guarantees that you won't overcook it.  It's almost too good. Way too good for the amount of effort this version takes.
And the thing that just makes it all sing is fish sauce. Don't be scared of fish sauce. It is in everything Thai or Vietnamese you have ever eaten in a restaurant. Please give it a chance.
Making authentic chicken khao soi is serious business. Real work. Hard to get ingredients. Make your curry paste from scratch. That's the best way. This is the easy way. Something you can make for a weeknight dinner. Fast. But still wickedly delicious.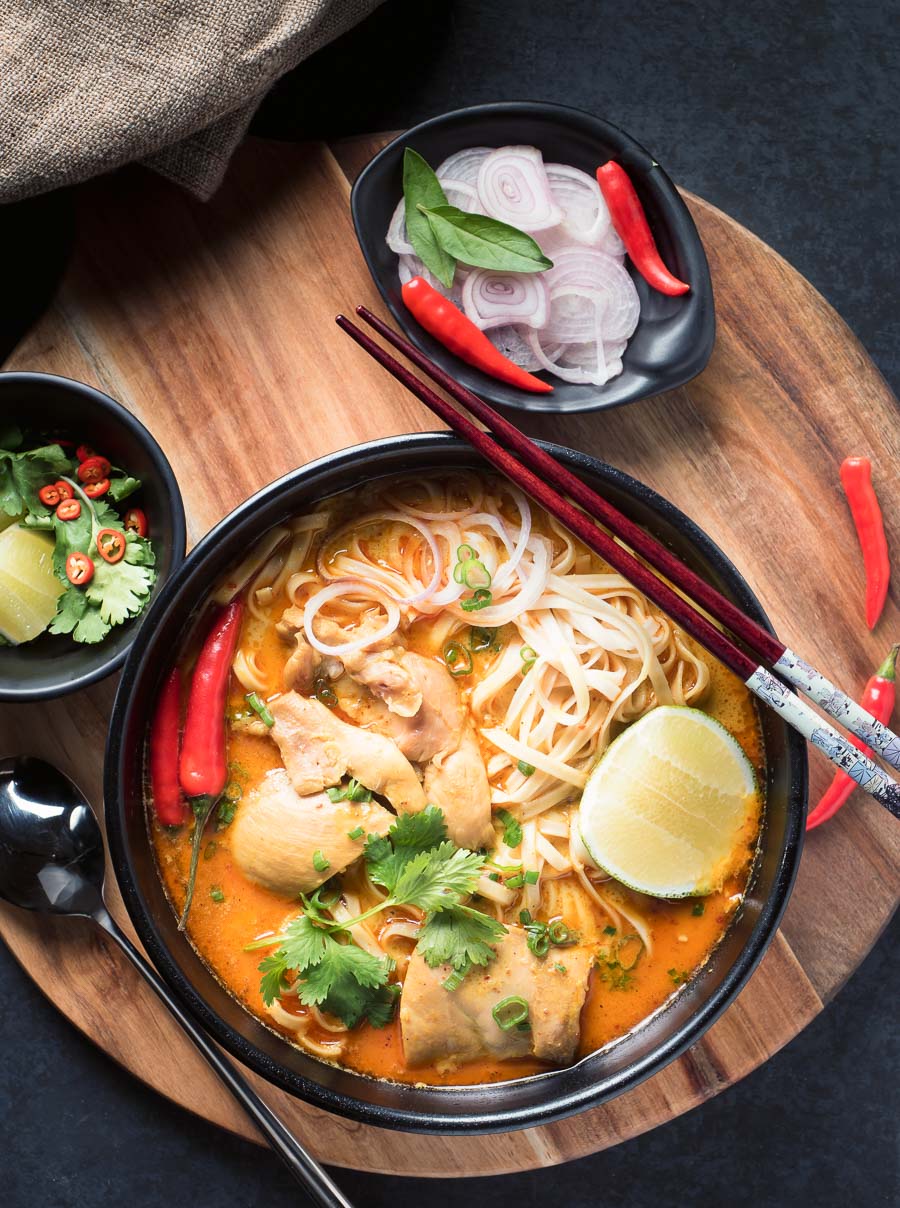 The key to easy chicken khao soi is the curry paste. And the choice of curry paste matters. Red curry paste kind of works. But it winds up tasting like red Thai curry. Not bad. But not great. It works better with beef.
Massaman curry paste though. That's in the wheel house. Add some curry powder, garlic and turmeric and you are in the zone.
Traditional chicken khao soi is topped with fried noodles. That's part of the genius. Crunchy noodles on top of soft noodles slick with coconut curry soup. Awesome. But not essential. Good either way. Noodles are an extra step.
You can buy fried noodles if you don't want to go the distance. Or just leave them out. The important thing is that you actually make this dish. Experience it.
Chicken khao soi could be your new favourite Thai dish. Try it. If you like Thai food, you will be happy that you did.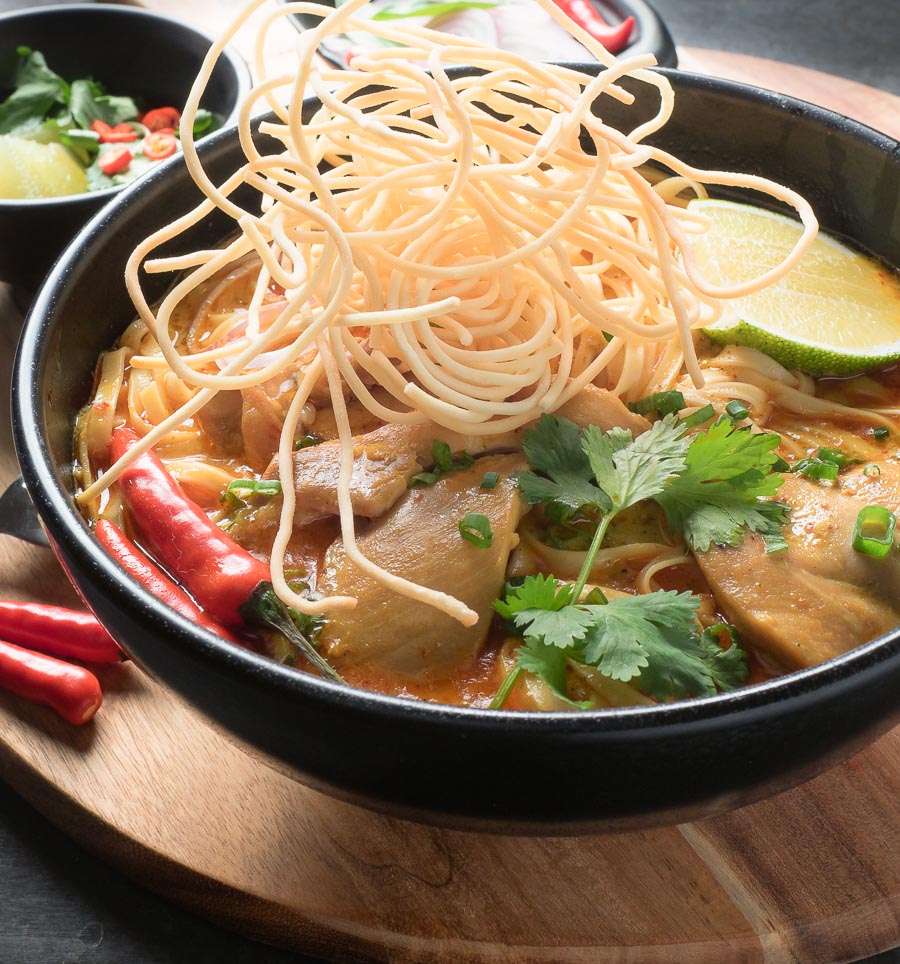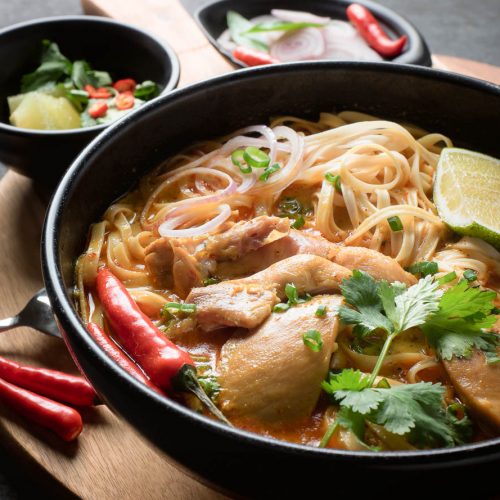 thai chicken khao soi
You'll forget all about pad thai once you taste khao soi. Creamy coconut and curry soup.
Ingredients
1

lb

fresh Chinese egg noodles

- dried is OK too

3

cloves

garlic

- crushed

3

tbsp

massaman curry paste

- store bought

1

tsp

turmeric powder

2

tsp

curry powder

2

tbsp

vegetable oil

2

15 oz cans

coconut milk

1 1/2

lbs

boneless, skinless chicken thighs

1

tbsp

brown sugar

1

cup

chicken stock

3-4

tbsp

fish sauce

1

tbsp

lime juice

shallots, chili oil, green onions, bean sprouts, cilantro

to garnish
Instructions
Let your cans of coconut milk stand to let the cream come to the top. If you don't have time, it's not the end of the world.

Bring a large pot of water to boil.

Combine garlic, massaman curry paste, curry powder and turmeric powder in a small bowl.


Heat oil in a wok or similar pan over medium heat. Add curry mixture and fry, stirring constantly, for about 1 minute.

Spoon off the coconut cream from each of the cans of coconut milk. Add that to the pan. Fry for another minute.

Add the chicken and brown sugar and cook until the chicken is just done through. This should take about 8-10 minutes.

Add the remaining coconut milk and chicken stock and bring to a simmer. Add the fish sauce and lime juice and cook another minute of so. Reduce heat to low.

Add the noodles to the boiling water. Cook per the instructions on the package. Chinese egg noodles should take one to two minutes to cook through. If the instructions say longer consider cooking them when you add the chicken to the pan.

To serve, divide the noodles into four bowls. Spoon the chicken overtop and ladle the broth into the bowls. Garnish as you like with shallots, green onions, cilantro, chili oil and bean sprouts. Serve with additional lime wedges.
Recipe Notes
Fried noodles are optional. They are an authentic ingredient though. If you can get fresh Chinese egg noodles consider it. Heat about one inch of oil in a wok. As it heats test the oil with a small piece of fresh noodle. When it bubbles the oil is hot enough. Add a nest of noodles to the oil. They will crisp up quickly. Flip them using tongs. The whole process takes less than a minute. Set aside on paper towel to drain. You can make these in advance.